
Table of Contents

About the Author

Related Posts

Best Audio Recording Software
[Solved] How to Record with Windows Media Player Easily
How to record with Windows Media Player? This is a question most likely raised by those who would like to replay or stream videos on their Windows 7/8 or XP. With this software, you can do things like replaying videos, audio, and pictures on your PC, as well as speeding up/reversing videos. But how to find a proper way to record these events on Windows Media Player?
This passage will guide you on how to save a video from Windows Media Player by introducing 3 practical methods to you. Let's look at the content navigation below.
How to Record with Windows Media Player Alternative
EaseUS RecExperts is a suitable WMP alternative as it is integrated with a powerful built-in media player. With the help of this feature, you can play the captured videos or audio files effortlessly. 
In essence, this software is originally a recorder that helps you capture whatever is on your screen. This software can help you record high-quality videos. The resolution of its output videos can reach 1080P or 4K. And you can select the audio source freely, including desktop audio, microphone, and both of them. If you want to record a video at a specific time, the task scheduler is what you need. Moreover, it offers you a video/audio trimmer that helps you edit out the unnecessary parts.
Briefly speaking, if you don't mind the download and installation of this recorder, it will provide you with more unexpected functions. 
EaseUS RecExperts
Record streaming video and audio
Offer a Task Scheduler that allows automatic recording
Offer dozens of output formats, including GIF, MP4, MP3, etc.
Support trimming recordings with simple clicks
Support Windows 10/11 and macOS
How to Record Video from Windows Media Player with EaseUS RecExperts:
Step 1. Launch EaseUS RecExperts. There are two different options for screen recording, i.e., "Full Screen" and "Region". If you select "Full Screen", you will capture the whole screen.

Step 2. If you select the "Region" option, this software will ask you to customize the recording area. Make sure that everything you want to capture is within the bounds of the select box.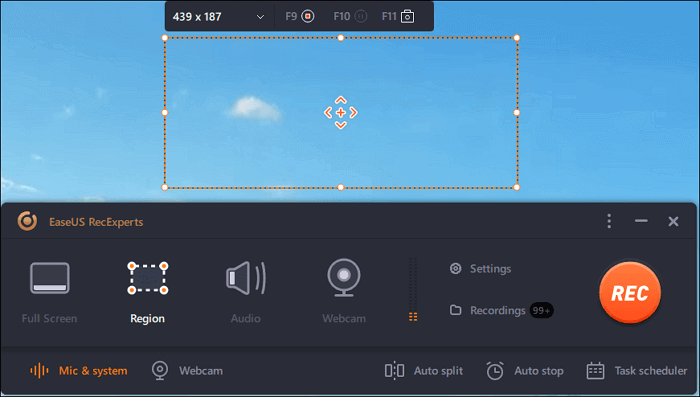 Step 3.  Tap on the button at the bottom left side of the main interface, and there will be many options you can select. This recorder supports recording microphone and system sound separately or simultaneously. The "Options" button is for you to adjust the volume and microphone device.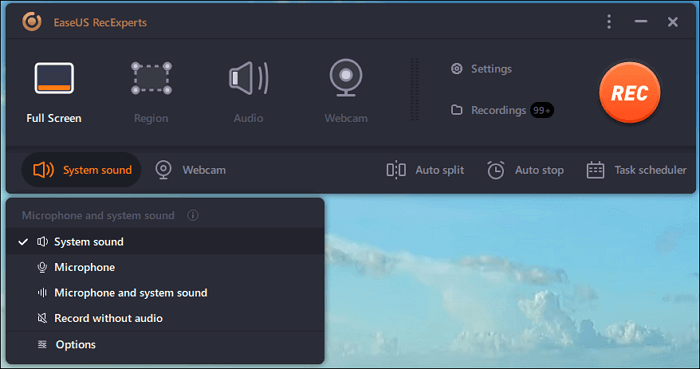 Step 4. To record the webcam simultaneously, click on the "Webcam" icon at the bottom of the interface. Tap on the button to enable the webcam recording, and there will be a drop-down menu to select the recording device. Click on "OK" to confirm your settings.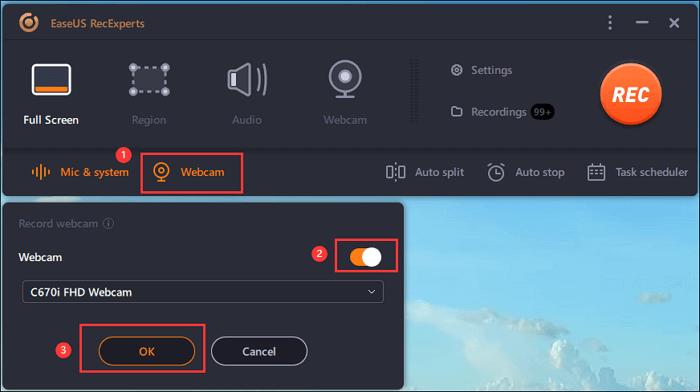 Step 5. When you turn back to the main interface, click on the "REC" button to start recording. A floating toolbar offers you buttons to pause or stop the recording during the recording process. In addition, the camera icon can be used to take screenshots, and the timer icon can help stop it automatically.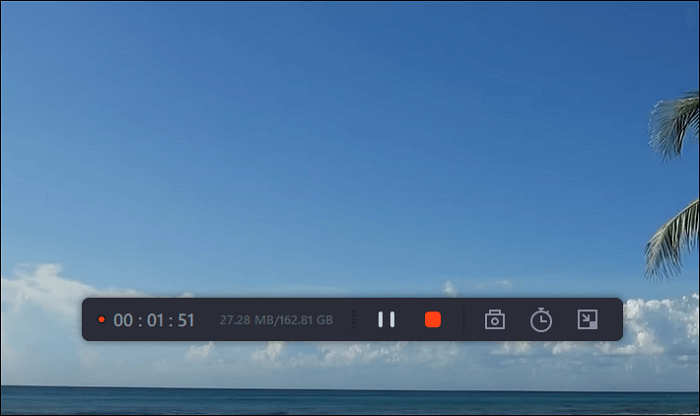 Step 6. The recorded video clips will be saved on your computer. When the media player appears, you see a set of tools you can use to trim the recordings, extract audio, and add opening title & closing credits to the savings.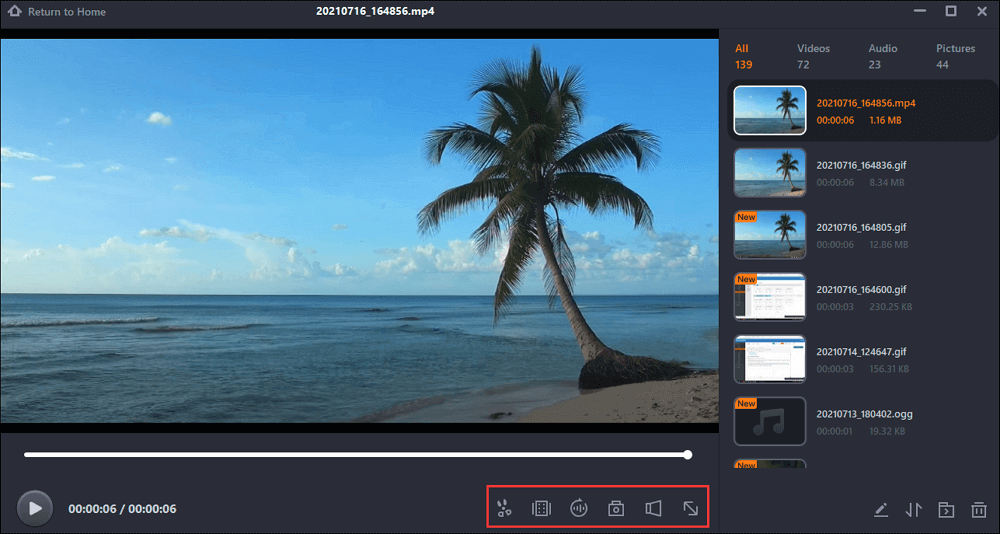 How to Record Windows Media Player with the Game Bar Recorder
Xbox Game Bar is the default game recorder on Windows 10, and it's said the inspiration for this software came from Xbox One S or X, which allows players to record their game clips during games. Xbox Game Bar gradually becomes a good choice for Non-gamer groups due to its stable and satisfying performance in recording ordinary activities on their desktop. So for us, we can rely on it to record Windows Media Player on Windows 10, too. 
Xbox Game Bar Features:
Record the last 30 seconds of your gameplay
Record with the game bar on the background
A 60 FPS parameter to help you record games fluently
4 hours recording length
Not CPU-intensive at all
How to Save a Video from Windows Media Player with Xbox Game Bar:
Step 1. Call out your target videos or games in advance.
Step 2. Then press Win + G to open the Xbox game bar on your PC. If it doesn't open, the troubleshooting function could be helpful.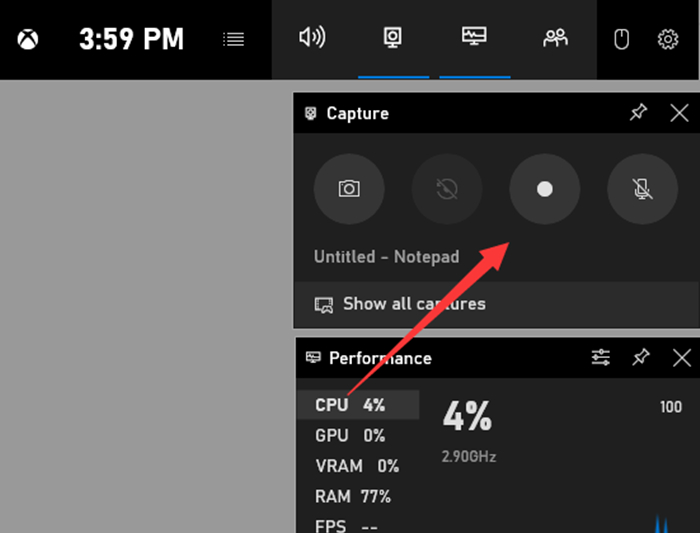 Step 3. Configure the options for screen recording by clicking Start > Settings > Gaming > Game Bar, Captures, or Game Mode.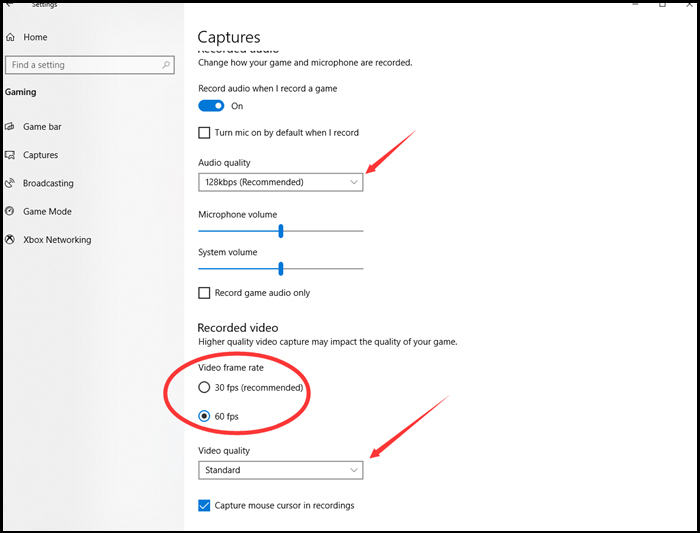 Step 4. Start and end the record with buttons or shortcuts. 
Step 5. When the whole process is done, you can click the Gallery on the control bar to check your recordings in MP4 format. 
Xbox Game Bar is a free, convenient screen recorder, but it is not perfect for users. Reasons for this could be some of its deficiencies like, it can't record in full screen, can't record more than 4 hours, and could frequently break down or grey out its recording button, which could cause problems in recording Windows Media Player's events. But the deficiencies, on the other side, reveal what an excellent screen recorder should be like. Now let's look at another recorder that is good enough to substitute Xbox Game Bar.
How to Record Windows Media Player with OBS Studio
OBS Studio is an open source screen recorder, which means it is accessible without any concerns about money. The reason cited for this software's winning flavor of users is that it is free and professional - you may take this adjective carefully since one of OBS's biggest problems is that it's too complex to handle.
Some users of OBS clearly express their inclinations of not trying it a second time, which is reasonable since it is not an easy recorder with out-of-box functions. You have to self-design all the features using resources, which in other words, is another long journey for you to proceed.
OBS Studio Features:
High-quality video capture
Low impact on budget systems
The broadcasting features
Multiple places are supported to share
The picture-in-picture recording mode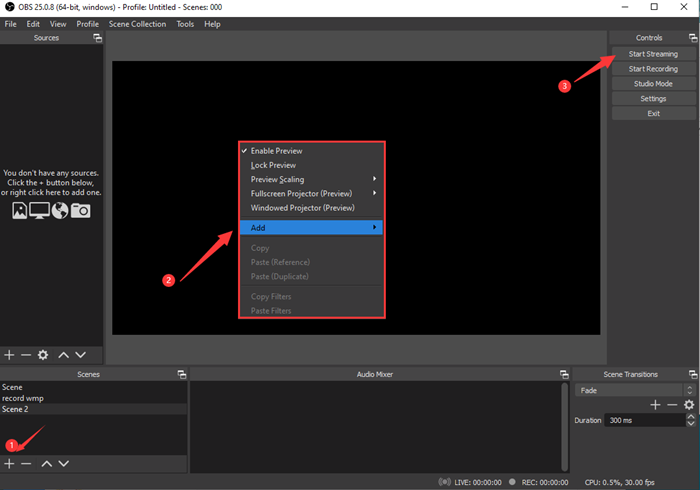 How to Record Video from Windows Media Player with OBS Studio:
Step 1. Add a scene, and name the scene.
Step 2. Add sources. Right-click the blackboard at the center area, hover your cursor at 'add,' then choose 'display capture.'
Step 3. Now call out your target videos and hit 'start recording' to record Windows Media Player.
Step 4. Stop Recording and click on Files on the left-top corner and select 'show the recordings,' then, you will find your recordings in a local folder.
It does earn welcome from the most advanced users, but if you are less in need of professional features or see for effectiveness and straightforward methods, OBS Studio may not fit you.
The Bottom Line
This post writes about how to record with Windows Media Player in a hassle-free way. Our choices involve two free recorders - Xbox Game Bar, OBS Studio, and a more integrated recorder - EaseUS RecExperts. If you desire a fully-equipped recorder with easy-to-learn operations, EaseUS RecExperts should be the ideal one for you.
FAQs About How to Save a Video from Windows Media Player 
These FAQs will be helpful for people who want to record a screen with a Windows media recorder. Keep reading if you are interested in them.
1. Can I record with a Windows Media Player?
No, WMP has no relevant functions.
2. How to record windows media player videos with sound?
For recording with intact system sound along with the videos, a capable screen recorder must be considered. Here I think EaseUS RecExperts is the optimum one, and it delivers smooth videos that have perfect cohesion with its audios.
3. What's worth recording in WMP?
You can record videos/audio that are already on your PC with WMP.
You can also record the playback of online streaming videos/audios with WMP.
Last but not least, you can record audio CDs, audio files, DVDs, and videos.
About the Author

Jane is an experienced editor for EaseUS focused on tech blog writing. Familiar with all kinds of video editing and screen recording software on the market, she specializes in composing posts about recording and editing videos. All the topics she chooses are aimed at providing more instructive information to users.