Wii U Screen Recorder: How to Record Wii U Gameplay With or Without a Capture Card

Jane Zhou updated on Jan 22, 2021 to Screen Recording Utility | How-to Articles
There are lots of reasons why people need to record Wii U gameplay. You can share your recordings with your friends, make tutorials, or look back on the gameplay to find out where you went wrong. This tutorial will show you how to record Wii U gameplay without a capture card, and the wonderful Wii screen recorder will also be mentioned.
Related Article: Steam Record Video
How to Record Wii U Gameplay Without a Capture Card 
If you don't have a capture card, you will need a far more effective Wii U screen recorder to record the gameplay. There are two game recording programs we would like to introduce to you.
When it comes to recording gameplay, no matter what game console you are using, EaseUS RecExperts is a competent screen recorder. This game recorder can record gameplay by capturing the full screen or only a part of it. It also supports recording system sound, the microphone audio, or both of them. And when an external camera is connected to your computer, it also works as a powerful webcam recorder. Click the button below to have a great recording experience.
To record Wii U without capture card, you need to connect the game console and your computer with a cable. After that, you need to launch this Wii U recording software and start playing the game you want to record. Then, follow the tutorial below to capture what you need.
How to Record Wii Gameplay Without a Capture Card:
Step 1. Launch the game you're about to record and then the downloaded EaseUS RecExperts.
Step 2. Once you begin playing the game, click the "Record Game" button to get in the game recording.

Step 3. Select the region and click the "REC" button to start recording. And then you can choose to pause or stop the recording during the course of the gameplay.

Step 4. After saving the recorded gameplay video, you can directly save the video to a local disk or upload it to cloud storage, YouTube, Vimeo, and many other platforms.

This tutorial is also practical for those who want to know how to record Wii U gameplay with a laptop. This gameplay recording software can run smoothly on Windows laptops. Follow the guide to capture the game footage now. 
How to record Wii U gameplay free? First of all, you need a free Wii U recorder, such as OBS Studio. This recorder is a free software program designed for broadcasting live gaming, but it can also record gameplay if you want to do that.
Most screen capture programs allow you to configure your quality settings before you start recording, and so does OBS. Before you record your gameplay, you need to know that the higher the video quality is, the larger the final file size will be. Make sure that your computer has enough room to keep the video recorded. Follow the steps below to record a Wii U gameplay.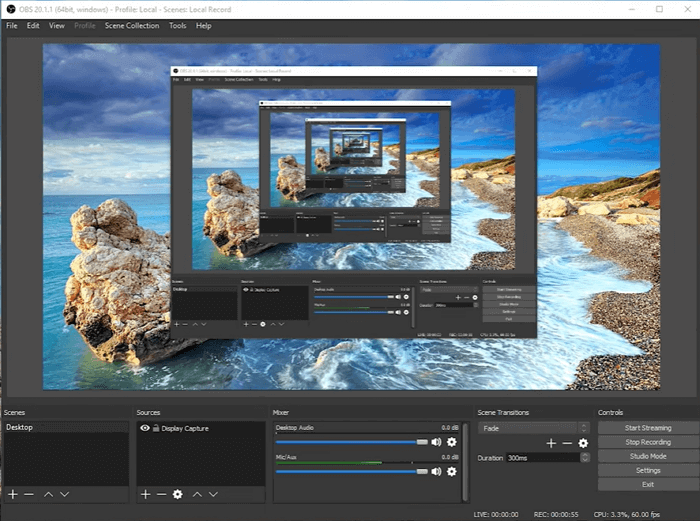 How to Capture Wii U Gameplay Using OBS:
Step 1. Launch OBS and click the "Settings" button.
Step 2. Click the "Encoding" tab and enter 1000 into the Max Bitrate field.
Step 3. Check the "Use CBR" box and set the Quality Balance to 10.
Step 4. Check the "Use Custom Buffer Size" box and set the Buffer Size field to 0.
Step 5. Click the "Broadcast Settings" tab and select "File Output Only." This will make sure that the recorder only records the video to your computer.
Step 6. Once your recording software is configured and running, you can start playing your game.
Step 7. When you are done recording, press the hotkey again to stop. The recording will stop, and the file will be saved on your hard drive. By default, the videos will appear in the "OBS" folder in your "Videos" folder.
How to Record Wii U Gameplay with a Capture Card 
Generally speaking, Wii U doesn't come with a built-in game recording function, so that recording gameplay becomes a headache question for lots of Wii U game players. In this part, you will learn detailed tips on recording Wii U gameplay with a capture card.
Prepare a Wii U screen recorder and some other professional recording tools, such as a Wii U game capture card and some cables. Also, you need to connect the devices to your game player and computer beforehand. We will show you how to do that will a step-by-step tutorial.

Things You Need:
Wii U game console
HDMI cables
A computer
A capture card (Elgato is recommended)
A screen recorder (TuneFab Screen Recorder is recommended)
Step 1. Connect Wii U Game Console to Computer
Insert the first HDMI cable to your Wii U game console and connect the HDMI IN port with the capture Card. After that, insert the second HDMI cable to your capture card's OUT port side and connect the HDMI IN port to your computer. Use the USB cable to connect your computer with the capture card.
Step 2. Launch TuneFab Screen Recorder
The next step is to launch the TuneFab Screen Recorder to get started. On the main interface, the recorder, you will see multiple modes available. There are "Video Recorder," "Webcam Recorder," "Audio Recorder," and "Screen Capture." Note that you will see "More" instead of the "Webcam Recorder" option if you are using the Windows system. To record your Wii U gameplay, choose "Video Recorder" to start.
Step 3. Select Recording Region
Now, hit the first button to customize the recording region. Since Wii U supports 1080p video output, you can hit the Custom button and then select 1080p (1920 x 1080) for the Wii U gameplay recording. Then, you can set the video parameter and other options as you want.
Step 4. Configure Video Recording Settings
Hit the "Gear" icon on the TuneFab Screen Recorder interface and enter "Preferences." In the "Output" tab, you can set the output file location and output file format. For Mac users, you can save your videos into MOV, MP4, M4V, and GIF formats, while for Windows users, you can save it to MOV, MP4, M4V, GIF, and more file formats.
You can also set your video from lowest to lossless quality and choose a frame rate from 20fps to 60fps. The bigger the number, the smoother the video exported. After customizing all the settings, click on the "OK" button to exit.
Step 5. Start Recording Wii U Gameplay
Then, click on the green "REC" button to start recording. Turn on your Wii U console and start playing your favorite game on Wii U. While you are playing games, your Wii U gameplay action will be captured through TuneFab Screen Recorder.
Step 6. Preview and Save Recorded Video
The last step is to press the red "Stop" button to end your game recording. You can replay the video and see if you have recorded everything you need. If you are satisfied with the recording, don't forget to click the "Save" button to save the video to your computer.
This tutorial is also suitable for users who want to know how to record Wii gameplay with a laptop since OBS is compatible with it. 
Conclusion
To sum up, recording the gameplay is not a difficult task. Even if you don't have a capture card, there are game recorders that can record the gameplay for you. For Windows users, we recommend EaseUS RecExperts since it is full-featured and easy-to-use in the meantime. If you want to record Wii gameplay without a capture card, download this software from the button below and get started.
FAQs About Recording Wii U Gameplay 
There are some other answers about recording Wii U gameplay and stream Wii U on your PC.
1. Is there any wonderful Wii U capture card that can help record Wii U gameplay?
Since there is no built-in screen recording tool in the Wii U device, you need to find other ways to capture Wii U gameplay. For example, you can connect your Wii U game console to the PC with an HDMI cable and capture card, and then you can use a screen recording software on the computer to easily record the Wii U gameplay.
We recommend Elgato as the best capture card for Wii since it offers you enough choices. You can choose different types of Wii capture cards when you are using different devices.
2. How to stream Wii on twitch?
How to stream from Wii U? That sounds like a difficult task, but actually, you can do that with a suitable capture card. We take Elgato HD60 S as an example, this is a great Wii U capture card, and you need also prepare other things like a computer, streaming software, USB-C to USB 3.0 cable, and an HDMI cable.
You need to connect the capture card to your PC using the USB-C to USB 3.0 cable, then plug one end of the HDMI cable into the Switch Dock, and plug the other end of the ca to Elgato's HDMI IN port. Connect the Wii with your computer using another HDMI cable. After that, you can download Elgato Game Capture as the streaming software. Then, you can log in to your Twitch account and stream the game you are playing.
3. How to take a screenshot on Wii U?
When you want to take a screenshot on Wii U, you can press the home menu button. There is one thing worth noting: you can't take screenshots during the online battles since you need to access the home menu. You can then navigate to an image hosting site using the Internet Browser application and upload the screenshots to this site. You can find those pictures when you revisit this site on the computer.