
Table of Contents

About the Author

Related Posts
How to Record Switch Gameplay Without Capture Card
Nintendo Switch is an amazing video game console that enables you to play various games with it. Ever since it was published on March 3, 2017, this hybrid device has become popular worldwide. Nintendo Switch can be regarded as both a home console and a portable device, and its portability is why more and more types of games are transplanted to it.
Sharing videos about computer games are not a difficult task as there are enough screen recorders you can use on a PC. But how to record Switch gameplay? There are two frequently-used methods: recording gameplay with the built-in tool in Switch or mirroring Switch game on PC and recording it. This post will walk you through those two ways step by step. Keeping reading if you want to know the details.
Quick Navigation:
How to Record Switch Gameplay Without Capture Card
The most regular way for Nintendo Switch recording is using the pre-installed gameplay capturing tool. This is totally free and convenient for users who don't want to set up a capture card. This method comes with an inevitable defect: you can only record the gameplay for up to 30 seconds, but it's effortless to press the button and capture what you need directly.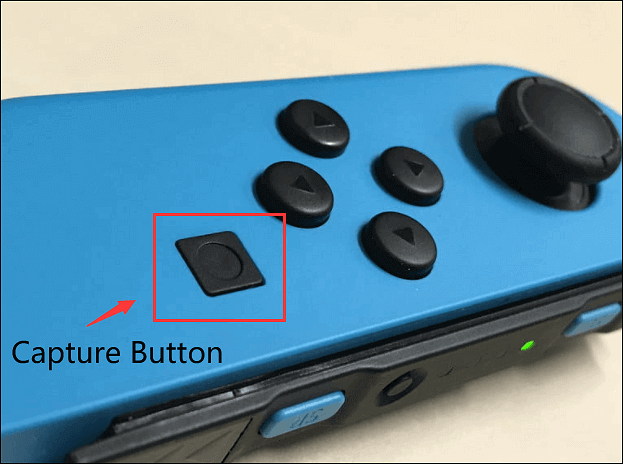 How to Record on Nintendo Switch with Built-in Tool:
Step 1. Start your gameplay on Nintendo Switch.
Step 2. Press and hold down the Capture Button on the left Joy-Con. (The Capture Button is a square button that is located under the directional pad).
Step 3. Make a long press to start the recording. Once done, you can view the captured video in the Album.
Apart from recording videos, it also supports taking screenshots from the saved gameplay video.
How to Screenshot on Switch:
Back to the HOME Menu, tap "Album" > "All Screenshots and Videos".
Choose a video to edit, and the video playback will begin. While playing, you can press "Y" to stop it.
Tap "Editing and Posting" > "Save as Screenshot" to take a screencast
 Notice:

The built-in recorder only supports recording for up to 30 seconds. For a long recording, you can record Switch gameplay with a capture card. 
How to Record Nintendo Switch Gameplay With Capture Card
You can find all kinds of capture cards for Switch on the market, and each of them has its own characteristics. The biggest difference among them may be the properties of the recording program they offer. A powerful capture card helps you record Switch gameplay without downloading any other software. Otherwise, you need to use a third-party screen recorder to capture the gameplay.
1. How to Record Switch Gameplay on PC Directly with Capture Card
To avoid the time limit of recording Switch gameplay with the built-in tool, mirroring the game on a computer and record the game using desktop recording software is a great choice. To get that done, there is one essential tool, i.e., a capture card.
As long as you connect the captured card with your Nintendo Switch and your computer, what is happening on the Switch screen will shows on your PC screen at the same time. Then, the recording tool offered by the captured card is the only thing you need to record the Switch gameplay.

How to Capture Switch Gameplay on PC:
Step 1. Prepare capture card and HDMI cables.
Step 2. Plug one end of an HDMI cable into the HDMI OUT port on the Switch, and insert the other end of the cable into the HDMI IN port of the capture card. Likewise, connect your computer with the capture card.
Step 3. Now, you need to connect the Nintendo Switch with your computer. The output ports should be connected to the PC, and the input port should be connected to Switch.
Step 4. Download and install the capture card's associated software on your computer. It will set up all the settings automatically, and you can launch it and record Switch gameplay on the computer freely.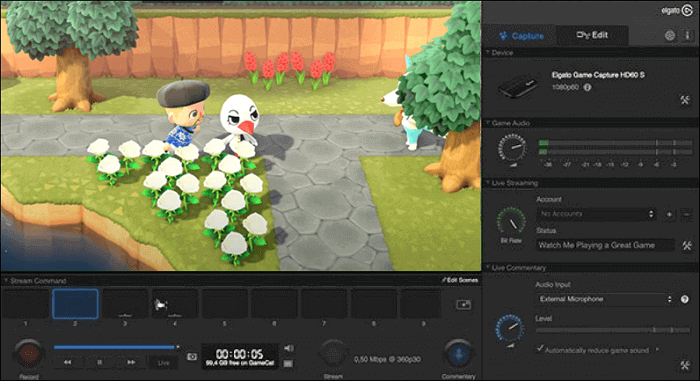 2. How to Record Switch Gameplay on PC with Third-Party Software
However, as the pre-installed recorder supports merely basic functions, you can only record the gameplay with a third-party recorder if you need some advanced features.
Here we take EaseUS RecExperts as an example. This program enables you to record Switch gameplay on your PC for a long time with high-quality output. It's worth noting that there are three optional video qualities you can select: 720P, 1080P, and 4K. Besides that, this software support starting and stop recording automatically, and you can set the tasks to do that. After recording, this software will give you a video trimming tool to remove the unnecessary part with ease. 
The following are step-by-step instructions on how to screen record on Switch with a video capture card on PC.
Prerequisites
You will need the following items before you can use a capture card to record your Switch gameplay.
A Nintendo Switch device
A Nintendo Switch Dock
A desktop computer
HDMI cables to connect the capture card
Then, connect your capture card, Switch, and computer according to the operations in the previous section. Then, follow this tutorial of Nintendo Switch recording on PC to capture what you need.
How to Record on Nintendo Switch Using Capture Card:
Step 1. Start your favorite game and launch EaseUS RecExperts. Choose "Full" or "Region" to select the recording area according on your game window.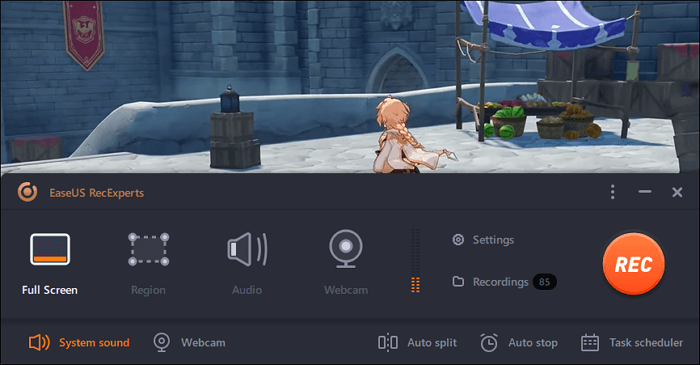 Step 2. Select the frame rate you want to record, as well as the output format and video quality.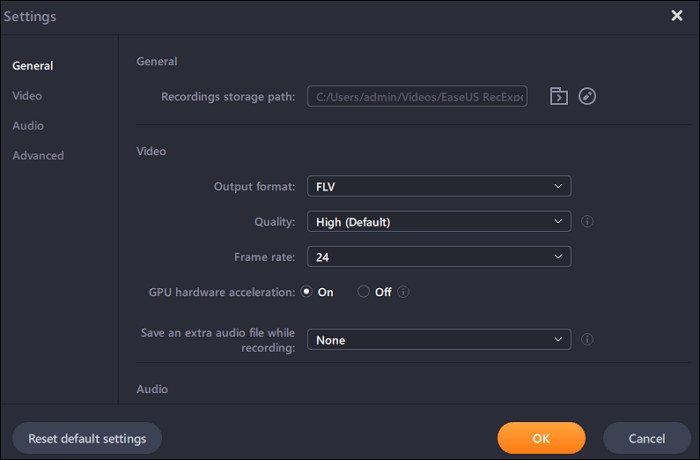 Step 3. Click the orange button "REC" and your recording will start. You will see a small bar, which shows the time of your record. If needed, you can take screenshots in recording, or set the specific time to stop the recording by clicking the "Clock" icon on the toolbar.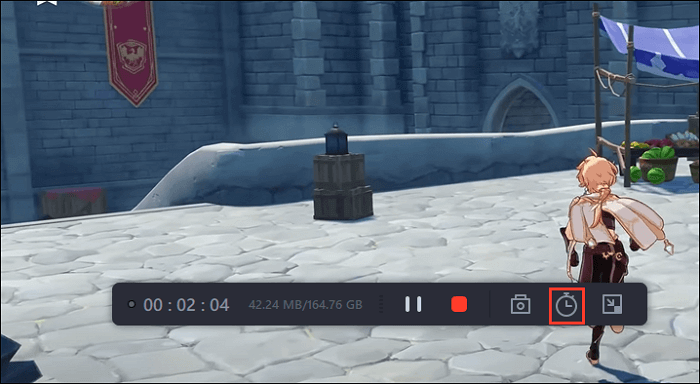 Step 4. Once done, you can edit the recorded footage with the built-in video editor. On the recorded video, you can trim the recordings as you want.
Finally, you can export the ready-to-use video clip in the appropriate video format.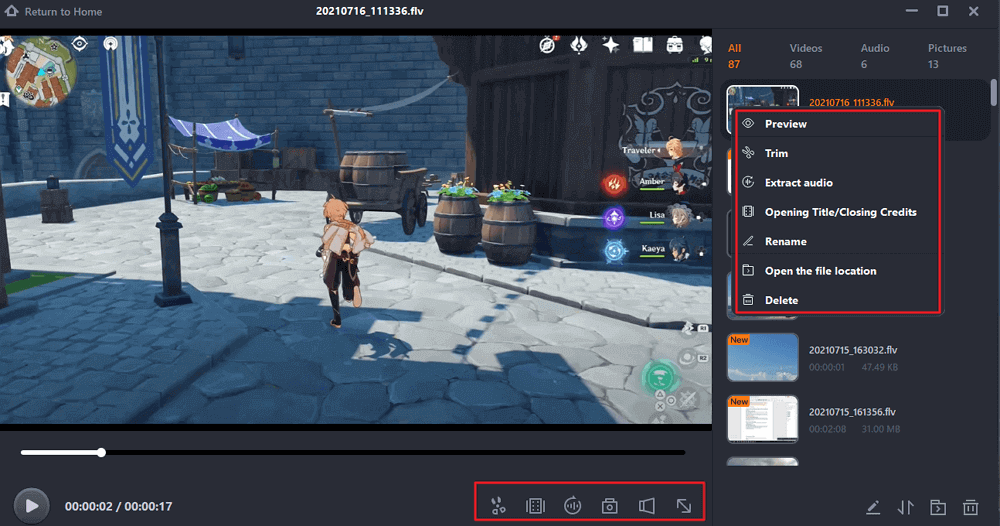 Bonus Tips: What is a Capture Card
The capture card is a device that can be connected to a computer to record on-screen content. In addition to that, the capture card can help encode what is happening on the screen so that you can play it as a Live stream or save it as a video file. However, the capture card cannot encode the data itself. It helps an important role in transmitting the data from one end to the other end.
Conclusion
This post discussed how to record Switch gameplay in high quality with or without a capture card. 
If the recording time is less than 30 seconds, you can capture the Switch gameplay with the default recorder.
If you need to record a long Nintendo gameplay video for YouTube, you'd better try EaseUS RecExperts with a capture card.
Whatever you choose, make sure the solution is suits you best. We hope this post can help you!
About the Author

Jane is an experienced editor for EaseUS focused on tech blog writing. Familiar with all kinds of video editing and screen recording software on the market, she specializes in composing posts about recording and editing videos. All the topics she chooses are aimed at providing more instructive information to users.