
Table of Contents

About the Author

Related Posts
2021 | How to Screen Record on Different Platforms
Nowadays, screen recording has become more and more useful and popular. It can make it easy to deliver instruction, record a video call, share lectures, and many more. So you may wonder how to download a great screen recorder and how to record screen for free. If you are searching for the solutions, you can find them in this post.
To satisfy your needs, we will show you the top 6 best free screen recorder, and give you step-by-step tutorials on how to screen record on Windows, Mac, iPhone, and Android, respectively.
How to Screen Record on Windows 10
We will introduce two of the free screen recorders on Windows 10 in this part. Whether you need a built-in tool or a third-party tool, you can find the one you need in this part.
1. How to Screen Record on Windows with EaseUS RecExperts
When it comes to the screen recording on Windows, EaseUS RecExperts for Windows is worth noting. This program is an all-in-one but easy-to-use screen recorder that enables you to select the recording region freely. You can capture part of the screen or record the full screen on Windows 10 with it. And if you only want to capture the audio, this streaming audio recorder allows you to record both system sound and your voice with a few clicks. 
This software is useful on many occasions. You can use it in your work, such as record Webex meetings, or use it for some recreational purposes as it can also work as the best game recording software.
Main Features:
Support capturing videos in 1080P and 4K
Record green screen webcam
Set tasks to schedule recording
Edit recordings with the built-in tool
If you want to get a versatile and user-friendly screen recorder on Windows, this is what you can't miss. Click on the button below for the EaseUS RecExperts free download, and then you can follow this tutorial to record videos and audios easily.
How to Record Your Screen on Windows 10:
If you downloaded and installed EaseUS RecExperts for Windows, you can follow those steps to screen record on Windows without much effort.
Step 1. Configure the Screen Recording Options
Open EaseUS RecExperts on your computer and click "Full Screen" or "Region" to choose the area on your screen that you want to capture. Then select an audio source by clicking the Sound icon at the bottom left of the panel. If needed, click the "Webcam" icon at the bottom to add an overlay of your webcam footage to your screencast.

If you want to split the recorded file after recording, click "Auto split", and then your recording files will be split automatically according to file size or recording time that you have set. 
Step 2. Specify Recording Settings
Once you have configured the basic recording options, you might want to configure the advanced settings. 
Click "Settings" to open the menu. On the following menu, select a format for your screencast and specify other options as you feel appropriate. Then click "OK" at the bottom to save your settings.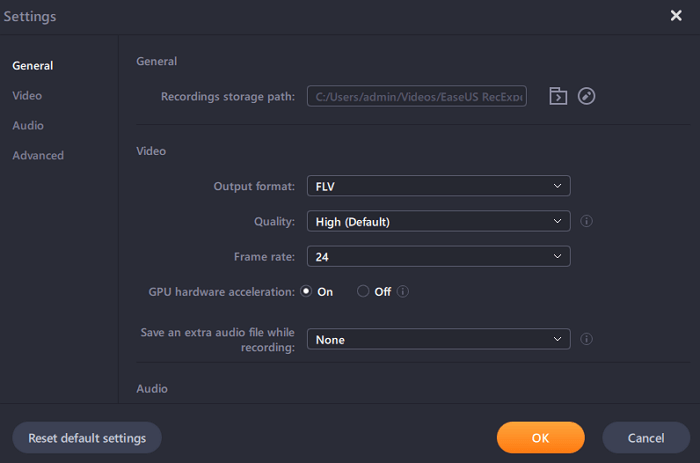 Step 3. Start and Stop Making a Recording
You should now be back to the main interface. Open up the screen that you want to capture, and then click "REC" in the software. Then it will start recording everything that is displayed on your screen.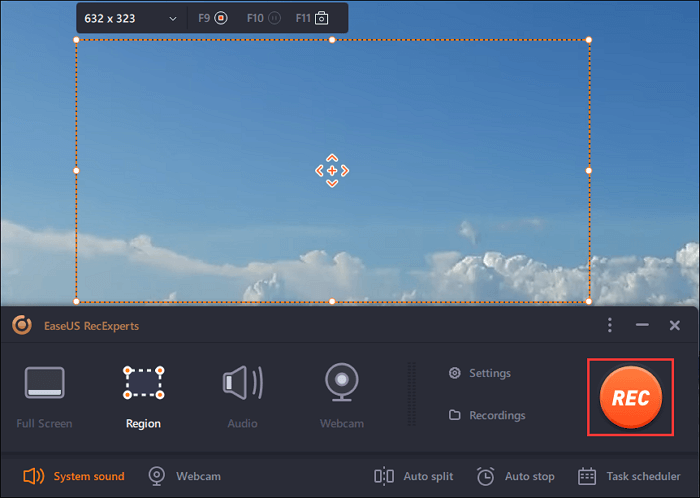 Then you will see the toolbar where you can pause or stop the recording, take screenshots while recording, or set a specific time to stop the recording.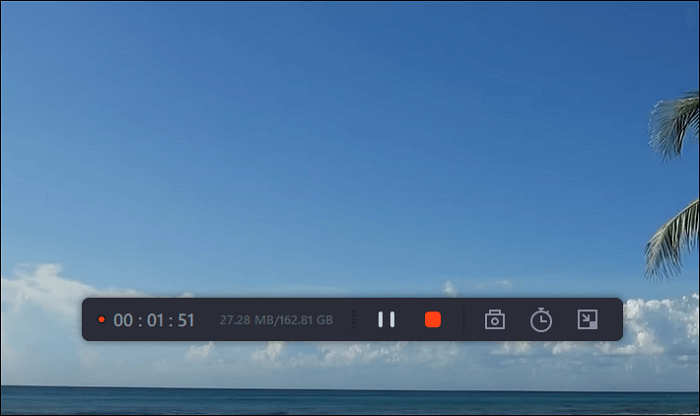 Step 4. View All Your Recordings
Once the recording is done, this software keeps all your recordings at a single location for you to view. You can preview and edit the recorded file here.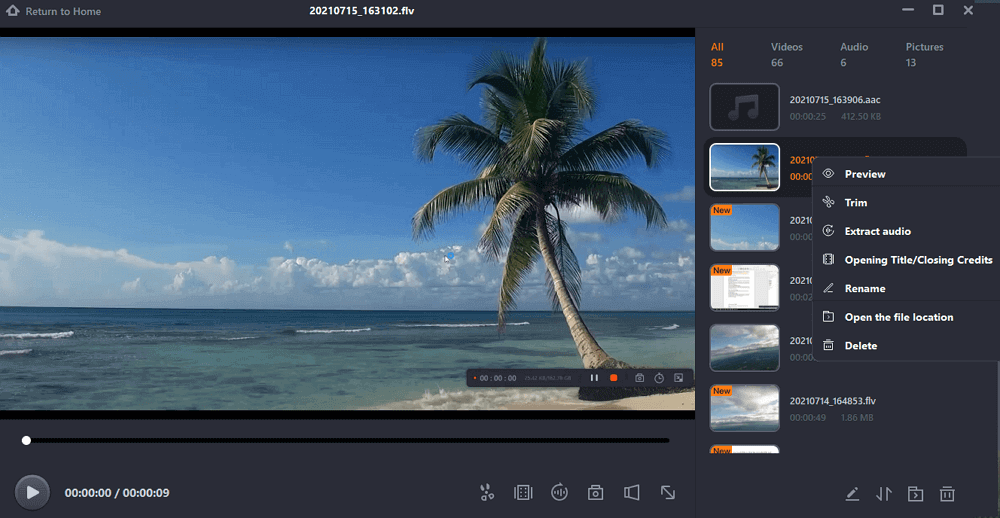 2. How to Record Screen on Windows 10 with Game Bar
If you would rather not download any additional software to record the screen on Windows 10, you can use the Windows built-in tool - Game Bar.
It can be used by anyone offering a swift and convenient way to record your screen and even add audio if needed. To use this feature, first, make sure that Game Bar is enabled. 
Screen Record on Windows 10 with Game Bar:
Step 1. Go to "Settings" > "Gaming" > "Game bar". Turn on the switch to "Record game clips, screenshots, and broadcast using Game Bar" if it's not already on. You can also change any of the keyboard shortcuts of opening the Game Bar, taking a screenshot, and recording video on this screen.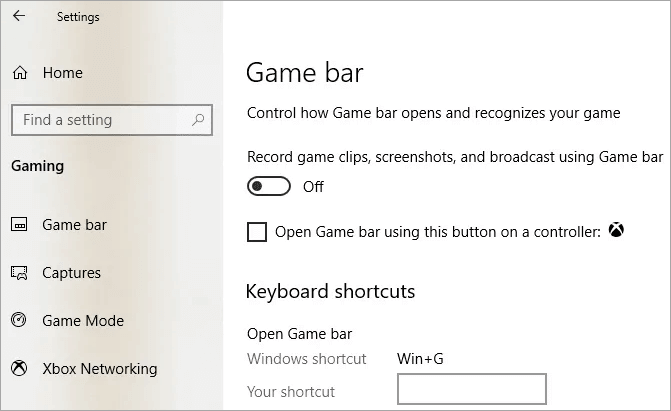 Step 2. Press the Windows + G keys to open Windows 10 Game Bar. You may or may not see a prompt asking if the highlighted application on your screen is a game. If required, click "Yes" to move on.
Step 3. The Game Bar provides buttons to access multiple overlays, including sound, performance, and capture. Press the Start/Stop Recording button (alternatively, you can press Windows Key + Alt + R) to start and stop a recording. Use the Turn Microphone On/Off button to toggle the microphone as you need.
Step 4. Once the recording finishes, the file will be saved as an MP4 in your Videos\Captures folder. You can trim your video or rename it in the Xbox app.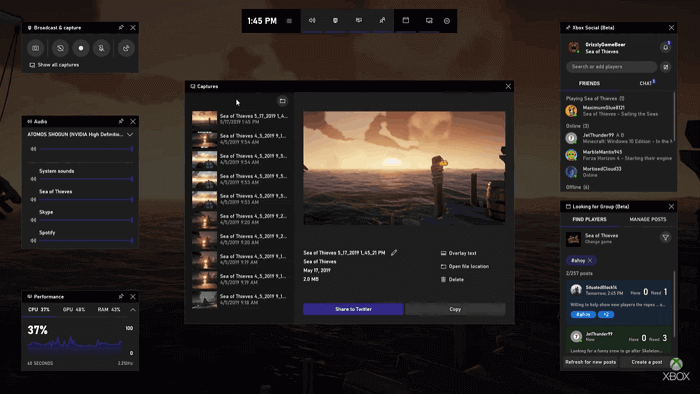 How to Screen Record on Mac with Sound 
Wondering how to screen record on Mac? Looking for a free screen recorder to capture screen on Mac with audio at the same time? Try the following solutions to easily record video of anything on the screen of your Mac - here's how.
Apart from a Windows version, EaseUS RecExperts also offers a macOS version for Mac users. As a screen recorder without watermark, it is trendy among people from all walks of life.
You can use it to record live streaming video, audio, or online meetings flexibly. What's more, it allows you to record internal audio on Mac without downloading other software, and you also can select the audio resources, like Microphone or other external audio devices.
Since it supports many frequently-used file formats, like M4A, MP4, and GIF, you can use it as a GIF recorder and share what you recorded with your friends. What's more, if you installed this tool on your Mac, you can record your iOS screen by connecting them to the same WiFi with Mac.
Key Features:
This is a really lightweight but rich-featured screen recorder on Mac, don't miss it. Click on the button below for the EaseUS RecExperts free download. Here is a tutorial about how to record screen on Mac with audio, and you can follow it to record what you need.
How to Record Screen and Audio at the Same Time on Mac:
Step 1. Download and launch EaseUS RecExperts on your Mac computer. Click on the "Screen" button in the Video tab.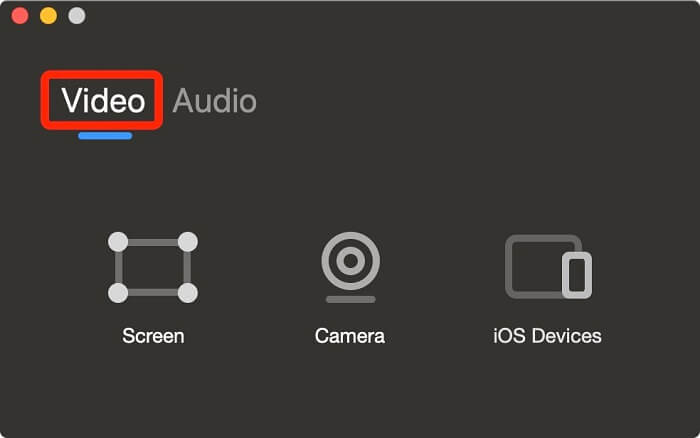 Step 2. Click on the "Size" option to choose the recording area. Here you can record your full screen or capture part of the screen by clicking the "Custom" button. You also can select the quality of the recorded video in advance or configure some basic options, like the shortcut and location.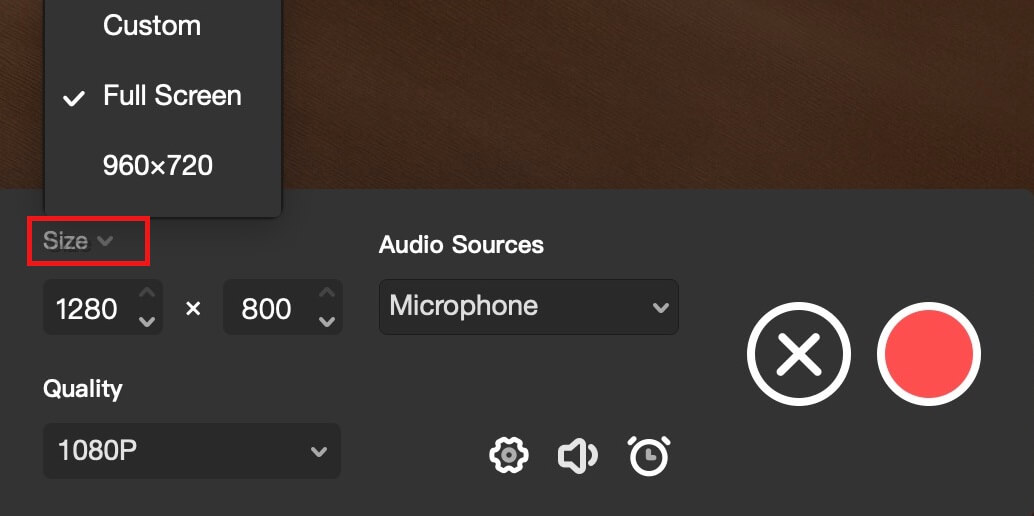 Step 3. If you want to capture screen and audio simultaneously, you can click "Audio Sources" to select an audio source. Besides, you can adjust the volume by hitting the sound icon at the bottom.
Step 4. Once done, click the big red circle button to begin your recording. It will capture anything displayed on your Mac screen. When you are done, click the stop button to end the recording. Then you can watch the recorded video in the preview window. If you are satisfied with it, you can export it as an MP4 or GIF file flexibly.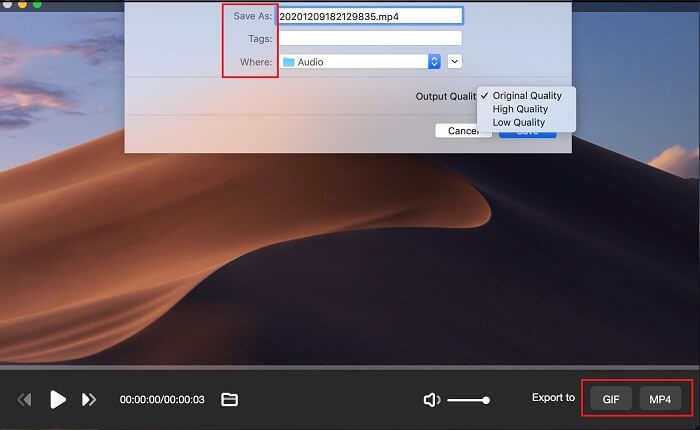 2. How to Record Screen on Mac Using QuickTime Player
If your computer hasn't upgraded to macOS Mojave, you can use QuickTime Player to help you record screen on Mac with sound. But what is the best method for QuickTime screen recording? We will offer you a tutorial about that.
QuickTime Record Screen and Audio:
Step 1. Open QuickTime Player from your Applications folder, then choose "File" > "New Screen Recording" from the menu bar to open the Screen Recording window. To record videos with voice or other audio, choose a microphone. You can adjust the volume of audio during recording as you need.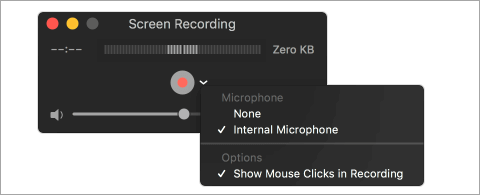 Step 2. Click the "Record" button to start recording. You can click anywhere on the screen to begin recording the entire screen. Or drag to select an area to record, then click "Start Recording" within that area.
Step 3. Click the "Stop" button in the menu bar, or press Command + Control + Esc (Escape) to stop and save the recording. When the recording completes, QuickTime Player will automatically open the recording. You can now play, edit, or share the recording.
Note: On macOS Catalina, when you click "File" > "New Screen Recording", you will see the same onscreen options that you get by pressing Command (⌘) + Shift + 5. Refer to previous steps of the recording screen in macOS Mojave for more details.
How to Record Screen on iPhone for Free
If you are an iOS user and want to record screen on your devices, you don't need to download or install any applications, as there is a built-in screen recorder on your iOS devices. To screen record with it, you need first to add the Screen Recording feature to the Control Center:
How to Get Screen Record on iPhone: 
Step 1. Go to "Settings" > "Control Center" > "Customize Controls", then tap the plus icon next to "Screen Recording".
Step2. Open the Control Center. For iPhone X or later or iPad with iOS 12 or later, swipe down from the screen's upper-right corner. If you use an older device, swipe up from the bottom edge of any screen.
Step 3. Tap the Record button, and wait for the three-second countdown. If you want to record screen with sound, press deeply on the gray record icon and tap Microphone to turn it on.
Step 4. You'll know that your screen is recording when you see a red bar on the top. You can tap the red status bar at the top of your screen to stop recording. The screen recording videos will be saved to Photos automatically.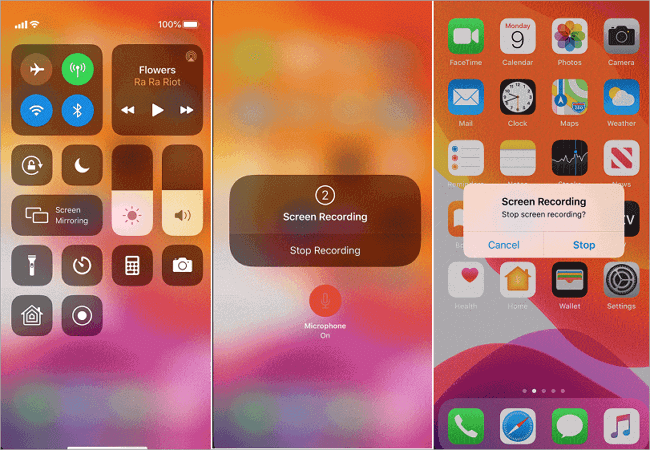 But many users are not willing to record their iPhone screen in this way for various reasons. For instance, some of them want to save the storage space of their phones. If you need to edit what you have recorded on Mac, you can record the iPhone screen on Mac so that you don't need to waste time transferring the file between the devices.
If you want to know the detailed steps to capture the iOS screen on Mac, the following article can help.

The preparation steps for recording the iPhone screen on Mac are straightforward. You only need to connect them in the same WiFi, then mirror the iPhone screen to your Mac.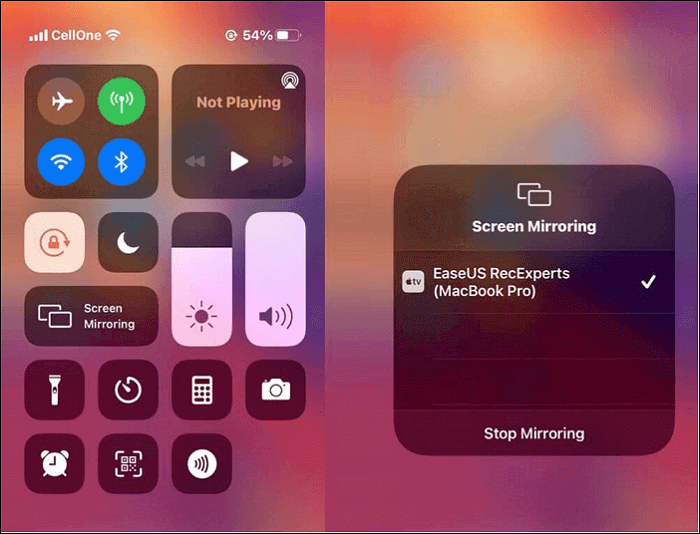 How to Screen Record on Android
If your Android device is running Android 4.4 KitKat or any later version, you can use ADB (Android Debug Bridge) tool to record screen on Android without an app. The ADB is a tool used by developers and the Android SDK to communicate with a device at the command line level. You can read the tutorial and see how to record your screen on Android.
For ordinary users, this method obviously won't work. It's too complicated, and you don't have developer rights. Then, you can rely on AZ Recorder to help out. It is a stable, high-quality screen recording app with no time limits or watermarks. Besides, this screen recording tool provides an easy way to record screen, with no technical requirements. 
How to Screen Record on Android:
Step 1. Download the application in Google Play, and select the "Record" option to record your screen.
Step 2. Tap the "Stop" button by swiping down on your screen to stop the recording. There are some editing features to trim, cut, and edit the video, crop the screen as necessary, replace the audio with whatever you want, and convert sections to GIFs as needed.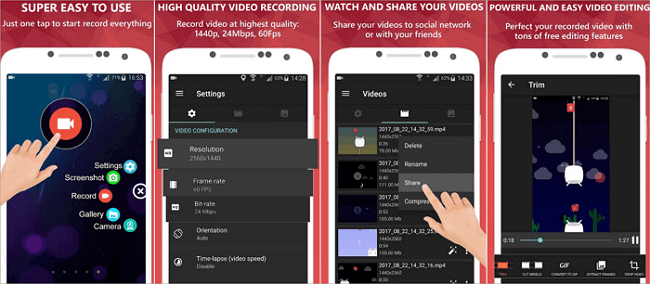 To Sum UP
On this page, we display six methods in all to help you record screen on Windows 10, Mac, iPhone, and Android devices. These tools are simple to use to record the screen for free.
Among them, EaseUS RecExperts is the most user-friendly one. If you are interested in this software, we suggest you download it from the button below.
FAQs About Screen Recording
If you want to know more about screen recording methods on different platforms, those FAQs may help you.
1. How do you record a video of your screen?
You can record the screen on Windows 10 in two ways: one uses the build-in recording tool - Game Bar, and the other is applying Microsoft Office PowerPoint's Screen Recording tool. Go to check the corresponding tutorials.
2. How do I record my screen with sound on Mac?
Step 1. Open QuickTime.
Step 2. Tap "File" at the top of the display.
Step 3. Choose "New Screen Recording".
Step 4. Hit record.
Step 5. You can record the whole screen, or click and drag your mouse cursor to record just a specific part. 
3. How do you record your Android screen?
Many users are asking how to record the Android screen without using an app. If you are a developer, you may try the Android SDK page on ADB tool commands to help you if the version of Android running on your phone is 4.4 KitKat or later. We highly recommend you try a reliable screen recorder instead of a rather complex way for average users.
4. What button do you press to screen record?
To capture a video of your screen, different devices have different methods of operation. To record screen on Windows 10, you can use Game Bar or PPT, and to record the screen on Mac, you can use Command + Shift + 5 or QuickTime Player.
To make a video of your iPhone screen, the built-in screen recording feature is a great tool, and if you want to capture a video on the Android screen, a capable screen recording application is an excellent choice. 
About the Author

Jane is an experienced editor for EaseUS focused on tech blog writing. Familiar with all kinds of video editing and screen recording software on the market, she specializes in composing posts about recording and editing videos. All the topics she chooses are aimed at providing more instructive information to users.