How to Record Screen on Windows 8 | 6 Working Ways

Jane Zhou updated on Apr 09, 2021 to Screen Recording Utility | How-to Articles
We all know that it is easy to screen record on Windows 10 as it has a built-in screen recorder. However some of you, still using a lower operating system, like Windows 8, may feel difficult in doing screen recording activities. Fortunately, there is a lot of screen recording software designed for Windows 8 that can help you get the work done without effort.
We have collected plenty of Windows 8 screen capture and picked the top 8 ones to share with you on this page. In addition, for each software, we provide a detailed tutorial about how to record screen on Windows 8. Read to find more information.
Part 1. How to Record Screen on Windows 8 with EaseUS Recording Software
EaseUS RecExperts is definitely the best choice for Windows 8 users when recording the screen. As one of the best free screen recorder, it can capture anything on your screen, like movies, sports, live streaming, gameplay, etc. While recording, you can choose the recording area, capture screen with or without audio flexibly. Moreover, it allows you to upload your recorded files to YouTube and Vimeo when you finish your capture.   
EaseUS RecExperts
Friendly to all levels of users, especially the beginners
Allow recording screen, audio, webcam separately or simultaneously
A best game recorder provides different recording modes
Export the recorded files in more than 10 formats
Now check the following tutorial to screen record on your Windows 8 PC.
Step 1. Configure the Screen Recording Options
Open EaseUS RecExperts on your computer and click "Record Screen". On the following screen, click "Custom" and choose the area on your screen that you want to capture. Then, select an audio source from the "System & Mic" option. Click the "Webcam" option and add an overlay of your webcam footage to your screencast.

Step 2. Specify Recording Settings
Once you have configured the basic screencast options, you might want to configure the advanced options. Click the cog icon at the top to open the settings menu. On the following screen, select a format for your screencast and specify other options as you feel appropriate.
When you are done, click "OK" at the bottom to save your settings.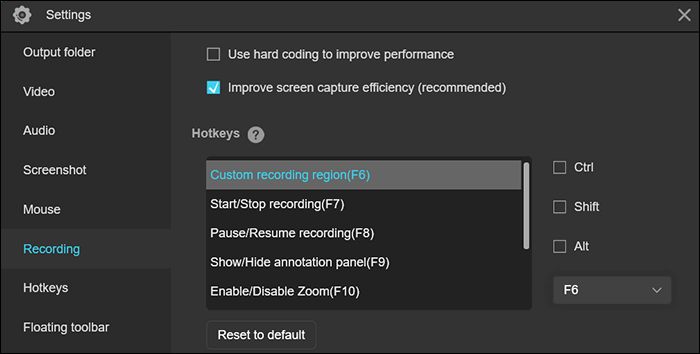 Step 3. Start and Stop Making a Recording
You should now be back to the main interface. Open up the screen that you want to make a screencast, and then click "Rec" in the software. The software will start recording everything that is displayed on your screen.
When you are done with the recording, click the stop button to stop and save the recording to your computer.

Step 4. View All Your Recordings
This software keeps all your screencasts at a single location for you to view. From the main software interface, click the option that says "Video list" to view all of the screen recordings that you have ever made with this program.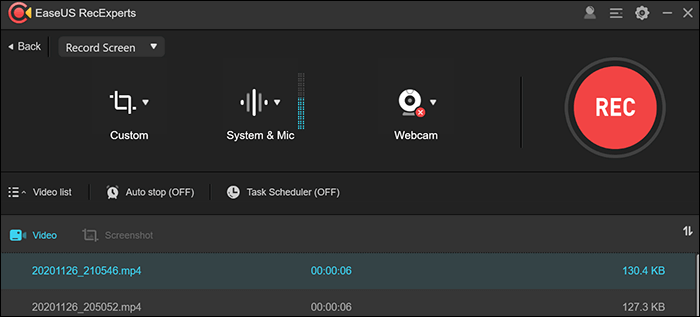 Part 2. How to Screen Record on Windows 8 PC with VLC
If you want to record screen on Windows 8 without downloading any software, you can try VLC Media Player. This versatile video tool can do what you want. It can record your screen without any extra software. Here's how it works.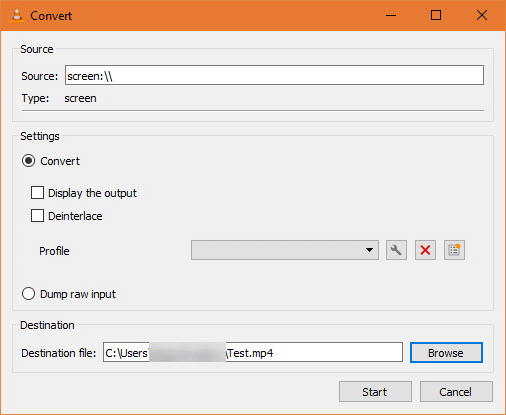 Step 1. Open VLC Media Player by searching for it in the "Start Menu", then click the "Media" > "Convert/Save".
Step 2. Switch to the "Capture Device" tab. Here, you need to change the "Capture" mode to "Desktop" to let VLC capture your desktop.
Step 3. Set the frame rate in the "Desired" frame rate box. For basic screen recordings, 15FPS should work fine. If you need a high-quality recording, try 30 FPS.
Step 4. Click the "Convert/Save" button to open the next dialog box. Select "Browse" next to the "Destination" file box and choose a place to save the recording. After that, click "Start" to start the recording.
Part 3. How to Record the Screen on Windows 8 with OBS
Open Broadcaster Software Studio, more commonly known as OBS, is a video streaming and recording program. It is free, open-source, and fully cross-platform - Mac, Windows, and Linux are all compatible with this software. Combined with solid audio and video editing software, it is a powerful and flexible screencast video production tool. To show you how to use this tool, we offer you the tutorial below.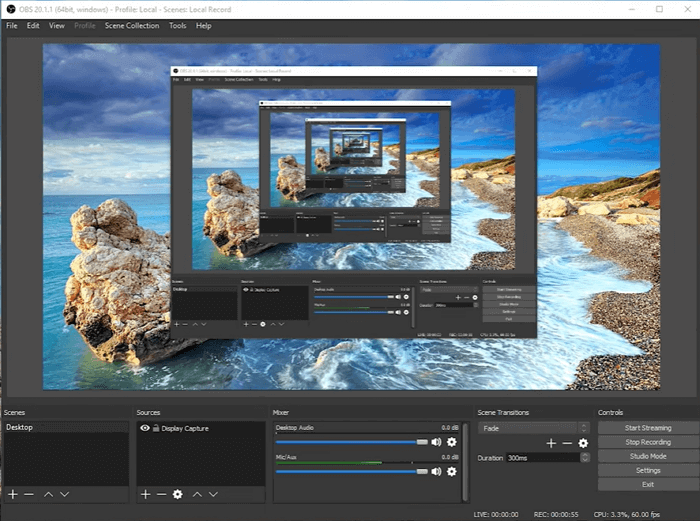 Step 1. Launch OBS Studio, click the "+" sign. Note that the default setting is recording the screen with audio.
Step 2. Click "Display capture", name the new recording under "Create new".
Step 3. Customize the aspect ratio of the video to be recorded on the next page.
Step 4. Let the program record the screen for you. When the process is completed, you can find the video by clicking "File".
Part 4. How to Screen Record on Windows 8 No Download
For those who don't want to download any software, we give you a list of online screen recorders for Windows 8. You may choose one tool to record the screen for you.
#1. Online Screen Recorder
ScreenApp.IO is one of the simplest and the fastest way to capture your screen on Windows 8 PC. Since it functions fully online, there are no downloads or extensions required. With this online program, you are able to record, edit, and share your screen on the web instantly. Want to know how to record the screen with Online Screen Recorder? Just follow the steps below.
Step 1. Visit screenapp.io and click on the "Get Started" button.
Step 2. When the "Share Your Screen" window pops up, select from Record Your Entire Screen, Record an Application Window, and Record a Browser Tab.
Step 3. If you are all set, click "Start Recording" and the recording will start immediately.
Step 4. Once you are done, click "Stop Recording" and it will stop instantly.
#2. Clipchamp
This online Windows 8 screen recorder captures video and audio to enhance your video projects. With Clipchamp, you can record the screen, edit and export the recorded file in a few simple steps.
There is no more downloading or switching between programs. You may trim and clip your recordings, add fun filters and overlay motion text to produce great videos. Also, you can turn up/down the volume on your screen recordings with sound.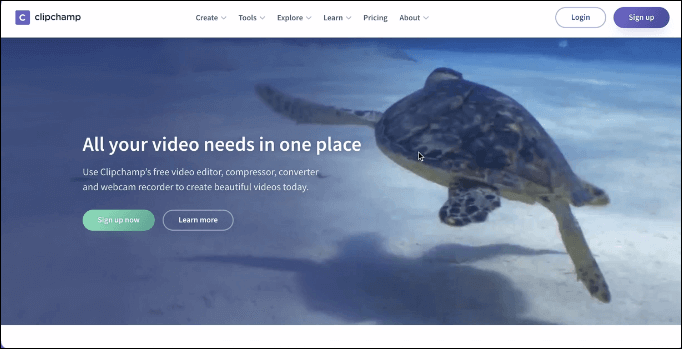 Step 1. Select the area you want to record and start recording.
Step 2. Complete your screen recording and the file recorded will appear in the editor.
Step 3. Edit the screen recording with the functions it offers.
Step 4. When you're satisfied, you can export and share the recorded file.
#3. Nimbus Capture
You can use Nimbus Capture as a Windows 8 screen recorder to capture photos and screenshots, or you can go the whole hog and use it for video. It also lets you annotate, making it one of the best free online screen recording programs available on the market. If you are a student, it saves your time taking notes in lectures.
Also, it is capable of recording videos of your entire desktop or browser tabs, create videos using your webcam, or take screenshots to capture full web pages (or part of a web page). Follow the steps of recording the screen below.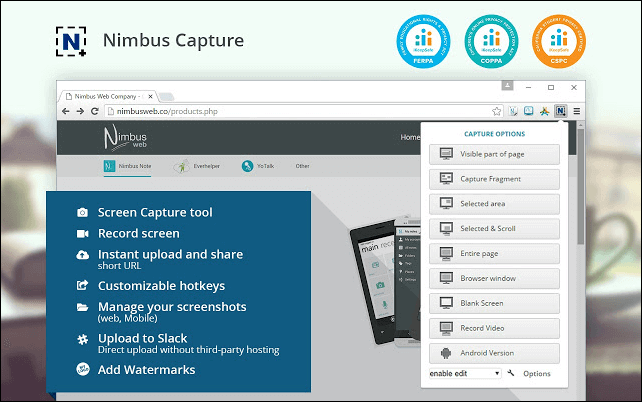 Step 1. Search Nimbus Capture on Google and get Nimbus Capture for Chrome.
Step 2. Click "Add to Chrome" so that you can find it on Chrome whenever you need it.
Step 3. Click Nimbus Capture and customize the capture options.
Step 4. Choose to record with the audio or not on the next page.
Step 5. Click "Start Record", and the tool will record the screen for you.
Conclusion
All in all, there are many programs that can help you to record the screen on Windows. However, EaseUS RecExperts is undoubtedly the best choice for common users. It is full-featured but lightweight, powerful but easy-to-use in the meantime. If you don't have much experience in choosing screen recorders, this Windows screen captrue is what we recommend.