
Table of Contents

About the Author

Related Posts
Screen Record YouTube TV: How to Record on YouTube TV
YouTube TV offers the best overall TV streaming service that has over 85 top channels of entertainment, news, and live sports for you. Watching a TV show on YouTube has become a daily entertainment for many people. What if you can't watch the show directly on YouTube TV due to the poor Internet connection or whatever? In those situations, how do you record on YouTube TV? In this tutorial, we will show you how to record YouTube TV step by step with effective programs.
How to DVR on YouTube TV Using Mobile Devices 
The DVR feature of YouTube TV makes it extremely easy for users to download shows, movies, and sports events they like. With the help of cloud storage, you can save unlimited downloaded or recorded files on it. This built-in DVR function also enables you to record multiple files simultaneously and you can even stream those recordings to different devices on the fly.
You can have a try on your mobile devices including Android phone, iPhone, and iPad. The operation is quite simple. All you need to do is to follow the steps below.
Method of Downloading YouTube TV Recording:
Step 1. Open YouTube TV on your mobile device and tap the search icon in the upper right corner.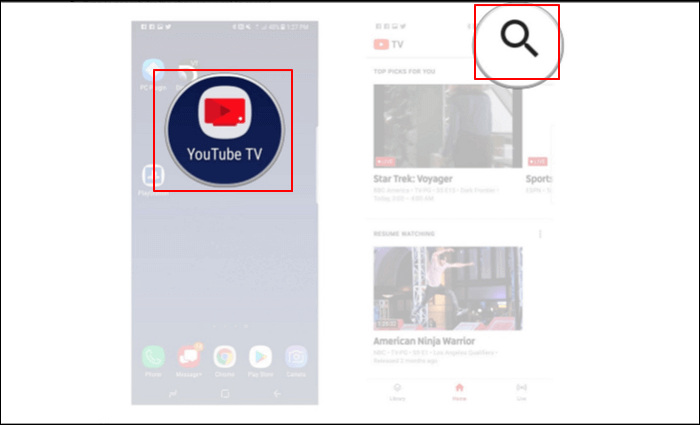 Step 2. Search the show you want to record in the search box and single-click to select the show.
Step 3. Tap the "+" icon to add the show to your DVR list. You can find the show in the "Library" after recording.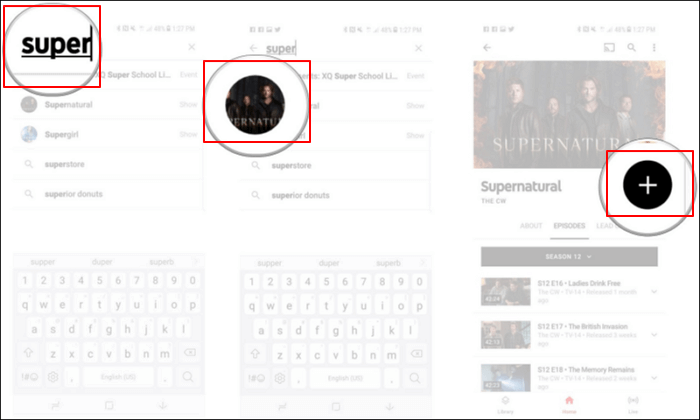 How to Record Shows on YouTube TV Using Windows 
If you want to know YouTube TV how to record on Windows, the first step is to install a powerful YouTube TV recorder on your PC. In this part, we will take EaseUS RecExperts for Windows as an example. This screen recording software is user-friendly for even beginners. You can record streaming video from YouTube, Vimeo, or other video posting platforms with it smoothly. 
With this full-featured program, you can record anything on your computer. For instance, you can record any area on your screen, record webcam, and record audio.
Features:
Fully support recording shows on YouTube TV
Record screen and webcam at the same time
Support recording videos in 1080P and 4K
Record audio from YouTube on Windows 10
Download this recorder and record the shows you like.
 Important

The provider protects some video content against recording, and RecExperts observes this protection. It never accesses encrypted video data and is not able to record and save such content. So this screen recorder can only capture the video contents that are not the DRM protection against recording. 
YouTube TV How to Record on PC:
Step 1. Launch EaseUS RecExperts. There are two different options for screen recording, i.e., "Full Screen" and "Region". If you select "Full Screen", you will capture the whole screen.

Step 2. If you select the "Region" option, this software will ask you to customize the recording area. Make sure that everything you want to capture is within the bounds of the select box.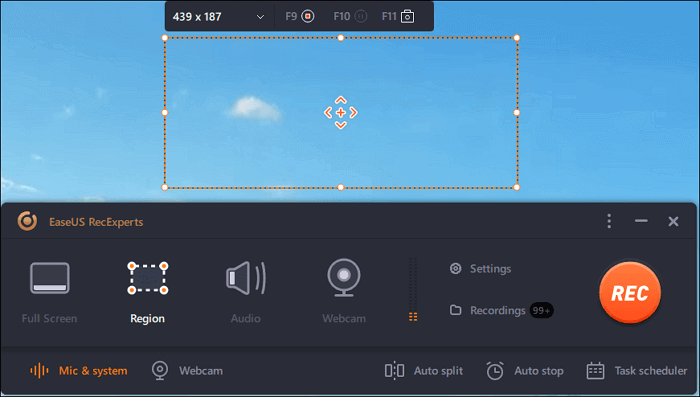 Step 3.  Tap on the button at the bottom left side of the main interface, and there will be many options you can select. This recorder supports recording microphone and system sound separately or simultaneously. The "Options" button is for you to adjust the volume and microphone device.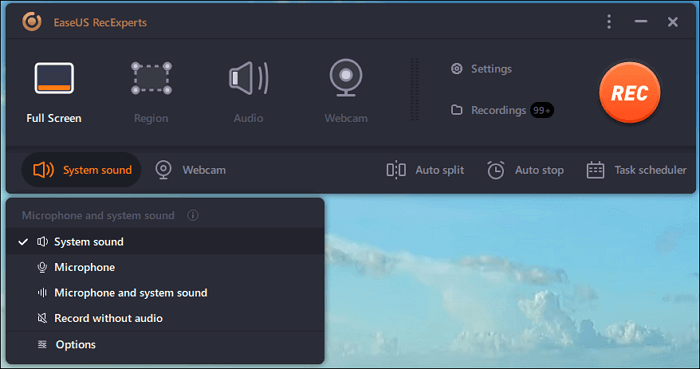 Step 4. If you want to record the webcam simultaneously, click on the "Webcam" icon at the bottom of the interface. Tap on the button to enable the webcam recording, and there will be a drop-down menu to select the recording device. Click on "OK" to confirm your settings.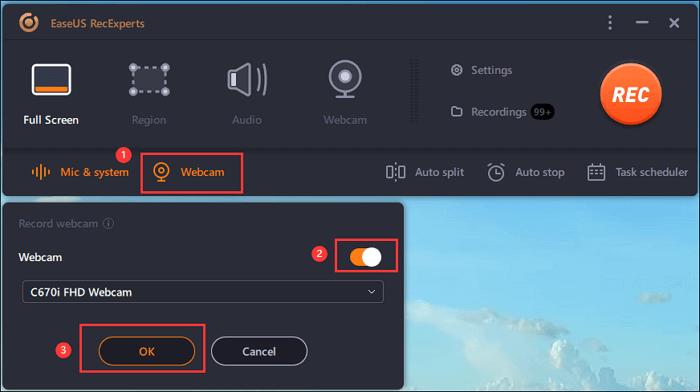 Step 5. When you turn back to the main interface, click on the "REC" button to start recording. A floating toolbar offers you buttons to pause or stop the recording during the recording process. In addition, the camera icon can be used to take screenshots, and the timer icon can help you stop recording automatically.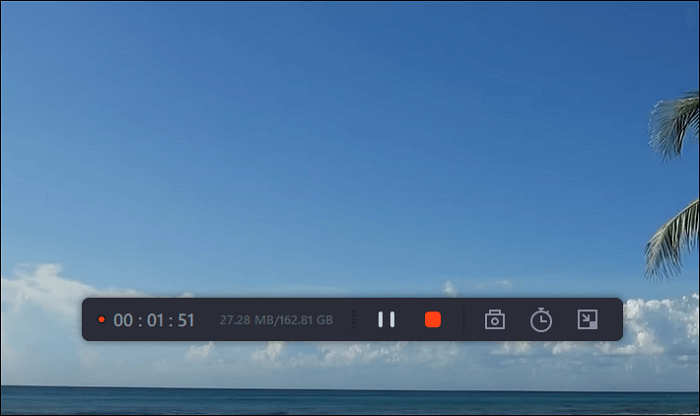 Step 6. The recorded video clips will be saved on your computer. When the media player appears, you will see a set of tools you can use to trim the recordings, extract audio, and add opening title & closing credits to the recorded video.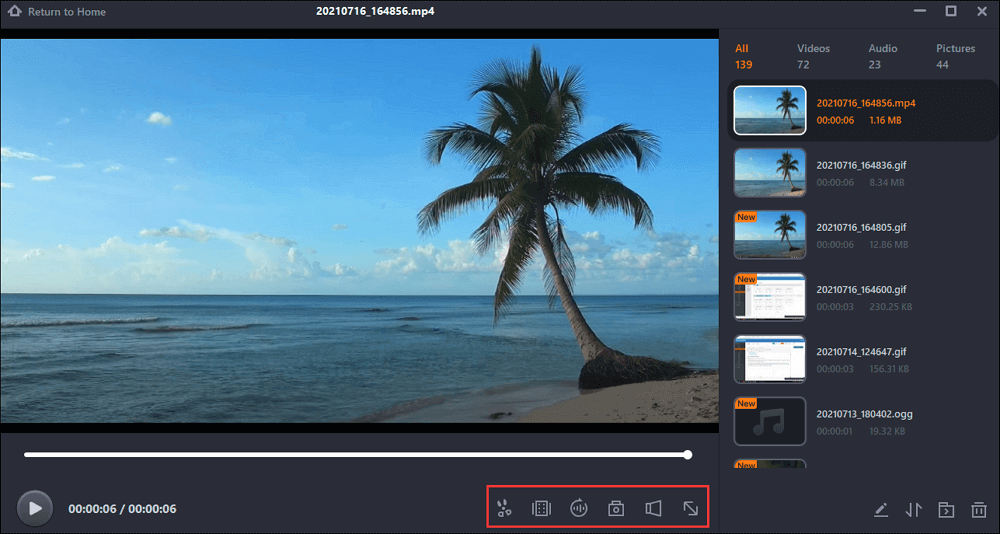 How to Record on YouTube TV Using Mac 
For Mac users, there are two optional methods of recording from YouTube TV. And we will show you the detailed steps to do that, before the beginning, make sure you have installed a competent recorder like EaseUS RecExperts or QuickTime Player.
Recording from YouTube TV using a MacBook is an easy task since you can resort to one of the most helpful recording software on Mac, which is named EaseUS RecExperts. Its simple and elegant interface makes it very user-friendly for people who are a novice and want to capture they need on Mac screen.
When you want to record shows on YouTube TV, it can serve as an easy-to-use full screen recorder. And when you want to record only a part of the screen, it supports selecting the recording region flexibly. If you need to schedule recording, you can set the start recording time and the duration and this recorder can execute the task automatically.
Features:
Support recording shows on YouTube TV
Record screen of the iOS device on Mac
Export recordings in GIF or MP4 format
No watermark
Download it to record your favorite shows now.
Way to Download YouTube TV Recordings on Mac:
Step 1. Open the streaming video that you want to capture. Then launch EaseUS RecExperts to get used to its interface on your Mac.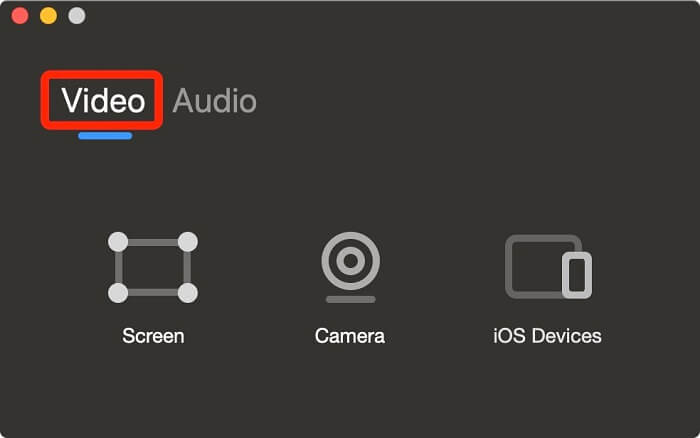 Step 2. In the Video tab, click "Screen" > "Custom" to adjust your screen's capturing area. After that, click on Audio Sources to select the "System Sound" option. Once done, click the red circle button to start the task.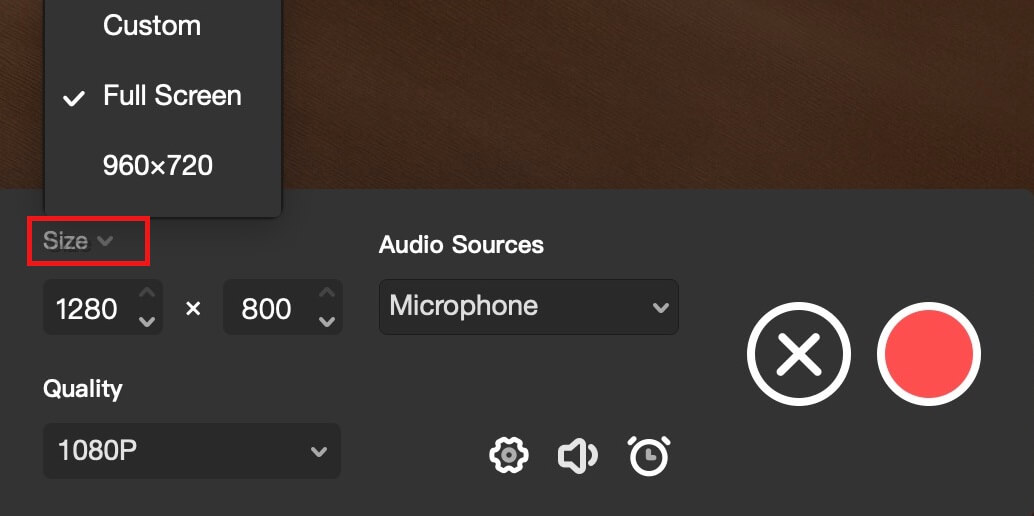 Step 3. To finish it, hit the Stop Recording button. Then, you can watch the recorded video.
When you are satisfied with the recording, choose the "MP4" option to export and save it on Mac.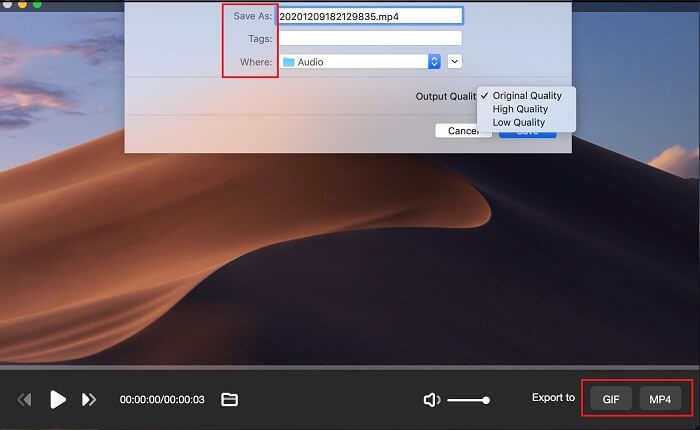 QuickTime is an extensible multimedia framework developed by Apple Inc. It is capable of handling various formats of digital video, picture, sound, panoramic images, and interactivity.
The latest Mac version, QuickTime X, is currently available on Mac OS X Snow Leopard and newer. This program can do almost any video editing on Mac. It can also record the screen on a Mac. Since it is quite useful, most Mac users are familiar with this software.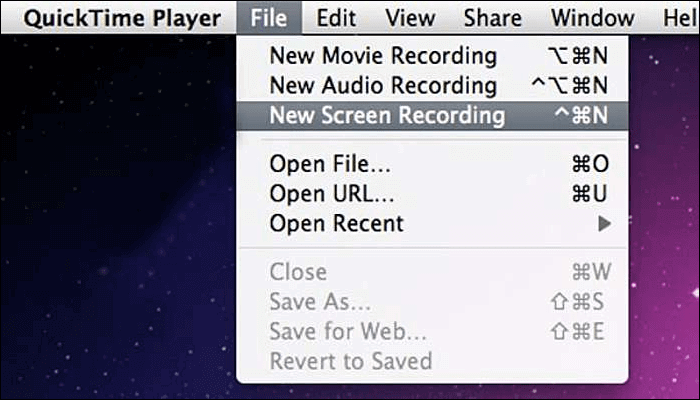 Way to Obtain YouTube TV Record:
Step 1. Open QuickTime Player then choose "File" > "New Screen Recording" from the menu bar. You will then see either the onscreen controls or the Screen Recording window.
Step 2. Before starting your recording, you can click the arrow next to the "Record" button to change the recording settings:
Record your voice or other audio with the screen recording, choose to record with a microphone or not.
To show a black circle around your pointer when you click, choose "Show Mouse Clicks" in "Recording".
Step 3. To start recording, click the "Record" button and then take one of these actions:
Click anywhere on the screen to begin recording the entire screen.
Drag to select an area to record, then click "Start Recording" within the area you selected.
Step 4. To stop recording, click the "Stop" button in the menu bar, or press Command-Control-Esc (Escape).
Step 5. After you stop recording, QuickTime Player automatically opens the recording. You can then play, edit, or share the recording.
Conclusion
In a word, you can record a YouTube TV show in two ways. The first one is to use the inbuilt recorder within the YouTube TV show, and the other one is to use some screen recorders recording the TV show you like. EaseUS RecExperts is a nice choice for both Windows users and Mac users for it's full-featured and lightweight in the meantime. Download it by clicking the button below.
About the Author

Jane is an experienced editor for EaseUS focused on tech blog writing. Familiar with all kinds of video editing and screen recording software on the market, she specializes in composing posts about recording and editing videos. All the topics she chooses are aimed at providing more instructive information to users.