
Table of Contents

About the Author

Related Posts

Best Audio Recording Software
How to Record on PS5 Gameplay with Voice
If you want to show your fans how you complete tough gameplay or demonstrate your skills on PlayStation 5, recording PS5 is a nice choice. Better than PS4, PS5 allows you to record up to the most recent 60 minutes of games in 4K quality by pressing a simple Create button. Within this device, you can almost capture, edit, and share the PS gameplays for YouTube or Twitch. However, how to achieve these goals?
If you have no idea, this post is right for you. Here we're glad to share with you how to screen record on PS5 for YouTube, as well as take screenshots for PlayStation 5. Just stick here to learn more information.
How to Record Gameplay on PlayStation 5
As we mentioned in the beginning, PS5 has an excellent recording feature, which enables you to catch files going ahead as the player proceeds through a game, or capture a game in the past. Now let's learn how to record videos on PS5 by checking the below procedures:
Step 1. Hit the Create button on your DualSense controller when you want to start your PS5 recording, then you will see a menu at the bottom of the screen.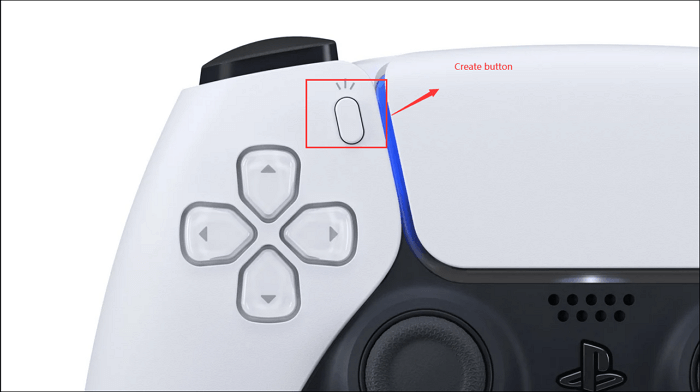 Step 2. Click the "Capture Options" at the lower right corner and select the "Manual Recording Resolution" option. If you want to record the PS5 games along with your voice, you can toggle the "Include Your Mic's Audio button.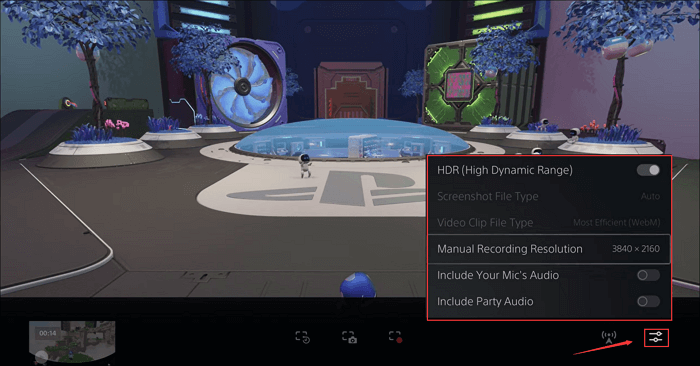 Step 3. After the settings are done, you can click "Start New Recording" to begin the game capture. And a black box with a timer will appear at the top of your screen.
Step 4. When you want to end the PS5 gameplay recording, you can press the "Create" icon again and then choose the "Stop Recording" option. Then wait a few seconds as your video is saved to the hard drive.
How to Record on PS5 in 4K with Voice via EaseUS RecExperts 
PlayStation 5 only allows you to grab your gameplay up to 60 minutes in 1080P quality, but if you need to create game clips in 4K at a higher fps, how to deal with it?
While speaking of that, look no more than EaseUS RecExperts. As one of the best game recording software, it helps you record Switch, PS4, Wii gameplay, etc. with a capture card. With its help, you can flexibly choose to record part of screen or full screen, set the specific recording time to start, or even record PS5 games with your facecam in simple clicks. 
After PS5 recording, you can export the recorded video files in your desired formats, including MP4, MOV, AVI, MKV, and many more. If you want to trim or cut your recordings, you also can get the task done here!
Here's how to screen record on PS5 without time limit:
Stage 1. Set up Capture Card with PS5
Step 1. Head over to the Setting of your PS5 to disable HDCP.

Step 2. Take your first HDMI cable and plug it into the "IN" port of the capture card, and the other needs to plug into PS5. Then take the second HDMI into the "OUT" port.
Step 3. Connect your capture card to your computer.
Stage 2. Start PS5 Recording on PC
Step 1. Start your favorite game and launch EaseUS RecExperts. Choose "Full" or "Region" to select the recording area according on your game window.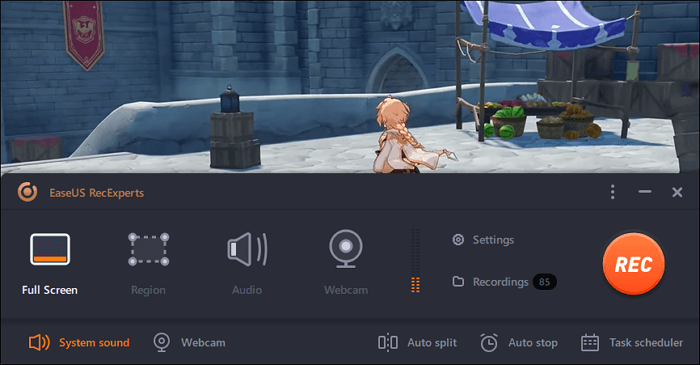 Step 2. Select the frame rate you want to record, as well as the output format and video quality.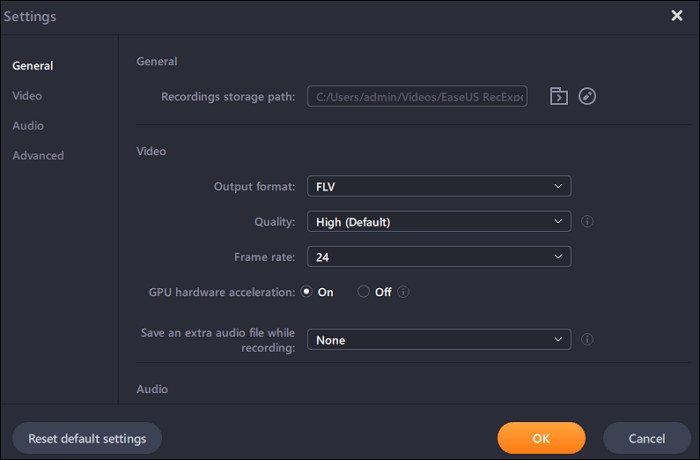 Step 3. Click the orange button "REC" and your recording will start. You will see a small bar, which shows the time of your record. If needed, you can take screenshots in recording, or set the specific time to stop the recording by clicking the "Clock" icon on the toolbar.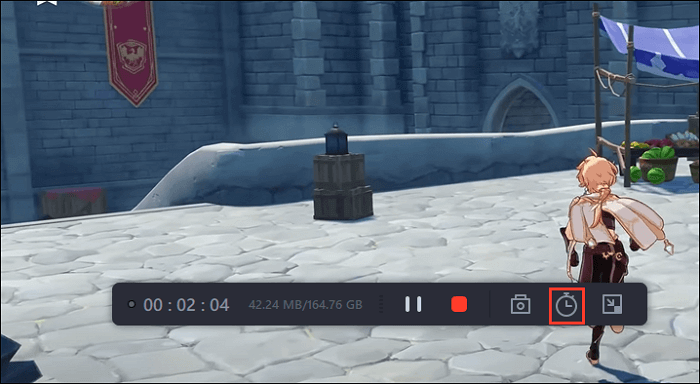 Step 4. Once done, you can edit the recorded footage with the built-in video editor. On the recorded video, you can trim the recordings as you want.
Finally, you can export the ready-to-use video clip in the appropriate video format.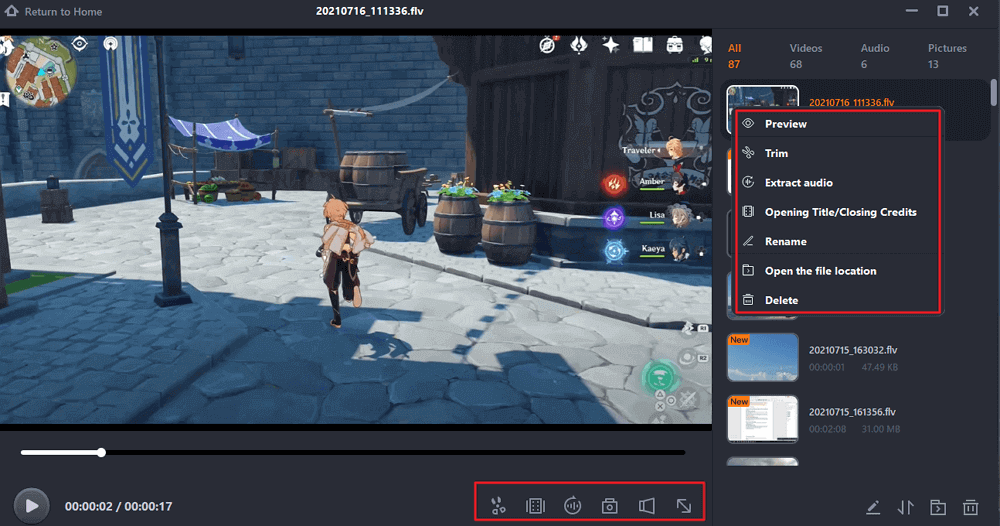 More Information About PS5 Recording
Apart from grabbing game video clips from PS5, you may want to take screenshots, start a live stream, or even directly share your photos from this device. So given that, we will walk you through the steps to get those tasks done in this part.
1. How to Screenshot on PS5?
Step 1. Press the Create button on your PS5 DualSense controller.
Step 2. Select the "Take Screenshot" icon from the Creative menu. That's it!
2. How to Start a Livestream from your PS5?
Step 1. Sign in to your YouTube or Twitch.
Step 2. On the home screen, click the gear icon to open the Settings menu, and then choose "Users and Accounts" to select the service.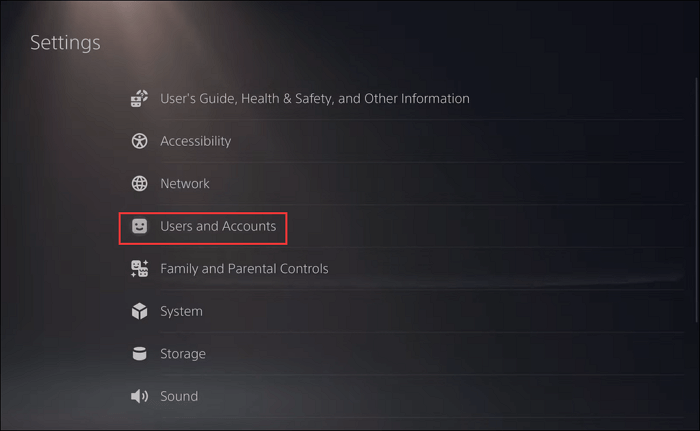 Step 3. Now Move to the activation pages and put in the code displayed on the PS5's screen. Once done, you can launch your game.
Step 4. Hit Create > Broadcast > Go Live to start your broadcast.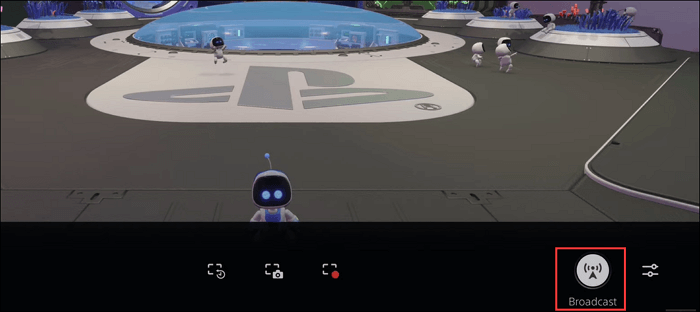 3. How to Share Photos and Videos from PS5?
Step 1. Open the Media Gallery and choose the video or screenshot you want to share.
Step 2. Choose the "Share" button on the lower-left corner.
The Bottom Line
This post shows you some detailed tutorials to capture PS5 gameplay. If the game you want to record is within 60 minutes, you can try the built-in screen recorder. If not, EaseUS RecExperts is your best solution. This program lets you capture and edit PS5 games in the way you like.
About the Author

Jane is an experienced editor for EaseUS focused on tech blog writing. Familiar with all kinds of video editing and screen recording software on the market, she specializes in composing posts about recording and editing videos. All the topics she chooses are aimed at providing more instructive information to users.