
Table of Contents

About the Author

Related Posts
[2021 Tutorial] How to Record on Philo in a Few Simple Clicks
I just got a subscription on Philo, but I basically want to record some of my favorite shows to watch them later. Is there any way that I can record on Philo?
This question is extensively seen among Philo users. Philo is a subscription-based live TV service that allows users to watch TV channels without a cable connection. Recording Philo videos is a significant measure since it should allow you to back up a certain kind of content that can disappear due to a copyright change. 
One of the purposes of this passage is to shed light on our viewers and teach them how to record on Philo. In this article, we will teach you how to record on Philo in several desirable ways. Let's get straight to the point. 
How to Record on Philo on PC [2 Ways]
As aforementioned, the PC version Philo TV app allows you to watch TV programs on your computer. Follow the instruction, and you will learn how to record TV screen on your PC. 
1. Record on Philo Using EaseUS RecExperts for Windows
The best way to record on Philo should go to a third-party Windows screen recorder that enjoys wild popularity on the market. It's impressive in many ways, but the best part is that it always knows how to satisfies users' demands.
This great and simple screen recorder enables you to record screen and Webcam simultaneously, and you can use it to record streaming video on Philo like a breeze, so you can really count on it. It has bountiful customized options, so both advanced users and beginners will be pleased with it. Please Hit the button below to get on board today! 
Features:
Best screen and audio recorder for Windows
Simple and uncluttered user interface
Multiple recording modes
An excellent 4k screen recorder for capturing screen in high resolution
More than 10 formats, including MP4, MOV, AVI, etc.
Direct sharing videos to platforms like Vimeo and YouTube
If you need to download or record the Philo series, this powerful all-in-one recording software is the best choice. Click on the below button to download this recorder.
Now please follow the instruction to record Philo on PC:
Step 1. Launch EaseUS RecExperts. You can choose one of the four main functions on the main screen. Here you need to click "Record Screen".

Step 2. Click "Custom" to select a screen area to record. You may choose "Full Screen", "Selected Region", "Fixed Region", "Locked Window" or to customize window size here. If you want to record the screen and webcam at the same time, make sure you connected a webcam to your computer.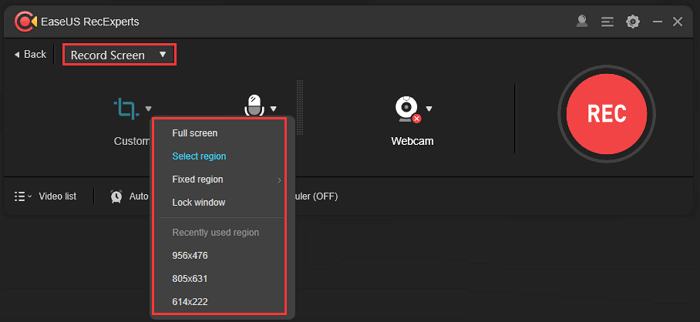 Step 3. Click "Microphone", and you may choose to record system sound only, record microphone only, record both, or record without audio.

Step 4. Click "REC" to start recording. After recording completed, the videos will be shown on the "Video List".

Step 5. Right-click the video recorded, you may preview, compress, edit, share the video, and do more.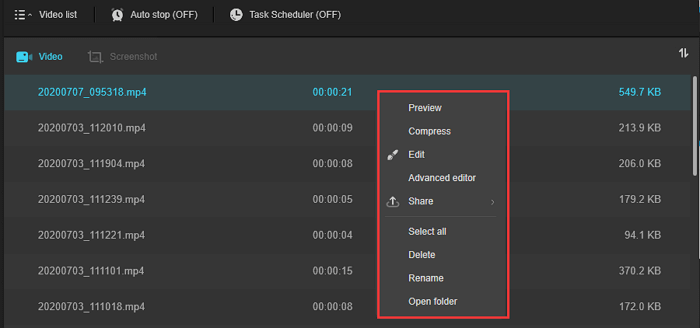 2. Record on Philo with Built-In Philo Recorder [Philo TV's Guide]
While the third-party screen recorder proves itself capable of recording Philo videos, a much simpler yet free tool should also claim a position in this post.
This tool is Philo's default recording function. No learning curve is required in this tool, and the procedures are quite simple too. Just follow the steps below, and you will get the hang of it.  
Step 1. Open the Philo TV application on your computer system and log in with your account credentials. Then navigate to the Guide Option.
Step 2. Open the exact show that you prepare to record.
Step 3. There is a + sign available on the screen. Click on that sign to start saving the episode.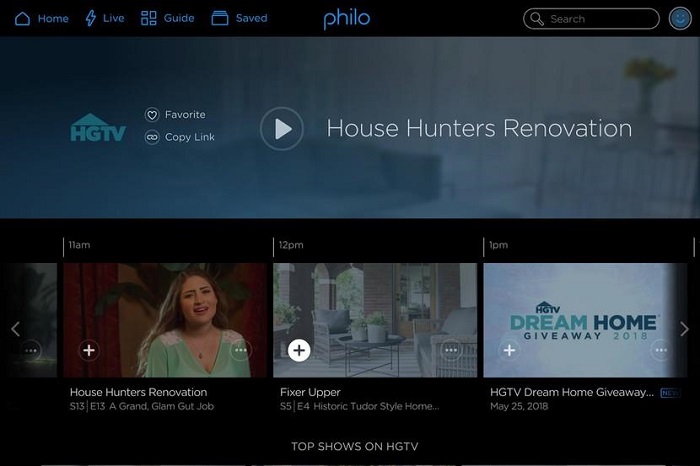 Step 4. Now, you might need to check if the recording is in the process. Look at the user interface image below. The arrow shows the progress of the recording. If the same is reflecting in yours, your episode is being recorded or saved now.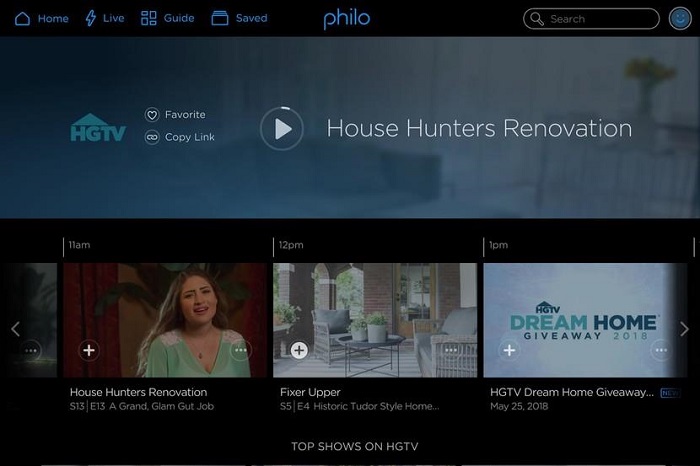 How to Record the Upcoming Shows on Philo [2 Ways]
To record upcoming shows from Philo, a task scheduler that can easily record the upcoming shows in Philo is indispensable.
This feature's mechanism is basically about a pre-set recorder that will automatically operate when users have ordered, even in their absence. Also, to record the upcoming shows, there are two ways to go.
1. Record Upcoming Shows on Philo with EaseUS RecExperts for Windows
This typical recorder can automatically create recording tasks and schedule multiple tasks simultaneously, which cites its ability to record upcoming shows on Philo. This very function will allow you to record your favorite shows at a specific time.
So you just set a timer and leave the rest stuff to this video recorder. You can also save the recorded file in multiple formats like MP4, WMV, AVI, MOV, FLV, ASF, and others as per the requirement.

How to Do a Schedule Recording Easily?
This post is about a step-by-step tutorial of this software's Task Scheduler. Click on it to know the detailed operations to start recording automatically whenever you want.
2. Record Upcoming Shows Within Philo
If you want to use the pre-install tool in Philo to capture the series, those operations can be useful. Follow this guide to save the videos you like now.
Step 1. Open Philo TV on the computer and log in to your account.
Step 2. Go to the search bar for your intended upcoming TV shows. The displayed list will show that they are going to air in the range of 2 weeks.
Step 3. To record them, there are two options. If you are looking forward to recording one episode, click on the Record New option. The 'Record All' option will help you record all the upcoming reruns of the shows.
Step 4. A red record sign will appear against the episode that you selected.
Step 5. Wait for the day the episode is expected to air. The same will be automatically recorded, and you can watch it in 30 days before it gets automatically deleted from the recorded list.
Conclusion
This passage solves the question - how to record on Philo by introducing two different approaches to record normal Philo programs and upcoming shows. Generally speaking, if you are looking to multitask while recording, EaseUS RecExperts is a perfect choice.
It offers more options than a default recorder in Philo - features like trimming, editing, and even recording games will surely satisfy all your demands over recording. 
FAQs About How to Record a Series on Philo
1. How does DVR work on Philo?
The Philo DVR works similarly to any of the other DVR options available. Users have to select a program that they wish to save then click on the record option to start the recording. Be aware that all the process has to run in an online condition.
2. Can you DVR Philo?
Yes, Philo does allow you to DVR your favorite episodes or shows. The online-streaming program guarantees a minimum of 20 hours of DVR space to record the shows.
3. How many shows can you record at once on Philo?
Practically, there is no such limit to record the shows at once. With the option of 'Record All,' one can record a complete series of new episodes and all the subsequent reruns.
But since a space of 20 hours is offered for recording, the shows might get recorded when the space limit breaches.
About the Author

With the interest in English writing and computer technology, Vanessa chose to be an editor in EaseUS. She is professional in video and audio topics, including video & audio editing, converting, and recording. Vanessa will keep writing to help people solve problems.