
Table of Contents

About the Author

Related Posts

Best Audio Recording Software
[FREE] How to Record Gameplay on Windows 10
A game recorder is needed by both professional game players and common game lovers. Gamers like to record their gameplay to review the video, learn from their mistakes, and develop better strategies. Players also enjoy sharing their accomplishments online, either to brag or to provide tutorials that can help others succeed.
But all that comes with a game recorder. Only with a screen recorder can you record the gameplay. Do you want to record gameplay on Windows 10? If you do, the recorders we introduce in this article may help you with that.
How to Record Gameplay on Windows 10 with Game Bar 
Windows 10 includes a built-in tool for recording videos of PC games, called Game Bar. Windows 10 also includes customizable keyboard shortcuts for recording videos and capturing screenshots.
After recording, you can upload gameplay videos to YouTube or any other video-sharing site or keep the clip on your own computer and share it with your friends.

Step 1. Press Windows Key + G to open the Game Bar while playing a game. It will pop up above the game you're playing.
Step 2. Click the red "Record" button. A timer will appear at the top-right corner of your window while it's recording.
Step 3. To stop recording the window, bring up the Game Bar again and click the red "Stop" button. You can also start and stop recordings with Windows Key + Alt + R.
Step 4. Windows saves all videos you record to your user account's Videos\Captures folder as MP4 files. Each tagged with the game's name and the date and time you captured them.
How to Record Gameplay on PC Windows 10 with EaseUS RecExperts 
Game Bar just offers basic recording features to capture gameplay. If you want to capture your voice or face during the recording, EaseUS RecExperts is the best solution for you. 
This Windows 10 game capture is extremely easy to operate. For recording games, it enables you to adjust the settings before, including the output format, quality, frame rate, hotkeys, and more. Once that is set up, you can launch your game and use this program to capture every brilliant moment while playing!
Apart from that, it lets you capture the screen, webcam, and audio in high quality. All most of all your recording tasks can be done by using it.  
Step by step to capture gameplay on Windows 10 PC:
Step 1. Start your favorite game and launch EaseUS RecExperts. Choose "Full" or "Region" to select the recording area according on your game window.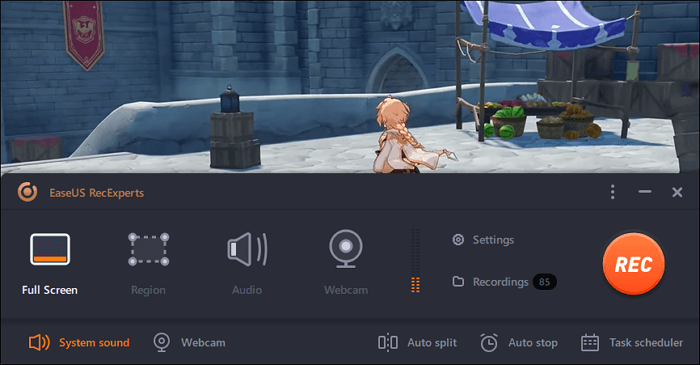 Step 2. Select the frame rate you want to record, as well as the output format and video quality.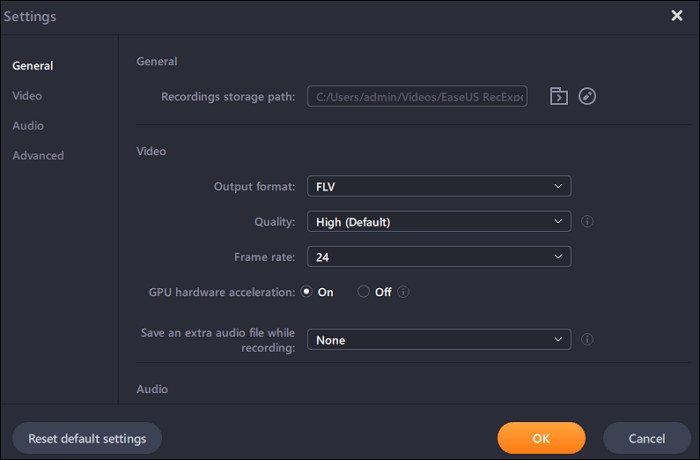 Step 3. Click the orange button "REC" and your recording will start. You will see a small bar, which shows the time of your record. If needed, you can take screenshots in recording, or set the specific time to stop the recording by clicking the "Clock" icon on the toolbar.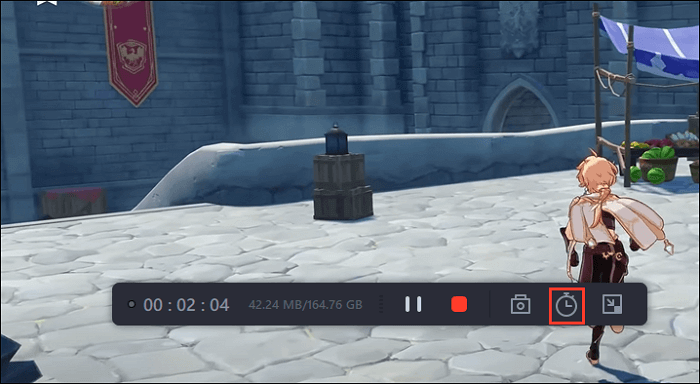 Step 4. Once done, you can edit the recorded footage with the built-in video editor. On the recorded video, you can trim the recordings as you want.
Finally, you can export the ready-to-use video clip in the appropriate video format.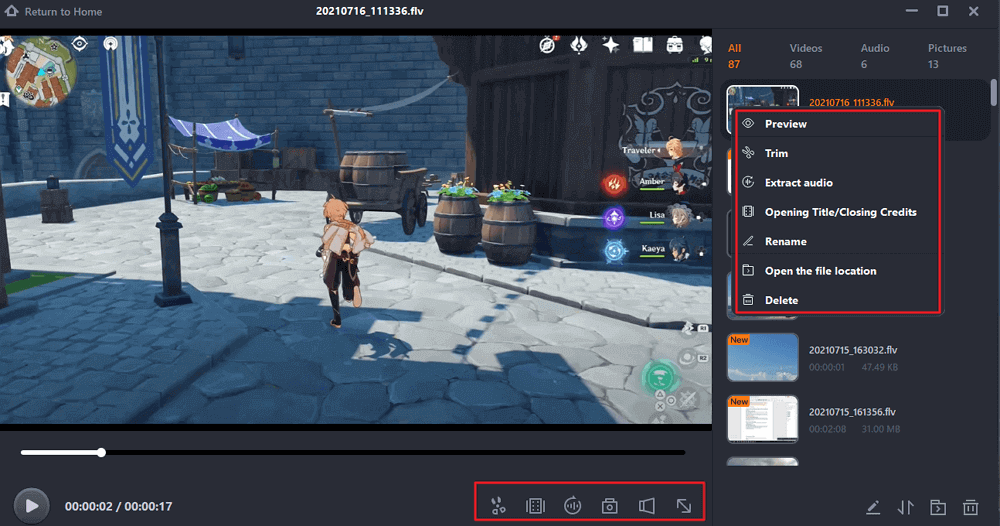 Other 6 Easy-to-Use Game Recording Software for Windows 10 
Except for Game Bar and EaseUS game recorder, there are lots of other popular Windows 10 gaming recording software. To help you get your desired one, we will share with you the other 6 ones in the following.
1. FBX - Game Recorder
FBX game recorder is a free game recorder for Windows 10 computers. It offers all the basic game recording features you would expect from a pro tool, and records in the background without lagging the game, using NVidia, AMD, or Intel hardware acceleration. Using it, you can record gameplay at 144 FPS and in a maximum of 1440p Quad HD resolution videos. FBX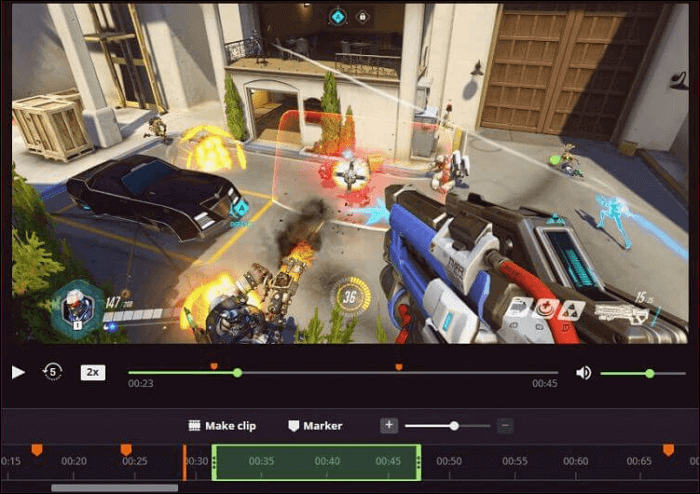 Step 1. Launch FBX game recorder and switch to the game you want to record.
Step 2. Hit the "Start recording" button to start recording the game.
Step 3. Hit the "Start recording" button again to end the recording.
Step 4. When you see the "Saved" confirmation, the video recorded has been saved successfully.
Step 5. If you want to watch the recording, go to "Your Recordings".
2. NVIDIA ShadowPlay
NVIDIA ShadowPlay works as game recording software to manually record gameplay videos for as long as you want - all at up to 4K at 60 frames per second. It is hardware accelerated, so you can leave it running in the background without worrying about video capture impacting your performance.
After recording, you need to hit a hotkey to save the last 30 seconds of gameplay to your hard drive or share it to YouTube or Facebook. If you are using NVIDIA GPU, you might give it a shot.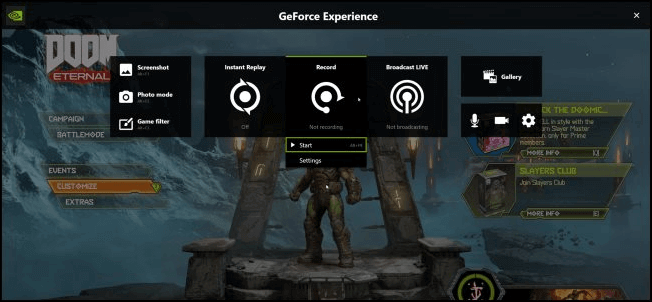 Step 1. To start recording right now, click the "Record" button and click "Start" or press Alt+F9. NVIDIA ShadowPlay will record until you stop.
Step 2. To stop recording, press Alt+F9 again or open the overlay > click the "Record" button, and click "Stop and Save".
Step 3. Click the "Microphone" and "Camera" buttons on the right side of the overlay to change audio and camera settings.
Step 4. You can find your recordings in a game-specific subfolder of your "Videos" folder by default.
3. AMD Radeon ReLive
Radeon ReLive is a game recorder from the GPU manufacturer that only supports AMD units and allows you to capture gameplay in 1440p QHD resolution at 60 FPS. The audio tracks can be recorded from both game and external mic and saved as individual tracks.
You may proceed to the "Recording" tab to change video resolution, recording bitrate, encoding type, instant replay option, etc. After recording, you may save the recorded videos with social media platforms like YouTube and Facebook.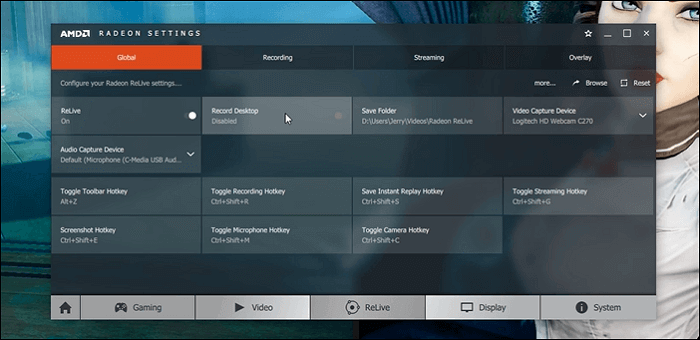 Step 1. Right-click on the "Desktop" and select "AMD Radeon Software".
Step 2. Click on the "Gear" icon, then select "General" from the sub-menu.
Step 3. Choose "Recording Desktop" under "Recording".
Step 4. Click the "Recording" button to start recording the gameplay.
4. OBS Studio
OBS Studio is an open-source screen recording software, which allows you to record video and live streaming without a watermark and time limit. Using this software, you can capture the video, audio, and gameplay video flexibly.
This software supports high-performance real-time video/audio capturing and mixing. If you want to find a free screen recorder, this software will be your best choice.
5. Icecream Screen Recorder
Icecream Screen Recorder is an easy-to-use Windows 10 game capture. It enables you to capture various games in high resolution. What's more, you also can flexibly capture your screen in any size. After recording, you even can add a logo to the recorded videos. 
If you find basic video recording software, this software is a nice choice.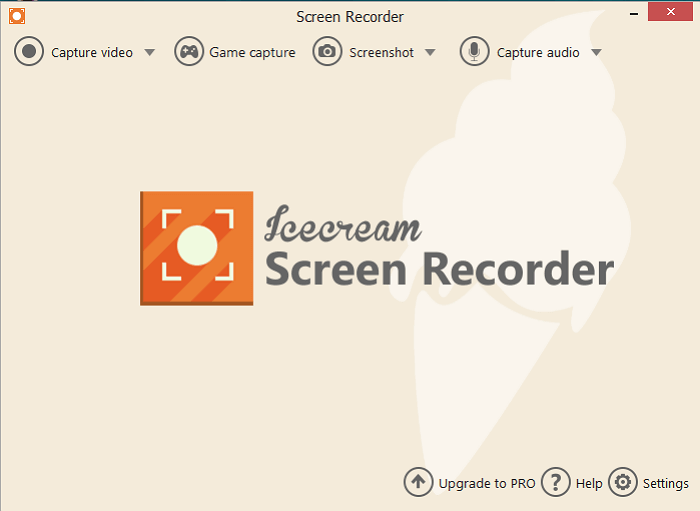 6. Bandicam
Bandicam is a lightweight game recording software for Windows. You can use it to capture the video, audio, webcam, and game video. For capture gameplay, it offers a unique mode, which makes it easy for you to record various 2D/3D games with 4K UHD Video and capture up to 480 FPS.
But this software is free to use for ten minutes. If you want to use it without a time limit and remove the watermark, you may need to pay for it.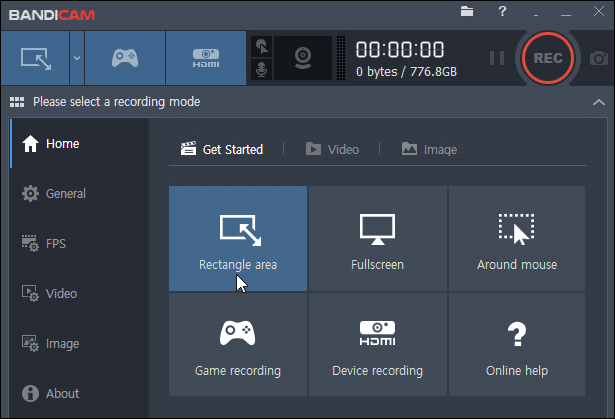 Conclusion
With the programs we mentioned above, you can record your excellent gameplay on Windows 10 PC successfully.
However, if you are not a professional in gameplay recording, you'd better choose EaseUS RecExperts to record your screen. This software is quite easy to use, and it can meet almost all your needs in recording the gameplay.
About the Author

Jane is an experienced editor for EaseUS focused on tech blog writing. Familiar with all kinds of video editing and screen recording software on the market, she specializes in composing posts about recording and editing videos. All the topics she chooses are aimed at providing more instructive information to users.