
Table of Contents

About the Author

Related Posts
How to Record Discord Audio on All Platforms Easily
Discord is one of the biggest and most popular platforms for gamers and other communities to chat together. While discussing with others, you may want to record Discord calls for later checking or for keeping precious moments, but it doesn't offer you the option to capture the sound. Then how to record Discord audio? 
Actually, it is not difficult to record on Discord only if you have some audio recording software. Here we will introduce you to some easy-to-use Discord audio recording software and show you how to record Discord calls on both computer and mobile phone. 
Part 1. How to Record Discord Audio with EaseUS RecExperts
No matter you are a Windows user or a Mac user, you can find the best solution to capture Discord audio with ease in this part.
#1. EaseUS RecExperts for Windows
EaseUS RecExperts for Windows is one of the most fantastic and popular Discord audio recorders on the market. It makes it easy to capture audio from Discord with a simple and intuitive interface and save it in many different audio formats. Moreover, it is a useful screen recorder, which can capture whatever on the screen for everyone, even the novice without any recording experience.
More amazing functions:
Record system sound and narrator voice with a microphone at the same time
Support schedule recording tasks automatically
Save the recorded video or audio files for more than 10 formats, like MP4, MOV, AVI, etc.
Split the recordings into multiple files automatically
Now install EaseUS RecExperts and check the below tutorials to see how to record audio on discord.
Step 1. Launch EaseUS RecExperts, and you can choose one of the four main functions on the main screen. Here you need to click on "Audio".

Step 2. You can select the sound source by clicking on the bottom left button. It supports recording system sound, microphone voice, and both of them. The settings in "Options" helps you to adjust the volume.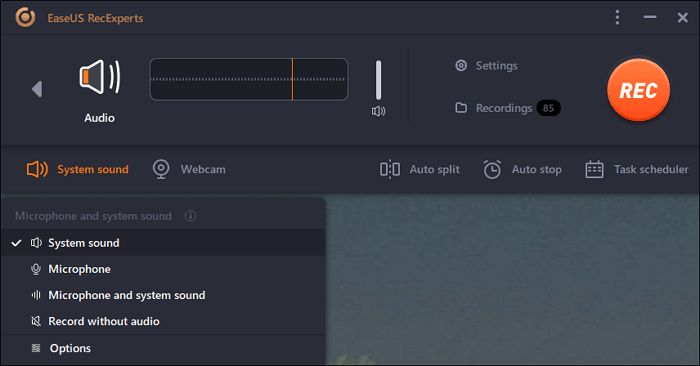 Step 3. Click on the "REC" button to start recording. When you want to finish recording, click on the red square icon to stop it.   

Step 4. An audio player will pop up automatically, and you can view the recorded audio or trim it with a built-in tool.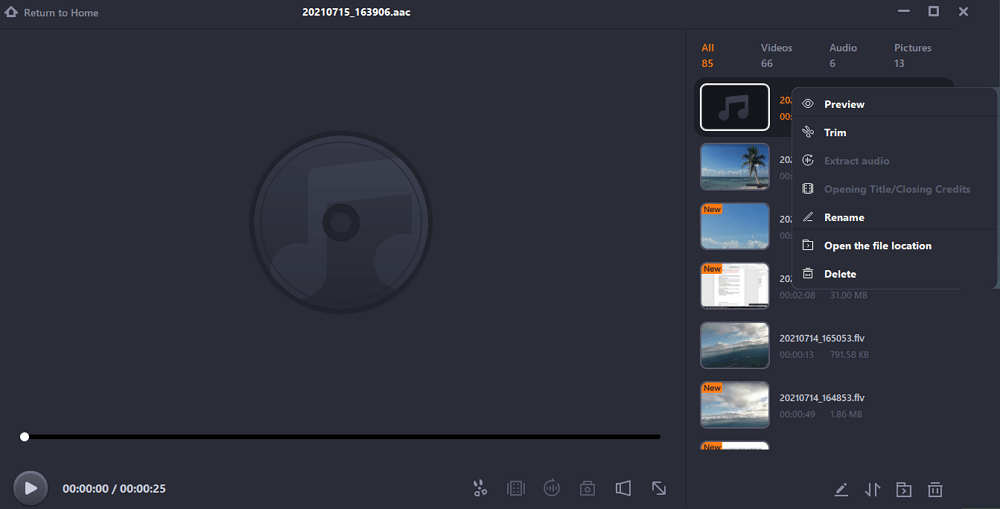 #2. EaseUS RecExperts for Mac
If you are searching for solutions to record Discord Audio on a Mac computer, stop it! We will share with you the best Discord audio recorder here. That's EaseUS RecExperts for Mac. 
This Mac screen recorder lets you record audio with high quality, and you can capture system audio, microphone, or sound from an external audio device quickly and easily. Apart from audio recording, it also supports screen recording features like other recording software. You can capture your Mac computer screen and audio simultaneously without leaving a watermark on your recorded videos after recording. Try EaseUS RecExperts for Mac now! 
Steps to record Discord audio with EaseUS RecExperts on Mac:
Step 1. Download and launch EaseUS RecExperts for Mac.
Step 2. Join a Discord call, then go back to the recorder and click on the "Audio" button. Here you can adjust the volume or do other settings.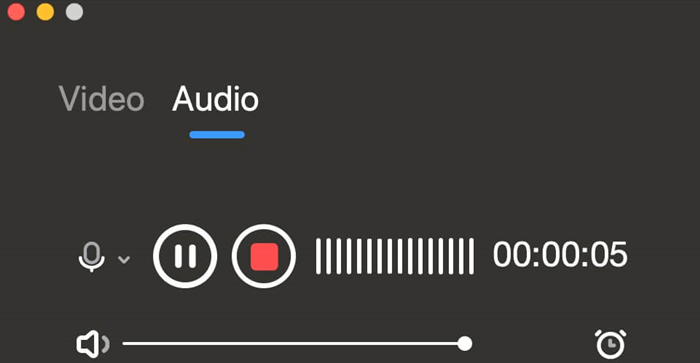 Step 3. When you are ready, you can click on the record button to begin your recording. Once done, it will be saved on your computer automatically.
Part 2. How to Record Discord Audio with Audacity (Win/Mac)
Audacity is a free, open-source, and easy-to-use audio editor and recorder for Windows, macOS, Linux, and other operating systems. It can assist you in recording live audio through a microphone or mixer or recording from other media and export your recordings in many different formats, including multiple files at once.
If you happen to record Discord audio, it may not be your best choice, as this audio recording software only helps users with a single audio-in recording system, which means only one side's audio can be recorded at a time.
How to record Discord audio on Mac and Windows with Audacity:
Step 1. Download and launch Audacity on your computer. 
Step 2. On the main interface, select Edit and Preference, and then select the Devices from the popup window. Choose the Microphone as your recording device.
Step 3. Fire up Discord and join a voice channel. Then click the green button to start recording your Discord call.
Step 4. When you need to finish the recording, click the red circular button. Then choose the "file" button and select "Export" to choose a location to save your recording file.
Part 3. How to Record Discord Calls with OBS Studio (Win/Mac)
OBS Studio is a free and open source screen recorder and an audio recorder as well. This screen recording software is compatible with Windows, macOS, and Linux. It offers a quick and reliable way for you to record Discord audio on your computer.
Apart from that, it can help you record streaming video, capture various audio and visual channels, including your desktop audio and your microphone. But for novices, it is a little difficult to handle.
How to record Discord audio on Mac and Windows with OBS Studio:
Step 1. Download and open OBS Studio. Then click "Sources" > "+" at the bottom-left of the main interface. From the drop-down menu, select "Audio Output Capture".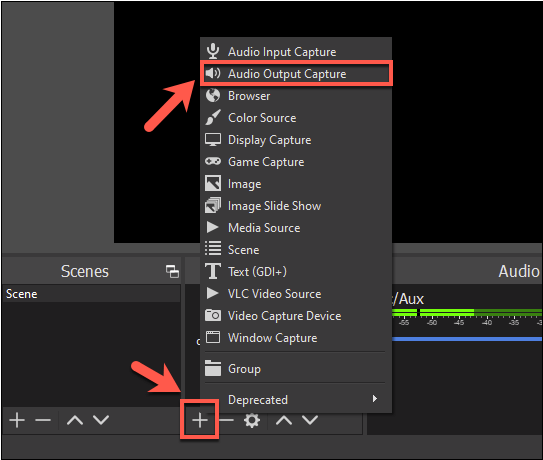 Step 2. Click "File" > "Settings" > "Output" to set the mode for your output recording file.
Step 3. Choose the "OK" button to save all the settings that you just selected.
Step 4. Click on the "Start Recording" button to begin recording the Discord audio. Once done, you can play the recording file on your computer.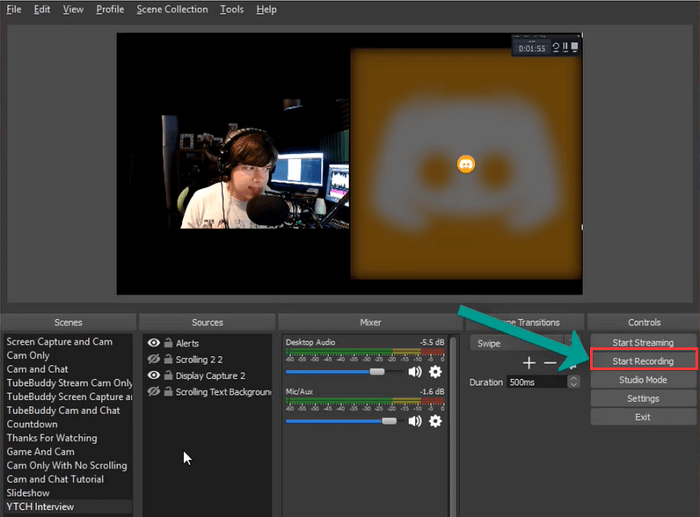 Part 4. How to Record Discord Audio Using Craig (iPhone/Android)
If you want to record Discord audio on iPhone or Android, you can rely on a powerful tool – Craig Bot. It is the multi-track voice channel recording bot for Discord. It means that when Craig records your Discord voice channel, you get a separate audio file for each speaker, and you can edit these audio files independently. In addition, it offers an invaluable ability for podcasts.
What's more, Craig will record your Discord audio for up to six hours and keep your audio file for you to download for 7 days. No matter how long your recording is, no matter how many speakers are recorded, every audio file delivered will perfectly sync with each other. Next, let's take how to record Discord audio using Craig.
How to record Discord audio on iPhone and Android:
Step 1. Create a server in Discord. Then go to Craig Bot website and click "Invite Craig To Your Discord Server," and log in before you use it.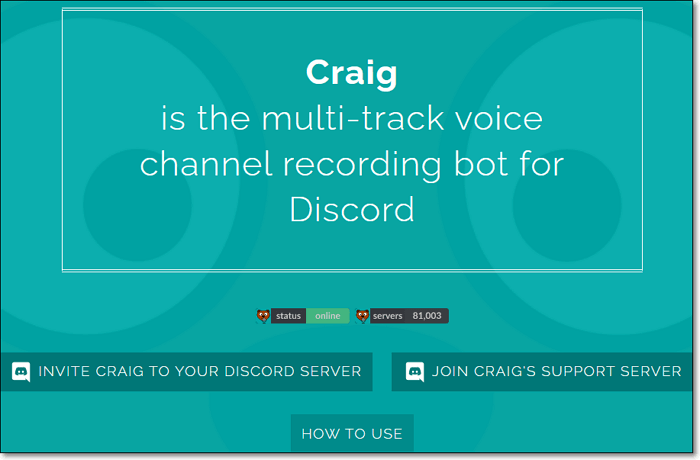 Step 2. Select the service from the drop-down list of Add Bot To, then click Authorize.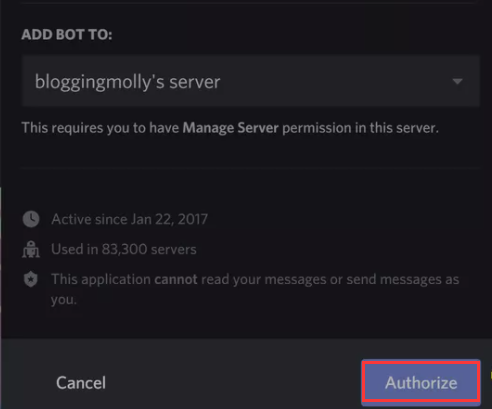 Step 3. Invite Craig Bot to the desired server. Type "craig:, join" to start recording in the voice chat you are in.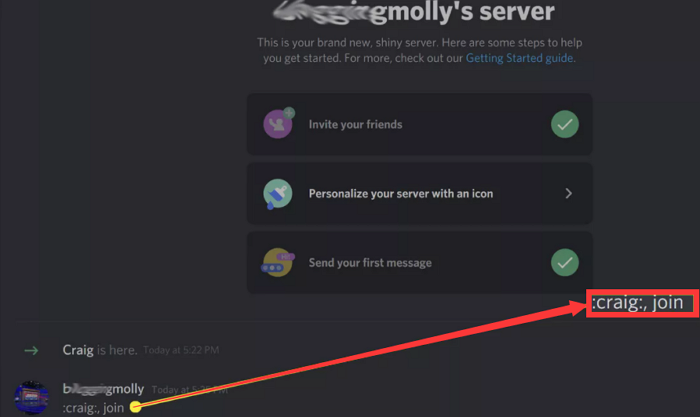 Step 4. When you finish the recording, type "craig:, leave" to stop the recording process. Then Craig bot will DM you a link to the recording file. Here you can pick either FLAC or AAC to download straight onto your iPhone or Android to edit.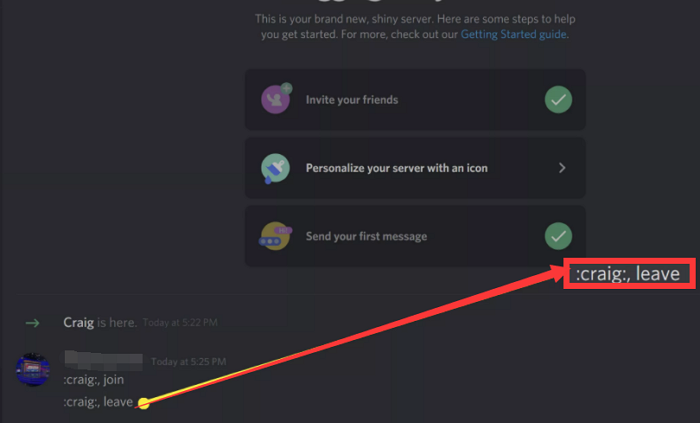  Notice:

You also can use this tool on your computer to record Discord audio. Using it on your computer, you can download the recording in the .wmv format so that you can edit the audio and then upload it to YouTube directly.
The Bottom Line
On this page, we have introduced four Discord audio recording software and the tutorial steps to capture Discord audio on computers or mobile phones. Make sure to choose the best one according to your needs.
From a functional standpoint, we highly recommend EaseUS RecExperts. This screen recorder can help your capture whatever you see on your screen. What's more, it can simplify your daily tasks, like delivering instruction, onboarding new employees, recording a video call, and sharing lectures, etc. All in all, you can not miss this powerful screen and audio recorder, and it will never disappoint you.
FAQs About How to Record Discord Audio
There are some related questions people also ask. You can go on reading to find more useful information.
1. How do you record on discord?
To record audio on Discord, you can use some recording software like EaseUS RecExperts. You can move to Part 1 to check the tutorial to record Discord audio.
2. How do you record discord voice chat on iPhone?
You can record Discord voice on iPhone easily with Craig. You can move to Part 3 to find the detailed steps to complete the task.
3. Are discord voice calls recorded?
As far as we know, Discord calls are not recorded. Discord uses end-to-end encryption, and while a nation-state could theoretically record them, why would they? Millions of people spend millions of hours per year chatting on Discord. Even if someone wanted to record those calls, the storage overhead would be huge.
About the Author

Jane is an experienced editor for EaseUS focused on tech blog writing. Familiar with all kinds of video editing and screen recording software on the market, she specializes in composing posts about recording and editing videos. All the topics she chooses are aimed at providing more instructive information to users.