
Table of Contents

About the Author

Related Posts
How to Record Clash Royale on iPhone/iPad/Mac/Windows
As a free RTS video game, Clash Royale is very popular among mobile device users. This game combines various elements like tower defense, card collecting, and online arena. All those playing methods make this game interesting and attractive. 
When you are playing this game, have you ever want to share the replay of Clash Royale with your friends but don't know how to capture it? Don't worry. This post will show you several useful ways to record it on different platforms and introduce optional recorders. If you want to know how to record Clash Royale on Mac/iPhone/iPad/Windows, keep reading.
How to Capture Clash Royale on Mac/iOS 
If you want to record the Clash Royale gameplay on iOS devices, there are many available ways and optional screen recorders you can choose from. You can capture the game directly on your iPhone or iPad, but it's not so convenient because you have to spend a lot of memory space to save the recordings, and it's very troublesome to edit them on mobile devices. In order to get the best recording experience, we suggest you choose the other method: recording Clash Royale on iOS with Mac.
Capture Clash Royale on iOS with Mac
As we mentioned above, capturing Clash Royale gameplay on iOS with Mac allows you to obtain high-quality recordings and save phone memory. To accomplish those things, a competent screen recorder on Mac is necessary. We recommend EaseUS RecExperts for Mac as the most suitable one.
This recorder is featured by its simple interface and well-organized function buttons so that you can quickly recognize which one is the tool you need and how to use it, even you are totally a novice at recording an iOS game on Mac. All you need to do is connect your iPhone or iPad to the same WiFi connection as your Mac, then mirror the iPhone or iPad screen to Mac. After that, you are able to record Clash Royale gameplay that is playing on an iPhone or iPad with a Mac. If you want to record for a specified period of time, you can choose to schedule recording.      
More Features:
Don't hesitate, download this rich-featured screen recorder to capture Clash Royale now!
Detailed Steps to Record Clash Royale Using Mac:
Step 1. Make sure the iOS device and the MacBook are connected to the same network. Then, launch EaseUS RecExperts.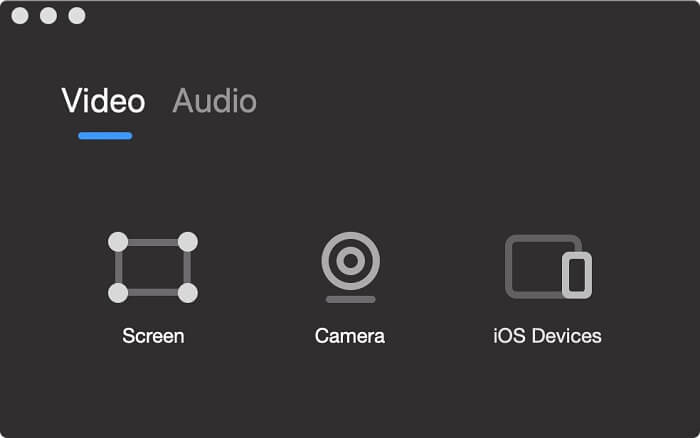 Step 2. On your iPad or iPhone, tap on the control center and click on the "Screen Mirroring option." It will open another window where you can see the MacBook on which the recorder is running. Tap on it to connect.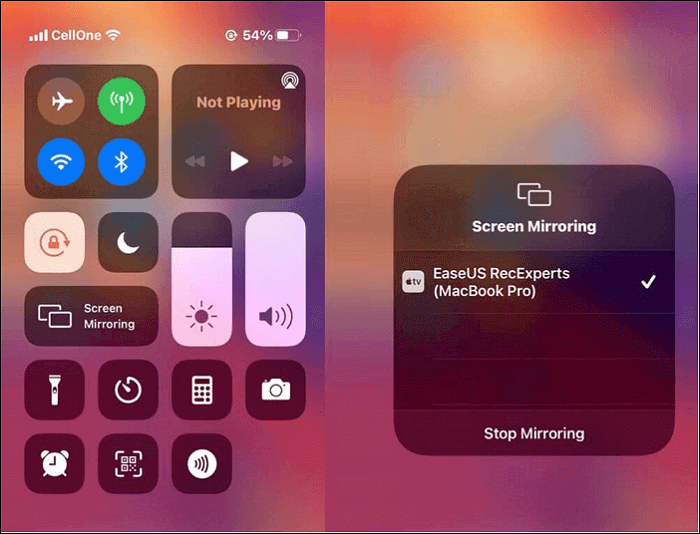 Step 3. After that, whatever you open on your iOS device will also appear on the Mac screen, and you can open the application you want to record.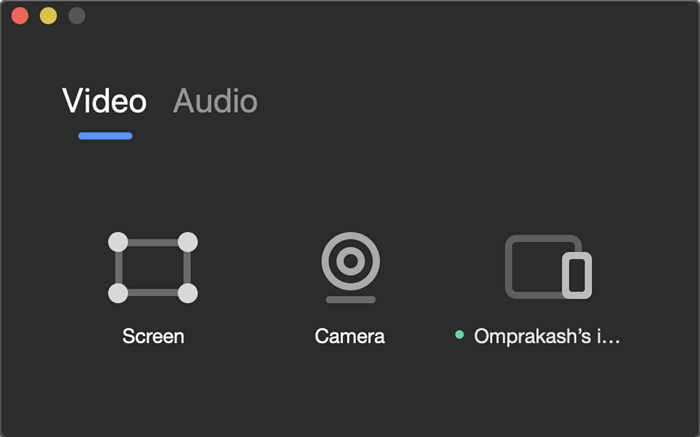 Step 4. Click on the red color record button, and it will instantly start recording. Now start playing the game while the recording happens on your MacBook. Once done, click on the stop button, and the recording will be available on the list.

Capture Clash Royale on iOS
In iOS 14 or later, you can capture your screen by utilizing a built-in recording tool. You only need to go to "Settings," then enter the "Control Center" and choose "More Controls," after that, it's possible to tap the "+" icon next to "Screen Recording." Swipe up from the bottom edge of the screen or swipe down from the upper-right corner of the screen (depending on your phone model), tap a small round button, and tap Microphone. Now, you can tap "Screen Recording" to let it start. After you record the footage you want to capture, go to Control Center to stop recording by tapping the round icon again.
If you are using an earlier version of iOS, the method above may not be the best solution for you, and you need to turn to a third-party screen recorder on iOS, such as Airshou. This recorder can be perfectly compatible with iOS 9.1 or later. One of its outstanding features is that it supports high-resolution screen recording up to 1080P and 60 FPS. Therefore, some professionals use it to capture the screen and use those recorded clips to make gameplay videos and application review videos.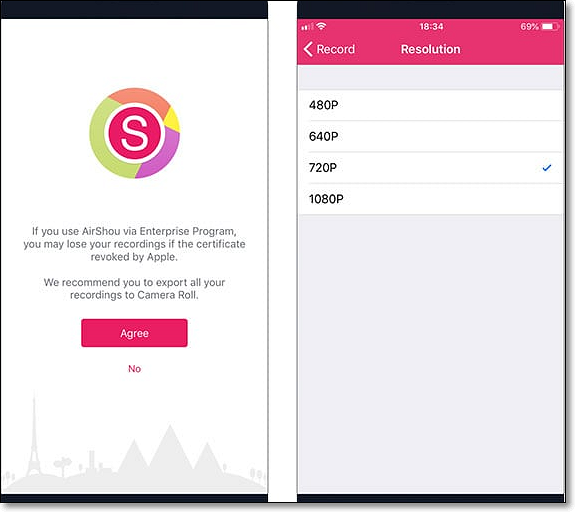 Features:
Light processor usage
Free to use
No Jailbreak needed
Configure the settings to fit your needs
How to Record iPhone Gameplay:
Step 1. Download and install Airshou on your iOS devices. Before using this application, you have to trust it firstly in the Settings. Don't forget to confirm your operations.
Step 2. Launch this application, turn on the mirroring option, and then start AirPlay.
Step 3. Tap the Record button to start the recording. When you want to finish it, you can go back to the application and tap the Stop button.
How to Record Clash Royale on Windows 
Although Clash Royale is a game designed for portable devices, many people realize that playing it on a PC is also an excellent experience. If you want to do that, an emulator is indispensable since it allows you to run the Android operating system on a Windows computer. Bluestacks is an outstanding one among all the emulators. You only need to download and install it, then sign in with your Google account. After that, you can download Clash Royale or other games from Play Store and play the games.
If you need to capture the gameplay now, you only need to find a screen recorder compatible with the Windows system, such as EaseUS RecExperts for Windows. This is a versatile recorder that offers you enough recording modes to meet your needs, and lets you capture various gameplay with high quality. With its help, you don't need to worry about your recordings' resolution or frame rate. It can perfectly fit the characteristic of the game you want to record, such as Clash Royale. 
More Features:
This is a powerful recorder worth trying. Download it now!
Steps to Record Clash Royale Windows:
Step 1. Launch the game you're about to record and then open up EaseUS RecExperts. There are four optional modes on the main interface. Choose the "Full Screen" to continue.
Step 2. If you want to adjust the settings according to your needs, click on the "Settings" button on the right side. You can customize the output folder, output format, and quality of the recordings. Moreover, don't forget to select a suitable frame rate as it will ensure you record the game without lag.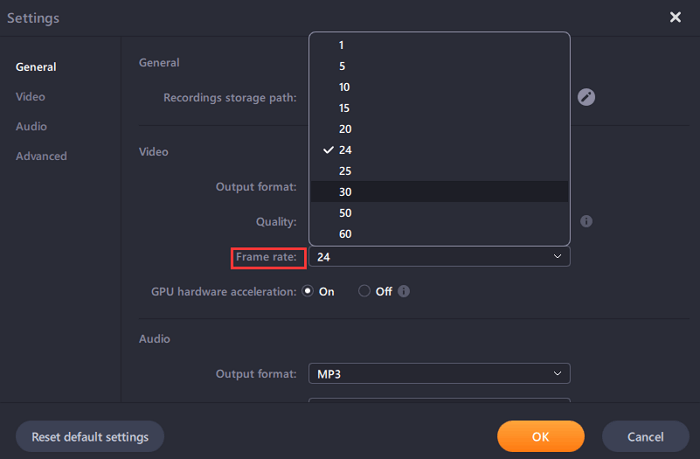 Step 3. And then, a floating toolbar will appear, and you can pause or stop the recording. Besides that, the camera icon enables you to take a screenshot, and the timer icon enables you to stop the recording automatically.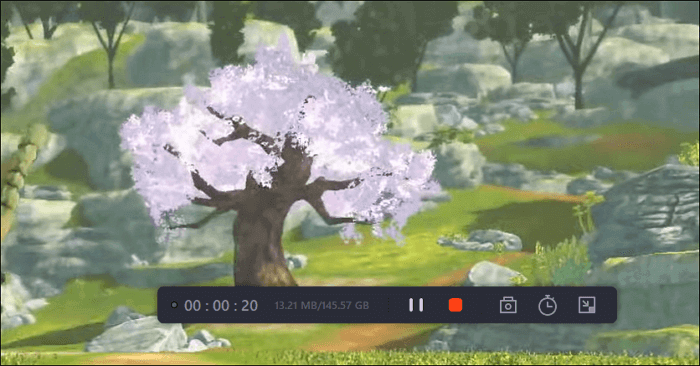 Step 4. After saving the recorded gameplay video, a media player will pop up. It gives you a built-in tool to trim the recording, extract audio from the video, add an opening & ending part. You can find the tool on the bottom of the player.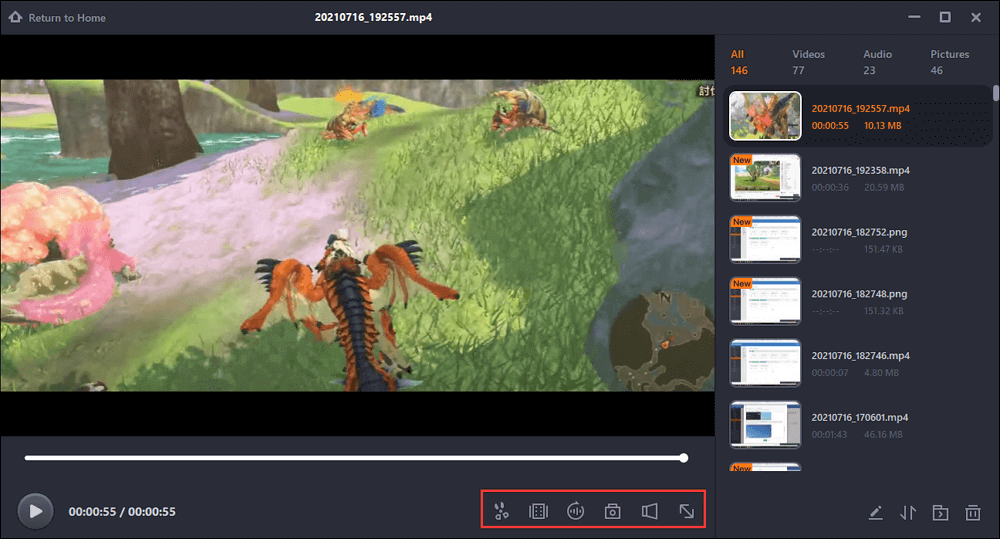 How to Record Clash Royale Gameplay on Android 
For Android users, there are also some available gameplay recorders, such as AZ Screen Recorder. This is an all-in-one screen recorder on Android that offers most of the functions you need in the recording process. For example, its overlay button makes it convenient to control your operations while it doesn't interfere with the recorded videos. Besides that, you can utilize the front-facing camera to stream games or record commentary videos. When you finish the recording, you can use the built-in video editing tool to shave away any part you don't like and make your output files perfect.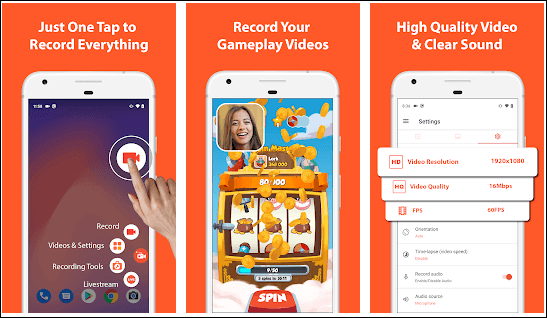 Features:
Record videos in high quality: 1080 p, 12 Mbps, 60 FPS
No need to root
No watermark
Record gameplay with an external audio
How to Record a Game on Android:
Step 1. Download and install the AZ Screen Recorder, then launch it.
Step 2. You will see an overlay with four options appear, including recording, taking screenshots, live streaming, and more.
Step 3. Choose the "Record" option and tap the gear icon to tweak the screen recording settings. You can customize the resolution, bit rate, or frame rate based on your need.
Step 4. Go back to your home screen, launch Crash Royale, then tap the red camera icon on the overlay to start recording. You can stop it by swiping down to your notifications and tap the "Stop" button. Once you're done, you can view your recordings and edit them.
Conclusion
This post discussed four ways to record gameplay on different devices, including Mac, iPhone, Windows, and Android. All these methods are practical, and all the recorders we recommended are rich-featured. If you get the answer about how to record Clash Royale and want to have a try, follow the tutorials above.
FAQs About Clash Royale Share Replay 
If you have questions about sharing the replay or recordings of Clash Royale with your friends, those answers may help you.
How can Clash Royale share replay?
To share Clash Royale's replays, you can first find a screen recorder that can help you capture the gameplay, such as EaseUS RecExperts. If you are playing the iPhone game, you can capture the game directly on the iPhone or record it by mirroring the iPhone to a Mac and record on a Mac. If you are a Windows user, it also helps you record Clash Royale running on an emulator. Then, you can export your recordings in MP4 or GIF. You can send the MP4 file or GIF to your friends to share the Clash Royale replay with them.
How do you save replays on Clash Royale?
You can use a screen recorder to save the replays, such as the AZ screen recorder. You can download it from Google Play Store and easily install it. Then, you can choose the suitable option to capture what you want to save on your screen.
About the Author

With the interest in English writing and computer technology, Vanessa chose to be an editor in EaseUS. She is professional in video and audio topics, including video & audio editing, converting, and recording. Vanessa will keep writing to help people solve problems.