
Table of Contents

About the Author

Related Posts
How to Record Calls on Google Voice on Computer and Phone
With the development of communication technology and the spread of the Internet, more and more new communication methods emerge. You can conveniently talk with friends in the distance using Skype or Google Voice. But what could you do when you want to record the calls?
We take Google Voice as an example. Firstly, you need to prepare a competent Google Voice recorder compatible with your computer or mobile phone. Secondly, you need to know how to record calls on google voice with those recording tools. Don't worry, and you can find the best resolution in this post.
How to Record Calls on Google Voice in Windows 
When you are using a Windows PC, you can have a Google Voice call on a webpage. It's worth noting that you can't use this service unless you have a U.S. phone number that can forward calls after ringing. Then, you should find a recording tool that can record both the system sound and your own voice from the microphone.
We sincerely recommend EaseUS RecExperts for Windows to you since it can perfectly meet all those requirements. When you record Google Voice calls with it, you can select the audio sources freely. You can choose to record sound from computer, record a microphone, or record both of them simultaneously.
Since this recorder supports various video and audio formats, you can save the recorded audios in the most suitable format, including MP3, AAC, FLAC, etc. If you need a basic audio editing tool to process your recording, there is a built-in audio editor in it that will help you trim your recordings effortlessly.
EaseUS RecExperts
Screenshot on Windows PC with ease
Record a Skype call and record on Google Voice
Support auto stop/split features in recording
Customize the output format, bitrate, and frequency
How Can Google Voice Record Call Without Notification:
Step 1. Launch EaseUS RecExperts, and you can choose one of the four main functions on the main screen. Here you need to click on "Audio".

Step 2. You can select the sound source by clicking on the bottom left button. It supports recording system sound, microphone voice, and both of them. The settings in "Options" helps you to adjust the volume.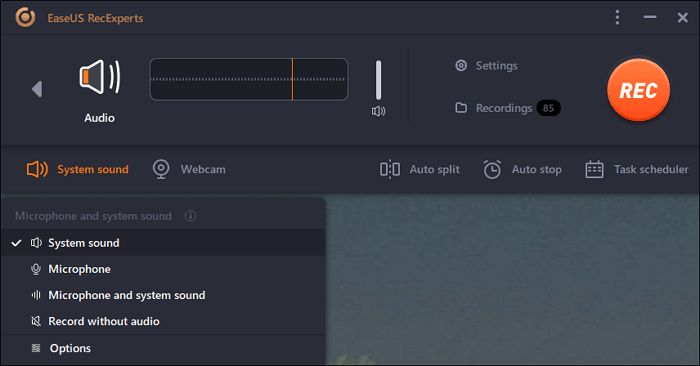 Step 3. Click on the "REC" button to start recording. When you want to finish recording, click on the red square icon to stop it.   

Step 4. An audio player will pop up automatically, and you can view the recorded audio or trim it with a built-in tool.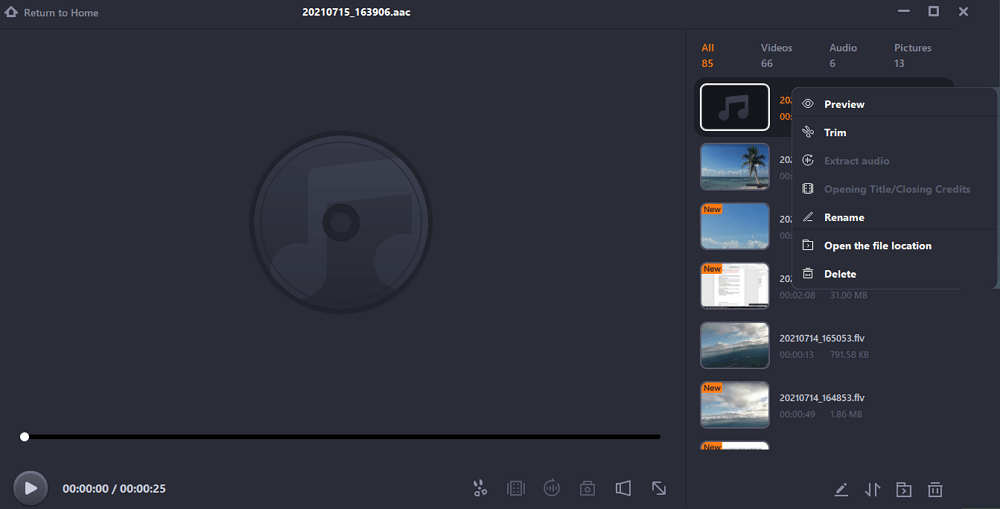 How to Record a Call on Google Voice on Mac 
Audacity is a very famous cross-platform and open-source audio program, and it's free to use. Since it's a powerful application, you can use it to edit and record audios on Windows, macOS, Linux, and other operating systems. Moreover, community support can help improve it continually so that you can a great experience using it.
This audio recorder provides you with effects you can add to your recordings in the editing process. You can also cut, copy, paste, and delete the clips. After that, export the audio in a suitable format.
If you plan to record a call with it, you need to prepare another phone to install this application.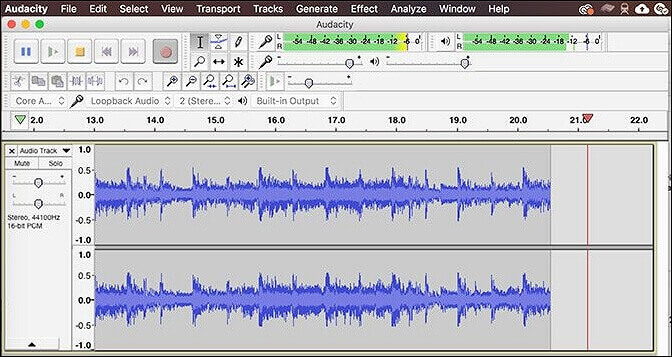 How to Record a Google Voice Call:
Step 1. After you answer the call, tap on the "Speaker" icon.  
Step 2. Launch the recording tool on the other phone, then start recording. 
Step 3. Place the other phone close to you, make sure that your conversation can be captured by the other phone. 
Step 4. Stop the recording and save the recorded audio to your device.
Download: www.audacityteam.org/
How to Record on Google Voice on iPhone 
The Google Voice app on the iPhone offers you a pre-installed recording function to record calls. However, some people want to record the calls using a third-party to change some configurations to make the recordings more satisfying. 
The first thing to note is that you can only use this built-in recording tool to record incoming calls. And before that, you need to activate this function in the Settings. When you open the Settings interface, choose Calls and then tap the "Incoming call options." Now, you can record incoming calls.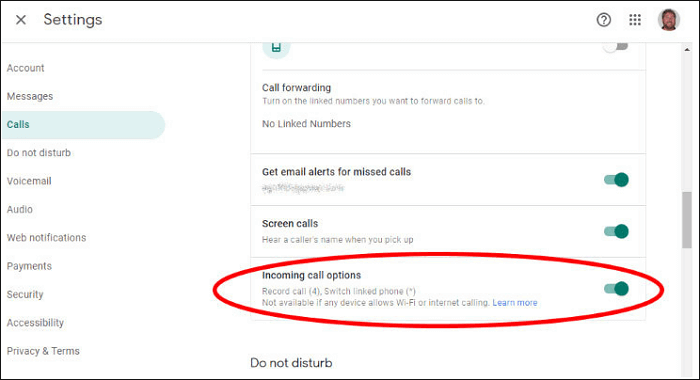 How to Get Google Voice Call Recording on iPhone:
Step 1. When you answer the incoming calls on Google Voice, tap 4 on the number pad to start recording. 
Step 2. You will hear an announcement, and a robot voice will tell you this call will be recorded.
Step 3. When you want to stop the recording, tap 4 again. Or you can stop it by hanging up.
Step 4. The recorded audio will be sent to you via email and appear in Google Voice's list of voice mail recordings.
How to Record a Google Voice Call on Android 
The same as on iPhone, you can also use the same method to record the application's Google Voice. Therefore we will only introduce the tutorial of Google Voice recording using a third-party application.
Automatic Call Recorder is a useful Google Voice recorder on Android. You can choose which calls are recorded and ignored, and then this application will record the calls you want to capture automatically. After that, you can review the recorded calls and all some notes to them, and you can even share them with others.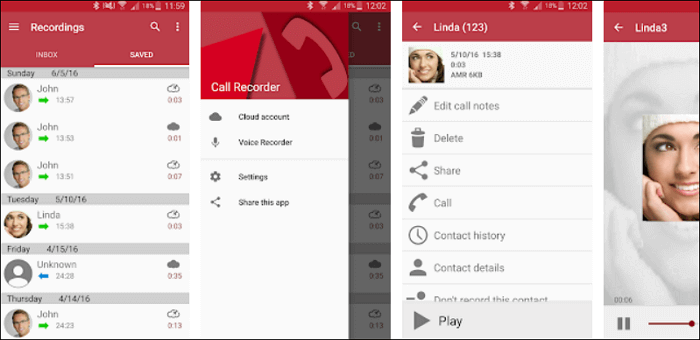 How to Record Phone Call Google Voice:
Step 1. Launch the application, and it will record the calls automatically.
Step 2. If you don't want to record every call, tap the three dots icon on the top, then tap "Settings" > "Record calls" > "Off."
Step 3. You can change the recordings' format in the Settings, including AMR, 3GP, and WAV. Tap on "File type" to customize.
Step 4. Share the audio by tapping it and choose the "Share" icon. You can share it through WhatsApp or other tools. 
Conclusion
In this post, we talked about many ways to record Google Voice calls on different operating systems. It is convenient to obtain the Google Voice call recording within the Google Voice app itself.
However, it's not available on a computer. How to record calls on google voice? Try to use EaseUS RecExperts. Download and install it now!
About the Author

With the interest in English writing and computer technology, Vanessa chose to be an editor in EaseUS. She is professional in video and audio topics, including video & audio editing, converting, and recording. Vanessa will keep writing to help people solve problems.