
Table of Contents

About the Author

Related Posts
How to Record Internal Audio on Windows 10 | 4 Free Ways
There are many reasons why you probably need to capture audio on a Windows 10 computer more or less in your daily life. Sometimes, you may need to record a lecture, a conversation, an interview, etc.
When it comes to capturing audio on Windows 10, many people choose to use the Voice Recorder app to capture audio conveniently, but it can only meet your basic requirements. If you want to do more recording and editing work, try some amazing audio recorder for Windows we mentioned in this post.
How to Record System Audio on Windows 10 with EaseUS RecExperts
EaseUS RecExperts for Windows is one of the most popular and useful audio recorders. It allows you to record computer audio, your voice, or capture both at the same time with a few simple clicks. Besides, it can help you adjust the volume and select the audio recording device easily.
It is a good assistant, especially when you want to record streaming audio on a web page. Since it allows you to schedule recording, you never need to worry about missing the live show you like. And the output formats you can select are abundant, and you can choose any of them according to your needs.
Apart from audio recording, it is a wonderful screen recorder. It provides you four options to capture your screen (the full screen or a selected region). 
More Features:
Simple and easy to use interface
Record part of screen Windows 10 while also capture the whole screen
Provides many audio and video output formats, like MP3, MP4, AVI, and many more
Support schedule recording tasks automatically
If those functions are helpful for you, don't hesitate to download this safe and versatile software. Try this simple audio recorder to record audio on Windows 10 PC effortlessly. 
How to Record Internal Audio on Windows 10:
Step 1. Launch this program on your computer, and click "Audio" on the main interface.

Step 2. Click the Sound icon on the lower left to select the "System sound" as the recording source. You also can adjust the volume by moving the sound control scale up or down to raise or lower the volume in this window.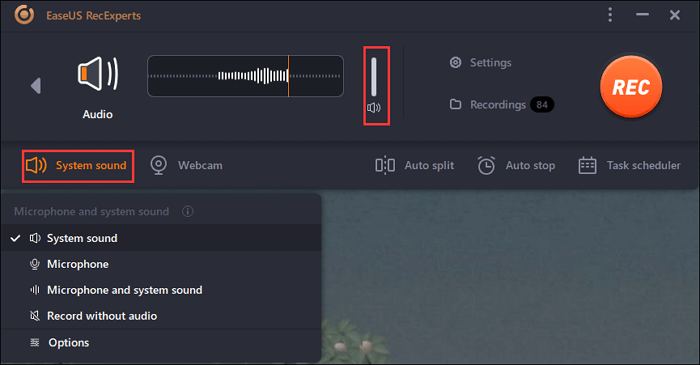 Step 3. Next, click "REC" to begin your recording.

While recording, you can pause, resume, or stop the recording flexibly.

Step 4. Once done, you can find the recordings in the "Recordings".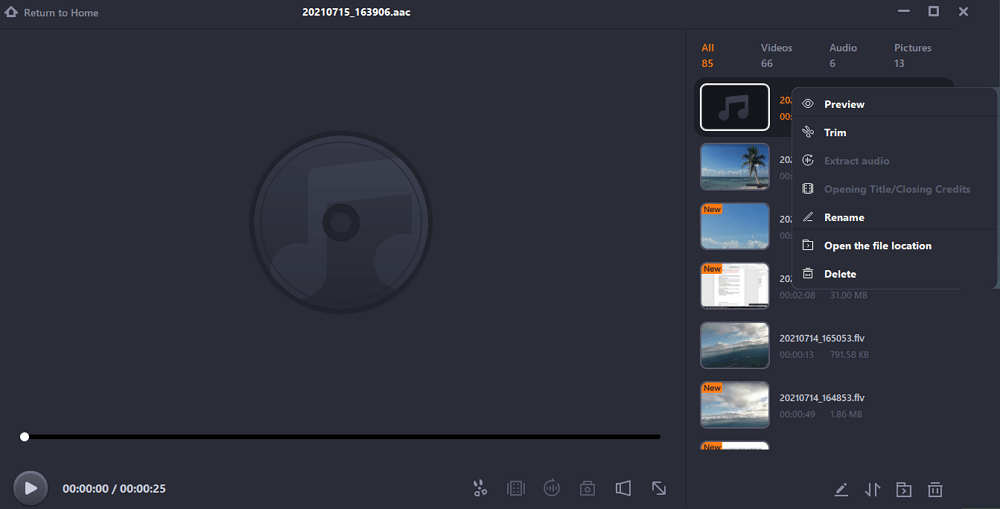 How to Record Computer Audio Windows 10 with Stereo Mix
Stereo Mix is a special recording option on a Windows computer, and it focuses on any application to record the same sound that your computer is outputting from its speakers or headphones on Windows. After enabling it, you can start recording the system sound from Windows 10 with Setero Mix and Voice Recorder.
How to Record Audio on PC Windows 10 with Voice Recorder:
Step 1. Enable Stereo Mix. Click Windows icon > Settings > System > Sound > Sound Control Panel. In the Sound window, click on "Recording" to find the Stereo Mix, and next right-click on it and select the "Enable" option.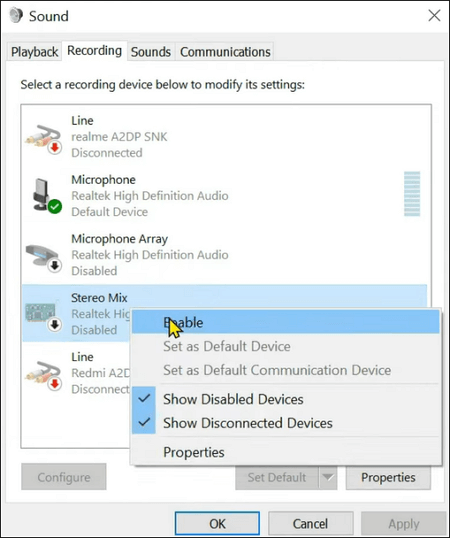 Step 2. Open start and type "Video Recorder" in the search bar, press "Enter" on the keyboard, and open the software. Click the "Record" button to begin recording audio.
Step 3. You can click the Flag button to add a marker to the recording. When you are done, click the "Stop" button, and a new window will appear that shows you the recordings available.
Step 4. Click on the recorded audio file and choose the "Play" button to preview your audio file. Here you can also export, trim, delete the audio files on your computer.
How to Capture Internal Audio on Windows 10 with Audacity
Audacity is a free, easy-to-use, and multi-track audio editor and recorder were developed by a group of volunteers. It can record live audio through a microphone or a mixer or digitize recordings from other media. After recording, you can easily edit your audio file by cutting, copying, pasting, and deleting.
Most importantly, you can export your recordings in many different file formats, including multiple files at once. Follow those steps to record sound Windows 10 now. 
How Can Audacity Record Computer Audio Windows 10:
Step 1. Make sure your microphone is connected to your computer.
Step 2. Check Audacity settings. Click "Edit" > "Preferences" in turn to set the audio quality and channels.
Step 3. Start to record your audio. Choose the red record button and speak into the microphone. When speaking, you can adjust the recording level in the windows volume control.
Step 4. Once done, click the yellow stop button to stop the recording. If you need, you can click "Edit" to trim, delete, split your audio file.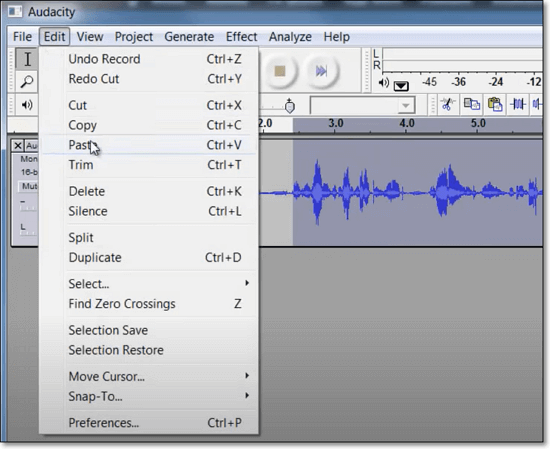 Step 5. When everything goes well, click "File" and choose "Export as..." to save your recorded audio file.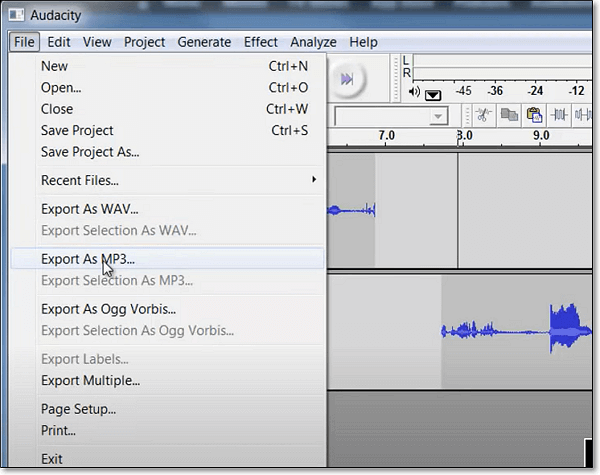 How to Record Internal Audio on Windows 10 Using an Audio Cable
Apart from that internal audio recorders software, there is also a simple way to help you capture the internal sound from your computer. All you need is a 3.5 mm mail and a USB audio adapter. 
Step 1. Plug one end into the microphone jack on your PC, and the other end into the headphone jack of the audio adapter. 
Step 2. Move to the Sound Control Panel, set the USB audio device as default. 
Step 3. In the recording tab, set the microphone as the default communication device. Right-click on "Microphone" and click "Properties" to enable "Listen to this device", and click "Apply",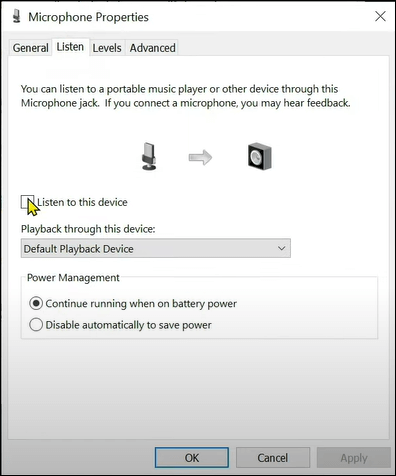 Step 4. At last, you can use any audio recording software to capture the computer sound on Windows 10. 
Conclusion
In this article, we offer four quick and easy ways on how to record audio on Windows 10. Among the four audio recorders we mentioned above, you can choose the best one according to your needs. 
If you need to capture the system and your voice simultaneously, EaseUS RecExperts is your best choice. This recording software not only helps you record audio but captures screen, webcam, and gameplay effortlessly.
FAQs About Recording Audio Windows 10 
Here we collect some questions that most people frequently ask, and you can take a look.
1. Does Windows 10 have an audio recorder?
Yes, Windows 10 has a sound recorder called Voice Recorder App. If you need a quick way to record audio on your computer, this app can help you. You can use it to record interviews, conversations, lectures, and anything that can make a sound.
2. How can I record sound from my computer?
Audacity can help you record sound from your computer. You can choose to record the internal voice, microphone, or your voice and microphone at the same time. Moreover, you can use it to record your screen and favorite games.
About the Author

With the interest in English writing and computer technology, Vanessa chose to be an editor in EaseUS. She is professional in video and audio topics, including video & audio editing, converting, and recording. Vanessa will keep writing to help people solve problems.