[2021] How to Record a Webinar on Windows and Mac Easily

Jane Zhou updated on Jan 13, 2021 to Screen Recording Utility | How-to Articles
Webinars can be used as an online conference with thousands of attendees, training courses, public discussions, or your workgroup team's remote meetings. The webinar participants can discuss, share desktop, invite other guests, or start polls in real-time. It's a good idea to record the webinar and view it later since the recording can store a lot of information. 
But how to record a webinar on Windows 10/8/7 or Mac? Some paid or free webinar recording software can help, and you can capture your whole screen with audio to record webinar using the most powerful ones. This post will tell you how to do that step by step. Follow the guide to record webinars you want to save.
Related Article: How to record YouTube video
How to Record a Webinar on Windows 10 PC 
When you want to record webinar on pc, the competent webinar recording software is indispensable. In this part, we will take EaseUS RecExperts for Windows, a versatile but user-friendly recorder, as an example.
This webinar recorder offers you a rich-featured screen recording tool. You can capture anything on your screen with the webcam, and it will be useful if you want to record your own presentation in a webinar. No matter you want to record the voice of your own or other people, it will be a simple task since this recorder can record computer audio, the audio from a microphone, or both of them. There is also an available built-in video editing tool to shave away any part you don't need and only keep the essential clips. 
In addition to its commercial use, it can also serve as a wonderful game recorder on windows 10. The specialized game recording mode allows you to customize the bit rate and frame rate to adapt to the characteristics of the game you want to record. YouTube videos, Skype calls, and Netflix episodes, the recorder can record all those files effortlessly.
Main Features:
Add texts, lines, arrows, watermarks during the recording
Export the recorded webinar to Google Drive, Dropbox, YouTube, Vimeo, etc.
Record streaming audio and video on various platforms
Edit the recording, including cutting and merging video clips
Record gameplay with the game recording mode
There are more practical functions you can use in the recording process. Download it and try them out now.
How to Record a Webinar on PC:
Step 1. Start the application when you join the webinar. You can choose what to record – a whole screen, only the webinar screen, or just the audio.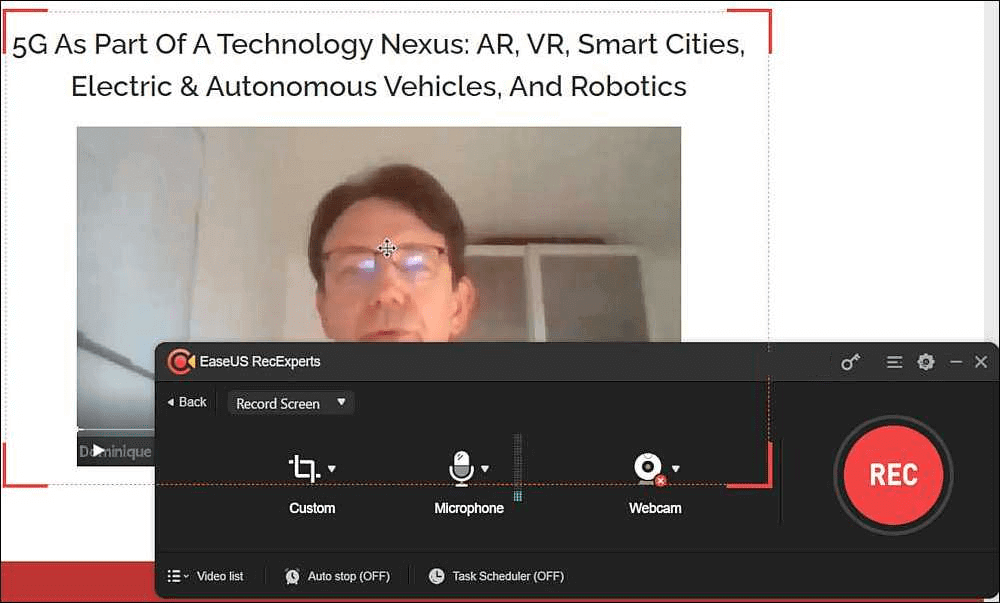 Step 2. Choose system sound, if you're an only listener; or System sound and microphone if you're an active participant. Then just click the big Red button "REC", and the program will start recording.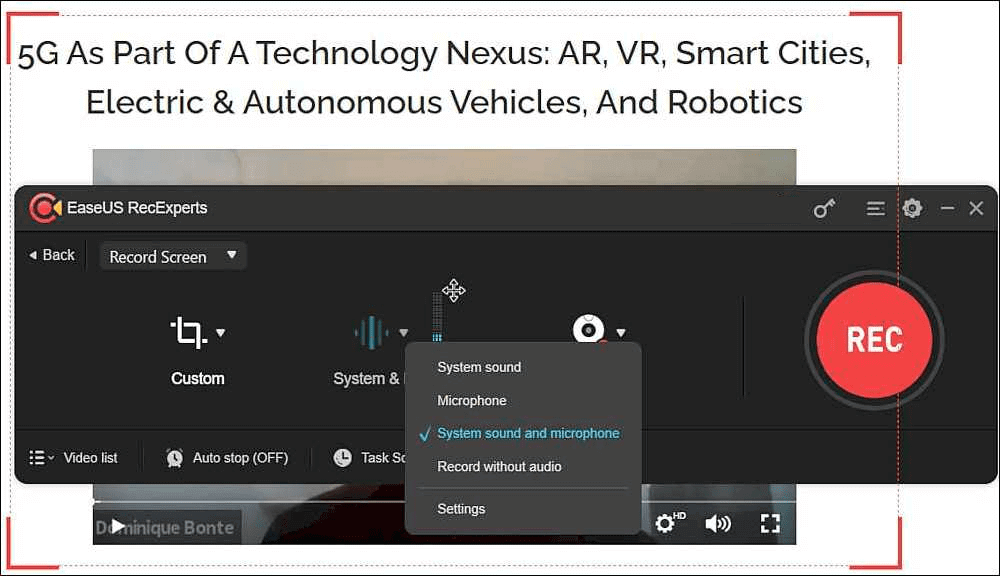 Step 3. When the recording starts, you will see the webinar main screen, and a small bar, showing the recording time, an icon for the screenshot, the audio level. This toolbar can be hidden through the settings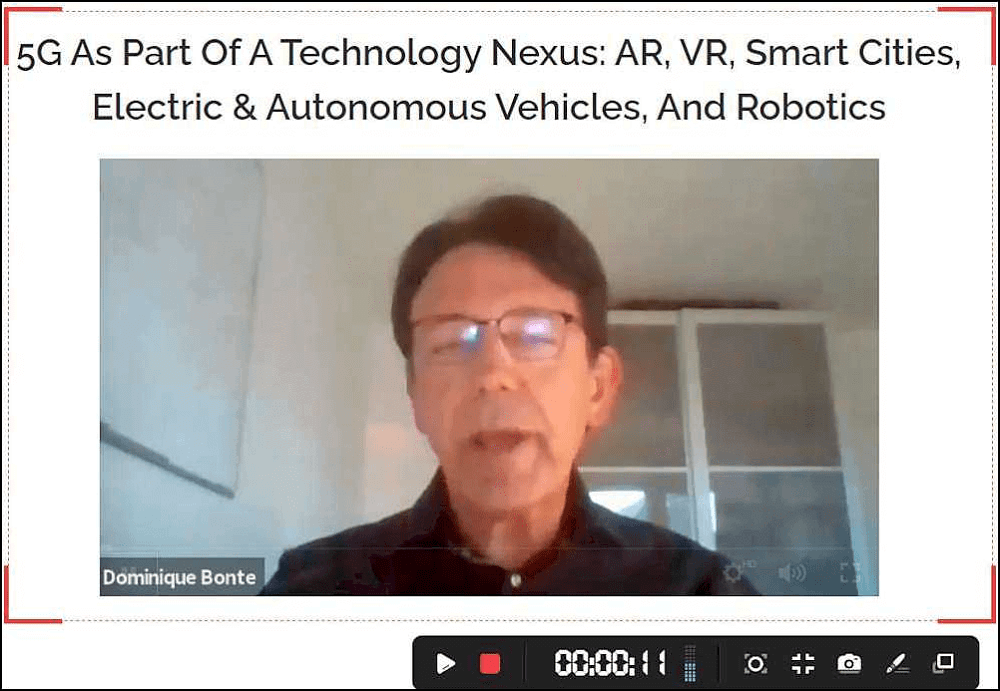 Step 4. You can pause or stop the recording. The software generates a video file (in this case MP4), which you can preview, compress, edit, rename, delete. Then, you can trim the video, put a watermark, texts, or arrows, add Intro and Outro, using the advanced editor function.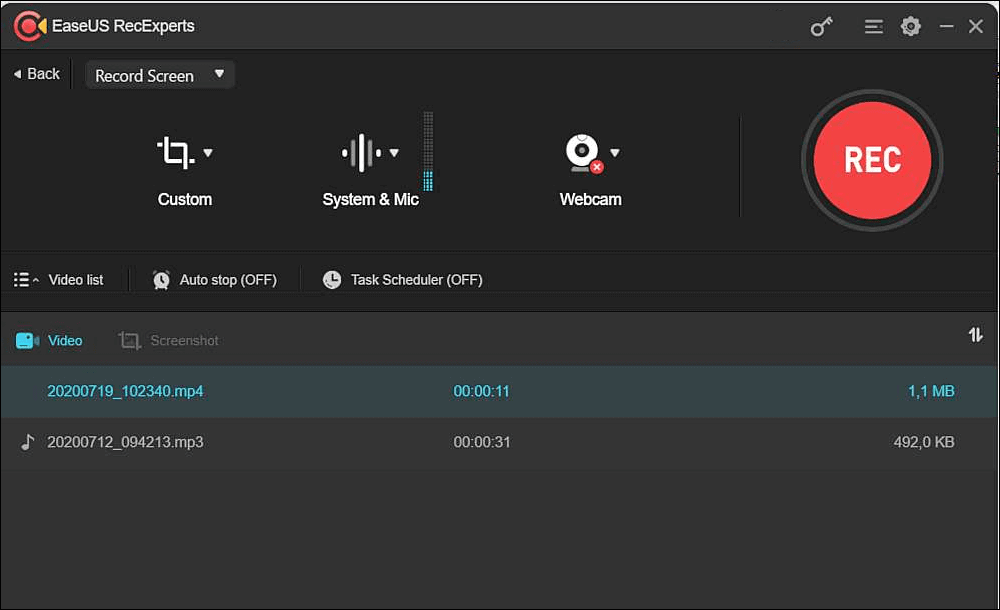 Step 5. Finally, you can export or share the edited webinar video to Google Drive, Dropbox, YouTube, or Vimeo account.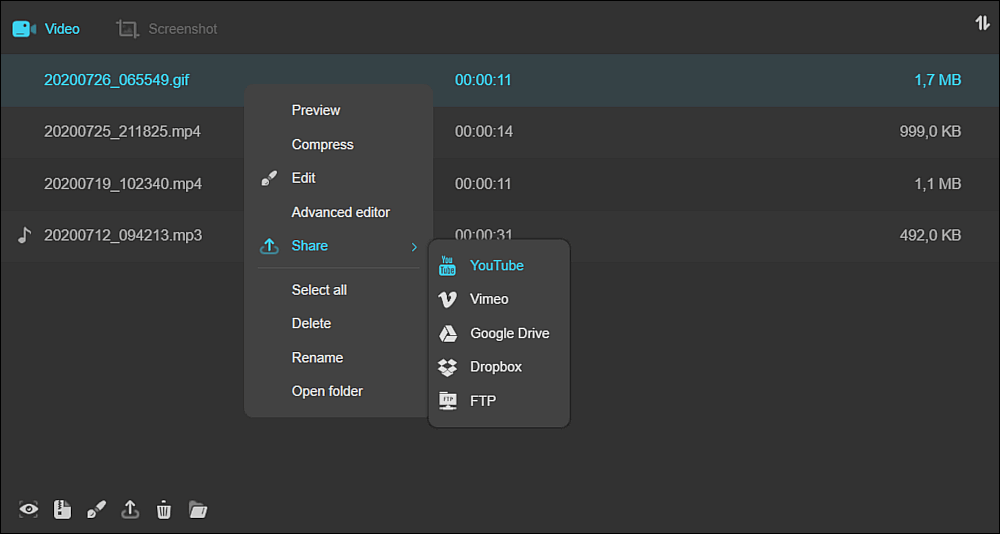 How to Record Webinar on Mac 
There are two of the available webinar recording software on Mac, and we will introduce their functions and how to use them in this part.
As to recording a webinar on Mac, this recorder comes with several advantages. First of all, you can flexibly choose the recording area according to your actual demands instead of capturing the whole screen, which means you can record part of screen.
A task scheduler is also a wonderful tool in recording periodic events like online classes or webinars. You only need to click a small timer icon and set an appropriate screen recording duration to schedule recording. After it reaches the time limit, the recorder will stop recording automatically so that you don't need to wait for a long time.
Key Features:
Fully support high definition videos: 4K/1080P
Simple interface
Record iOS devices via Airplay
Support Webcam recording
Support both GIF and MP4 as the output formats
A competent screen recorder without watermark
Download and install this user-friendly webinar recorder now. Even beginners can use it easily.
How to Record Webinars on Mac: 
Step 1. Start or join an online meeting, then launch the recorder on your Mac computer. Click "Screen" under the Video tab. After that, click the "Size" option to select the recording area.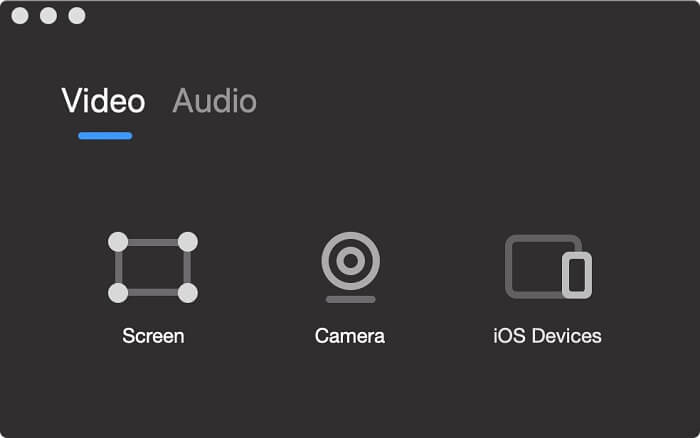 Step 2. Next, you can adjust the audio sources, quality, and voice volume of your video recording.
(Optional) If you need to record the meeting at a specific time, you can create a scheduled recording task by clicking the Clock icon at the bottom.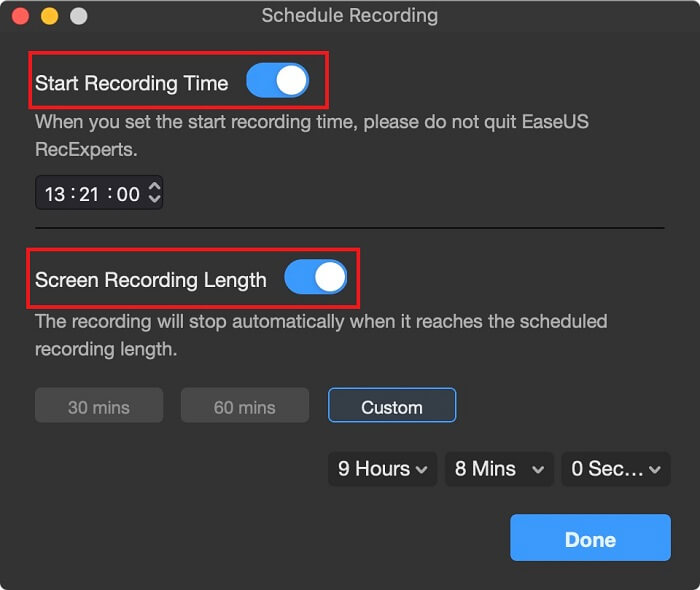 Step 3. When the meeting begins, you can click the big red circle button, and the program will start recording. During the meeting, you can pause or stop the recording.
Step 4. Once done, you can preview the recorded video. And you can export it to an MP4 file or animated GIF.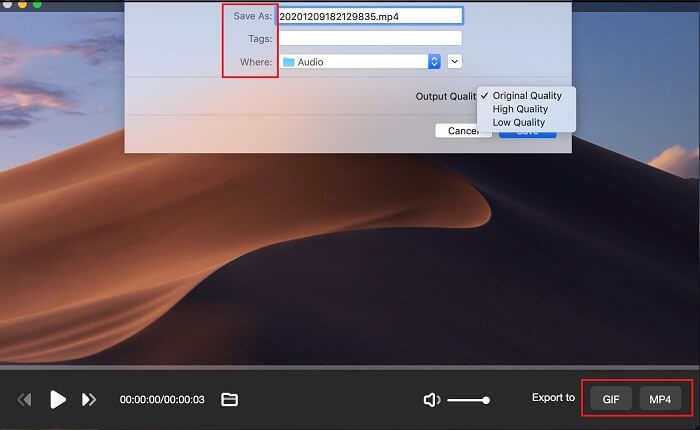 How to Record a Webinar on Mac Using QuickTime Player
If you are a Mac computer fan, you can use GoToWebinar, Zoom, Webex, or other Mac-friendly webinar services. For a better recording of the webinar, you can try a free screen recorder – QuickTime Player.
Step 1.  Start QuickTime Player on your Mac. Click on File on the top bar and then choose New Screen Recording from the drop-down list.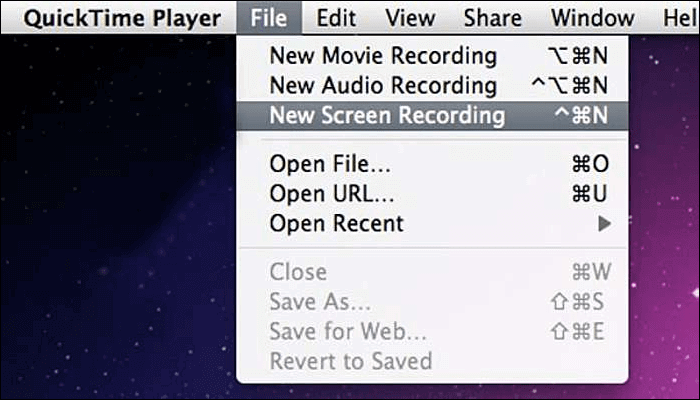 Step 2. You have to adjust the settings by clicking the small triangle button. During this step, you can attend the Webinar and prepare for the Webinar capturing on Mac.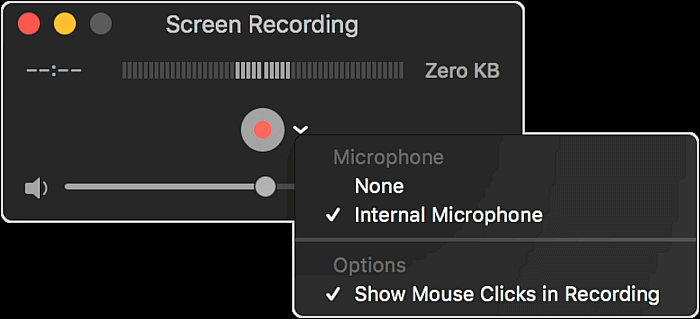 Step 3. When the webinar begins, you can click the red button "Record" to start recording webinar content. You can capture the entire screen or customized zone of it.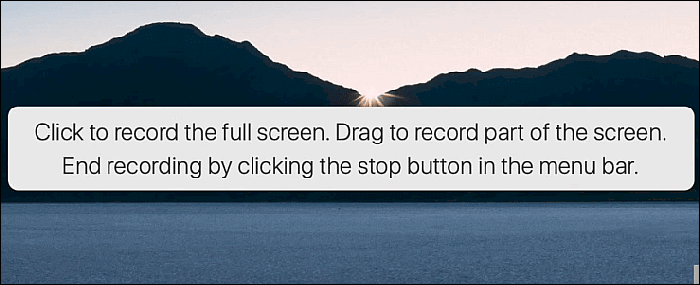 Step 4. Click the "Stop" button on the menu bar, and you'll have a recorded webinar file in the format *.MOV.

How to Record a Webinar on Zoom 
The popular Zoom platform allows only paid plans for webinar organizing (a monthly or an annual subscription), and each plan enables the host to invite different numbers of participants. By default, only the host can initiate a local recording of the webinar. If another participant wants to record, the host will need to provide that participant's permission during the meeting. If you are the host, the recording in Zoom is easy and simple:
Step 1. Start your meeting as the host.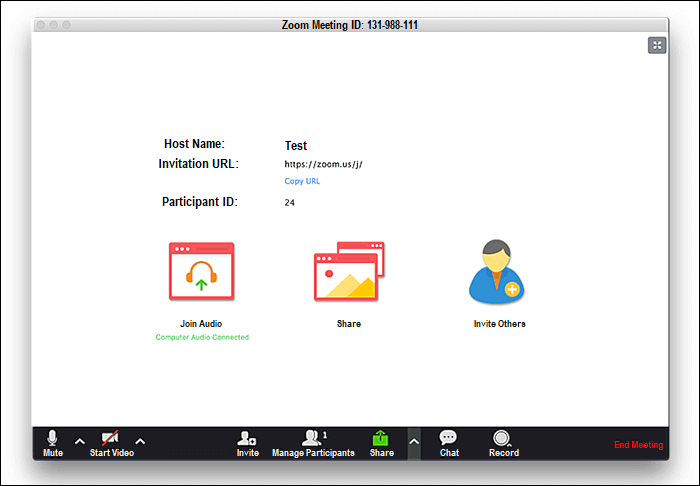 Step 2. Click the Record button

Step 3. Choose between two record options - "Record on this Computer" (locally) or "Record to the Cloud." Saving to the cloud is the better option if multiple people are involved in the process. 

Step 4. To end a recording, click on the "Stop" button or click the red button "End Meeting." Then the video file will be converted and stored in the destination you chose.

Conclusion
We have shown you the most reliable webinar recording software and details on recording a webinar with these screen recorders on this page. If you need to record a webinar, pick one of them based on your needs.
Both Windows users and Mac users will enjoy recording the great webinar with the comprehensive, multipurpose screen recording software EaseUS RecExperts. Have a try now.
FAQs About Webinar Recording 
If you have more questions about how to record webinars on Windows 10 and Mac, those answers below may help you.
1. How to record a webinar I am watching?
You have to download a screen recording software capable of recording both video and audio. Choose an appropriate application if you want more advanced editing and exporting features. Launch the webinar recorder while you are watching a webinar, then you can use it to record what you want to save to your computer.
2. How can I record a webinar for free?
There is a free webinar recording software that can be your choice, EaseUS RecExperts. After you download and install it, you can use its "Record Screen" mode to capture your full screen, part of the screen, or a locked window when watching a webinar. And this recorder supports various video and audio formats so that you can export the recording in the format you like.
3. How to record GoToWebinar?
To record a GoToWebinar meeting, there are some available screen recording programs. We recommend EaseUS RecExperts as this recorder offers enough tools that you may need in recording a webinar. You can use the task scheduler to arrange the recording time freely, and you can even edit the recorded webinar with a built-in editing tool.
4. Is it possible to record a webinar?
Usually, webinar platforms provide recording functions, but the webinar organizer holds control of this recording. The webinar attendees should rely on third-party recording software. 
5. How to save a webinar to my computer?
First of all, you need to find a screen recorder and launch it to capture the webinar you want to save. There are many optional recorders, such as OBS Studio. This open-source webinar recording tool can help you record things you need on your computer screen. After the recording, the recorded webinar will be exported in a suitable format, and you can save the recording to your computer.