
Table of Contents

About the Author

Related Posts

Best Audio Recording Software
How to Make a Khan Academy Video Easily in 2022
Whiteboard screencast is growing more and more popular all around the world. Khan Academy, an American non-profit educational organization, gave many beneficial suggestions to people who want to record a tutorial with annotation on the whiteboard. From those suggestions, we can know that it's crucial to get an appropriate screen recorder.
This post will now talk about some of the best screen recorders and drawing tools you can use to make a Khan video. In addition to that, there is also a step-by-step guide on how to make a khan academy video.
How to Make a Khan Academy Video Effortlessly 
When planning to make a Khan Academy video, you need to plan the contents, prepare basic tools, and record the videos. Three tools are indispensable: 
Some drawing software to serve as a blackboard
A drawing tablet
A screen recording software
When it comes to screen recording software, EaseUS RecExperts can be the most suitable one since it can satisfy nearly all your recording needs. This all-in-one screen recording tool offers users a lot of necessary functions. You can utilize it to record screens, audio, webcam, and game.
Speaking for its recording function, it allows you to capture any area on your screen with or without audio. Also, it offers other options to make your screen recording easier and easier, including schedule recording, auto-stopping, auto-splitting, etc. Once done, you can access some editing tools to modify your recordings as you want. 
1. Hook the Graphics Tablet up to Your Computer and Start Drawing
You can search the "Paint" app on your Windows PC and launch this built-in software to use it.

2. Record Drawing with RecExperts
Step 1. Launch EaseUS RecExperts. There are two different options for screen recording, i.e., "Full Screen" and "Region". If you select "Full Screen", you will capture the whole screen.

Step 2. If you select the "Region" option, this software will ask you to customize the recording area. Make sure that everything you want to capture is within the bounds of the select box.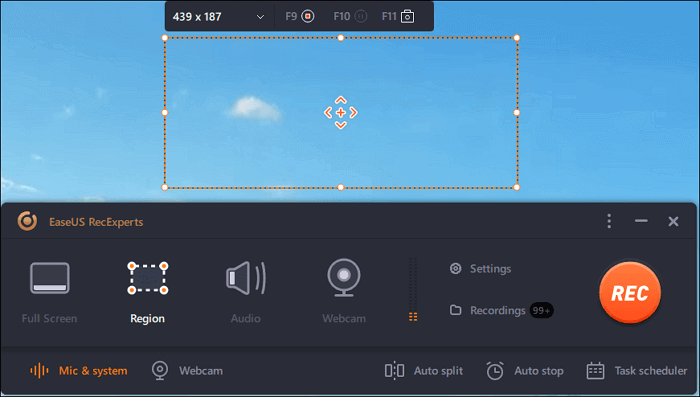 Step 3.  Tap on the button at the bottom left side of the main interface, and there will be many options you can select. This recorder supports recording microphone and system sound separately or simultaneously. The "Options" button is for you to adjust the volume and microphone device.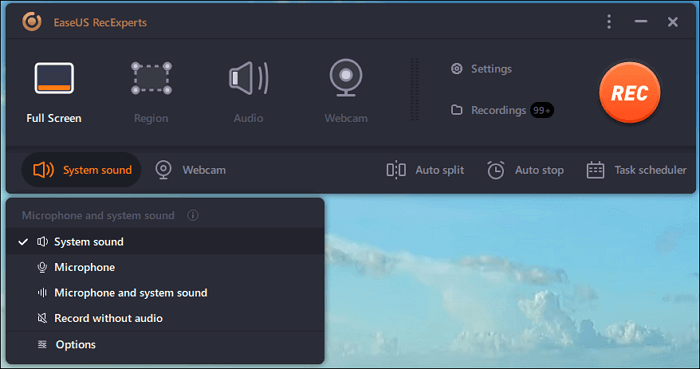 Step 4. To record the webcam simultaneously, click on the "Webcam" icon at the bottom of the interface. Tap on the button to enable the webcam recording, and there will be a drop-down menu to select the recording device. Click on "OK" to confirm your settings.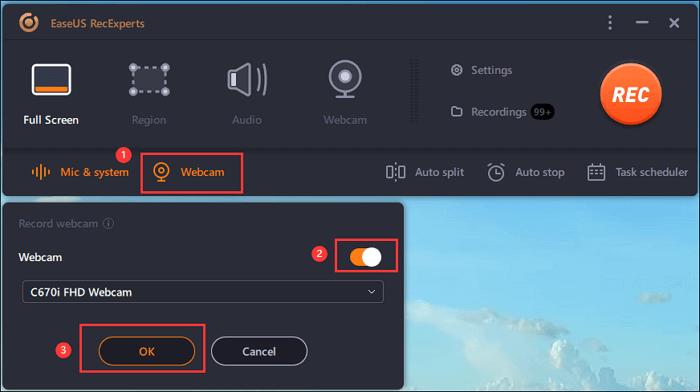 Step 5. When you turn back to the main interface, click on the "REC" button to start recording. A floating toolbar offers you buttons to pause or stop the recording during the recording process. In addition, the camera icon can be used to take screenshots, and the timer icon can help stop it automatically.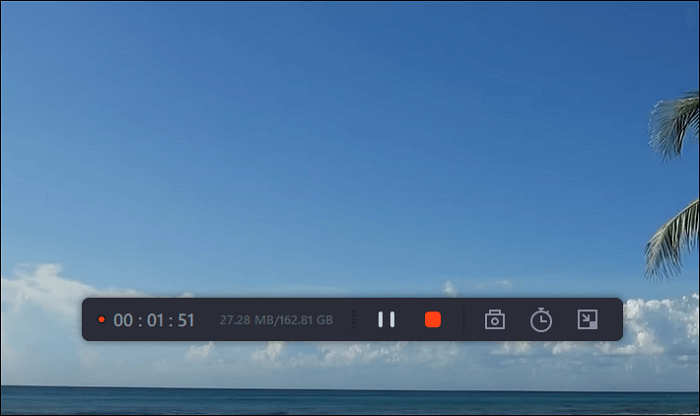 Step 6. The recorded video clips will be saved on your computer. When the media player appears, you see a set of tools you can use to trim the recordings, extract audio, and add opening title & closing credits to the savings.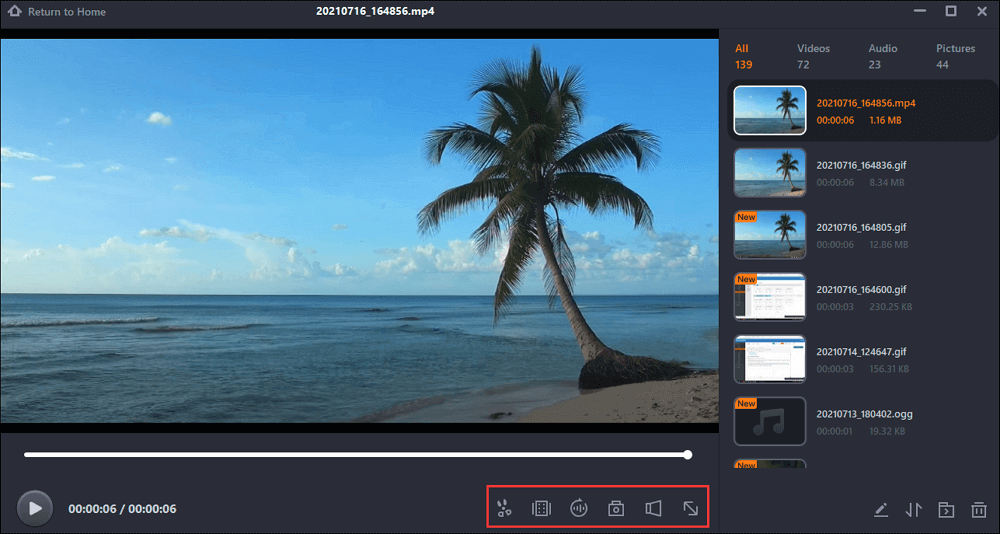 What Software Does Khan Academy Use to Record Videos 
If you want some other recording tools, some other video recording tools are also available. This part will introduce four competent recorders on Windows.
1. FlashBack Express
FlashBack Express is the lite version of FlashBack Pro, and it's also designed for screen capture. Like many other screen recorders, it has functions like recording computer screens and webcam. If you want to record the sound, you can choose to record the system sound or record your voice using a microphone. 
This simple recorder can support several common formats. For example, you can save your recordings in MP4, AVI, and WMV formats. After that, you can upload those videos directly to YouTube.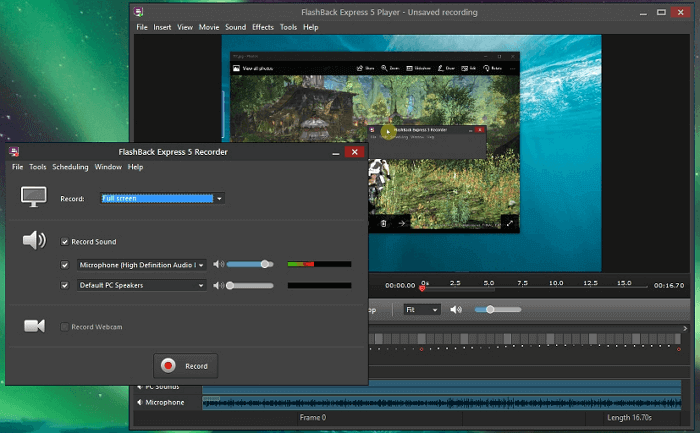 Pros:
You can trim footage, make clips
Add audio commentary as you record
Record movies with no watermarks
No limits on movie length
Cons:
Cannot follow the mouse to keep the focus on the action
No smooth and correct jerky cursor movements
Cannot add picture-in-picture video
Compatibility: Windows
2. Screencast-O-Matic
Screencast-O-Matic is a screen recorder with good compatibility. It can run on many systems, such as Windows, Mac, iOS, and Android. It can capture your computer screen, add a webcam, and record your voice for narration. When you need to take a screenshot on a computer, it can also help you. 
Besides that, there are some video editing features. You can zoom in or trim your recordings. It's also possible for you to create your videos by adding music and pictures, animations, overlays, and more.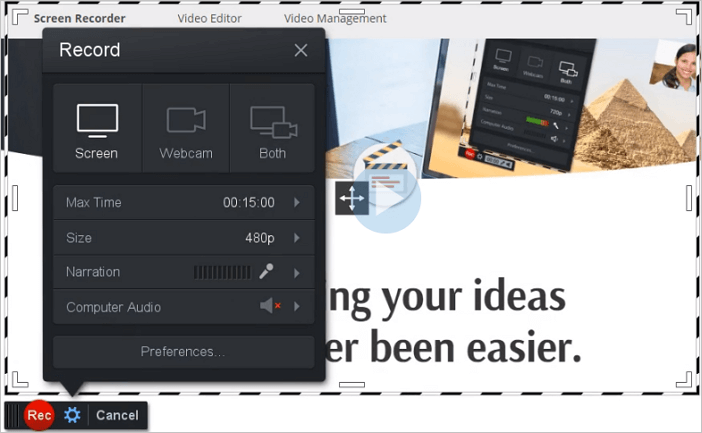 Pros:
Capable of making Khan Academy videos 
Secure and private online back-up
Use images in the stock library to enhance videos
Publish videos directly to YouTube and other platforms
Cons:
The length of recording time is limited 
There is a watermark on the recordings
Compatibility: Windows/Mac and iOS/Android/Chromebook
3. VLC Media Player
This open-source software becomes very famous in past years as a video player. However, it's powerful in that it allows people to use it as many things else, such as a format converter, video editor, and screen recorder. 
VLC runs on nearly all platforms: Windows, Linux, Mac OS X, Unix, iOS, Android. And it supports various formats of video and audio files and doesn't require any additional codecs. You can record your screen using this tool as well.
Pros:
Easy to download, and doesn't take much space in your computer
It doesn't require you to download additional add-ons
Play files while still downloading them
Free of viruses 
Cons:
No audio recording options
It requires both source and receiver should be in LOS
Compatibility: Windows/Linux/Mac OS X/Unix/iOS/Android
4. ScreenApp
ScreenApp is an online screen recorder that requires no registration or payment at all. Since you don't have to download any software and extension, you can record what you need on your screen with a single click. Before the recording, you can select the area to capture, including a full screen, an application window, and a browser tab. 
You can preview the recorded video and trim it before downloading it. This will allow you to delete the unwanted sections of your video rather than recording all over again for a small mistake you made.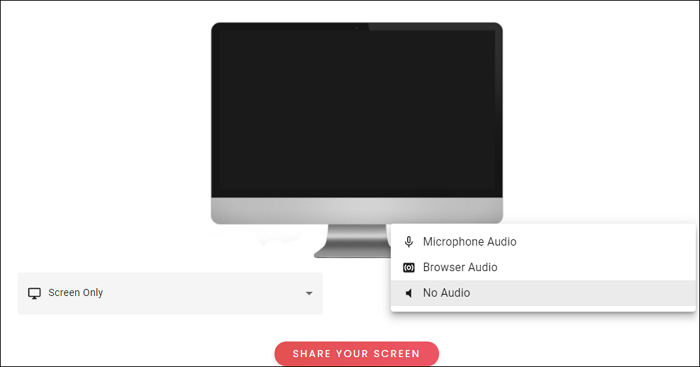 Pros:
Capable of making Khan Academy videos 
Record your screen quickly
Record a YouTube video and save it
Powerful video editing functions
Cons:
Need use Chrome, Firefox, and Opera to record
The speed of exporting is slow
Conclusion 
How does Khan Academy make videos on Windows? Then what program does Khan Academy use to draw? What you need is a recorder with built-in drawing tools.
There are countless wonderful screen recorders on the market. However, most of them can only allow you to add annotations after recording. To show the process of drawing those marks, you can choose EaseUS RecExperts to make your educational videos.
About the Author

Melissa is a sophisticated editor for EaseUS in tech blog writing. She is proficient in writing articles related to screen recording, video editing, and PDF file converting.