
Table of Contents

About the Author

Related Posts
Best GIF Recorder | Capture Screen to GIF on Windows & Mac
Sometimes you may watch interesting video clips and want to record them to share with your friends while watching movies. However, most screen recorders create big files format *.MP4 or *.MOV, and it is heavy to use on the Internet. Then how to deal with the problem?
An easy and quick solution is to capture screen to GIF, as GIF files are smaller, and you can send them via email or post them on social media sites. This article has collected the top 10 best GIF recorder software supported by major desktop OS – Windows and macOS. Now choose one to record a GIF without effort.
Top 10 GIF Recorder on Windows & Mac:
Top 1. EaseUS RecExperts
Platform: Windows 10/8.1/8/7; Mac OS X ® 10.10 or higher 
Some free GIF recorders allow you to capture a screen to a GIF file, but most of them have only basic functionality. If you want powerful, versatile, and cost-effective software, you have to try EaseUS RecExperts.
This GIF capturing software has both Windows and Mac versions. EaseUS RecExperts for Windows helps you record the screen to GIF according to demands freely. You can select from different types of recording regions. For example, you can record the full screen as well as record part of screen. It supports selecting the video quality freely, and the optional video quality levels are 720P, 1080P, and 4K. 
On Mac, it's convenient for you to record GIFs without a watermark using this Mac screen recorder. In addition, it can work perfectly on all kinds of occasions, including your work, entertainment, and e-learning.
Key Features:
Add tasks in Task Scheduler to record GIF automatically
Support recording videos in high resolution
Capture audio from multiple sources
Record a Skype call, a Zoom meeting, or online lectures
Now download and try this GIF screen capture software to create funny GIFs!
Top 2. Gyazo 
Platform: Windows
Gyazo is a simple free GIF screen capture software to take screenshots, capture action, and animation and share them like gifs instantly. The free version allows unlimited screen capturing, but you can create only 7 seconds HD GIF. Once recorded, you can share it with automatic uploading.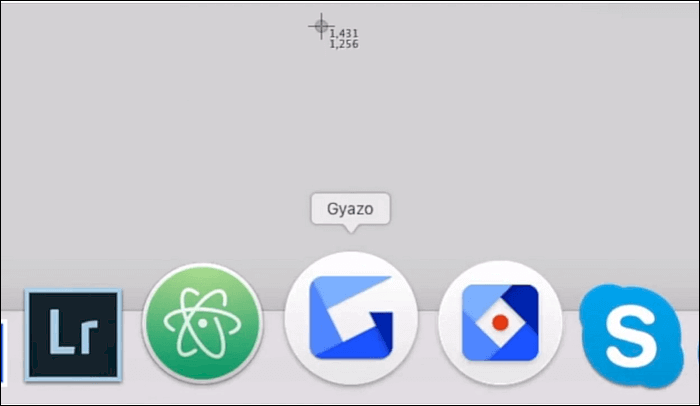 Pros:
Let you create GIFs by capturing videos 
Has an editing tool, inserting notes, arrows, texts
Capture the entire screen, a window, or a specific area 
Cons:
Only 7 seconds GIF with the free version
There is no image editor available with the free version
Top 3. LICEcap
Platform: Windows XP/Vista/7/8/8.1/10
LICEcap is free software, which can record the screen directly to GIF file. You can move the screen capture frame while recording, pause /restart the recording.  This Windows GIF recorder also saves your work as a GIF, which you can embed online like you would any other image.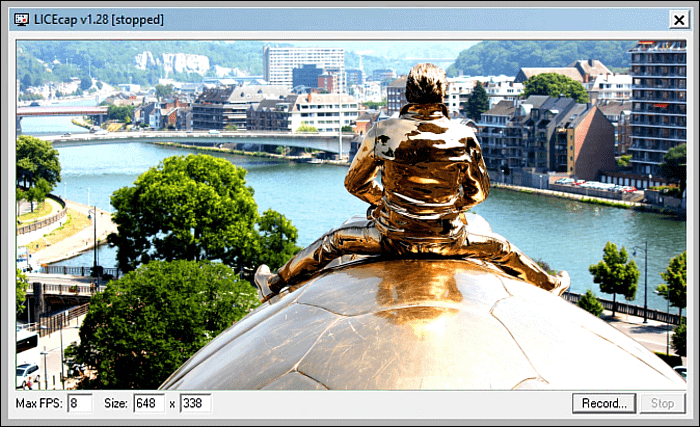 Pros:
Simple and minimalistic application
Compatible with Windows XP and Vista, as well as Win 8 and 10
Creates GIFs with good quality
Cons:
No editing capabilities
The resulting GIFs are relatively big (7-sec animation can be almost 0.5MB)
It requires a lot of disk space for it to function
Top 4. Gifcam
Platform: Windows 8,7, Vista, XP
This is a fun GIF recorder to capture the screen to GIF on your Windows PC. It's simple to use, combining a screen capture tool with an animated GIF maker. This screen capture GIF software automatically records frames, inserts spaces, and saves the clip as a GIF. Moreover, it provides some editing features, including removing frames.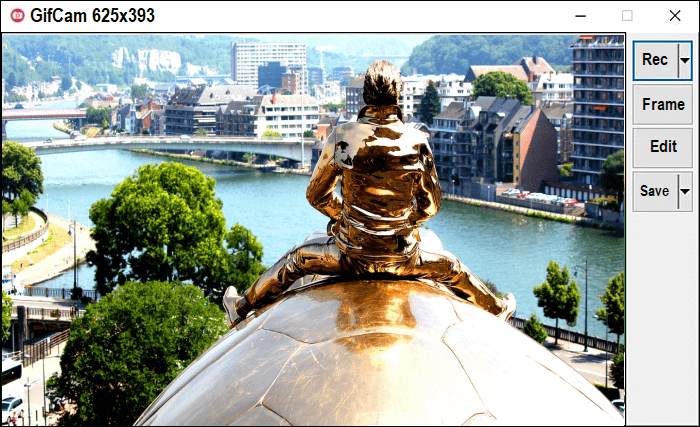 Pros:
Small and well-configured user interface
GifCam is a clever tool for creating animated GIFs
Offer basic editing features
Cons:
The last update occurred in 2016
Compatibility issues with new OS versions
Top 5. GIF Screen Recorder
Platform: Windows
This GIF Screen Recorder makes it extremely easy to create GIFs from your screen. While you capture your screen, the recordings will be stored as GIF files which can be played on nearly any computer or mobile device. With this GIF capture software, you can record any activity on your desktop with ease.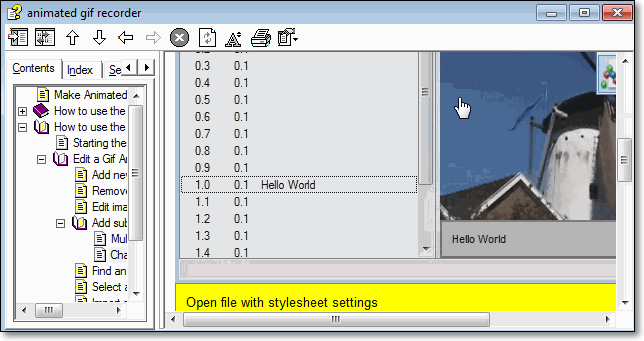 Pros:
Allow you to change the recording area
Select the quality of the recorded GIFs
Preset size before recording
Cons:
Only available for Windows
Top 6. Gifox.io
Platform: macOS
Gifox.io is a wonderful GIF recorder on a Mac computer. With it, you can capture the whole or part of your screen into a GIF file. After capturing, you also can share the GIF with whoever you want. This GIF capture software gives you control over how fast your GIF plays, how many times it repeats. Besides that, you can control your captured video's quality and the size of the output file.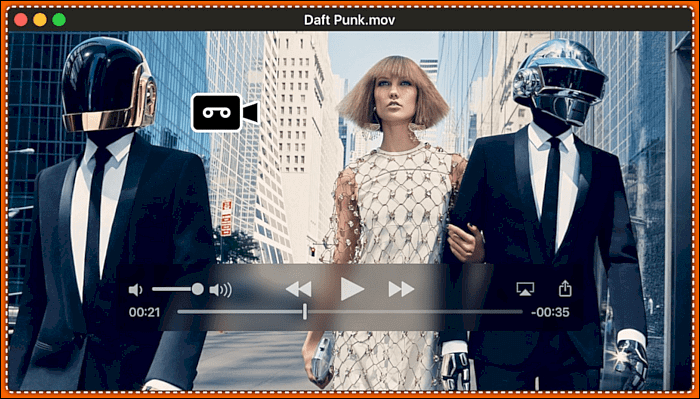 Pros:
Well designed easy to use application 
Window capturing is very useful to capture iOS simulator
Cons:
Unable to trim captured GIF
Random crashes are reported
Top 7. Recordit
Platform: macOS
Recordit is a light GIF recorder on Mac, capturing screen and creating demonstrations, app tutorials, and record sound. It's a fast screen recording program and allows you to record any part of your screen. Using it, you can make a GIF out of the recorded video.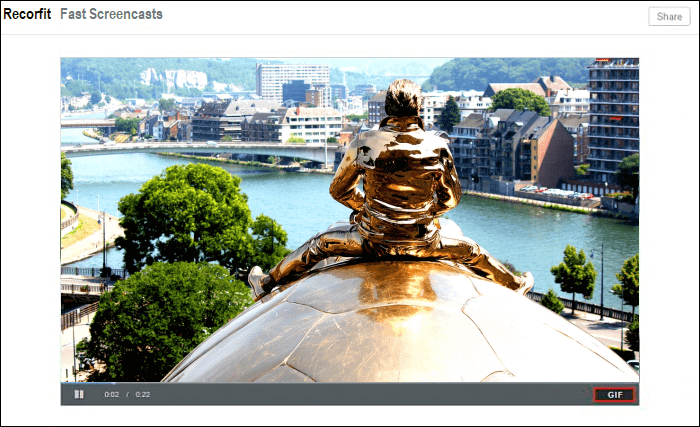 Pros:
Easy to use and provide a preview of the recorded file
Can record a screencast at a low frame rate without sound
Easily share the GIF to various social media sites 
Cons:
The free utility doesn't offer any editing tools
You can record for free a desktop screen for as long as 5 minutes
Recordit automatically uploads your video to the cloud, where it becomes public
Top 8. GIPHY Capture
Platform: macOS
GIPHY Capture is a simple and free GIF recorder to create GIFs by capturing the screen on your Mac with a few clicks. And it allows you to adjust the frame rate and add animations. However, there's a limitation for the GIF duration – you can capture a GIF up to 30 seconds long, but rarely GIFs are longer (nobody will watch them).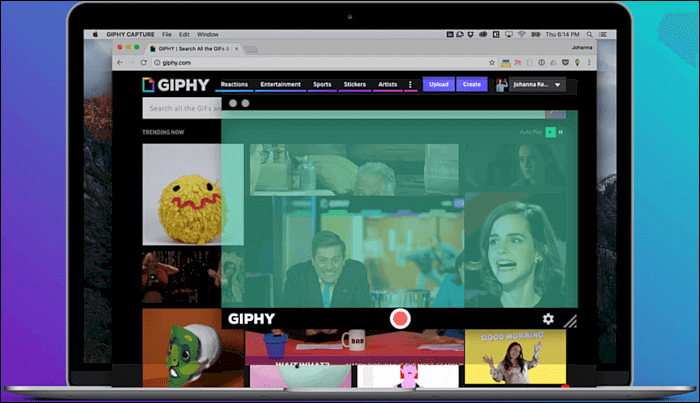 Pros: 
A super simple editing tool
Easy upload to Giphy
Share your GIF on Facebook, tweet it to Twitter, or send it in Facebook Messenger
Cons:
30 seconds limit of the GIF file
It is not a video recorder in itself
You have to create a GIPHY account before using the online GIF maker 
Top 9. Capture to a Gif
Capture to a Gif is an easy browser extension for capturing screen to GIF online for free. It can record the content of the whole page into an animated GIF. The online GIF recorder supports recording animation, video, or any graphic and text displayed on the browser page. You can change a few parameters, like FPS (from 4 to 24) and quality (from 5 to 50).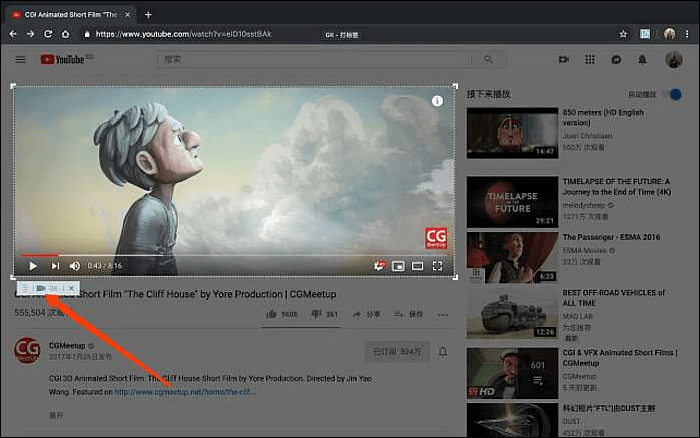 Pros:
Easy to use a plugin for Chrome browser, able to capture full-screen GIF
You can save the recorded GIF directly to your PC folder
Cropping the desired zone easily
Cons:
Not able to pause the recording 
The GIF quality is not so good, and the file size is too big
Try: https://chrome.google.com/webstore/detail/capture-to-a-gif/eapecadlmfblmnfnojebefkbginhggeh
Top​ 10. Animated Gif Capture
Another online GIF capture software is Animated GIF Capture. This Google Chrome extension can capture the active browser's content, the whole screen, or the selected application window. It is effortless to add the plugins. To record the screen, click the small video camera icon on the upper right part of your browser. When the capture is completed, the GIF screen capture software converts the screencasting to the animated GIF. Then the ready GIF file will be downloaded instantly.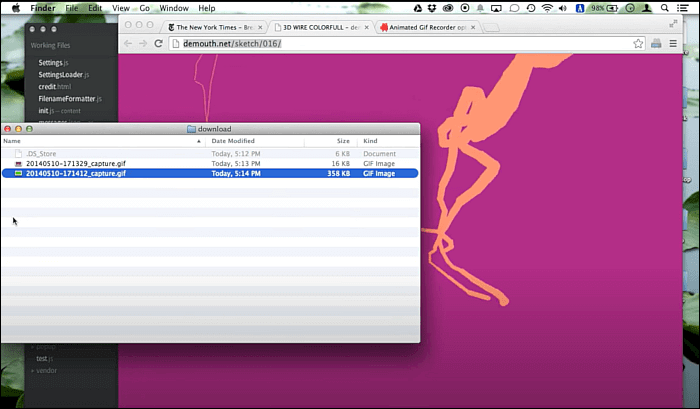 Pros:
Add a browser action to capture a screen
Easy to use and offers the option to modify the settings of the recording
Configurable through an options page
Cons:
It's not very responsive at times 
As an online tool, it cannot be used offline
Try: https://chrome.google.com/webstore/detail/animated-gif-capture/aecmckhhfknljgicfkpbinfkpnijehcm
Conclusion
On this page, we have shared with you the top 10 GIF recorders. Depending on your favorite OS, you can choose Windows or macOS GIF screen capture software to record your screen to GIF. 
If you're going to make a GIF project (for fun, school, or work presentation), you will need more versatile software like EaseUS RecExperts. This brand new software can record your screen and turning it into a GIF with just a few clicks. It's useful software for any web design project. Now download it and have a try. It will never disappoint you!
FAQs About GIF Recorder
1. How do I record my own GIF?
You can record your own GIFs with some easy-to-use GIF recording software. Here we take EaseUS RecExperts as an example.
Step 1. Launch it and set GIF as the output format.
Step 2. Begin recording. Select the area you want to capture and click on the REC button.
Step 3. When you want to end the recording, you can click on the Stop button to finish the work. Then you can see your GIF on the Video list.
2. How do I record a GIF on my computer?
To record a GIF on your computer, you need some GIF recording software, like EaseUS RecExperts, GIFCam, GIPHY Capture, etc.
3. How do I record a GIF in Windows 10?
There are tons of screencast tools for the Windows 10 platform, but most of them record in MP4 format. While people may prefer to record GIF screencasts, few apps offer high quality and are not expensive. EaseUS RecExperts is a newcomer to the world of easy-to-use professional-grade tools.
4. What is the best free GIF maker?
Here is some popular GIF maker software you can take a look at.
EaseUS Video Editor
PhotoScape
GIMP
Picasion
ScreenToGif
...
About the Author

Jane is an experienced editor for EaseUS focused on tech blog writing. Familiar with all kinds of video editing and screen recording software on the market, she specializes in composing posts about recording and editing videos. All the topics she chooses are aimed at providing more instructive information to users.