
Table of Contents

About the Author

Related Posts
How to Record Game Audio on Windows 10/Mac
Do you think record game and audio is difficult to operate? When you search this question in Google, you get a few answers or can not find a worthy page to solve this problem. With the gameplay videos becoming more and more popular on YouTube or other video playing platforms, many bloggers attracted massive fans from this type of video. And also catch many eyes on gameplay video recording. Do you know how to record games with audio? On this page, I will show you the top three screen recorders on Windows and Mac.
Part 1. How to Record Game and Audio in Windows
In this part, I will share with you the top 2 screen recorders in Windows, they are:
If you ask me what the best game recording software in Windows is, my answer must be EaseUS RecExperts. Since this software was published in July this year and has got plenty of people's attention.
For this software, it built in a lot of recording functions, such as record video, audio, webcam, and game. For users who are wondering about how to record zoom meeting, EaseUS RecExperts is exactly the key to their question. By using it, you can also record facecam videos, record gameplay videos with audio, and other more.
It also has an advanced editing function, users can use this function to edit the recording video, such as adding text to the video, trimming the video length, adding watermark, and other more.
The game recording function does not only support recording the gameplay with audio but also supports the game screen with your face. Trust me, and this software is a worthy choice. If you are interested in this software, you can click the following link to download it and have a try.
Features:
An easy-to-use screen and audio recorder
Support recording gameplay video with audio
Support recording various high-quality and popular 2D/3D games in 4K UHD resolution
Support flexibly capture the full screen or select any area of the screen
About EaseUS RecExperts, here still have some information you may concern:
System requirement:
Windows 7/Windows 8.1/Windows 10
Supported video/audio formats:
Video - mp4, wmv, avi, FLV, mpeg, vob and more
Audio - wav, mp3,aac and a lot more
Supported image formats:
bmp, jpg, png, gif, tiff and more
The steps of recording game and audio using EaseUS RecExperts:
Step 1. Launch the game you want to record and then open EaseUS RecExperts. Select the "Audio" option to start the sound capturing mode.

Step 2. There is a "Settings" option on the main interface, and you can click on it to customize some details for the recording. You can select the most appropriate output format, bitrate, and sampling rate for the game you want to record. Click on "OK" to continue.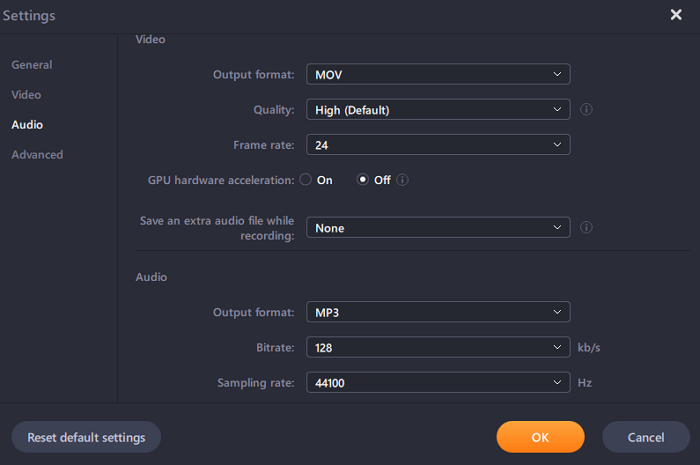 Step 3. When it turns back to the main interface, click on the icon in the bottom left corner and select a suitable audio source. If you only want to record gameplay audio, "System sound" could be the right choice. If you want to capture the sound of gameplay and your own voice, it would be better to choose "Microphone and system sound".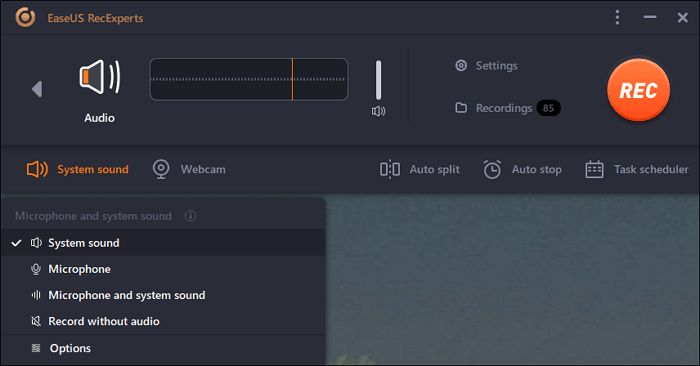 Don't forget to tap on the "REC" button to start recording.
Step 4. During the audio capturing process, you will see a toolbar like this. Those two buttons on it can help you pause or stop the recording. When the recording stops, the captured audio will be saved on your device. You can preview the recordings using a built-in player.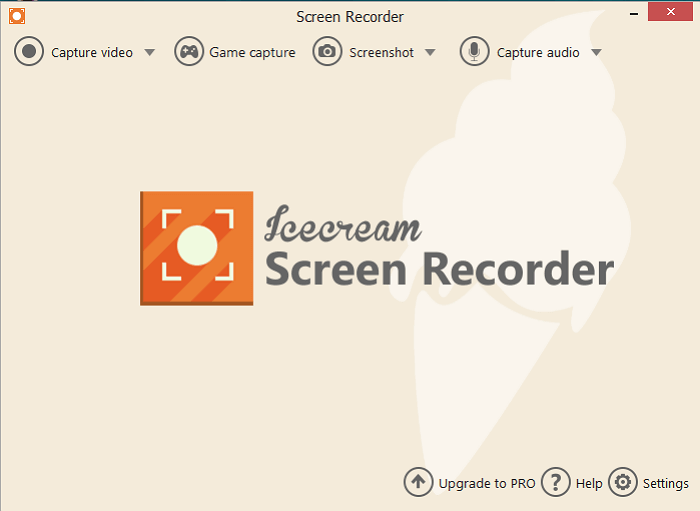 Icecream Screen Recorder is another amazing screen recording software in Windows. This software supports recording video, audio, game, and screenshot recording functions. Users can use these functions to record gameplay video, record video tutorials, record webinars, record live streams, and more. For the game recording function, users can record games with audio. When you use finish editing your gameplay video, this program supports a video editing function, and you can cut the unnecessary parts of your video. So, if you want to record game and audio, this software will be another best choice.
Features:
Support recording game and audio at the same time
Support setting the recording speed
Support setting multiple screen capture tasks on a timer
The steps of recording game and audio using Icecream Screen Recorder:
Step 1. Download and install this software, then launch this software
Step 2. In the main screen, click the "Game capture" button to enter the game recording window. Click the F6 to start or stop the game recording.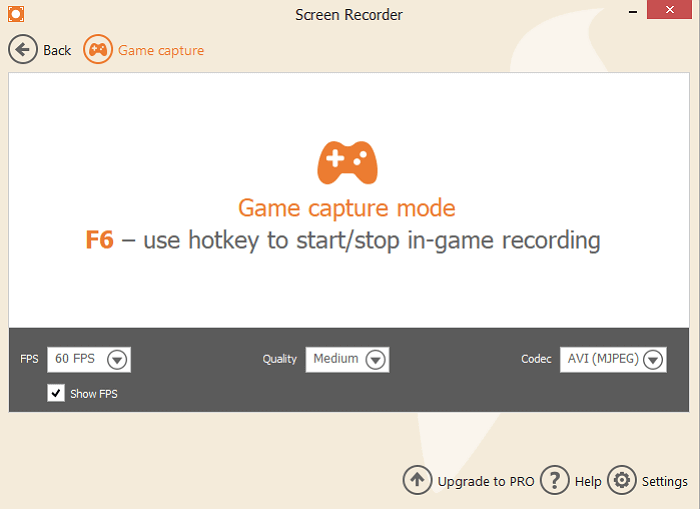 Step 3. If you want to finish the game recording, you need to click the F6 again, and the game and audio video will save on your computer.
Part 2. How to Record Game and Audio in Mac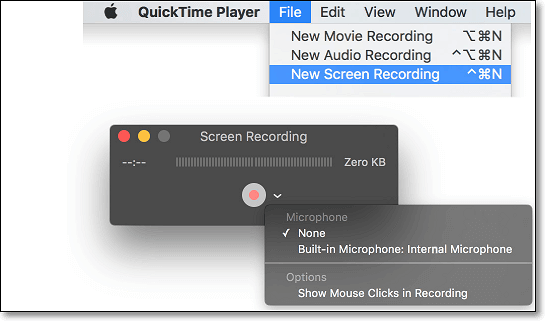 If you are a Mac user, you must know Quick Time Player. This software is very popular among Mac users. Quick Time Player is a powerful multimedia framework, which is developed by Apple Inc. This software can solve various formats of digital video, picture, sound, and panoramic images. Using this program, users can play the film, video, and music, editing the video and even can record the screen. For the recording function of this program, you can record the computer screen, record audio, and record the gameplay video. If you use the Mac system, luck for you, this software is a built-in tool, and free for Mac users. If you use Mac devices, this software will be your best choice.
Features:
Support recording gameplay video
Support free to use
Do not need to download software that you can use
The steps of recording game and audio using Quick Time Player
Step 1. Launch Quick Time Player, and choose "File"> "New Screen Recording" from the menu bar to create a new recording window.
Step 2. Click the "Record" button to start recording. And you select the area of the screen you want to record, then click "Start Recording" within that area.
Step 3. When you finish recording, click the "Stop" button in the menu bar to stop recording, the recording video will save on your computer.
Conclusion
At the bottom of this page, I will make a summary of this page. On this page, we are talking about the best three screen recording software on Windows and Mac. You can choose the one according to your needs. If you are a Mac user, Quick Time Player will be your best choice. If you are a Windows user, compared with these two screen recorders, I still suggest you to choice EaseUS RecExperts. Because, considering the functions and price, EaseUS RecExperts is much better than Icecream Screen Recorder. So, this software is the best choice, and you do not miss it!
About the Author

With the interest in English writing and computer technology, Vanessa chose to be an editor in EaseUS. She is professional in video and audio topics, including video & audio editing, converting, and recording. Vanessa will keep writing to help people solve problems.