
Table of Contents

About the Author

Related Posts
Best 10 Game Audio Recorder to Capture Your Game Audio
The game recording is way too trendy stuff when you consider the current market scenarios. It requires less effort to create awesome game recording videos and upload them to social platforms like YouTube or Facebook, yet gain millions of views within a few days! So why not creating such videos rather, such effortless jobs that give great returns? Well, of course, we can do that but we'll require a few things such as a high-class game audio recorder and a pc game recorder with audio. 
This article will share with you the top 10 best in-game audio recorders to help you create and add sound effects to your recording on your computer or mobile phone. Now check out the list below to find your favorite free PC game sound recorder.
01
Game Audio Recorder [Win/Mac]:
02
Audio Recorder for Gaming [iOS/Android]:
Top 8 Free Game Audio Recording Software for Windows and Mac
Most of you record game audio on computer, so given that, we will introduce 8 excellent game audio and video recording software with full features in this section.
1. EaseUS RecExperts 
EaseUS RecExperts is one of the most popular game recorder software for both Windows and Mac users. It offers a special game mode, which enables you to record various high-quality and popular games in 4K resolution. Besides, it lets you record only game audio and export it in more than five formats.
In addition, it's also a great screen capturing tool that can assist you in capturing any area of your screen with ease. Once the recording is done, you can use the built-in trimmer to edit your recordings directly.
Key features:
Offer many optional audio formats
Set up recording tasks to record what you want automatically
Record sound through multiple sources simultaneously
A live streaming video recorder to capture various live streams on different platforms in high quality
Now download it to explore more stunning and useful features.
How to record game audio on Windows 10 using EaseUS RecExperts:
Step 1. Launch the game you want to record and then open EaseUS RecExperts. Select the "Audio" option to start the sound capturing mode.

Step 2. There is a "Settings" option on the main interface, and you can click on it to customize some details for the recording. You can select the most appropriate output format, bitrate, and sampling rate for the game you want to record. Click on "OK" to continue.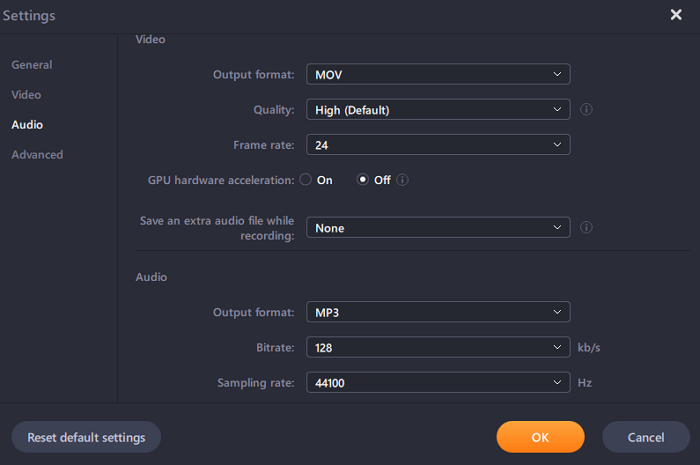 Step 3. When it turns back to the main interface, click on the icon in the bottom left corner and select a suitable audio source. If you only want to record gameplay audio, "System sound" could be the right choice. If you want to capture the sound of gameplay and your own voice, it would be better to choose "Microphone and system sound".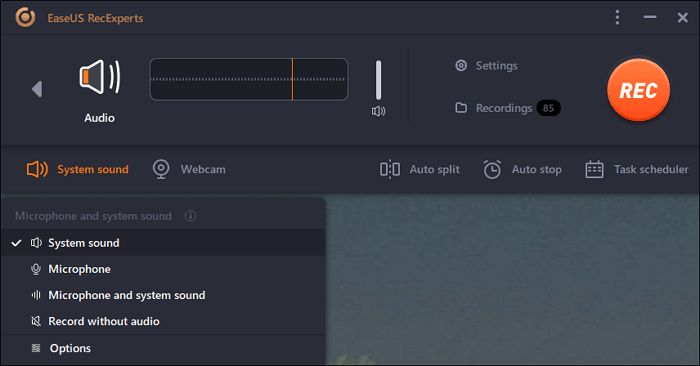 Don't forget to tap on the "REC" button to start recording.
Step 4. During the audio capturing process, you will see a toolbar like this. Those two buttons on it can help you pause or stop the recording. When the recording stops, the captured audio will be saved on your device. You can preview the recordings using a built-in player.

2. Fraps
A very powerful yet too simple game audio recording software is Frap, which allows you to record audio through your pc as well from external sources. When you begin recording, you can select frame rates of your own choice while the frame rate per second will be visible in one corner of the recording. 
Moreover, you can do live streaming videos, edit the recorded files, and share the file through social media platforms in just one single click!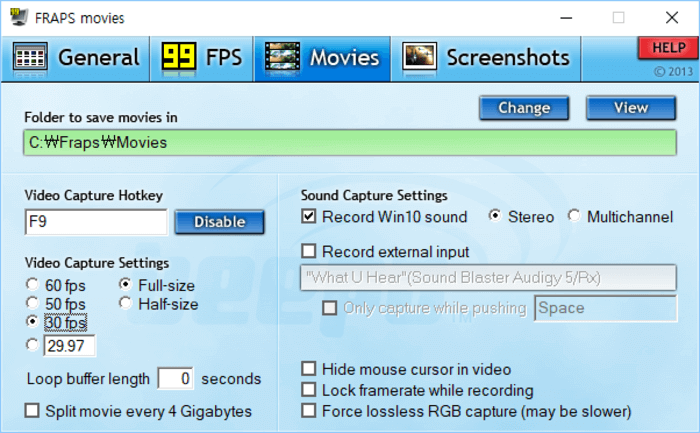 Pros:
Record sound through multiple sources 
Customize the frame rates 
Add watermark to the recordings 
Show cursor movements during the recording
Cons: 
Technical support is not always functional 
Very basic layout design 
3. XSplit Gamecaster
It's a truly wonderful game sound recorder available for Windows users. This software supports recording any kind of audio or video and taking screencasting on your pc with simple clicks. 
Besides, this free PC game recorder with audio also enables you to capture the webcam, edit recorded files, do game live streaming, and a lot more effortlessly.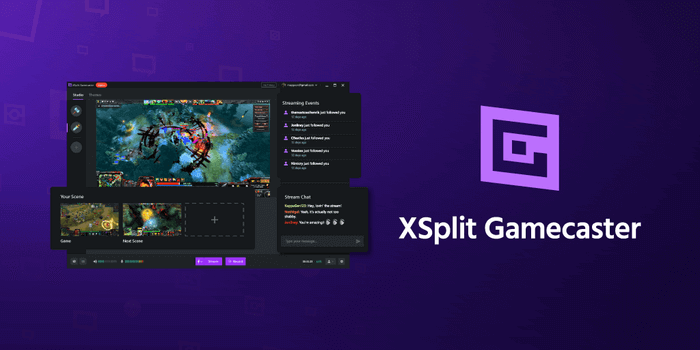 Pros: 
Support live streaming 
Support screencasting 
Add watermark to the recordings
The free version provides all the basic flavors of a powerful game recorder
Cons: 
Limited functionalities are available with the free version
The technical support system is not functional 24/7 
4. Action!
Action! is an amazing recorder for game audio recording, and it supports high-quality 4K video outputs with much higher frame rates. But, one thing you need to keep in mind is that you cannot customize the frame rates according to your wish, which results in occupying a higher memory and processor resources unwantedly. 
Otherwise, the software is a treat! You can perform all the basic editing operations such as cut, trim, crop, insert images, change resolution, add watermark, and a lot more with this powerful recording and editing software.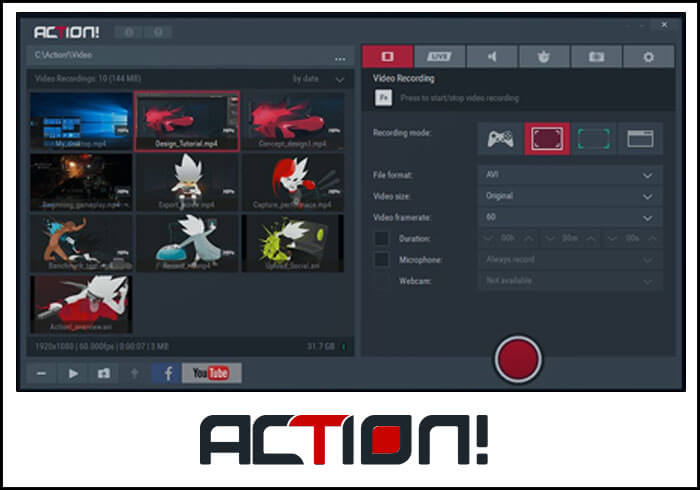 Pros: 
Support live streaming 
Reduce pressure on the CPU by allowing the GPU accelerations during the recordings
Share files directly through social media platforms such as YouTube, Twitch, Ustream, Livestream, Hitbox, and more
Cons:
Not available for Mac users 
Doesn't allow to change the frame rates 
5. Monosnap
Monosnap is an extremely powerful and robust gameplay audio recorder for Mac users that allows you to record a full-screen video or for a particular area. You can use readily-built hotkeys, add texts, symbols, watermark, narration, and awesome effects while recording a video using this game audio recording software. 
Along with gameplay recording, the software does allow powerful audio/video editing features that are highly required for any recording applications. 
Pros:
Support multiple file formats
Produce high-quality output files
Allow recording through multiple audio sources at the same time
Cons:
The interface is a bit confusing for common users
The free version has limited features
6. TinyTake
It is a powerful gameplay audio editor and recorder available for Windows and Mac users. The software is loaded with plenty of features such as webcam recordings, screencasting, podcast recordings, gameplay recordings, face cam recordings, screen capturing, multiple audio recordings, audio/video editing, and a lot more. 
Like any other software of its kind, this tool also offers very basic functionalities with its free version.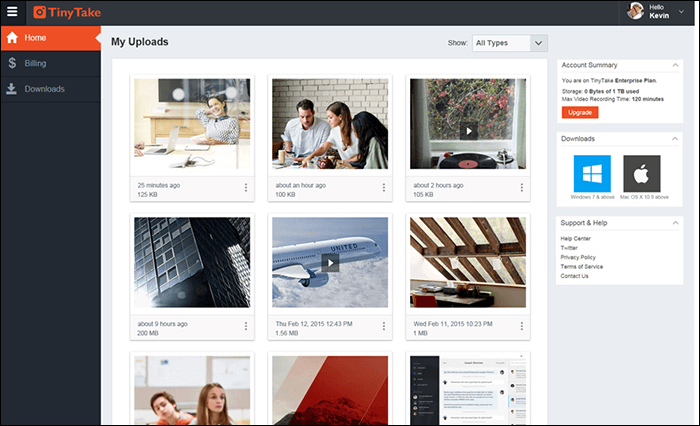 Pros:
A 2 GB cloud storage space available with the free version of this  free PC game recorder with audio
Add narration while recording a gameplay
Screencasting, webcam recording, screen capturing, audio/video editing, all that can be done using this powerful game audio recorder tool
Cons: 
Game live streaming is not allowed
Only 5 minutes of recording available with the free version 
7. Screencast-o-Matic
This powerful free pc game recorder with audio does all the recording and editing tasks you want it to do. Starting from creating high-quality gameplay, to powerful editing, and social sharing, all that can easily be done using this game audio recorder.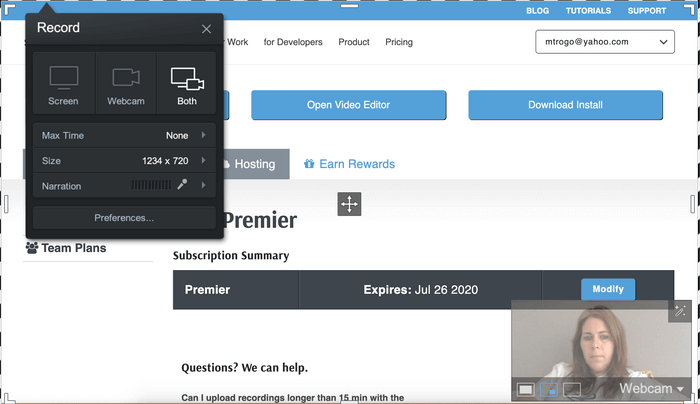 Pros: 
High-quality gameplay recordings
Powerful editing of recorded files
Add narration, share through social media platforms
Cons: 
The free version has limited features
The free version doesn't support all the file formats as the output
8. Icecream Screen Recorder
It's mainly a premium game audio recording software that is available for both Windows and Mac as you can access this software through a suite that supports both Windows and Mac users. 
Along with recording high-quality gameplay, the software also allows adding multiple shapes, texts, and other clipart while recording the videos. It supports audio recordings from multiple audio sources.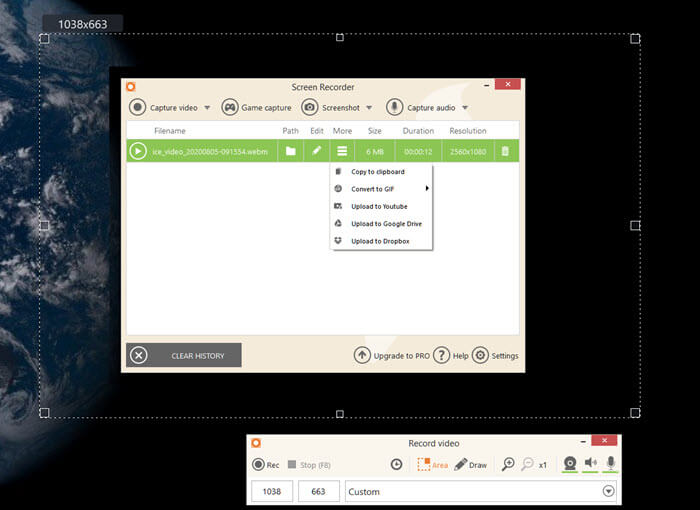 Pros: 
High-quality output 
Frame rates adjustments 
Support multiple file formats 
Cons: 
The free version supports only WEBM files as output
A limited recording time available with the free version
Top 2 Best Game Sound Recorder on Phone
Apart from the PC game audio recording software, there are lots of gameplay sound recorders app for mobile phones. Here you can learn two great applications for Android and iOS devices seperately.
1. Screen Recorder- No Ads (Android)
It's a fantastic android mobile application available at the Google Play Store allowing the users to record game audio, screen, audio, and also take screenshots depending upon the requirements. It has two different themes such as a light theme and a dark theme, and the user can switch between the two anytime he wants.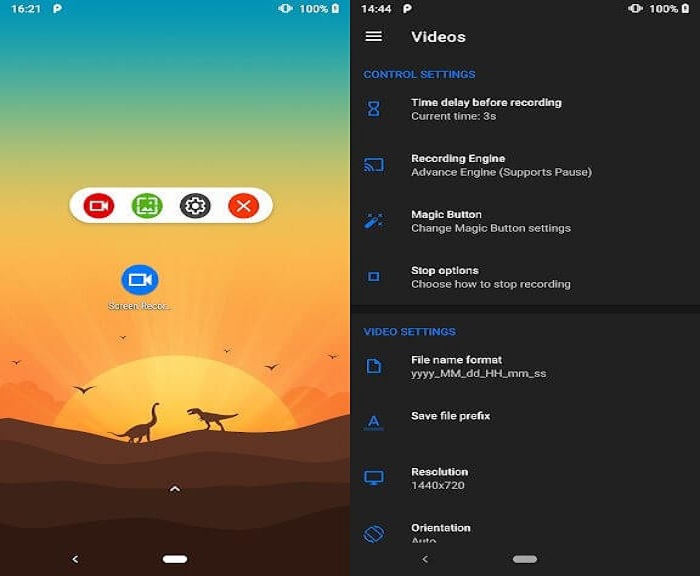 Pros: 
An extremely powerful game recording app that supports multiple languages 
Support screencasting, screenshot capturing, adding logos, and images while recording a game video or any other video
Allow face cam recordings
Cons: 
There is no proper technical support team to solve user queries
Sometimes the application gets stuck, especially with a slower internet connection
2. ReplayKit (iOS)
There is an inbuilt voice recorder for games on iOS version 11. In case, you are using any such devices, then you can switch between the two screen recording or game recording software but, if you are using a lower version of iOS such as iOS 9 or 10, then you are free to use this powerful game audio recorder application. 
Pros:
Live broadcasting
Sound recording through multiple sources
Powerful editing options 
Cons:
Not available for Android users
The interface is not user-friendly
Conclusion
On this page, you can learn the 10 best free voice recorders for games, and each of them has its own special pros and advantages. You can select the right one based on your needs. 
Among them, we'll highly recommend EaseUS RecExperts, as the software is featured with awesome stuff, editing options, and user-friendliness. There is a free trial version of the software available which you may try before purchasing the premium plan. 
Game Audio Recorder FAQs
1. How do I record game audio?
To record game audio, you just need game audio recording software like Audacity, OBS Studio, EaseUS RecExperts, etc. 
2. Can Game Bars record audio?
Yes. Windows 10's Game Bar can record audio by default. You can set the bitrate to 96, 128, 160, or 192 kbps, or turn off audio capture.
3. What is the best recorder for gaming?
There are some best gaming recorders you can take a look at.
EaseUS RecExperts
OBS Studio
Game Bar
Bandicam
Action!
About the Author

With the interest in English writing and computer technology, Vanessa chose to be an editor in EaseUS. She is professional in video and audio topics, including video & audio editing, converting, and recording. Vanessa will keep writing to help people solve problems.