Top 10 Full Screen Recorders for Windows and Mac in 2021

Vanessa Chiang updated on Dec 22, 2020 to Screen Recording Utility | How-to Articles
Video Recorders are software that can record anything you do on the desktop. They can record all the actions, including mouse pointers, and supports voice and system sound recording. Many consumers use this tool like this to create small tutorials for those who need help with computers. These tools can capture everything and then create a video that can be shared with others. In this post, we will share the top 10 full-screen recorders for Windows and Mac.
Below is the list of best full-screen records for Windows and macOS. Based on the OS, each screen recorder as its capability. Some of the tools offer video editing along with annotations, system audio, microphone, and voice over features. In the end, you will have to choose which recorder is best for you based on the features.
The Main Content of Top 10 Full Screen Recorders for Windows and Mac in 2020:
It's a free full-screen recorder that offers a complete solution when it comes to recording desktops. It offers four types of recording—Record Screen, Record Audio, Record Webcam, and Record Audio. These features cover a large variety of recordings, which will appeal to consumers who are into gaming, making tutorials, webcam recording, and record system audio.
Features of EaseUS RecExperts:
Record Full-Screen video with system sound, audio, record mouse clicks, mouse cursor, zoom, and spotlight feature
When recording gameplay, you can use the webcam and configure the framerate for the best output
Supports multiple output formats
Post recording video editing offers to change speed, adding watermark, and adding video intro and outro
Compress recorded videos to save space which makes it easy to share on messenger platforms
Directly upload to YouTube, Vimeo, Google Drive, Dropbox, and FTP
Steps to Record Full Screen with EaseUS RecExpert
Step 1. Launch EaseUS RecExperts. You can choose one of the four main functions on the main screen. Here you need to click "Record Screen".

Step 2. Click "Custom" to select a screen area to record. You may choose "Full Screen", "Selected Region", "Fixed Region", "Locked Window" or to customize window size here. If you want to record the screen and webcam at the same time, make sure you connected a webcam to your computer.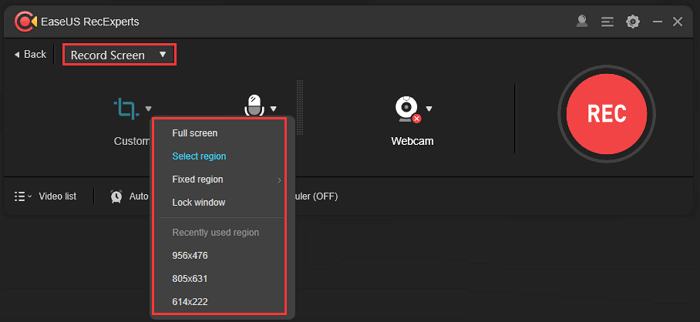 Step 3. Click "Microphone", and you may choose to record system sound only, record microphone only, record both, or record without audio.

Step 4. Click "REC" to start recording. After recording completed, the videos will be shown on the "Video List".

Step 5. Right-click the video recorded, you may preview, compress, edit, share the video, and do more.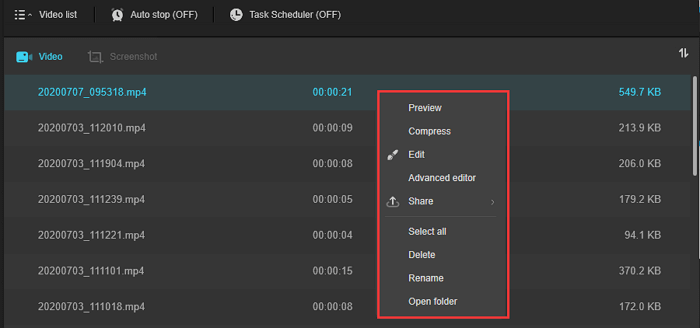 CamStudio can record all screen and audio activity on your computer and create industry-standard AVI video files and using its built-in SWF Producer can turn those AVIs into lean, mean, bandwidth-friendly Streaming Flash videos (SWFs). It is completely free, and when recording, you can use screen and webcam annotations.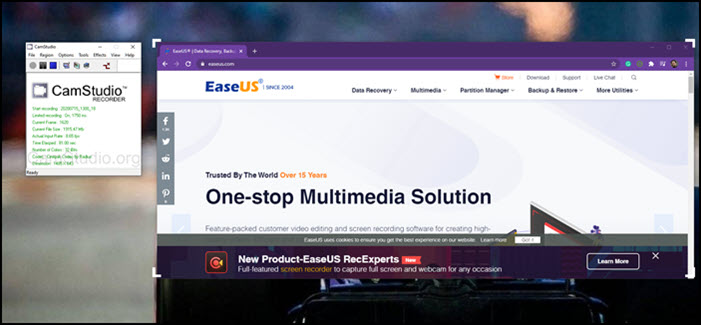 Features:
Supports screen captions, video annotation, picture-picture
Supports keyboard shortcuts
Automatically stop recording
Add text comments to videos
Cons:
The interface is not user friendly and confusing. It takes time to get used to it
It only supports AV1 and Flash format. The latter is already outdated
The software works but has not been updated since 2016 and crashes sometimes
ShareX is an open-source screen capture and screen recording tool which can capture full screen, including audio, which can be a microphone or system sound. The best part of using ShareX is that it offers Workflow. They are profiles where all input and output settings are predefined. If you deal with some type of recording every day, where nothing changes, then you can use this.
Once the recording is complete, you can make use of the after capture task to automate it further. If you upload all the files regularly to a destination, it can be defined here. Then there is a history section that gives you access to all previous recordings.
Features:
Highly configurable profile builder for any type of recording and screen capture
Workflows, After capture and upload tasks, destination settings
Hotkey to instantly start and stop recording
Supports Scrolling capture, Text capture (OCR) and Auto capture
Supports Scan QR code and Recognize text (OCR)
Cons:
The overwhelming user interface which tons of options will confuse the end-user
Huge learning curve. First time user will have to configure almost everything before getting started
No Video editor and annotation support after capture is complete
No Webcam recording
When you launch the application, all you need to do is click on New Recording, select an area, and start recording. Even being simple, it offers fantastic features that will be useful for many to create tutorials. It provides a basic version for free, and there is no watermark added to the final output.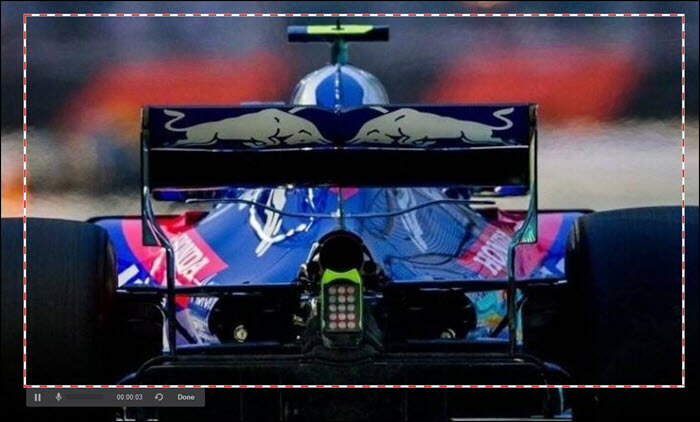 Features:
Remove background noise with the built-in editor
Silence, trim, fade-in, fade-out and adjust the volume
Directly share on YouTube and save as video
Supports voiceover
Cons:
No webcam support
Cannot add annotations and use the hotkey
Cannot create HD video but only 720P
Export only in WMV format
It's a video editor that has built screen recording around it. When you launch the application, what you get is a video editor with a timeline feature. You can then use the recording modes to record games and anything that is on the computer. The game recording part is particularly interesting as you can find the game and then get the proper settings for the best video quality.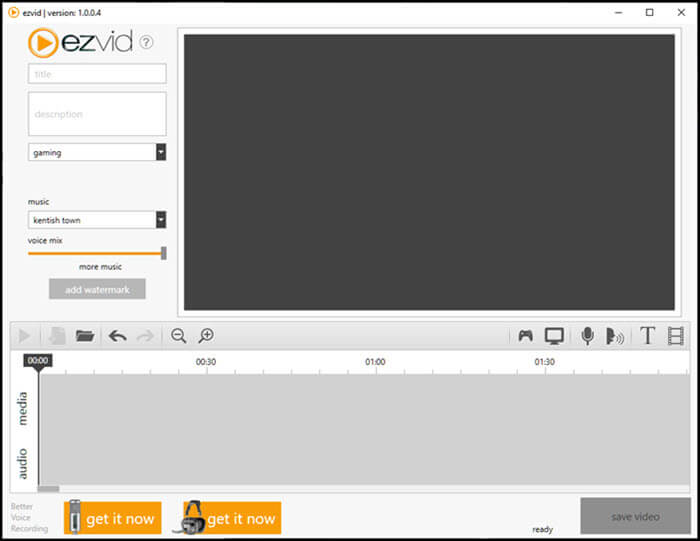 Features:
Ease to use interface with zero learning curve
Timeline allows you to merge videos with necessary editing capabilities
Option to add watermark with background music
Create speech from the text which you can add manually
Instantaneous upload to YouTube
Cons:
According to user feedback, it captures too much of noise
The fullscreen game recording is not available
No Full HD Recording
Slow video rendering
6. macOS Built-in Recorder
macOS offers an enhanced version of a screen recorder, which is free for everyone on the platform. The native screenshot tool has been expanded to a perfect video recorder. If you are using macOS Mojave or later, press Shift-Command (⌘)-5 on your keyboard to see onscreen controls for recording the entire screen, recording a selected portion of the screen, or capturing a still image of your screen.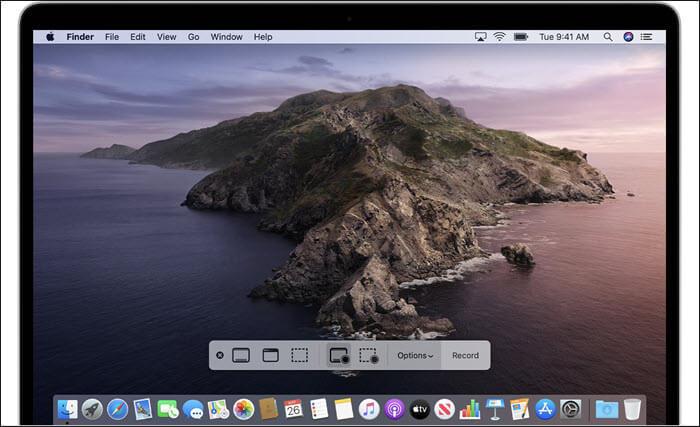 Features:
Choose to display floating thumbnail useful if you do not want to save the recording instantly
The timer allows you to add a delay before starting the recording
Integrates well with macOS Sharing features
Cons:
Missing built-in video editor
Multi-monitor support is missing
Limited editing support
7. Quick Time Player
Quick Time Player has been Apple's utility tool for many things for macOS. The software can also record videos apart from playing videos. It is rather simple to record video and is more effective compared to the recording tool. Open QuickTime Player from your Applications folder, then choose File > New Screen Recording from the menu bar.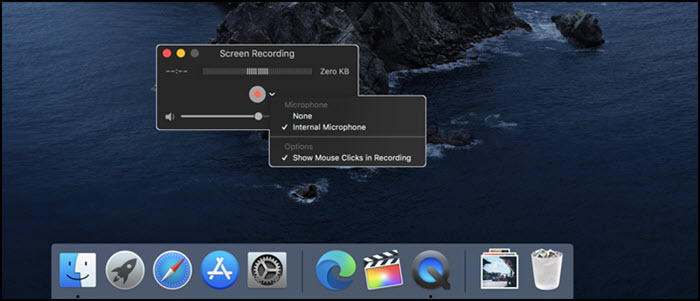 Features:
QuickTime Player allows you to edit, play and share the recording
Displays current file size of the recording
Supports webcam recording
Record in H.264 video and 44100 Hz AAC audio
Cons:
No way to record video in Mp4 format
Video Editor is very basic and doesn't support any enhancement
Limited to macOS only
When it comes to Mac, there are too many restrictions to record screen, but then you have OBS Studio. It's a free and open-source software for both recording and live streaming. The software offers high performance, and real video and audio capturing. You can even record for multiple sources, but that will be too much for everyone. In case of noise, you can use the audio mixer with filters such as noise gate, suppress, and gain.
Lastly, settings offer configuration to tweak every aspect of the recording, and broadcast. When you set it up for the first time, you can optimize only for recording instead of broadcasting.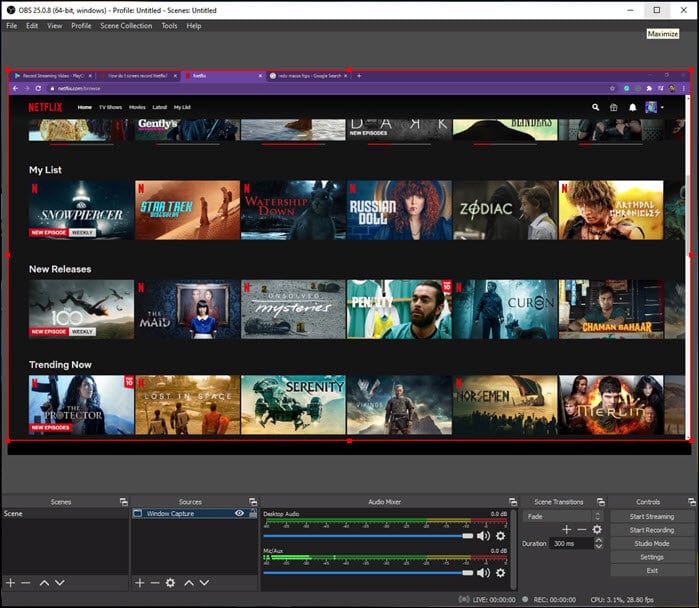 Features:
The plugins and add-ons ecosystem offers a lot of free options
You can tweak for performance and quality
Supports Live Broadcast of games over Twitch, Facebook and more
Studio Mode lets you preview your scenes and sources before pushing them live
Cons:
Some of the features are gimmicks
The user interface is complicated for beginners
Heavy on the system so make sure to have high hardware configuration for more headspace
It's a popular screen recorder that can record streaming videos, system sound, and more. You can select an area and instantly start recording. If you have multiple monitors, you can always choose one of them or choose an area that you want to record. It offers a complete solution as a screen recorder. That said, the software is free to use, and you can edit the audio files once the video is recorded.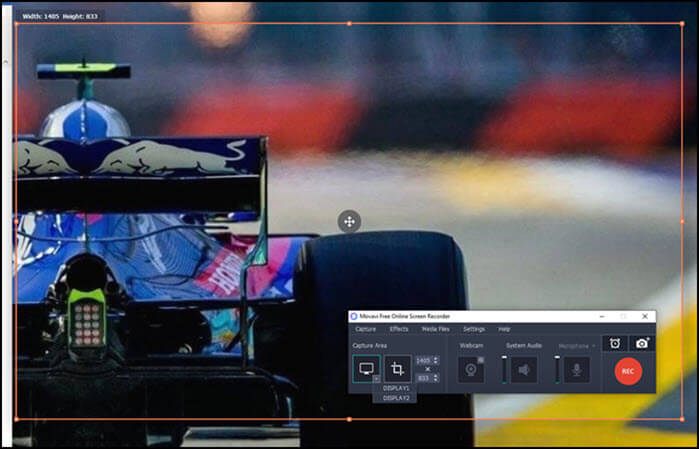 Features:
The timer can be set to start recording automatically
It supports Output format MP4, AVI, MOV, MKV, GIF, and other images
Supports webcam, and microphone
 
Cons:
Limited free version
No Support for green screen
No option to edit videos post the video recording
You cannot upload videos directly to YouTube or Facebook
TineyTake is a lightweight software that allows you to capture images and record macOS screen and any activity on it. The software offers annotations and will enable you to share your capture as links instantly. Once you download and install the software, make sure to signup to use the software.
Once you login, the software offers a vertical view of all captured images, videos, and YouTube uploads. Click on the Capture button on the top left and select an area to record to start recording. Make sure to set to configure System audio and microphone before you start recording.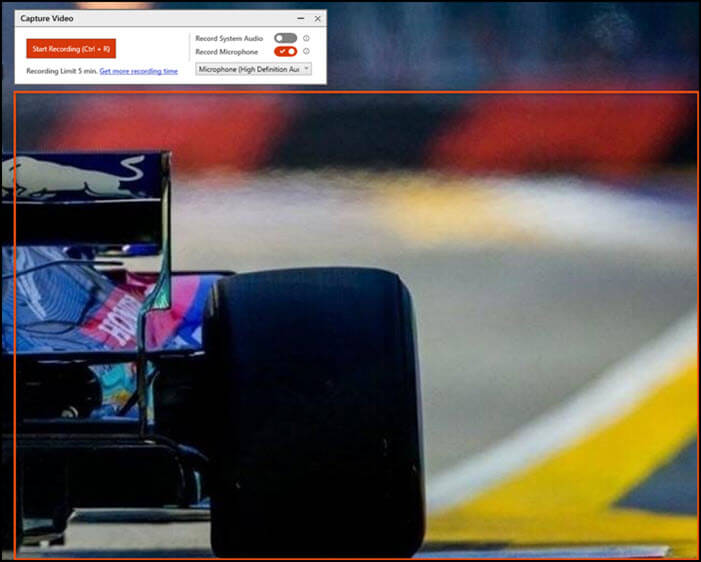 Features:
Cloud-based sharing which allows one to record and upload the recording quickly
Bulk file sharing
Built-in online file viewer for images, videos, and documents
Capture video from the webcam
Cons:
Limited to 5 minutes of video recording
Video files are saved as MP4 only
Limited editing features
You will have to create an account with them to use it
Conclusion
The post covers all possible free and limited free full-screen video recording tools that are available on macOS and Windows. If you are using Windows, EaseUS RecExperts is a highly recommended tool that you can use to record full-screen video. The tool offers support to record games, desktop, webcam, and audio. It can listen to system sound which makes it easy to record anything that is streamed on the computer through browser or apps. The best part is the automation it offers which allows you to schedule your recording so you don't have to wait all the time to complete.