Top 9 Desktop Screen Recorder on Windows and Mac

Jane Zhou updated on Dec 11, 2020 to Screen Recording Utility | How-to Articles
Desktop screen recording is becoming more and more necessary today. These kinds of tasks are used both by remote workers to create a video from PowerPoint presentations or by distance learning students when they prepare their homework. Gamers also search for specific screen capturing application, to show off their successful gameplay in the latest game blockbuster. Whether you're making a tutorial for your YouTube collection, or you have to record a Skype call, there are tons of best free screen recorder software that'll fit the bill. This handbook shows 9 of the most popular free-to-use desktop screen recorders, available for Windows or Mac machines. Just continue reading to find the best desktop screen recording software.
► Don't Miss: Top 8 Screen Recorder without Watermark
#1. EaseUS RecExperts
Compatibility: Windows
EaseUS RecExperts is the best choice for desktop screen recording software if you need a comprehensive and feature-rich tool. You can use it to record full screen on Windows 10 or any part of the desktop. You also can record simultaneously a video from the laptop web camera by changing a lot of settings including brightness and contrast, sharpness, white balance, and lighting compensation.
The free desktop screen recorder provides easy-to-use features to edit the recorded clip, like crop, add texts, or lines. Moreover, it allows you to trim the recorded video, to add some introduction, or to change the playback speed. After recording, you can export the recorded video clip to your favorite output formats (MP4, WMV, AVI, MOV, FLV, etc.), The final work can be upload to YouTube, Vimeo, Google Drive, Dropbox, or FTP server.
Pros:
A special game mode to capture gameplay with ease
Easy to use, suitable both for professional users and novices
It supports many videos and audio formats 
The programmable hotkeys will accelerate the operation during a screen recording
Hiding desktop icons, the taskbar, prevent the video from freezing, etc.
Cons:
There's no version for macOS
For advanced editing, you have to download additional free software like EaseUS Video Editor
Step 1. Launch EaseUS RecExperts. You can choose one of the four main functions on the main screen. Here you need to click "Record Screen".

Step 2. Click "Custom" to select a screen area to record. You may choose "Full Screen", "Selected Region", "Fixed Region", "Locked Window" or to customize window size here. If you want to record the screen and webcam at the same time, make sure you connected a webcam to your computer.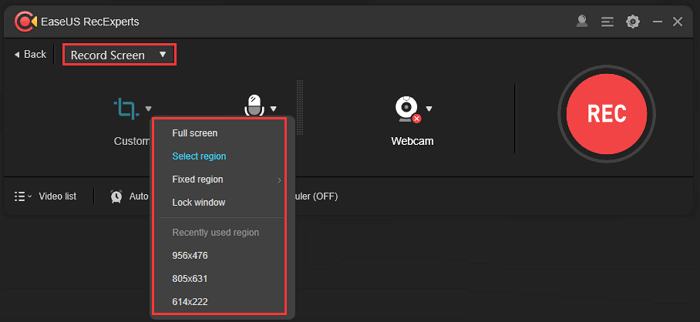 Step 3. Click "Microphone", and you may choose to record system sound only, record microphone only, record both, or record without audio.

Step 4. Click "REC" to start recording. After recording completed, the videos will be shown on the "Video List".

Step 5. Right-click the video recorded, you may preview, compress, edit, share the video, and do more.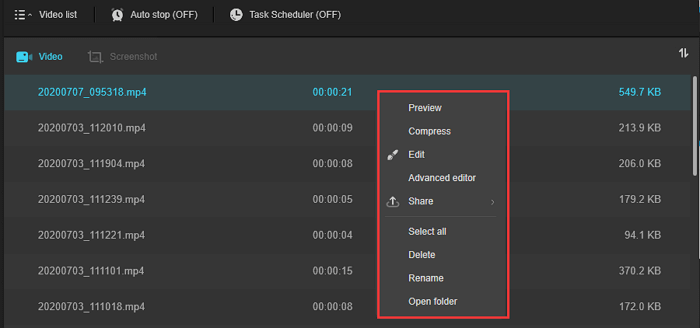 Compatibility: Windows
Bandicam's slick app allows for speedy screen recording with easy-to-use professional features. That includes screen selection for recording, real-time drawing, and microphone use while recording, as well as webcam overlays. You can put your own logo as a watermark to the video and reduce the noises. There are also many settings specifications for recording from various devices. If you are a game fan, Bandicam is a good choice. It provides some specific features for gamers, including a game FPS overlay and control that streamers may especially appreciate if you want to stream faster.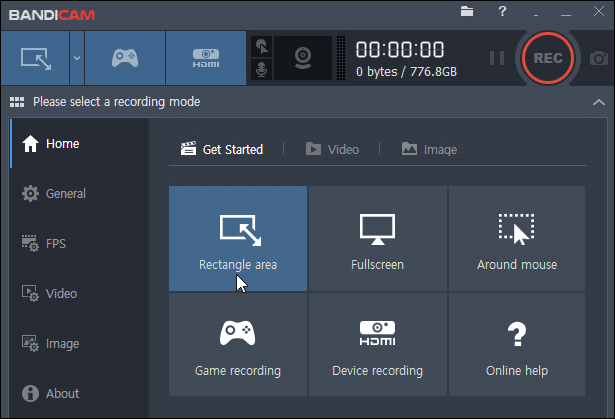 Pros:
A user-friendly interface
Capable to record games at 60 FPS without lagging
A webcam recorder uses graphics to record HD video sessions
Cons:
There is a version only for Windows
No editing tools
The free version has a watermark
Compatibility: Windows
Debut Video Capture is a relatively new free desktop screen recorder, but it looks like a powerful program. It can perform many more tasks than just capturing the battlefield of your PC screen. The plus of this desktop screen recorder is there are no time limits or watermarks. It can record footage from external devices, including laptop webcam or surveillance cameras. You can use it to record on regular scheduling, so it became the heart of your home security system.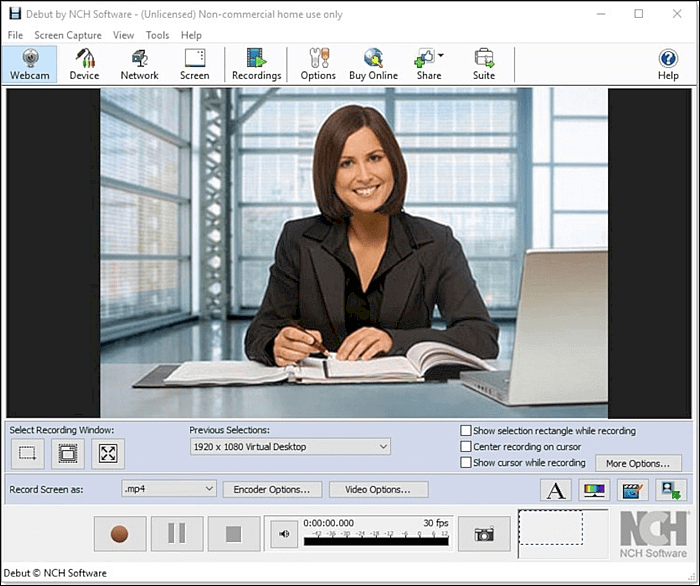 Pros:
Scheduled recordings
Recording from IP cameras
Cons:
Looks a little dated
No editing tools
Don't support sharing on YouTube or Facebook
Compatibility: Windows
Flashback Express represents a free version of a paid program, but it doesn't put any watermark over your capture video. There are no time limits of the desktop screen recording, and its features can be compared to many premium applications. The interface is simple, so it's more convenient for beginners. The recorded video can be enhanced with a simple editor. You can crop or trim the video, then export it to YouTube or an FTP server. The recorder can automatically blur passwords, you enter on the screen, to hide unnecessary desktop icons, or highlight your mouse pointer.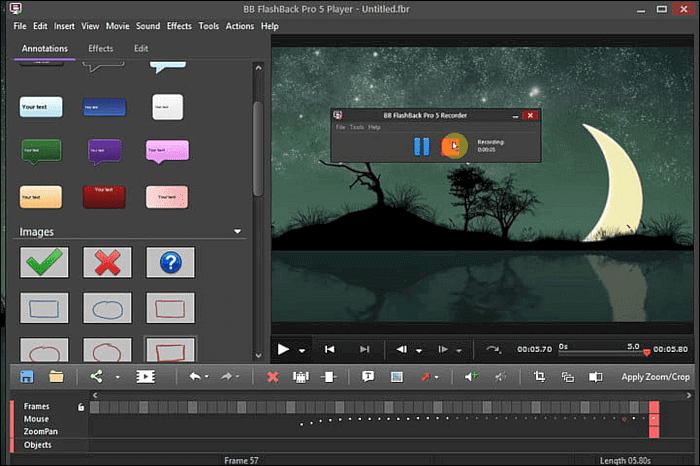 Pros:
Well designed interface
Different output video formats
It can record from a screen or a webcam
Cons:
Some tools are paid-only
Video editor feel basic
The app looks a bit outdated
Compatibility: Windows, macOS, Linux
As one of the more advanced and free-to-use desktop screen recorders, OBS Studio is open-source and allows unlimited full-screen recording. It provides live streaming during the recording, which gamers will like a lot. Unlike the popular FRAPS (which lets you record only for 30 seconds), OBS Studio is completely free to use without restrictions. You can stream live to Twitch or YouTube, to save your video projects, or encode your recorded video in FLV format.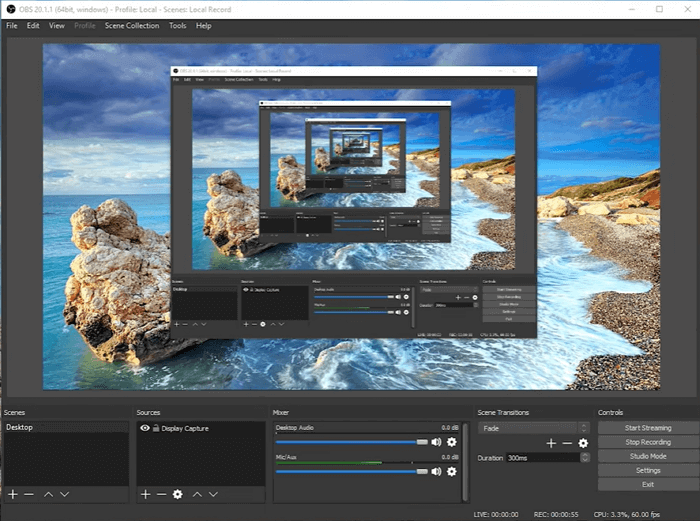 Pros:
HD streaming and recording
No restrictions on video length
Open source and ad-free
Cons: 
Setup takes a little while 
Compatibility: Windows, macOS, ChromeOS (in browser)
Screencast-O-Matic is a free desktop screen recorder, but recordings are limited to 15 minutes. While recording, you can use the zoom feature to enlarge the important content. The recorded video clips can be trim, you can add captions or save the file to your PC, or export it to YouTube or the cloud.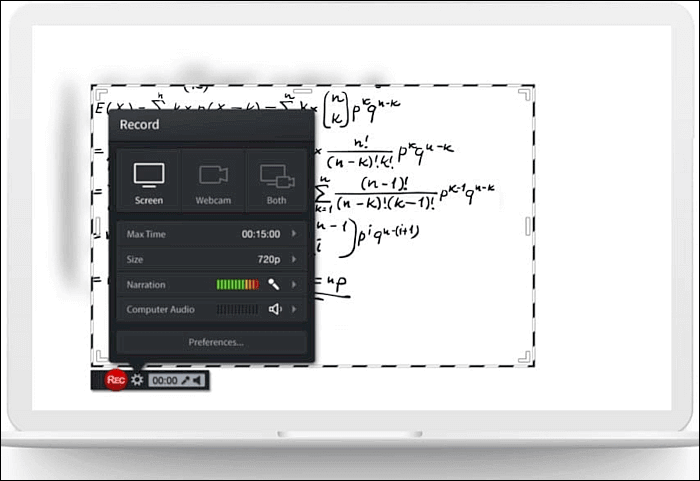 Pros:
Free to use and user-friendly
One-click uploading to YouTube, Google Drive, Dropbox, etc.
A built-in speech-to-text feature
Cons:
Only the paid versions include editing tools
The maximum length of 15 minutes
A full-screen recording is a paid feature
Compatibility: Windows
ShareX is open-source software, which can be used for capturing desktop screen or record a video. It can capture an entire scrolling webpage, capture and identify text via OCR, and even records the screen according to a schedule you made. You can share your clips to social media sites. Unfortunately, ShareX doesn't support taking screen grabs or recordings from games running in full-screen mode. Other than that, it's a superb screen recorder that will serve you extremely well.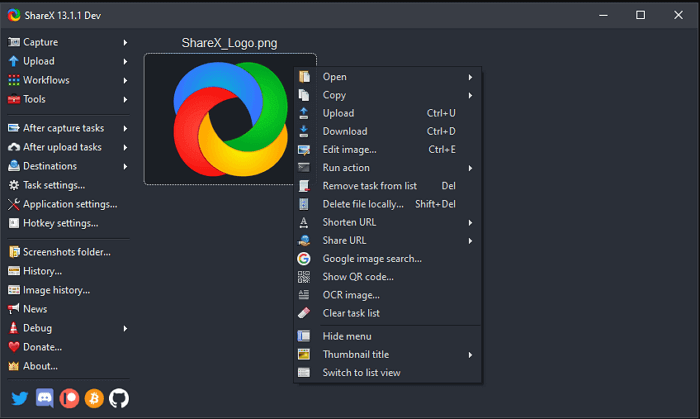 Pros:
Capture as a video file or GIF
Dozens of export options Identify text via OCR
Scheduling a screen recording
No watermark on your recorded videos
Cons:
Not suitable for games
The interface is too complicated
Compatibility: Windows 10
The integrated application is useful for capturing your desktop screen, your webcam alongside the audio. You can choose to record an active window, a separate application, or parts of your screen. It allows you to capture the clicks of your mouse or how you type on your keyboard. Additionally, the software allows you to mix voices, recorded from the microphone and the speaker output. You can save the video clip in MOV, MKV, AVI, MP4, and GIF format.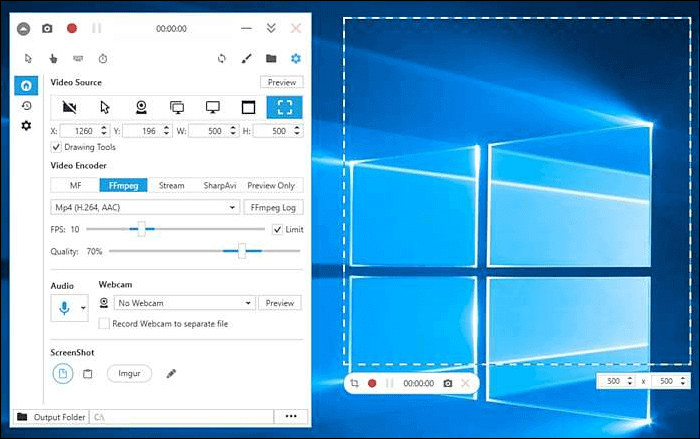 Pros:
Recording with/without Mouse Cursor
Capturing specific screen areas or a single window and application
Recoding the voice from microphone or speaker
Cons:
The output directory cannot be set to the root directory of the C drive
The editor is very basic
You can't make backup or recovery your recording
Compatibility: Windows, Mac, Ubuntu
If you have to record your screen and don't want a comprehensive application, you can use the online tool ScreenApp.IO. It's a web-based screen recorder and works fast as a simple capturing tool. It's free to use and doesn't impose any limitations. You can record videos of any length, and you can choose to either record the entire screen, application window, or a browser tab. You can save recordings to your computer within seconds.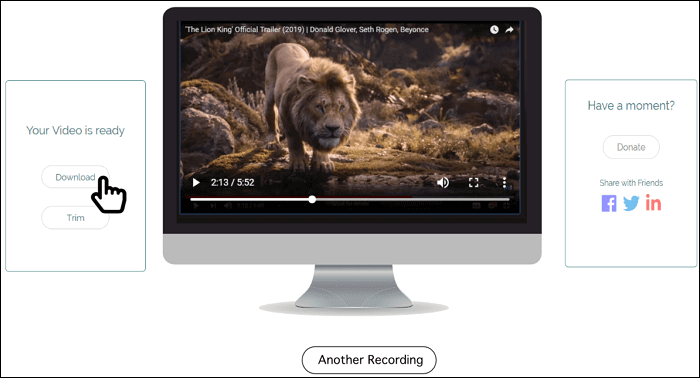 Pros:
Free to use and without any limitations
Fast launching, you don't need to make a registration
Simple UI works on all platforms
Cons:
Very basic video editing like trimming
Slow performance for big files
There is no cloud storage for recorded videos
Conclusion
The desktop screen recorder can be performed by many free-to-use applications. Depending on your computer OS and hardware resources, you can choose software with basic features or a more comprehensive application. The captured video can be used for quite different tasks at work, schools, online training, or game community. This guide demonstrates the main features of 9 free desktop screen recorder software, including pros and cons. Among them, the best choice for Windows 10 users is EaseUS RecExperts. This brand new application will help professional users, as well as novices or game enthusiasts.