
Table of Contents

About the Author

Related Posts
How to Record on BlueJeans and Download BlueJeans Recording
BlueJeans is a video conferencing service that empowers users to host online meetings. It has become a popular solution to communicate with business partners and colleagues as BlueJeans allows you to share documents in meetings. Its built-in tool enables you to record the conferences. But the built-in BlueJeans recording functionality has some limitations. 
Don't worry. In this post, we'll let you know an alternative solution to the built-in BlueJeans recording feature. It will help you record your BlueJeans video meetings with no time limit restriction, and recording won't be restricted to the meeting moderator.
Record and Download Recording in BlueJeans
If you're a BlueJeans standard user, you can record meetings for more than 5 hours, while BlueJeans Pro users can record meetings for up to 25 hours. Since the built-in recording feature is only accessible for the meeting moderator, in this part, we will talk about how to record and download a meeting in BlueJeans as a moderator.
How to Record a Meeting in BlueJeans
With the built-in BlueJeans recording tool, you can capture everything that's happening in a meeting (both video and audio) for playback later. This feature is convenient to record training sessions, new candidates' interviews, and so on.
Whether you're using a BlueJeans through a browser or download a dedicated BlueJeans app on your device, follow the below steps to record a meeting. 
Step 1. Start a meeting by clicking "Start".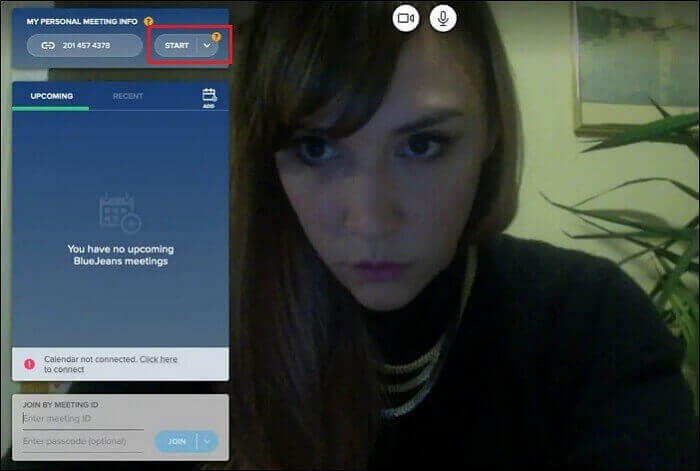 Step 2. As the moderator of the meeting, you'll be able to tap the "Start Rec/ Start Rec & Highlights" button located at the top left corner of the screen. All participants in the recording will see the "Recording has started" notification.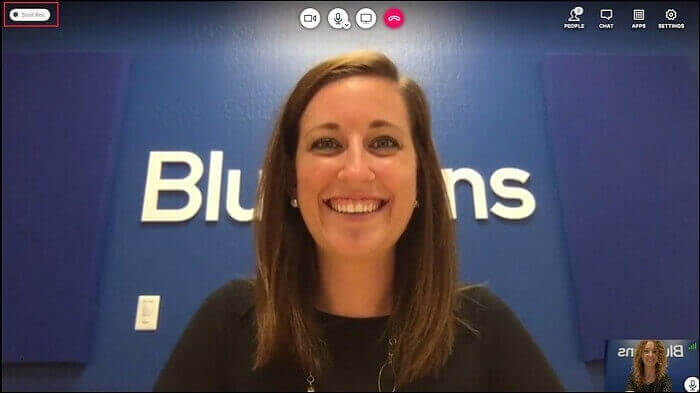 Meeting Recorder will capture all video and audio, except the chat. While a recording is ongoing, a blinking red icon will be noticeable in the top left-hand corner. And all moderators have access to BlueJeans recording controls. 
Step 3. Once you're done with recording, tap the "Stop Rec/Stop Rec & Highlights" option in the top-left corner of your screen.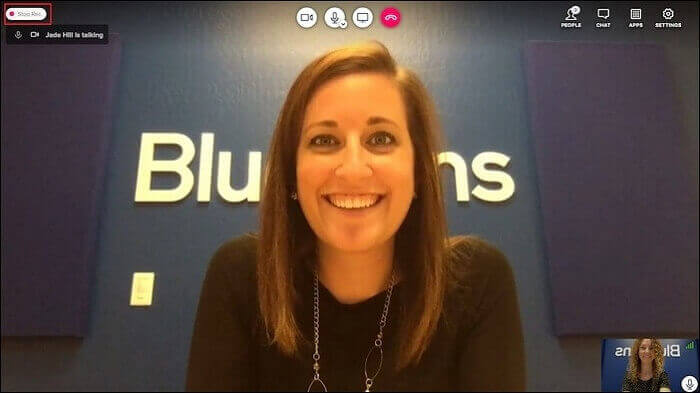 Step 4. You'll get a message to confirm if you're certain to stop recording. Click the "Stop" button to confirm.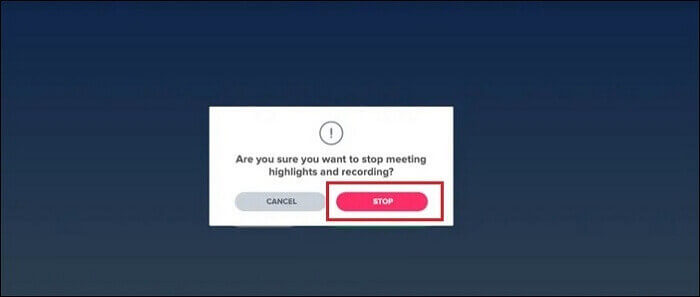 That's how you can record a meeting in BlueJeans. If you want to download the BlueJeans recording, then continue reading. 
How to Download a BlueJeans Meeting Recording
If you want to share or refer to your BlueJeans meeting recording, you need to download it. The good news is that downloading a recorded BlueJeans meeting is easy, and you can do that using any browser on your PC or Mac. 
Step 1. On your PC or Mac, go to the BlueJeans site or open the BlueJeans app on your system. After that, sign in to your account.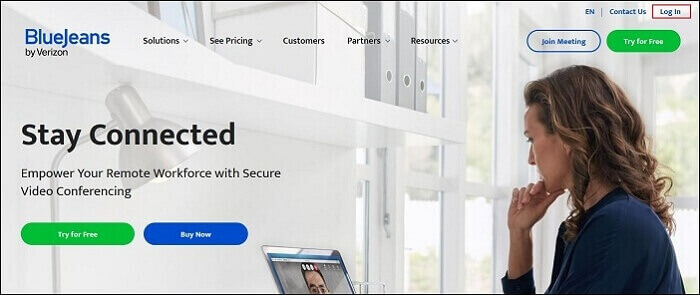 Step 2. You'll be navigated to the BlueJeans scheduling page. Tap "Recordings".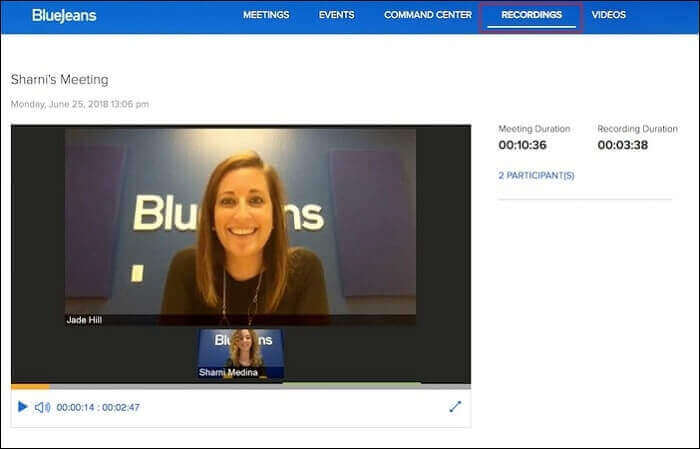 If you can't see the "Recordings" option, your browser window may be too small. In that case, try to zoom out or click the three dots appearing in its place. 
Step 3. Locate the recording you would like to download and tap on it to open it. A new page will appear where you can watch your recording.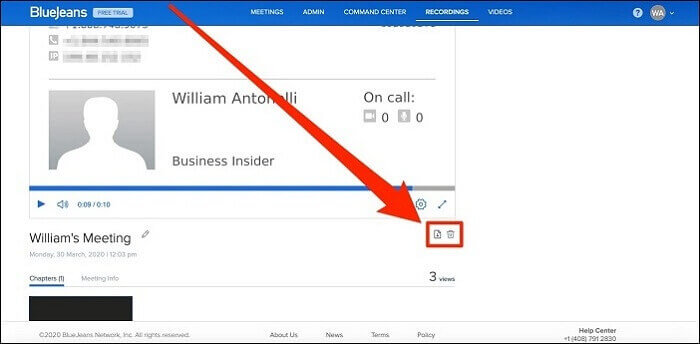 To download it, tap the icon that appears like a paper piece with an arrow pointing downwards, and you may be asked where you would like to save the recording. 
Record and Download BlueJeans Recording with EaseUS RecExperts
No doubt, the built-in BlueJeans recording tool is great, but it's accessible only to meeting moderators. That's why you need the alternative option: EaseUS RecExperts.
EaseUS RecExperts for Windows is a full-featured screen recorder that can help you record BlueJeans meetings with no time limit restrictions. On top of all, you can record it as a participant without notifying others. And it comes with a lot of features to make the recording process hassle-free and enjoyable.
It can help you capture whatever's happening on your screen with audio. You can capture a selected region of the screen, record full screen on Windows 10, and a Webcam. With this wonderful recorder, you can save your recorded meetings in various formats such as MP4, WMV, and more without any loss in quality. 
Key Features:
Record a BlueJeans meeting (both audio and video)
Clean and user-friendly interface
Schedule recording tasks
Compatible with Windows as well as Mac
If you want to record and edit your Bluejeans recordings in the simplest way, this must be the best choice for you.
Step 1. Configure Recording Options
Download this program on your computer. Choose "Full Screen" or "Region" to start capturing. Meanwhile, choose the sound by clicking on the bottom left button and selecting "System sound" or "Microphone".
Also, you can add an optional webcam overlay to your recording by clicking "Webcam".

Step 2. Customize Advanced Recording Options
To set the hotkey or specify a custom format for saving videos, you click "Settings". You have options like choosing the output format, quality, etc. Click "OK" if you have configured these options.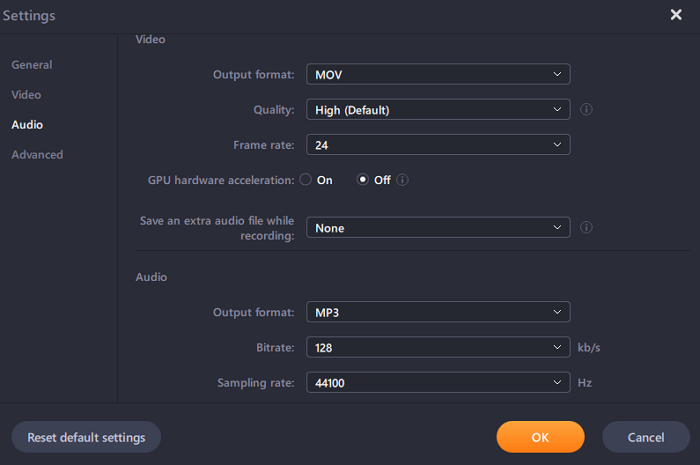 Step 3. Capture Your Conference
Open your meeting application and start the video task. Then, click "REC" to get started. 

Step 4. Find Your Recordings
To view your video, click "Recordings", and the most recent one appears at the top of the list.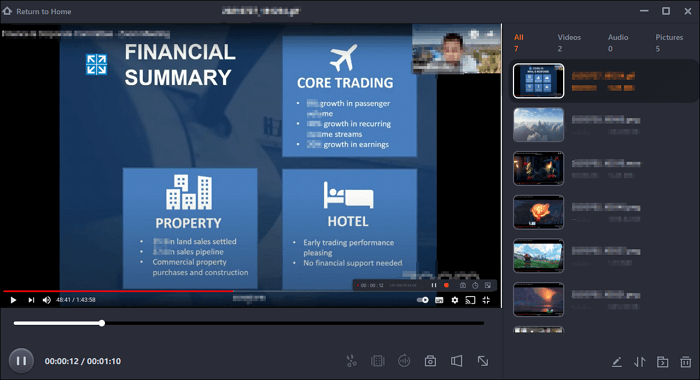 If you want to know the steps to record videos or meetings on Mac, download EaseUS RecExperts for Mac and follow the guide in this article.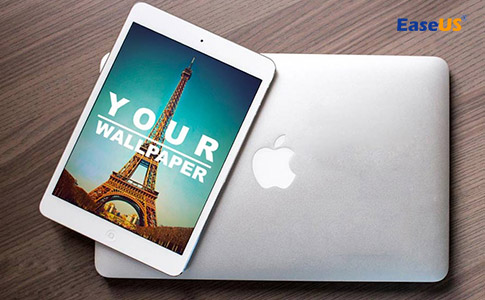 Conclusion
We hope that you now comprehend how to record and download BlueJeans recordings onto your computer. If you're a host of the BlueJeans meeting, then the built-in recording feature comes in handy.
However, we highly recommend EaseUS RecExperts as it offers a much better solution to record online video meetings. Unlike the built-in BlueJeans meeting recording feature, it poses no restriction. Anybody participating in the meeting can record a meeting. Try it now!!
FAQs About BleaJeans Recording
1. Where are BlueJeans recordings stored?
Once a recording is done, BlueJeans will email a link to you. You can then download the recording through your email. However, you can even find your recordings in the "Recordings" tab in the BlueJeans. 
2. How do I edit the BlueJeans recording?
Currently, BlueJeans don't have a built-in recording editor feature. Therefore, you have to rely on 3rd-party programs to edit your recordings. That's why EaseUS RecExperts is a great alternative to the built-in BlueJeans meeting recording feature, as it offers powerful editing features as well. 
3. Who can record BlueJeans meeting?
Meeting moderators can record a meeting in BlueJeans. In other words, if you're a host of BlueJeans hosting, then you'll be to see and use the built-in recording feature in BlueJeans. 
About the Author

With the interest in English writing and computer technology, Vanessa chose to be an editor in EaseUS. She is professional in video and audio topics, including video & audio editing, converting, and recording. Vanessa will keep writing to help people solve problems.