
Table of Contents

About the Author

Related Posts
Top 8 Best iOS Screen Recorder in 2021
While there are many reasons you would want to record the screen of your iOS device, there are some common reasons amongst many users. One of these reasons is that you want to teach people how they can do something on their iPhone or iPad. You can create an app tutorial by recording your iOS device's screen.
The other common reason is that you want to show your gaming skills to your friends. You can fire-up your game and start recording it with an iOS screen recorder. No matter the reason, if you want to do this task, you are going to need an iOS screen recorder app. Here we have handpicked some of the best such apps you can use on your device in 2021.
Best iOS Screen Recorder - EaseUS RecExperts for Mac
While you can always use an app right on your iOS device itself to record the screen, those apps often have many limitations. This is where a Mac app like EaseUS RecExperts for Mac comes into the picture. This app runs on your Mac computer and lets you record your connected iOS device's screen.
You can connect your iPhone or iPad to your Mac and use this app to record the screen for as long as you want. Your device can be connected to your computer using both wired and wirelessly. Depending on how you want the connection to be like, you can pick a connection medium and start recording your screen.
Here are some of the salient features of EaseUS iOS screen recording app.
Record for an unlimited duration of time
Support for hotkeys to start and stop recording
Save your recording in GIF or MP4
Support both wired and wireless connection modes
When you think of a feature-loaded app like this, what probably comes to your mind is how resource-intensive this app is going to be. However, that is not the case with this tool. You can use this program without having much impact on the resources of your Mac computer.
How to Record the iOS Screen using EaseUS RecExperts
Recording your iPhone or iPad's screen with this tool is easy, and what is going to make that even easier is our guide below. The guide walks you through each step of the procedure to record your device's screen.
Step 1. Make sure the iOS device and the MacBook are connected to the same network. Then, launch EaseUS RecExperts.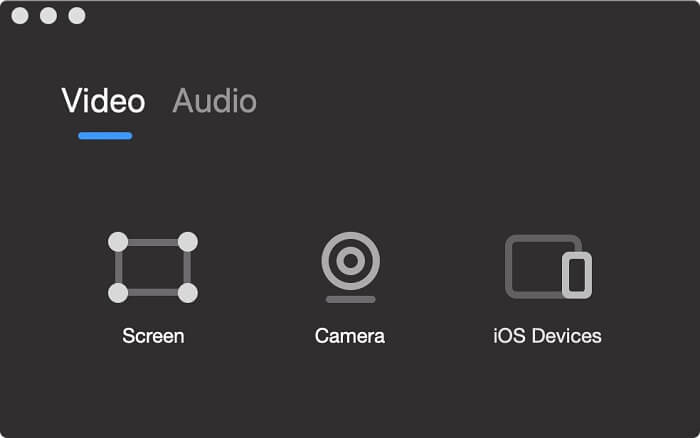 Step 2. On your iPad or iPhone, tap on the control center and click on the "Screen Mirroring option." It will open another window where you can see the MacBook on which the recorder is running. Tap on it to connect.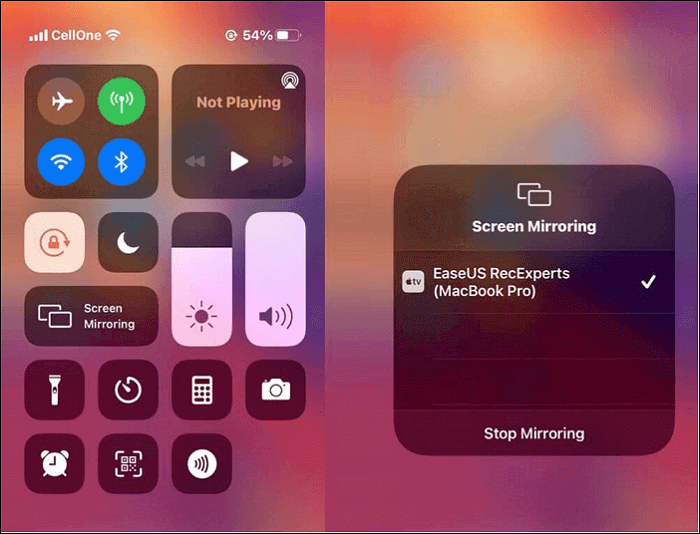 Step 3. After that, whatever you open on your iOS device will also appear on the Mac screen, and you can open the application you want to record.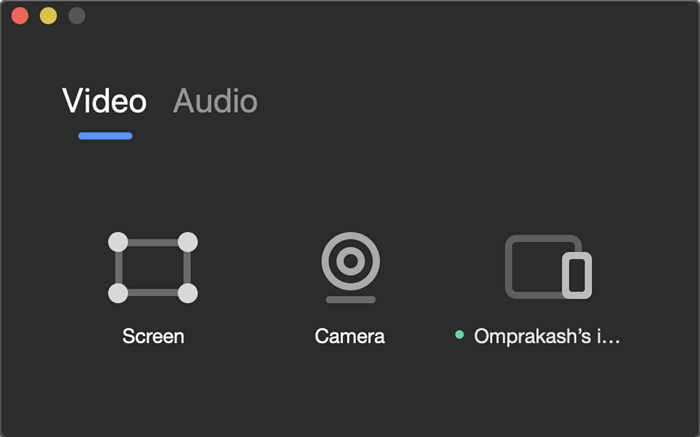 Step 4. Click on the red color record button, and it will instantly start recording. Now start playing the game while the recording happens on your MacBook. Once done, click on the stop button, and the recording will be available on the list.

Top 7 iOS Screen Recorder for iPhone and iPad
You are not limited to using desktop apps to record your device's screen. If you want something that works off of your iPhone or iPad, the following are some of the iOS screen recording apps you can use right from your device.
You do not need a computer to be able to use these apps; these run directly from your phone.
If you look up for a screen recorder on the iOS App Store, one of the apps that you are going to come across is Record It. As the name implies, this simple and easy to use app lets you easily and quickly make screen recordings on your iOS-based devices. This app lets you start a recording with just a single tap on an option on your device.
The app allows you to add a face cam reaction as well, which helps make your videos more personalized and engaging. It has an option to add audio commentary as well so that your viewers get to know more about your recording. Lastly, it includes a video editor to help you edit your recordings.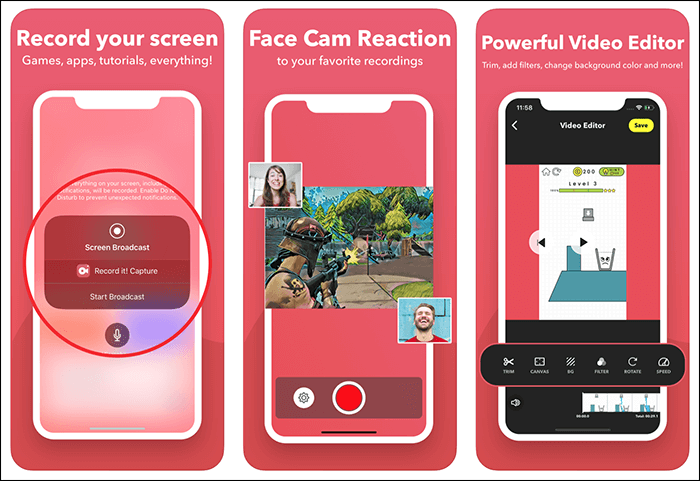 Features
Quickly start and stop your iOS screen recordings
Add your own reaction using your device's front camera
Support for videos from your Camera Roll
Trim and do some other basic video editing
Share videos to your favorite sites
Go Record is yet another app that allows you to record the screen on your iOS-based devices like the iPhone and iPad. This app is no less in terms of features compared to other similar apps, and you get a bunch of functions to use with screen recordings in this application. You can make recordings in all your apps as well as games.
The app helps add a face cam reaction as well, if this is something you ever want to do on your device. You can use your device's mic to add your audio to your recording. It comes with several editing options so you can fine-tune your videos before they go out.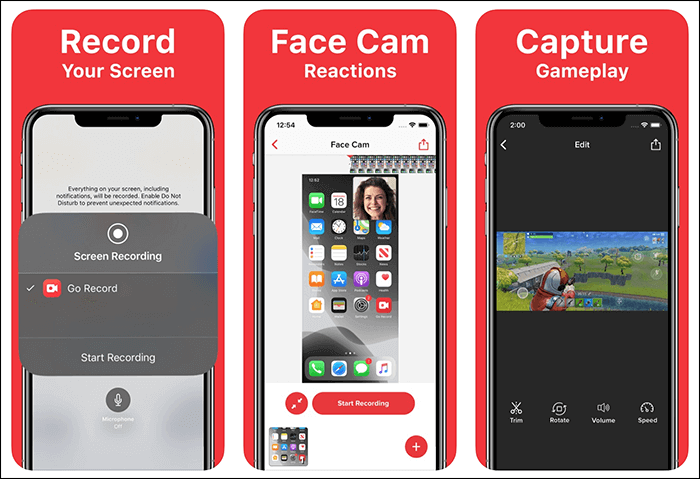 Features
Work in all apps and games on your iOS device
Come with many editing tools
Support audio commentary
Support for face cam reactions
If you want something that is robust and is proven in the market, look no further than TechSmith Capture. This app is actually available for computers as well and you can now use it on your iPhone or iPad to make screen recordings. Like other apps, you just need to install the app, configure various options in it, and you are ready to start recording your device's screen.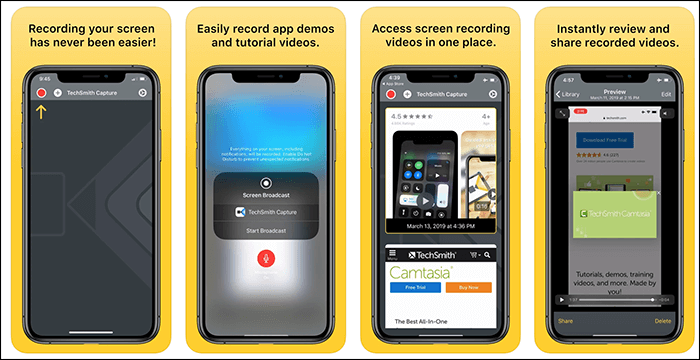 Features
Make full-screen iOS screen recordings
Add screen recordings from other apps to this app
A neat and clean library interface to manage all your recordings
Transfer recordings to a computer using WiFi
If you are looking to live stream your screen in addition to recording it, DU Recorder is the app you need. Using this app on your iPhone or iPad, you can record your screen in really high-quality. The app supports recording audio as well so your sound can also be included in your screen recordings. As if that is not enough, the app comes with a video editor.
This editor has a comprehensive suite of tools to let you trim, cut, and apply various editing actions to your iOS screen recordings. You can use the app for many types of recordings including but not limited to video calls, live videos, shows, and movies.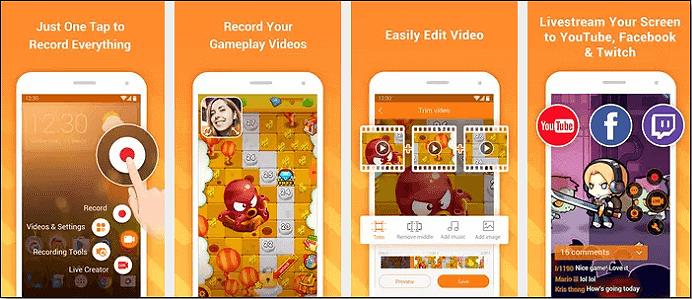 Features
High-quality iOS screen recordings
Fully-fledged video editor included
Make recordings in any app or game
Add watermarks to your recordings
Screen Recorder - AZ Recorder might sound familiar if you have ever recorded a screen on an Android device. This app is available on the iOS App Store and you can use this app to make recordings, add face cam reactions, and finally edit your screen recordings. It is basically a fully package that lets you start from scratch and then eventually come up with a professional-level screen recording video.
You can configure various options before starting the recording. This includes changing the resolution, FPS, and the orientation of your screen recording.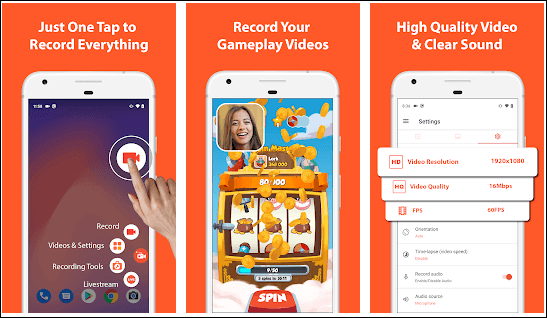 Features
Work inside any application or game on your iPhone and iPad
Record audio along with your screen video
Change the size of your face cam
Display Screen Recorder is built not just to help you record your screen but also to make it easier for you to make recordings as well as quickly and easily share them with other devices. The built-in options allow you to share your recordings via email or AirDrop, and this makes bringing your favorite recordings to your computers easy.
When it comes to recording, you can make full-screen recordings of your iPhone and iPad. You can then change the name of your recordings so you know what video file is for what task. The app offers the option to sort and search your videos so they are easier to find when you need them.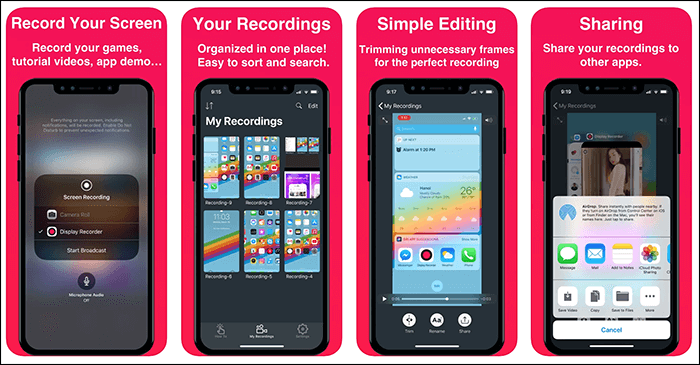 Features
Make full-screen recordings of your iOS device
Quickly share your recordings with other devices
Rename your recorded videos
Edit your recorded videos
Work in all apps and games
What sets V Record apart from other apps is its ability to let you hide your recordings once you have made them on your iOS device. If your work involves making screen recordings that are not suitable for others to watch, you can use one of the features in this app to keep your recorded content discreet and secure.
The other options include a video editor that helps trim videos, change the playback speed of your videos, merge your videos, and so on. You can even convert your videos to GIF if you want in this app. You can hide your photos and videos behind your Touch ID, without which they cannot be accessed.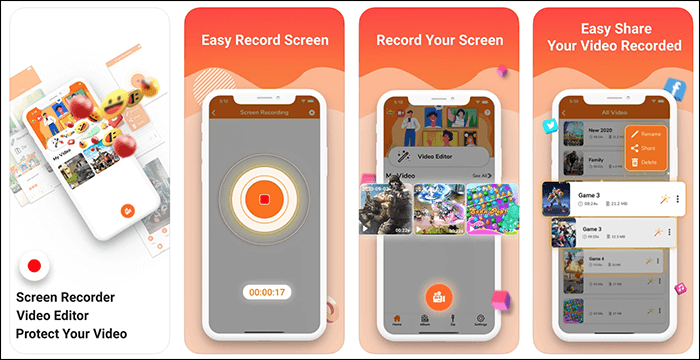 Features
Multiple ways to hide your iOS screen recordings
Unlimited recording of your iOS device's screen
Convert your videos to animated GIF images
Merge your videos and add transition effects
Regardless of why you want to record your iOS screen, the apps above should help you do that without hassle on your iPhone and iPad devices.
Conclusion
If you need to record your iOS device's screen, use one of the apps suggested above to do that. EaseUS RecExperts is a pretty neat option if you want a quick and easy way to record your screen. Other apps are good and functional as well if you would like to go for them.
About the Author

Jane is an experienced editor for EaseUS focused on tech blog writing. Familiar with all kinds of video editing and screen recording software on the market, she specializes in composing posts about recording and editing videos. All the topics she chooses are aimed at providing more instructive information to users.