
Table of Contents

About the Author

Related Posts
10 Best Audio Recorder and Editor for Mac/Windows/Mobile
There are many reasons you would need an audio recorder and editor: Maybe you are recording a voiceover for a video, and you want to edit the recording once it is done, or maybe you want to record a song that you will be sent to someone as a greeting.
Regardless, there are many audio recorder and editor tools available in the market. With so many options available, it is hard to find the one that works for you. Luckily, this guide lists some of the handpicked tools for you to record and edit audio on your various devices.
Top 4 Audio Recorder and Editor on Windows and Mac
While both Windows and Mac have several programs available for voice recording and editing, the following programs have been carefully chosen to ensure they meet your expectations and are good in general.
Top 1. EaseUS RecExperts
Compatibility: Windows 7/8.1/10 and macOS 10.10 or higher
Whether you are looking to record voice or make a screen recording on Windows or Mac computer, EaseUS RecExperts should be your go-to tool for all recording solutions. 
EaseUS RecExperts for Windows allows you to record audio from both your system as well as from your microphone. There are various custom options that you can play around with to make sure your recordings are made exactly the way you want. The audio recording option comes with noise cancellation to ensure your recordings have no unwanted sounds in them. 

For the Mac version, it is extremely easy to use, and you can get used to it in no time. The Mac screen capture makes it easy to record internal audio on Mac without downloading any other third-party software. Apart from that, it enables you to record sound from external audio devices effortlessly.
Features
Record audio for as long as you want
Noise cancellation and boots your audio
Support schedule audio recordings
Record audio from both system as well as a microphone
Hit the below button to try the excellent audio recorder and editor!
Compatibility: Windows Vista/7/8.1/10
Audacity has been around for longer than you think, and it is going to stay. It is a feature-loaded open-source, and free audio recorder and editor,which allows you to both make audio recordings as well as edit audio files on your various devices. It works across several platforms including both Windows and Mac machines.
With Audacity, you can make a new recording and then edit it straightaway in the app. Or, you can import your existing audio file and then refine it using various editing tools available in the program. Finally, you can export your edited audio in various popular formats to your computer's storage.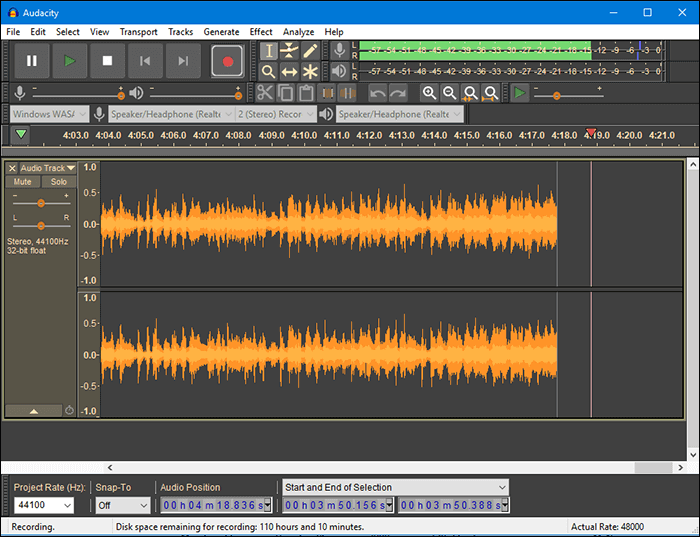 Features
A completely free and open-source audio recording tool
Support for various sound quality options
Record and edit audio on a single interface
Further enhance the app features by adding plugins
Compatibility: Windows XP/Vista/7/8/8.1/10, macOS 10.5 or later
WavePad is a free personal use audio editing tool that includes basic audio editing features and professional features. Using this tool, you can create new recordings as well as refine the existing ones without much hassle. All of the options are extremely easy to use in this app, and it will not take you long to get used to this program.
It includes all basic audio editing features like trim, copy, and paste. It has support for processing multiple audio files at once which makes things easier if you run on many files at a given time. There are advanced tools as well like Spectral analysis and these are built into the software.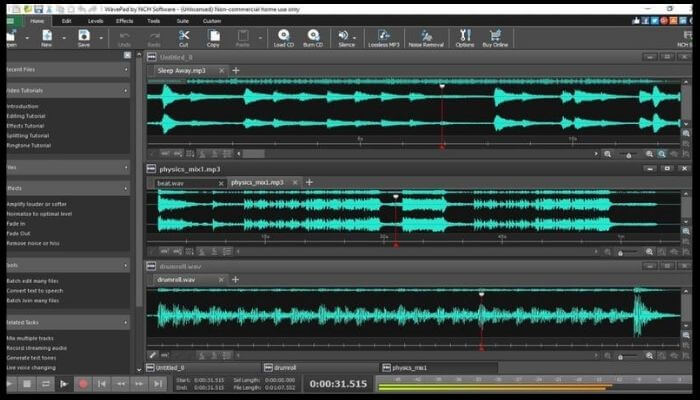 Features
Support for many audio formats
Record and edit audio files on the same interface
Various effects to add to your recordings
Reduce noise from your audio recordings
Compatibility: Windows XP/Vista/7/8/8.1/10, macOS 10.12 or later
One of the issues most users looking for an audio editor face is that the feature-loaded programs that they choose are often too difficult to use. Luckily, Ocenaudio is both feature-loaded as well as extremely easy to use. With this app, not only can you make some nice audio recordings but you can edit your recordings using many of its features.
This app is ideal if you are looking to edit large audio files and you have not had luck with any other audio editing programs. The tool offers a fully-featured spectrogram that makes audio editing a whole lot easier for you on your machine.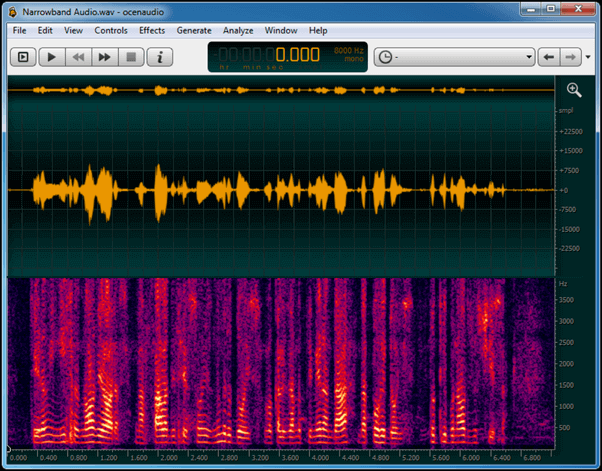 Features
Powerful and feature-rich but easy to use
Support for plugins to add new features
Preview the effects you add to your audio recordings
Select multiple items with high accuracy
Quick editing of all kinds of audio files on your computer
Top 3 Online Audio Recording and Editing Software 
If you are only looking to make a single or a few audio recordings, then it might be a good idea not to install an app but use an online tool instead. There are several web-based apps you can use to record and edit audio from your computer.
Compatibility: Windows and macOS
As the name implies, Online Voice Recorder is an online tool that allows you to record audio from a web browser on your computer. You do not need to install any tools to use this web app; all you need is a compatible web browser, and you are good to go. Also, just because this is an online tool does not mean it has any fewer features.
Once you land on the site, you will find that it lets you select a custom audio source from all of the audio sources available on your computer. Then, there is a simple button that you can press to begin your audio recording.

Features
Make long audio recordings and edit them from a browser
Choose a custom source for your audio recording
Trim your recordings after they are made
Automatically remove the silent parts from your recording
Compatibility: Windows and macOS
One of the hurdles of online audio recording sites is that you need to create an account to use the site features. If that is too much a hassle for you, try Virtual Speech. With this web-based tool, not only can you record and download your audio recordings, but you can do that all without needing a user account. This tool works from most browsers and is pretty fast.
When you have finished recording your voice, you can press a button to hear your recording without actually saving it to your computer first. If you would like to download a copy of your recording, you can do that as well by clicking another button.

Features
Create audio recordings without signing-up on the website
Listen to your recording once it is made
Download the recording to your computer
Privacy-focused online audio recording app
Easy to use interface
Compatibility: Windows and macOS
What makes Voice Spice stand out from the crowd is the various recording features it offers. With this online audio recording tool, you can make your audio recordings and add real-time effects to them, like making your voice sound like a robot voice. You have various sound options to choose from even before making the recording.
You can choose custom audio levels for your recording, and this lets you make a recording with proper audio levels. Once you have made your recording, you can click the play option to play your recording. Then, you can hit the download option to download the file to your machine.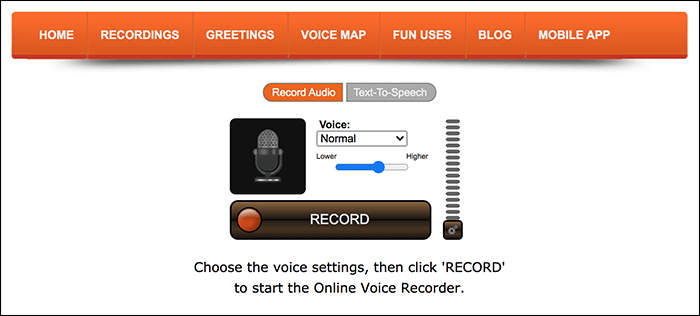 Features
Choose a custom voice for your audio recording
Define your audio recording volume
Play your audio recording after making it
Work from any web browser
Top 3 Audio Recorder and Editor App for Mobile
If you want to make and edit audio recordings on the go, there are many apps that you can choose from for both iOS and Android-based devices.
The following are some of the popular apps for both of these platforms.
Compatibility: iOS 9.0 or later
While there are many audio recording and editing apps for the iPhone, Voice Recorder & Audio Editor easily wins the race due to all the features it has to offer. From letting you quickly make audio recordings to edit your recordings with various options, this app has all you need to make perfect recordings on your iOS devices.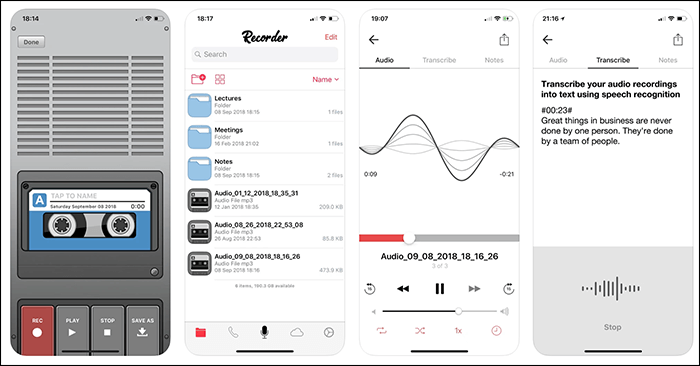 Features
Make and edit long audio recordings
Add your recordings to various cloud storage services
Transfer recordings over to your computer with ease
Support for many audio formats
Compatibility: Android
Lexis Audio Editor is one of the few apps that include all the audio recording features a user would need. This app lets you make new audio recordings, edit your existing recordings, and save your recordings in various media formats. It has basic editing features like copy and paste, and it offers advanced tools as well, like mixing your current track with another track. You can normalize your audio as well as remove noise from it with this app.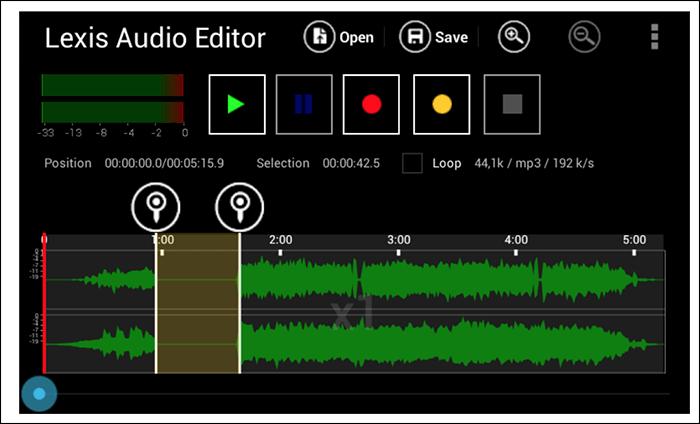 Features
Record audio and edit audio files
Remove noise from your recordings
Do audio mixing where you mix one file with another
Change the tempo and speed of your recordings
Support for multiple audio formats
Compatibility: Android 4.0.3 or later
If you are more on the advanced side of recording and editing audio files, MixPad is a great option for you as it offers all of the advanced tools you need to do your editing tasks. With this multitrack mixer tool, you can record audio as well as mix it with other music files saved on your device. You can do this mixing as many times as you want without any restrictions.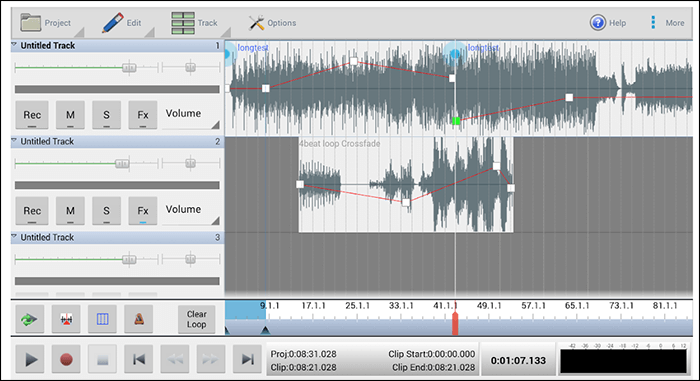 Features
Unlimited recording and mixing of music
Many audio effects and EQ
A huge library of free music files
Support many file formats for saving your audio files
Many sample rates are supported
With the audio recording and editing apps above, you should be able to perform all your audio editing tasks right on your device.
Conclusion
No matter the reason, if you want to make and edit an audio recording, the options above will be extremely useful to you. If you prefer something that is easy and has many features, EaseUS RecExperts should be your first choice. Other tools are good as well, and you can give them a go if you want.
About the Author

Jane is an experienced editor for EaseUS focused on tech blog writing. Familiar with all kinds of video editing and screen recording software on the market, she specializes in composing posts about recording and editing videos. All the topics she chooses are aimed at providing more instructive information to users.