
Table of Contents

About the Author

Related Posts
The Top 10 Audio Recorders in Windows 7
The audio recorders are versatile applications, which can be used in quite different situations - from capture your child's first words to the multitrack recording of your favorite song performance. The audio recording software allows you to capture your own voice, your Skype conversation, or your online lecture. Then you can edit the audio file, enhancing the voice, adding effects, cropping unwanted parts, etc. This guide shows 10 of the most popular audio recorders for PCs, running under Windows 7. 
Part 1. The Best Free Audio Recorder - EaseUS RecExperts 
EaseUS RecExperts is a brand new application that can perform many recording tasks, as it's a multipurpose screen recording software. It can capture a full screen of your webinar, capture your Skype or Facebook call, record the online discussion, and many others. Before recording, you can select the appropriate parameters of the output video and audio, including the video aspect ratio, the file format, the audio format based on your needs.
Apart from the basic features, it also provides creating schedule recording tasks, splitting the recordings automatically, extracting the audio from recorded video, etc. If you are interested in this software, you can click the following link to download it and have a try.
How to record audio using EaseUS RecExperts:
Step 1. Launch EaseUS RecExperts, and you can choose one of the four main functions on the main screen. Here you need to click on "Audio".

Step 2. You can select the sound source by clicking on the bottom left button. It supports recording system sound, microphone voice, and both of them. The settings in "Options" helps you to adjust the volume.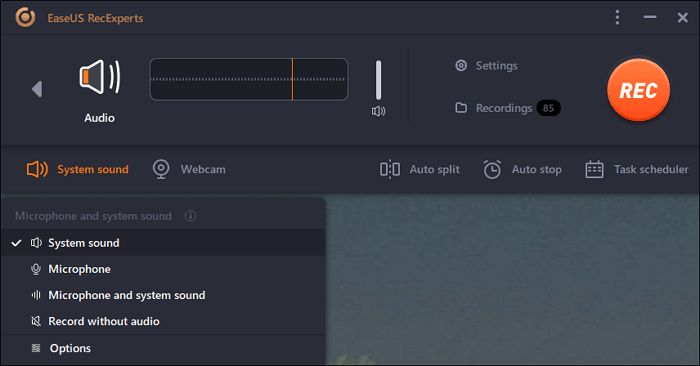 Step 3. Click on the "REC" button to start recording. When you want to finish recording, click on the red square icon to stop it.   

Step 4. An audio player will pop up automatically, and you can view the recorded audio or trim it with a built-in tool.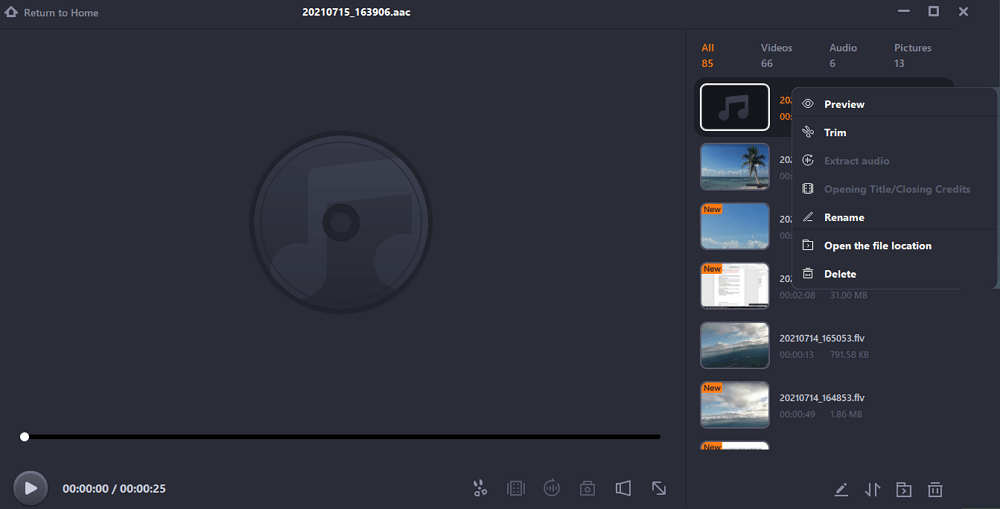 Part 2. Top 9 Audio Recorders in Windows 7
1.  Audio Recorder Pro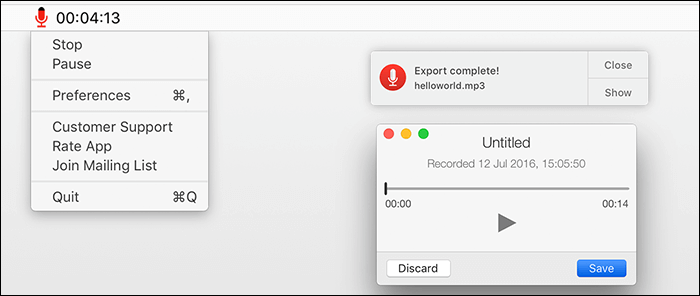 Audio Recorder from EZSoftmagic is a useful real-time audio recording software, which helps you to record any sounds from your sound card and save the recording into MP3, OGG, or WAV files. It can record your voice, music, or any other sound. It supports the record input/source from a microphone, streaming audio from the Internet, external input devices, as well as other applications like Winamp, Media Player, etc. You can change the recording bitrate quality and preview the sound before you record it. Audio Recorder will definitely improve your recordings and give you more control.
The personal License for Audio Recorder Pro is $19.96 with 20% discount, and the Platinium version has a price tag of $27.96.
Features
Auto Record feature to schedule the time to start/stop a recording
The main benefit is a choice of input source for recording
Able to launch multiple recorders at one time
Cons
The interface design is confusing
Have to include more features for this price 
2. Sound Recorder Professional
This is a good recording application if you're going to record calls over the Internet (Skype), music streaming from radio, microphone, TV, CD/DVD etc. You can record voices in 5 different modes. It supports a wide range of audio file types, and you can record into these formats directly, avoiding a conversion. You can record a lossless stream, or you can compress it into Flac, MP3, Ogg, WMA, and many other formats. The integrated recording scheduler allows you to record sessions for particular days and times. The program also features automatic and manual gain control. 
There is a free trial of Sound Recorder Professional, but the full version costs $29.95.
Features
An Easy Wizard mode, useful for casual PC users
The digital audio recorder, supporting numerous sources
Provide an extensive help file. It can produce a lot of file formats
Cons
Pricey for such kind of software
Not intuitive interface
Purchasing Sound Recorder Pro lets you download it only once
3. MP3 Recorder Studio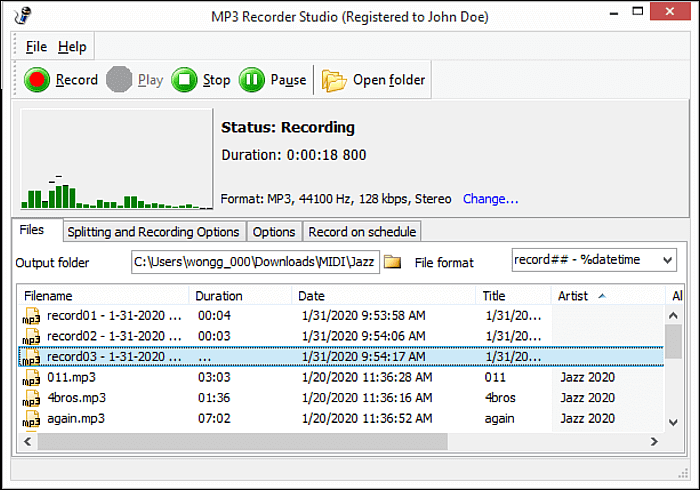 This application can record high-quality audio from any source on your PC. It supports audio recording from multiple sources and is very easy to use. You can use manual recording options, but also you can use the built-in option for auto recording. MP3 Recorder Studio can automatically split files while recording sound, starting a new file every given period of time. You can record all audio into the same file. These functions may be useful if you want the program to monitor and record online conferences - it will record the discussions and skip pauses between them.
MP3 Recorder Studio can be purchase as part of a big Media Pack in the amount of $59.95.
Features
Convert protected WMA, AAC, M4P, M4B, AA audio into non-protected MP3 or WAV
Support recording from multiple sources
Provide many user selectable options
Support multiple channel audio recording
Cons
Program is resource-intensive
Getting to know the program can take some time
Audio output files can be large Supports 64-bit systems only
4. BPM Studio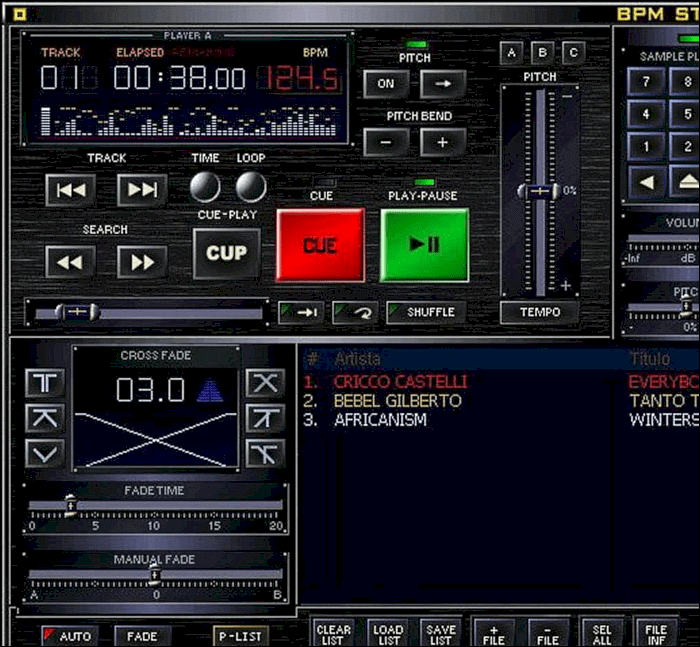 This professional tool converts your PC into a recording studio for MP3 mixes. BPM Studio is a popular choice among audiophiles, which can use tons of possibilities. You can use this application to read, edit, mix, encode, and write your tracks with precision. DJs and music fans alike will appreciate the hardware look of the interface and the inclusion of all the essential buttons and functions expected in a professional mixer. BPM Studio Pro integrates an explorer view of your music library, even it comes only with 30 original sounds and tracks. You can use the search function to quickly find tracks in the library.
Features
Quick access to sample player and editor The extensive editing possibilities will open you up to hours of track tweaking and polishing
Cons
The interface often feels overloaded, and it's difficult to read functions 
The audio presets are limited to 5 choices (lounge, DJ, party, office, radio)
Only 30 sounds and tracks pre-included in the program strict file search 
5. Traktor PRO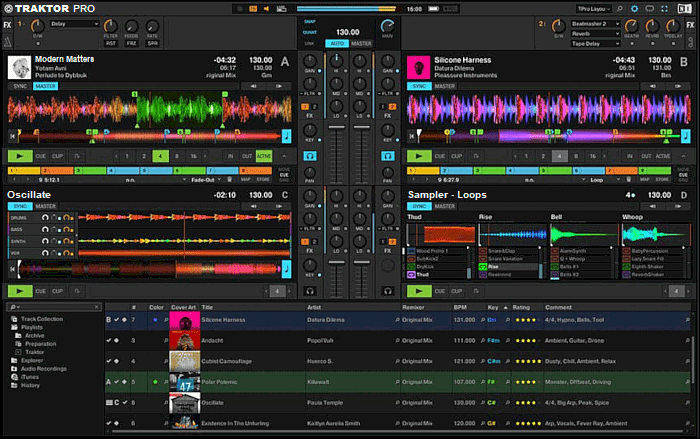 This tool is focused on pro DJs, as it can mix digital music as well as CDs and Vinyl. It's highly configurable, but this flexibility makes it inaccessible to beginners, even there are many documentations for Traktor PRO. The application controls external sources, allowing you to mix from your computer up to four decks simultaneously. You can import your music library, and it works with iTunes libraries too. All usual mixing tools are included with pitch control, crossfader effects, and levels.
A new license costs $99.
Features
Parallel waveforms
Integrated mixer FX improved user interface
Simplified MIDI configuration
Advanced filters and effects
Come with full documentation
Cons
Configuration options can get very complex
You need to pay for new versions
A powerful computer may be necessary
Waveform does not give frequency information 
6. Audacity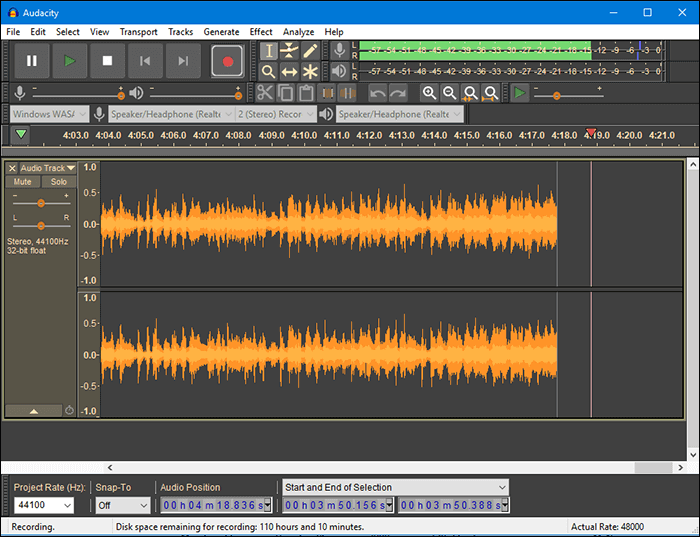 Audacity is a popular open-source digital audio workstation. You can record and edit your files and perform a lot of post-processing tasks, including effects, leveling, noise reduction. It supports the most used file types, including MP3 and WAV, and high-quality 32-bit audio as well. Audacity works well for most tasks involving voice and music, as podcasts. Audacity may not be appropriate for creating music. You can quickly select between the available audio sources via the drop-down menu. Audacity allows you to set a timer to begin recording. It can record when it hears a sound at a certain threshold. The meters clearly display clipping.
Features
It's a free and open-source software
Community support, lots of help documents
A cross-platform, you can work on your project on Windows and Mac
A tremendous number of basic effects right out of the box
Cons
Pretty messy dashboard
Real-time audio effects are not automatically applied
Some functions require expensive third-party plugins
Multitrack audio support is exceedingly basic
7. DarkWave Studio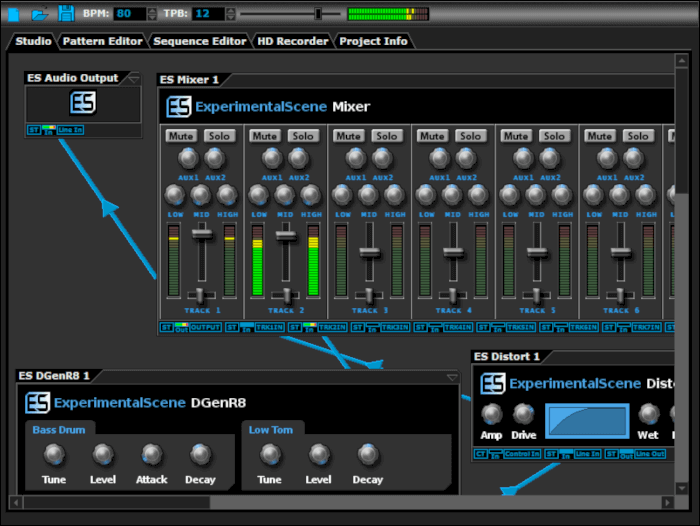 This is a freeware Windows application to create music suitable for any kind of user. You can edit your audio files quickly with the interface, organized by tabs, and using the same windows. DarkWave Studio supports a virtual studio with a modular design. It includes MIDI input and output, an 8-track stereo mixer, drum synths, an oversampling filter, reverb effects, and much more. The input device is the Primary Sound Capture Driver. You may change the device to specify a particular sound capture device. The Multitrack Hard Disk Recorder allows you to record the output of any machine. The freeware comes with sound card input, tons of instruments, stereo mixer, basshead, distortion, stereo splitter/joiner. It also supports VST/VSTi instrument and effect plug-ins which means you can expand DarkWave Studio to do almost anything that you prefer.   
Features
It supports WAV files for full-quality editing
Support Multi-Core / Multi CPU
Cons
Editing options are too basic without extra plugins
It's bundled with adware, so the installer may attempt to change your homepage, search engine, and browser settings or install third party offers
8. Audio Record Wizard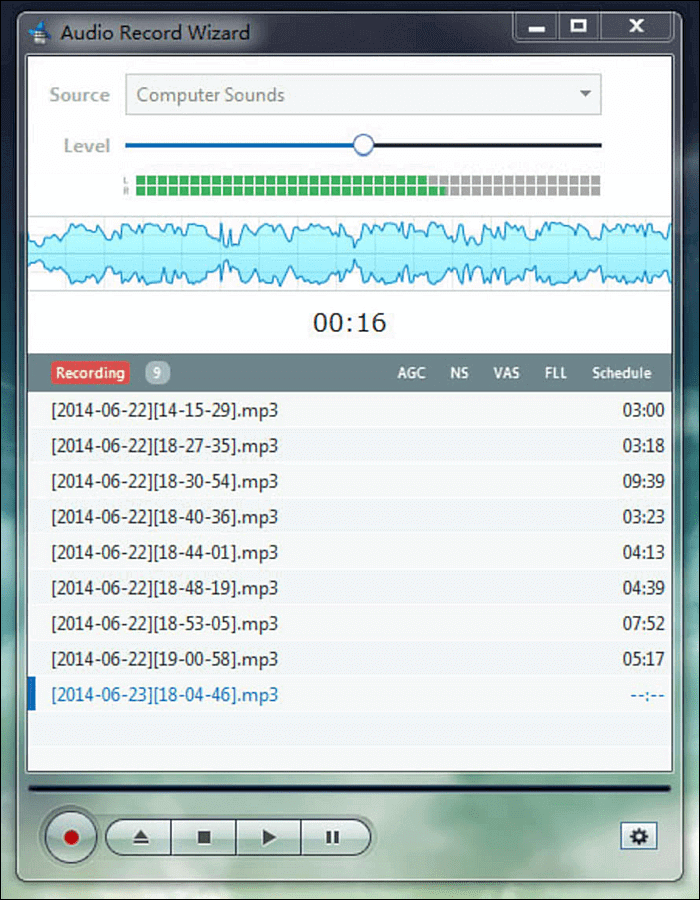 This application allows you to download, record, and edit several tracks. Intended to be used with personal computers, Audio Record Wizard proposes a lightweight and yet intuitive user interface. Although primarily suited for recording external audio sources (such as voices), there are a number of innovative features to enjoy. On Windows 7, 8, 10, and later versions, Audio Record Wizard provides a new feature to record computer sounds and voice at the same time. In other words, it can record both sides of a conversation on Skype, Google Talk.
Audio Record Wizard offers only a free trial, the application costs $24.95.
Features
It's able to record inputs from two different sources, useful during two-way chat sessions
The audio can be saved into numerous common file types like WAV, FLAC, MP3, and OGG
Several useful editing features - adjusting gain controls, merging two audio files
Cons
More advanced editing functions are not available
There is no version designed for mobile phones
9. Samplitude Music Studio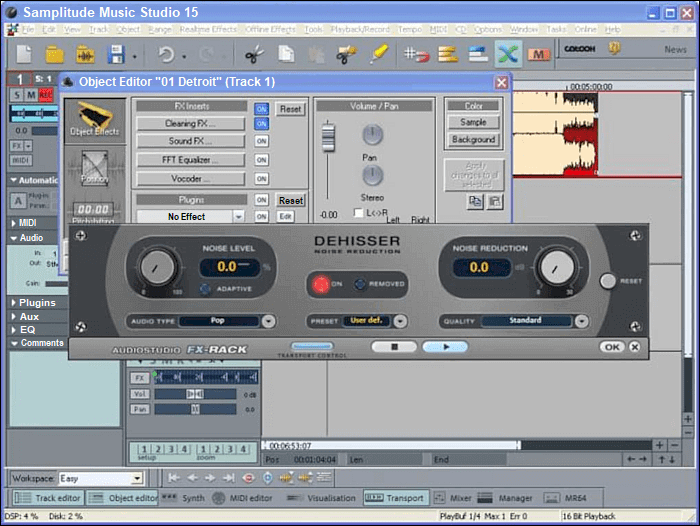 This is a feature-rich music studio for Windows 7 PC. It is ideal for anyone who wants to create professional-sounding music recordings. Samplitude Music Studio can be used to mix and edit tracks, to record from any device (with microphones). Samplitude Music Studio supports imports or exports from file formats like WAV, OGG Vorbis, MP3, AIFF, and more. 
There is a free trial, and the latest version Samplitude Music Studio 2021 costs $99.99.
Features
Samplitude Music Studio provides a comprehensive manual, as it's complex and intimidating for beginners
Highly flexible compact application that provides good performance, whether for composing, recording, mixing, or mastering
Provide lots of useful features
Cons
Complicated interface
High price tag for such a software
Conclusion
Capturing audio with an audio recorder lets you remember life's small details and improves facts precision, so you can be more accurate and efficient in professional, academic, and personal contexts. The audio recording software allows you to capture your Skype conversation or online discussion. This guide demonstrates the top 10 audio recorders for Windows 7 PCs, as most of them provide free trials, and then you have to buy the full version. If you are looking for a versatile application, allows you to capture both video and audio, you have to try EaseUS RecExperts.
About the Author

With the interest in English writing and computer technology, Vanessa chose to be an editor in EaseUS. She is professional in video and audio topics, including video & audio editing, converting, and recording. Vanessa will keep writing to help people solve problems.