Kodi stuck on 'Working', how to fix it without losing data
"Help! Kodi is not working! I was trying to play a video on Kodi but get a 'working' message in the bottom right corner and cannot remove the message. I've tried several times, but nothing worked. Then I pressed stop, XBMC got stuck on the 'working' message and I couldn't get rid of it.
Any methods or suggestions that can help me fix my problem? Please help me if you know how to stop this 'working' stuck error on Kodi, thanks."
According to Kodi forum and Google searching result, it seems that quite a lot of Kodi users are having a similar problem, getting stuck on 'working' error. If you are having a similar problem and cannot fix 'working' stuck issue on XBMC Kodi TV, relax and just follow offered methods here to restore Kodi from 'Working' stuck error without losing any data now.
Quick Fix Kodi stuck on 'working' error
If you are still stuck in 'working' error on Kodi, you may try and follow below tips to quickly fix this issue:
1. Try to press these buttons to see if the problem can be solved: Enter, Escape, Return;
2. Reboot Kodi may also help when unexpected problems occur.
If this not helps nor works, relax and just follow next two offered fixes to solve Kodi stuck error right now.
Fix 1. Change settings to solve XBMC Kodi stuck on 'working' error
Sometimes, the reason why Kodi get stuck is that the settings are not set properly. Therefore, you may try to change the settings to solve this error:
1. Run Kodi > SYSTEM > Settings;
2. Click Services > General and select the first mode;
3. Go to Remote control > Allow programs on this system to control Kodi;
4. Go to Web server > Allow control of Kodi via HTTP;
5. Go to Videos > Add-ons > Change settings on Remote Control (such as change Skin) and save changes;
After this, try to reboot Kodi to see if problems solved or not. If not, don't worry and you can just follow Fix 2 to get 'working' stuck issue fixed on Kodi without losing any data.
Fix 2. Reset Kodi on Fire TV without losing data to fix Kodi stuck on 'working' error
To fix this error on Kodi without losing data by resetting Kodi, you'll need to follow below guidelines:
First. Restore videos, movies and other files from Kodi backups
In order to avoid unexpected data loss issue while fixing Kodi stuck error by resetting XBMC Kodi, we'd like to suggest you restore important videos, movies etc files from Kodi backups to another drive on your PC or external storage device. EaseUS hard drive recovery software will help easily find all data on your Kodi backup stick:
Note: Before you start, please take your Kodi USB or memory stick where you saved the Kodi backups and connect it to your PC in advance.
 Notice:

Please stop using your USB flash drive once you lose files on it, in case newly produced data overwrite entries to the lost files.
Step 1. Connect USB to your PC and run USB data recovery software.
Connect the USB flash drive on which your files to your computer and launch EaseUS USB data recovery software - Data Recovery Wizard on your PC.
Select your USB drive under External Devices and click Scan to start finding your lost files.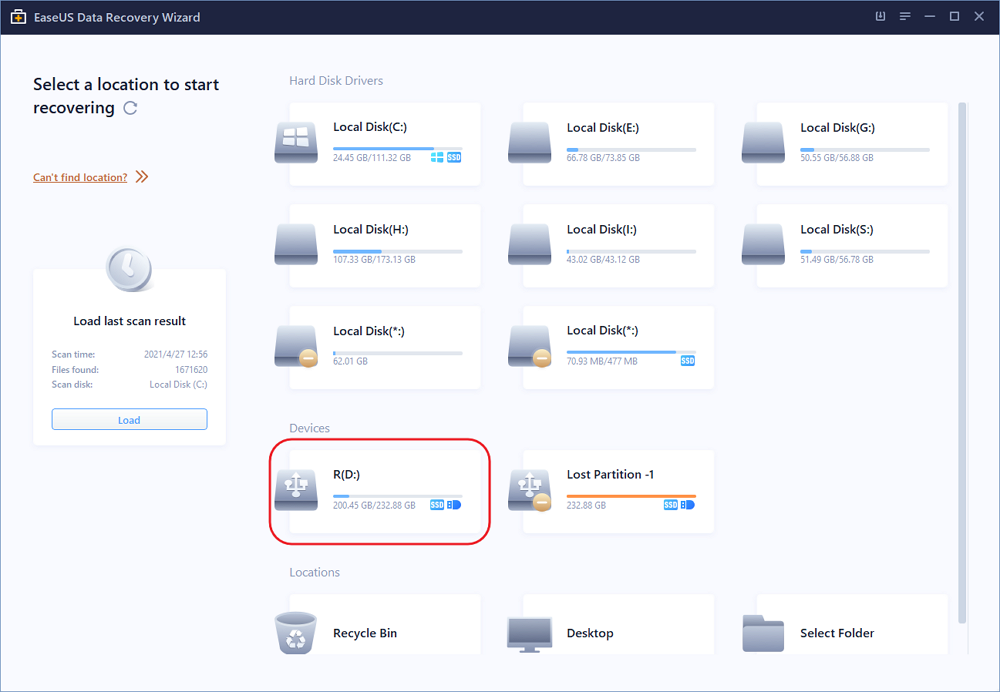 Step 2. Scan to find all lost files from USB.
EaseUS Data Recovery Wizard will thoroughly scan your USB flash drive and find all your lost data on it.
Step 3. Restore all lost files from USB.
After the scanning process, you can check and preview found USB files in this program.
"Deleted Files" is for you to find deleted files. And "Lost Partition Files" is quick access to find formatted data.
Double-click the files to preview and choose available ones, click "Recover" to save them to a secure location on your PC or other external storage devices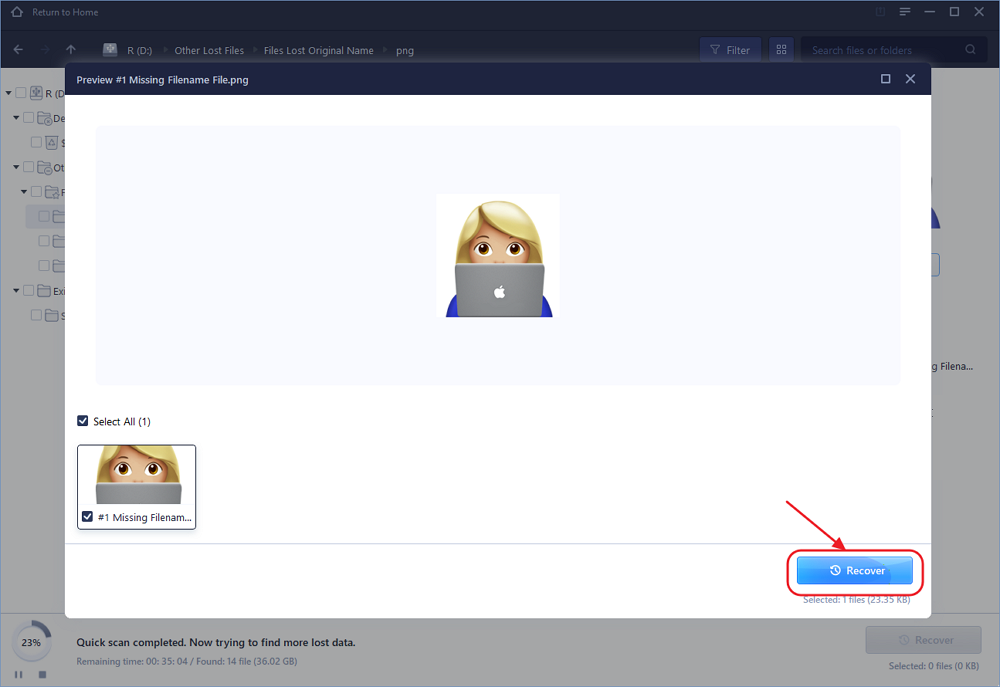 Second. Reset Kodi on Fire TV to fix stuck on 'working' error
After step 1, you can follow to reset Kodi on Fire TV so to fix Kodi stuck on 'working' error now:
1. Close Kodi and got to Fire TV/Fire Stick Home Screen;
2. Go to Settings > Applications > Scroll down and click Manage Applications;
3. Scroll down and click Kodi > Scroll down and click Clear Data;
4. Click Clear data once again when the message pops up: Delete app data?
5. Push the up button on your remote and click Launch Application;
6. Confirm that Kodi has been reset to factory defaults;
7. Reinstall your favorite Kodi add-ons, skins, and settings on your Fire TV/Fire TV Stick.
After this, Kodi will be able to perform and normally again. No more 'working' stuck error will exist again. What about the deleted data - videos, movies or other files by Kodi resetting? You can restore them from Kodi backups which you've transferred and restored in Step 1. How to restore Kodi backups to Fire TV?
Third. Restore Kodi data and backups to Kodi (XBMC)
1. Add the USB drive or stick in which you saved Kodi backups or restored Kodi data including videos, movies or other data.
2. Run Kodi > System > Settings.
3. Click on Add-ons > Get Add-ons > Select XBNC.org Add-ons repository > Program Add-ons.
4. Select XBMC Backup > Click on Install button and wait for the add-one to complete the installation.
5. Return to main menu and click on Programs > Select XBMC Backup add-on > OK > Click Browse Remote Path.
6. Select the folder where your Kodi backups were saved > Click OK > Click OK at the bottom of the window to save it.
7. Click XBMC Backup add-on once again > Restore > Choose folder where you saved Kodi backups > Restore.
8. Wait for the process to complete and reboot Kodi.
By now, you shall be able to use Kodi without 'working' stuck error again. All your favorite movies, videos or other data are all playable now.