EaseUS Data Recovery - NTFS Recovery
When you could not see NTFS partition you need in Windows Disk Management, it might be lost and the data on it could be lost with the partition table. Actually, the NTFS partition was not really lost, even if partition table was destroyed by virus or deleted accidentally. If partition table was destroyed by a virus or other defeat, free NTFS partition recovery software - EaseUS Partition Recovery can help you to do partition recovery.
EaseUS Partition Recovery is free partition recovery software for hard disk. It is designed to perform data recovery from deleted or lost partitions on hard drive.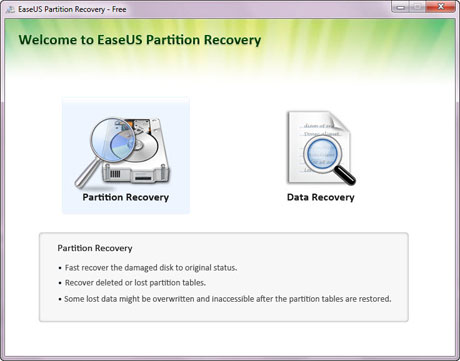 Key features:
Free for both home and commercial users.
Use it with ease: a wizard interface walks you through all the partition recovery process.
Recover deleted or lost partition quickly and easily.
Offer several optional scan areas helps locate the lost partition quickly.
Support FAT12/16/32, NTFS, EXT2/EXT3 file systems.
Supports IDE / ATA / SATA / SCSI drives.
Support Windows 2000, XP, 2003, Vista, 2008, 7.
To do NTFS partition recovery, please free download it and refer to How to recover deleted or lost partitions with EaseUS Partition Recovery?
Detailed Steps - NTFS Partition Data Recovery
The "Recycle Bin" icon on your Windows desktop allows you to recover deleted files. Unfortunately, there are many possible situations when the Recycle Bin is useless. Just a few examples:
A disk volume containing valuable info was damaged due to a system malfunction.
A disk volume was damaged due by a dangerous virus.
Windows cannot access a disk drive.
The disk was damaged.
You have mistakenly formatted a disk volume.
Files or folders are not readable.
Corrupted or damaged partition table.
Data Recovery Wizard - NTFS File Recovery Software is a NON-DESTRUCTIVE and READ ONLY file recovery utility that helps you in recovering your all-important data lost after an accidental format, virus problems, software malfunction, file or directory deletion, or even sabotage! Data Recovery Wizard Professional is an easy to use NTFS Partition Recovery Utility which examines your inaccessible hard drive for damages and corruption and recover the data.
STEP 1. Select the location
Launch EaseUS data recovery software, select the lost NTFS partition and click "Scan" to look for all the lost and existing files on this NTFS partition.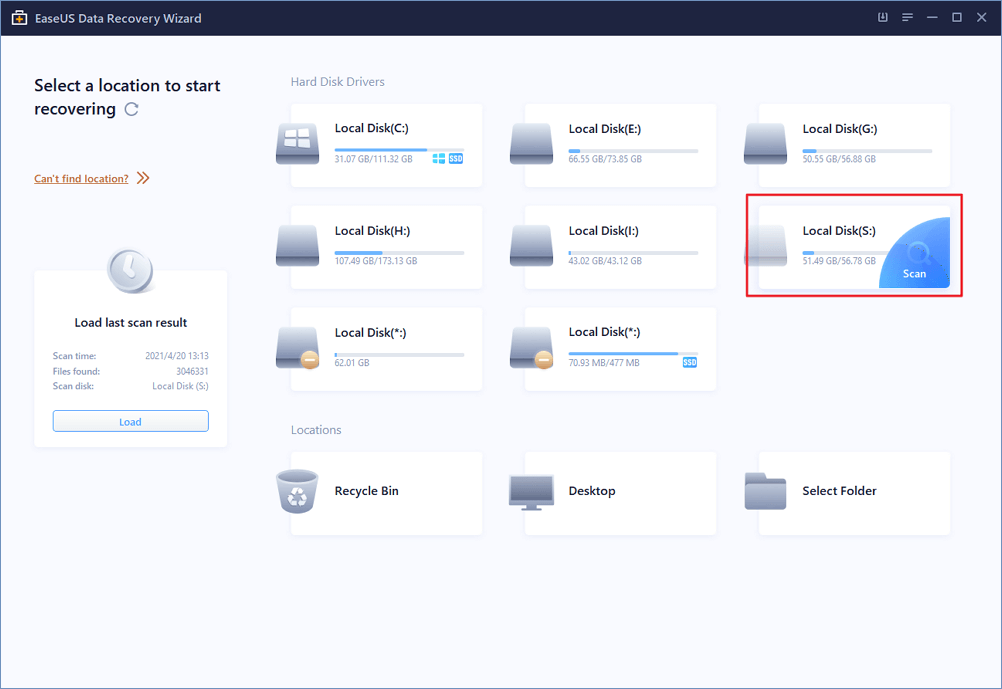 STEP 2. Scan the NTFS drive or partition
After clicking the "Scan" button, the software will be able to scan the NTFS partition on its own. Just wait patiently until the scanning process ends.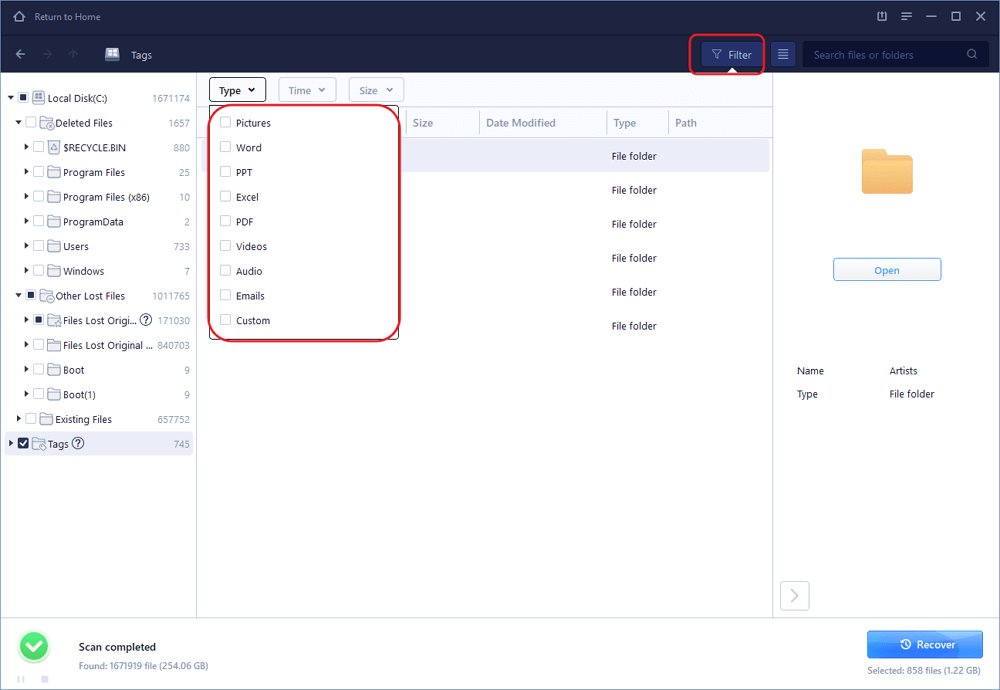 STEP 3. Recover data from NTFS drive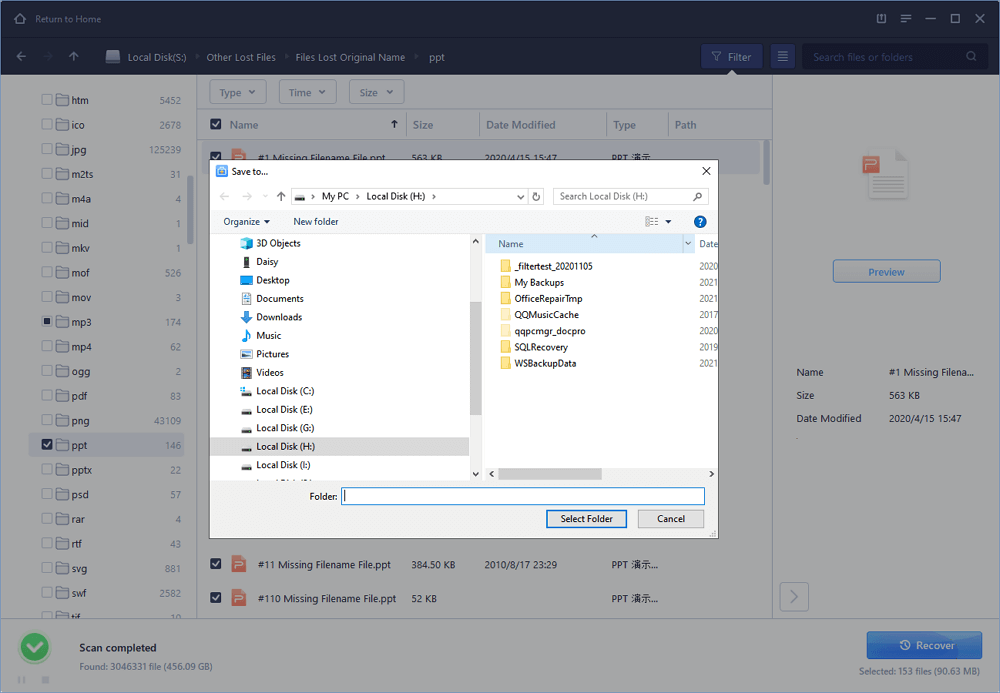 After the scan, choose the lost data and click the "Recover" button to get them back from the NTFS partition.
(Please Note: DO NOT save the files to the NTFS partition where you lost the data.)
Key Features:
NTFS Data Recovery software provides recovery of deleted files and folders even after recycle bin has been emptied or use the Shift+Del key.
Provides partition recovery from deleted partition or formatted logical drives.
Provides Data Recovery from Missing or Lost folders.
Performs NTFS data recovery after corruption of critical system data area structures like MFT record.
Recognizes and preserves long file names when restoring files & folders.
Multi-Disk Drive Support - Performs NTFS partition recovery on all IDE, EIDE, SCSI, and SATA disk devices.
Data Recovery Wizard Professional supports Dynamic Disk and EXT2/EXT3 file system.
Advanced search options for file search and file filter for Selected recovery of files and folders.
To recover deleted files from NTFS drive, refer to How to recover deleted files with Data Recovery Wizard?
To recover files from the formatted NTFS drive, refer to How to recover files from formatted partition with Data Recovery Wizard?