Getting Files Ready Stuck When Installing Windows
Some users complain that Windows 10 gets stuck at getting files ready for installation. They say that the installation is fine until it reaches the "Getting files ready for installation". This has happened regularly. It always gets stuck in different percentages (8%, 49%, 17%, etc.). How to fix this Windows stuck issue? The steps below might help you.
Restore Important Files or Data
To avoid data loss, you'd better recover and export your data to the external devices. You can restore and export your important data with EaseUS Data Recovery Wizard Pro with Bootable Media which is able to recover and export data when PC won't boot or get stuck in Windows 10/8/7/Vista. After you scan and recover all the data, please remember to save them on an external device.
Fix Windows 10 Stuck at Getting Files Ready for Installation
After you have export your data, you can follow the methods below to fix "Windows 10 gets stuck at getting files ready for installation" issue.
Method 1. Reset the BIOS
Enter your BIOS, go to the Boot section and check your boot priority list.
If your boot drive (SSD/HDD) is not at the top, make it your number one priority rather than Windows Boot Manager or USB HDD or DVD Rom for example.
Save and exit the BIOS.
Reboot.
Method 2. Try Booting Your Computer in Safe Mode
Hold the Power Button down for five seconds or until the computer shuts down.
Press the Power button again to turn it on.
The PD should say Windows failed to start or something along those lines.
Choose Advanced Repair Options > Troubleshoot > Advanced Options > Start up Settings.
Click Restart and choose Safe Mode to enter safe mode.
Log in and then reboot.
Method 3. Delete Problematic Files
Restart your PC and you will see the Windows Boot Options page: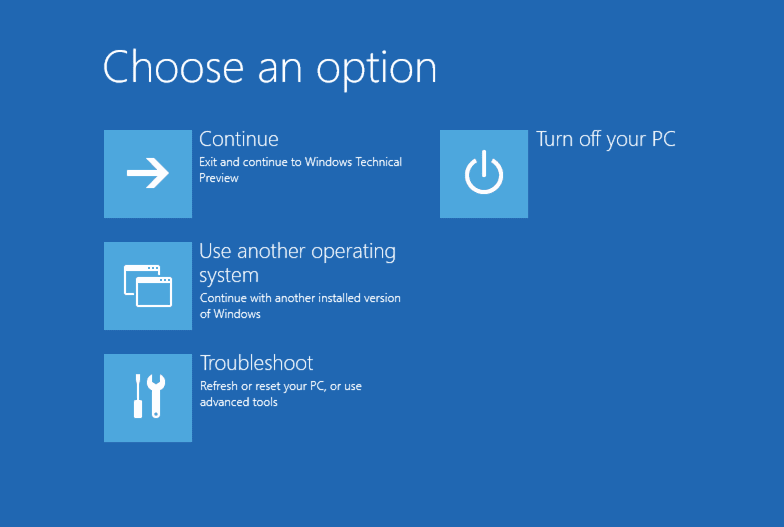 1. In Windows Boot Options menu, choose "Troubleshoot > Advanced Options > Command Prompt".
2. In the command line, type: C: cd Windows\System32\LogFiles\Srt. SrtTrail.txt and press Enter.
Here, if you see something like this: Boot critical file c:\windows\system32\drivers\vsock.sys is corrupt, navigate to the specified location using the Command Prompt and enter Del command to delete the problematic file.

Final Solution:
If all the solutions above all fail, do not worry, we still have a chance to solve it - try performing a clean install again.
Read this post: Tips for Clean Install Windows 10 without Losing Data. Then you will know how to perform a clean install again without difficulty.