USB/hard drive fails to spin up, can't be recognized
How many of you guys are having this issue that the USB drive or hard drive suddenly cannot spin up, fail to show up in PC or suddenly become unrecognized?
It's quite easy to get USB drive or hard drive, external hard drive etc devices unrecognized due to physical damage or other reasons. If your storage devices such as USB drive, hard drive or external hard drive etc fail to spin up, not responding or turned into recognized by PC, don't worry. This article will provide reliable methods to help you effectively fix and solve storage devices not spin up error without losing any data. How?
If you dropped your USB or hard drive on to the ground and damaged it, it won't spin up of course. When such a problem occurs to you, don't do anything to the drive and just take it to a manual hard drive repair center and ask for professional help.
If the hard drive or USB is not immune to power surges, the components on Printed Circuit Board of your device can be damaged. Electrical surges may affect the computer's power supply unit. Once you turned PC on, the electrical surge may turn off itself. There, the spinning issues occur. The best way to solve this issue is to replace the PCB with an identical one which can transfer firmware information to the new PCB.
Solutions to USB/hard drive spin but not recognized
Another problem may also exist on your USB or hard drive that the USB or hard drive spins up but not detectable or unrecognized by PC. When such a problem occurs to you, how will you do to solve this issue?
Here in this part, you can follow below tips to repair not recognized USB or hard drive and bring your device back to work again:
Quick fix USB/hard drive spin up but not work error by changing USB port
When you storage devices spin up but cannot be read or not recognized in PC, don't worry. You can first try to change the USB port and connect USB, hard drive or external hard drive etc devices to another USB port to see whether PC can read it or not.
Method 1. Turn off USB Hub to save power
1. Click Start > Type: devmgmt.msc in the Search box and hit Enter.
2. Open Device Manager > Expand Universal Serial Bus controllers.
3. Right-click on the USB Root Hub > Select Properties.
4. Go to Power Management and uncheck Allow the computer to turn off this device to save power.
Method 2. Update USB/hard drive driver and repair bad sectors
1. Click on Start > Type: devmgmt.msc in Search to open Device Manager by hitting Enter.
2. Expand Universal Serial Bus controllers > Right-click every USB device found there and select Uninstall.
After this, reboot PC and then the system will automatically update all device drivers including the USB or hard drive driver.
3.Type: cmd in the search bar and hit Enter.
4.Type: chkdsk and hit Enter.
5.Type: chkdsk (drive letter of USB or hard drive) /f /r /x and hit Enter.
After this, all things will be all done. Your USB drive or hard drive shall be able to accessed and work again.
Method 3. Change drive letter and format to reset drive
The other way is to change drive letter so to make USB or hard drive detectable by PC. Then you can format to reset the drive to NTFS or FAT32 etc system file and then make it work again:
1. Right-click on This PC/My Computer > Select Manage;
2. Go Disk Management > Find your external hard drive and right click it by choosing Change Drive Letter and Path...
3. Assign the drive with a new letter that doesn't exist in your PC and mark the Partition as Active;
4. Click OK. Restart PC and your External hard drive will show up and work again.
5. If the drive or USB is still inaccessible, relax. Just format it to NTFS or FAT32, there you can use the drive to save data again.
Note: If you have valuable data saved in USB or hard drive, just follow below tutorial to restore data with EaseUS drive data recovery software before formatting.
Restore data from USB/hard drive after fixing the problem
If you have valuable data saved in the USB or hard drive, don't worry. You may follow offered methods above to make it detectable or work again.
And then follow to restore data from USB/hard drive with powerful drive data recovery software - EaseUS Data Recovery Wizard in 3 simple steps:
Step 1. Connect your device to PC.
If you lost data on an external hard drive, USB or SD card, connect the device to your PC firstly.
Step 2. Run the data recovery software and scan lost data.
1. Run EaseUS Data Recovery Wizard on your PC.
2. Select the device where you lost data under "Hard Disk Drives", "External Devices" or "Specify a location".
3. Click "Scan" to start scanning the lost data now.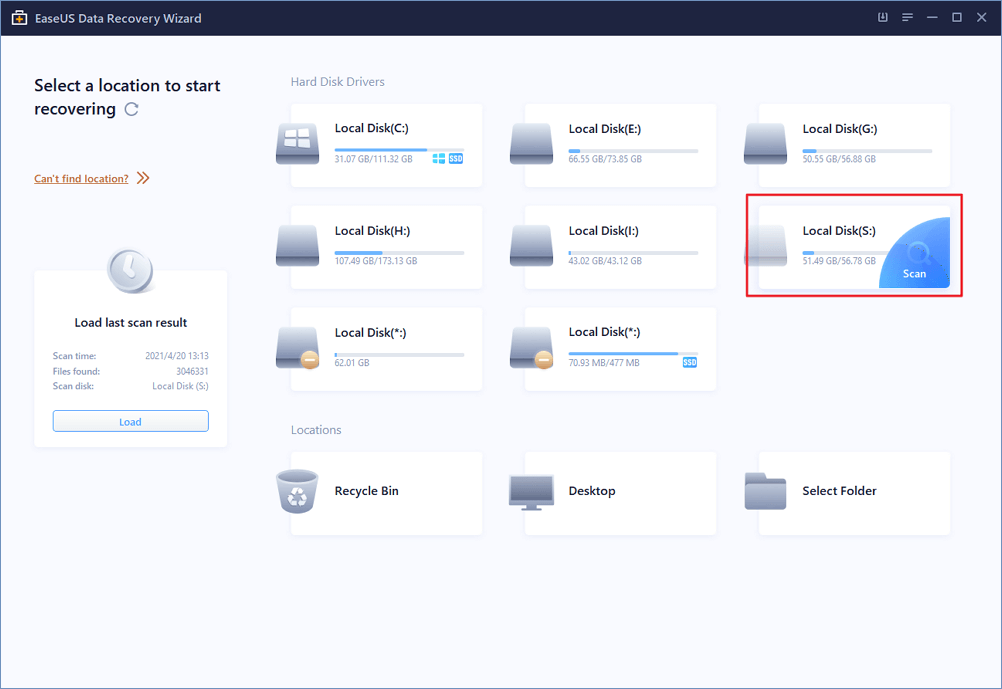 Step 3. Preview and restore data.
1. After the scanning, you can double-click each file to preview them from below tabs:
Delete Files: All your deleted files are listed here.
Drive (with your device name): It loads found files here.
Lost Partition Files: Check first if your hard drive is formatted or partition gets deleted.
Extra Files: All files that lost names or paths on your drive can be found here.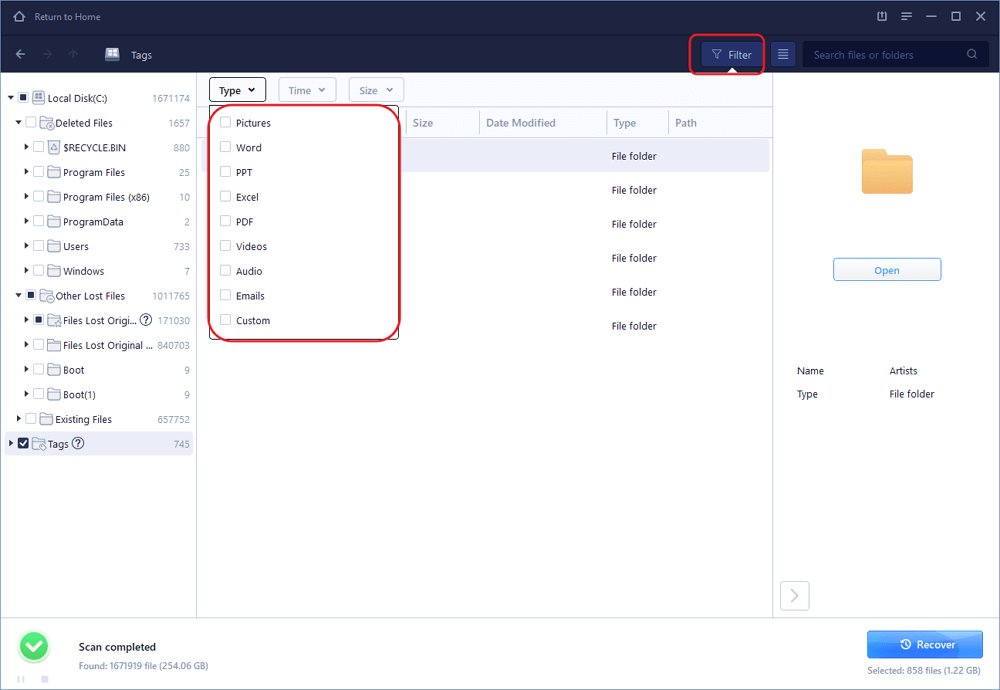 After this, you can even use "Filter" or "Search" to quickly find all your lost data.
2. Finally, you can choose those lost data and specify a safe location on your PC to complete the data recovery process by clicking "Recover" now.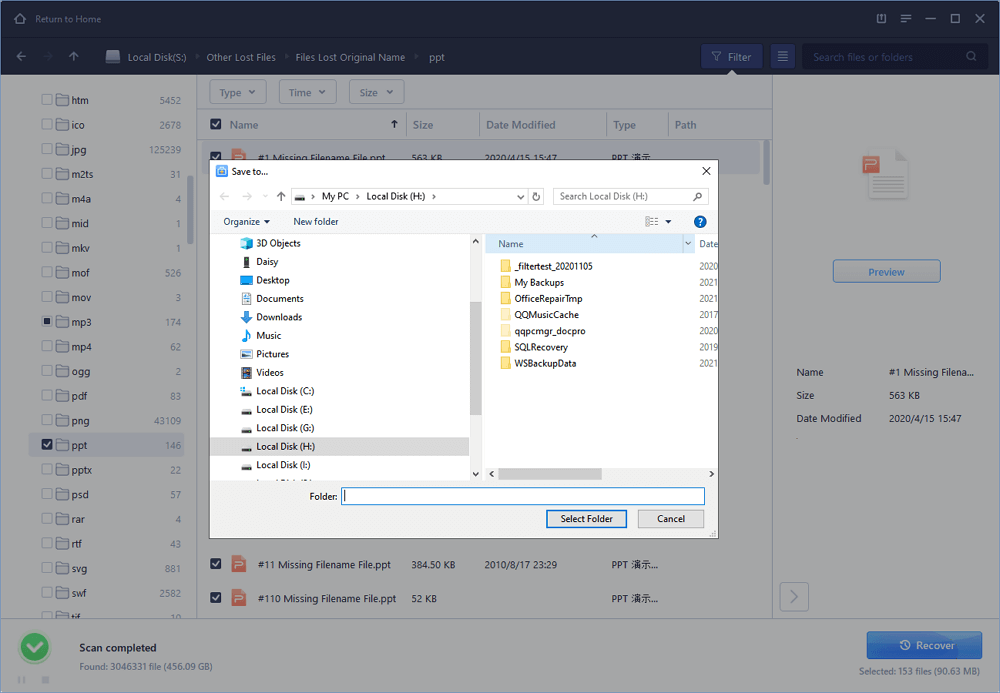 After this, you may format the drive and make it usable again for storing and saving data again.