The requested resource is in use while copying or moving files, help!
Does anyone know how to resolve this issue when you copy or move a file to a destination storage device with an error message, telling 'The requested resource is in use'.
Or do you have an effective solution to remove 'The requested resource is in use' issue without losing any data or files if the programs or installed software suddenly fails to run on your PC?
According to Google and many tech forums, it seems that quite a lot users have met this issue without any effective solutions. You can just follow provided methods below to remove the error on your computer so to run and use your programs, software and copy or move files to target hard drive partition or storage device with ease now.
Part 1. Restore data before fixing/removing 'the requested resource is in use' error
Usually, 'The requested resource is in use' error is caused by malware or Trojan virus, most of them will cause a program or software function problem or file saving problem on your PC.
If you are in a hurry to resolve this issue, just slow down. And you need to follow the tips below to restore data first with professional hard drive data recovery software if you have important data saved on your target hard drive partition or storage device which contains this error:
Keep Noted:
First, please keep in your mind that once you lost files, stop using the device or folder immediately.
Second, try to find the lost files in your Recycle Bin if the lost files were saved on the desktop.
Third, turn to the professional file recovery software for help if nothing is found.
Step 1. Connect your device to PC.
If you lost files on an external storage device, connect the storage device to your computer firstly.
Step 2. Run this software and scan the lost file.
Run EaseUS file recovery software - Data Recovery Wizard on your PC, specify the location where you lost files and click "Scan" to scan those lost files.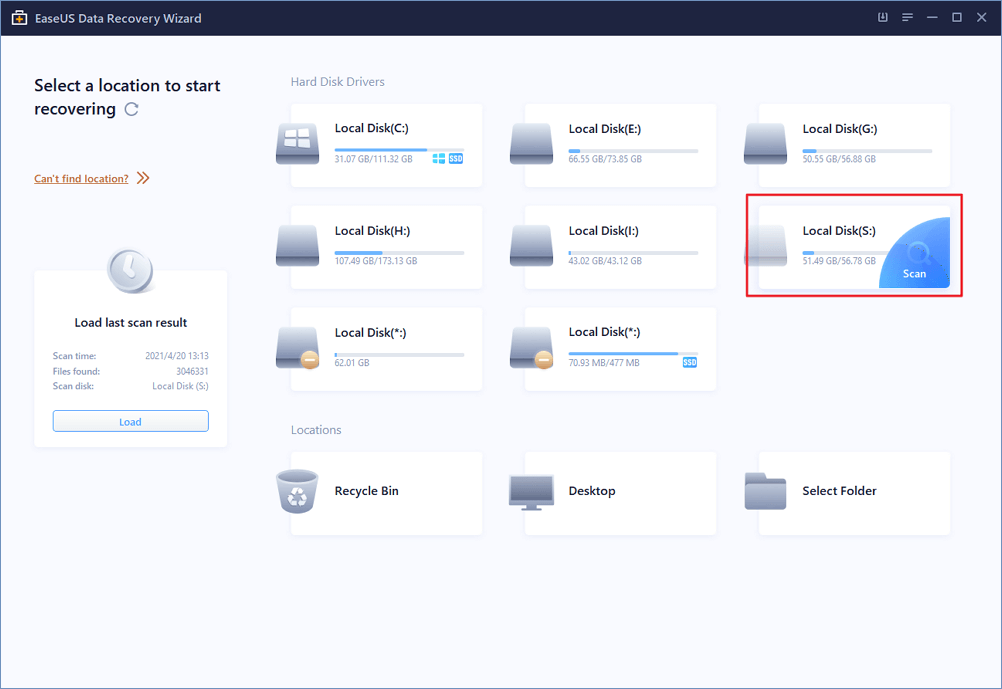 Step 3. Preview and restore file.
After the scanning, you can find and double-click to preview your lost files here:
Delete Files: All your deleted files are listed here.
Drive (with your device name): It loads all lost files here.
Lost Partition Files: Check first if your hard drive is formatted or partition gets deleted.
Extra Files: All files that lost names or paths on your drive can be found here.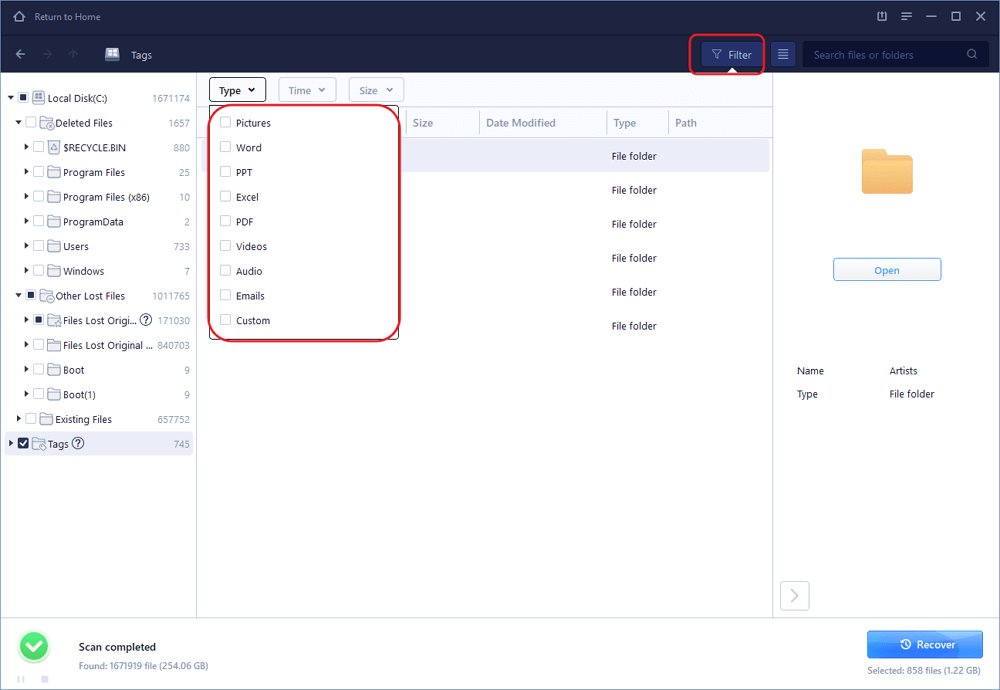 Step 4. Choose and restore files.
Finally, select the found files, click "Recover" and navigate to save them to a secure location on your PC or another external storage device.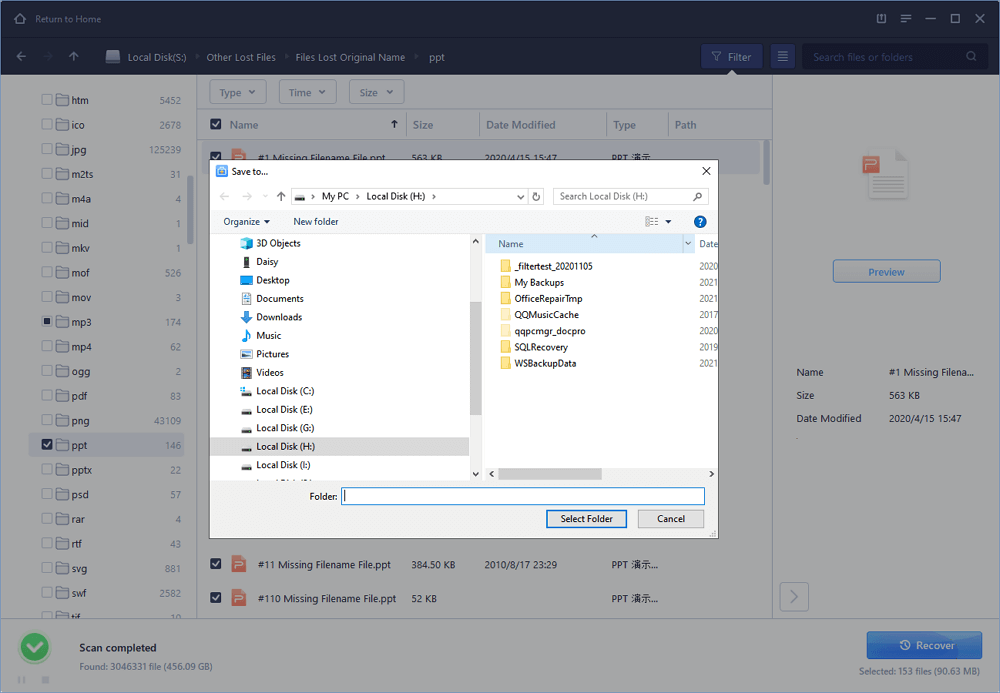 Part 2. Fix and Remove 'The Requested Resource Is In Use' Error
Since the reasons that caused 'The required or requested resource is in use' issue is very complex, here we've connected some useful methods for you to follow and try.
Follow to see how to remove this error on your PC and make your programs, software, and storage device work again now:
Method 1. Restart PC in Safe Mode
1. Right-click on Windows icon and select "Control Panel".
2. Select "Administration Tools" and click "System Configuration".
3. Go to Boot tab, and then check "Safe Boot" with the Minimal option.
4. Click OK to confirm and then choose Restart to boot your PC in Safe Mode.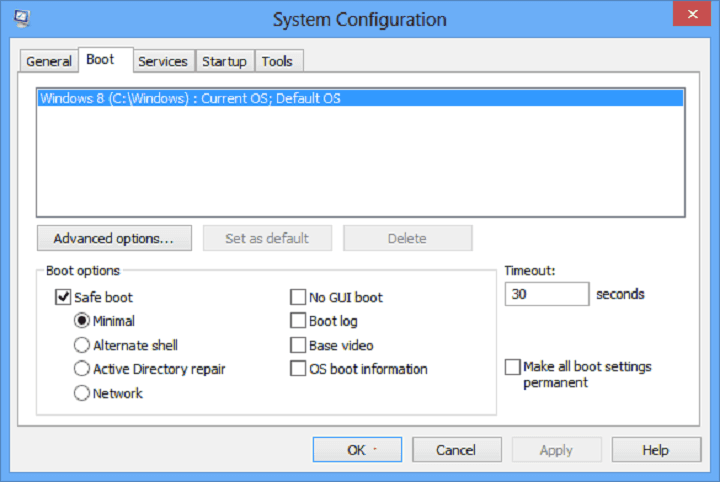 Method 2. Run Windows Defender to Remove Malware or Trojan
Usually, Malware or Trojan, etc. virus is the major reasons that cause installed programs, software fails to run or storage devices unavailable for saving files.
To fully remove the virus or malware that cause 'the requested resource is in use' issue on your PC, here we'd like to recommend you use Windows Defender to scan and remove this error from your PC:
1. Go to Settings.
2. Click "Update & security" and go to "Windows Defender".
3. Then select "Scan Offline".
This will help you scan and remove all malware and Trojan that cause problems on your PC offline and prevent them from rebirth again.
Method 3. Remove Malicious Software/Program
Disable Malicious software/program from startup:
1. Right-click on Windows icon and select Control Panel.
2. Select "Administration Tools" and click "System Configuration".
3. Go to General tab and click "Selective startup" by checking Load startup items, and then click "OK".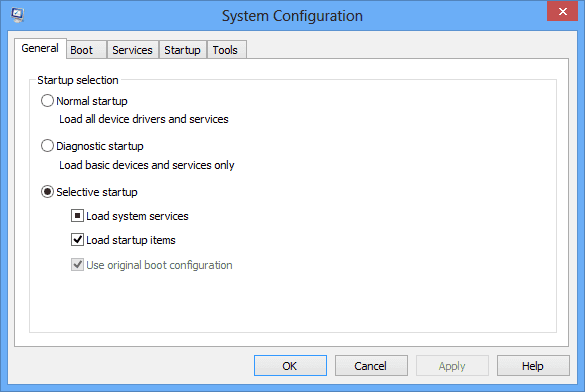 4. Click on Startup tab and check the listed programs that start once your computer boot up, right-click on those programs marked as Unknown, select Disable.
Remove Registry Entries of malicious software/program:
This may remove some of your saved files or programs with an improper operation, please be very careful while you are trying with this methods.
1. Press Windows + R to bring up Run dialog.
2. Press Ctrl + F and type: SmartService etc. to quickly find malware etc. in the registry.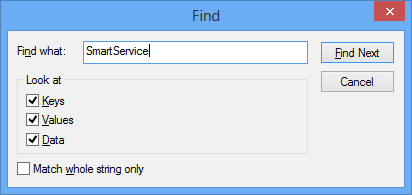 3. Locate the Trojan and delete, remove it from your PC.

Repeat the process to remove all malware or program that cause 'the requested resource is in use' error.
If you don't know that malware or Trojan name, try the tips below:
1. Press Windows + R, and type: Regedit and hit Enter.
2. Navigate to: HKEY LOCAL MACHINE -> SOFTWARE ->Microsoft -> Windows -> CurrentVersion to find all the folders with Run folders.
3. Click and open each folder, scan the listed files and look for suspicious names that may cause 'the requested resource in use error', and remove them.
If you are not sure about those found files or folder, look them up before deleting.