Why need to repair RAW disk?
There are many computer users who complain about disk errors when they could not access the disk, and a top case among them is that Windows pop-up indicates "The drive in disk is not formatted. Do you want to format it now?"
When they check the properties of the disk, they find the file system of the disk is RAW, both used and unallocated space are showing 0 bytes. And they may even fail to check and repair the RAW disk by using "Error-checking" in Tools or using chkdsk command. What is wrong with this disk?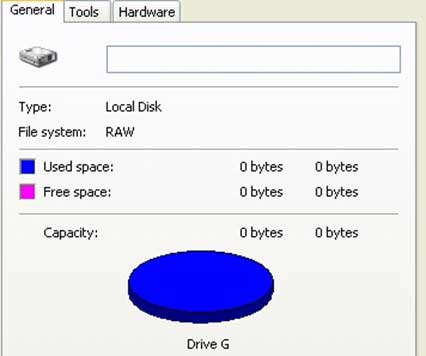 The reason for "The drive in disk is not formatted. Do you want to format it now?" is that a parameter error exists in the disk sector, causing file system corrupted or RAW error. And the best way to fix this problem is to restore all files and repair the RAW disk by formatting, change the file system from RAW to NTFS.
How to repair RAW disk and recover files?
To repair RAW disk, we should restore and save useful files to a secure device first, which means to recover files from the RAW disk in advance. At this time, professional data recovery software is needed. Here disk data recovery software - EaseUS Data Recovery Wizard is suggested for you to try and restore files from RAW drives.
EaseUS Data Recovery Wizard supports to recover data from RAW disk or files lost due to converting raw to ntfs, formatting, deletion, partition loss or damage, software crash, virus infection, unexpected shutdown or other unknown reasons on storage media such as USB flash drive, SD card, memory card, etc.
You can download this RAW drive recovery software for free and follow below steps to get lost data back and fix RAW hard disk error now.
Restore data and repair RAW disk/partition/SD card
# 1. Recover files and data from RAW disk/SD card
Before you start repair RAW disk, it's highly recommended for you to restore files and data first so to protect data:
Step 1. Locate the RAW hard drive
Download and install EaseUS Data Recovery Wizard on your Windows PC or laptop.
Launch the software. Make sure that Windows has detected your RAW hard drive and correctly listed the drive letter on the disk map.
Left-click on the RAW drive and then click the "Scan" button.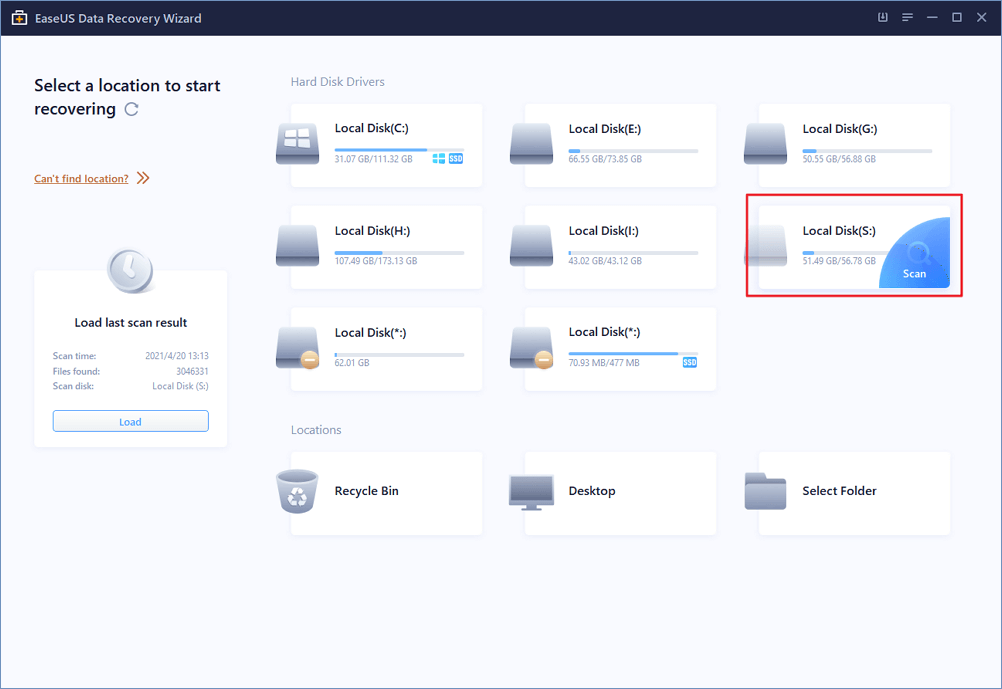 Step 2. Scan the data on the RAW hard drive
At this stage, the software would work very hard to search all data through the entire drive, and timely display the data as the scanning task goes on.
Tip: users are allowed to pause the scan process for an instant recovery as soon as the target files show up, but it's better to stay and wait for a complete scan till the end.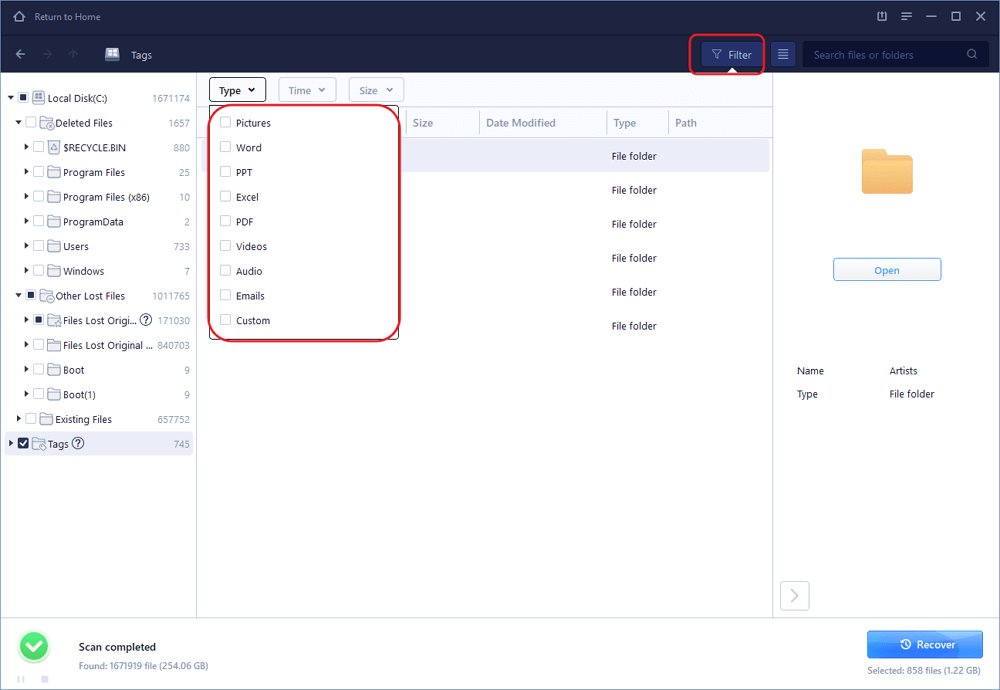 Step 3. Check files under the "Extra Files" result
Besides the general scan results of all lost data on the selected drive, the "Extra Files" is specially designed for RAW hard drive/USB flash drive/micro SD card data recovery, under which you're likely to recover what you want with a high success rate.
Of course, check all the scan results if necessary. Choose the target files and click the "Recover" button. You should save the items to a new location.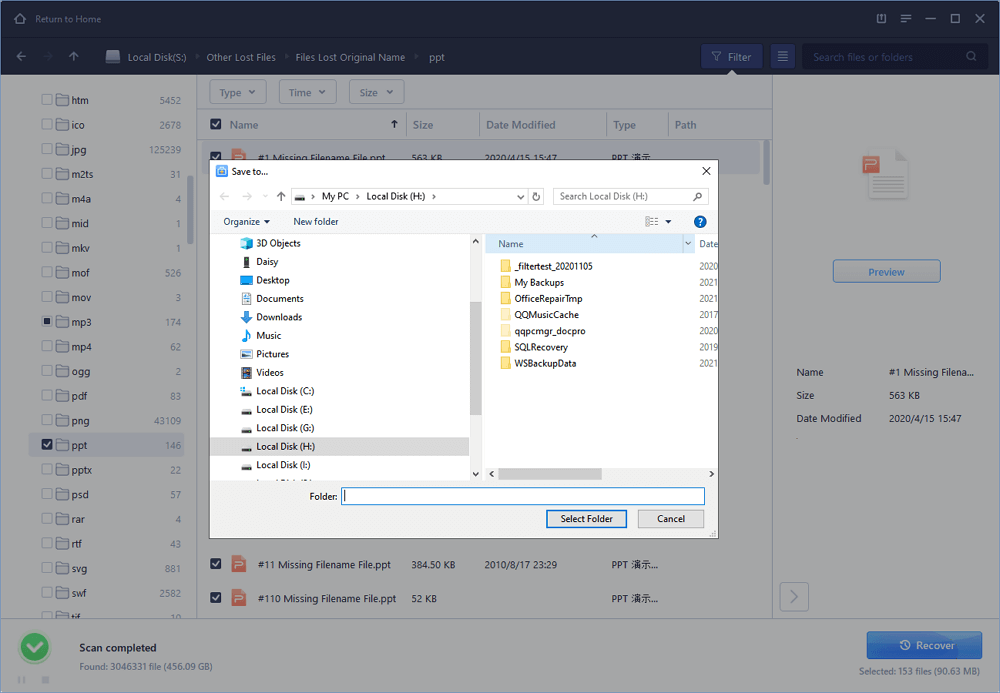 # 2. Repair RAW disk/partition/SD card, and fix RAW file system
After above steps, you've successfully recovered files from RAW disk and save them to a secure location. And now you can follow to repair RAW disk, converting the RAW file system to NTFS/FAT32 etc by performing a format. Here below are the detail steps to repair the RAW disk:
1. Connect RAW drive, corrupted SD card with PC.
2. Open This PC/My Computer > Right-click RAW disk/SD card.
3. Select Format > Set RAW file system to NTFS/FAT32 etc and click OK.
Then all you need is to wait for the formatting process complete. After this, you can reuse the repaired hard disk or SD card to save data again.
 Recommendation

EaseUS Data Recovery Wizard cannot restore the original directory structure. If you need to repair the partition and access it directly, you can contact our support team via live chat or email (support@easeus.com). They can provide manual recovery service for this problem, which will save you from wasting time scanning software for too long and having to find another disk to save your data.