To recover hard drive data is important for you when your data is deleted, lost or inaccessible. Here offers you a simple solution of hard drive data recovery which is available in various data loss situations. For example, the hard drive was locked up or completely crashed.
How to deternime whether hard drive is crashed or not?
To recover hard drive data, you need firstly determine whether your hard drive has crashed due to mechanical failure or a software related problem. It is simple. Just check whether the flashing light in front of your computer case is blinking or not.
If the flashing light in the front of the computer case is not blinking, it indicates that there is no hard drive activity and is generally attributed to a mechanical problem. In this scenario a qualified computer technician may be needed to fix problematic hard drive issues. And you need to seek a technical expert or professional data recovery service supplier to help you recover hard drive data.
If the light is flashing but the computer is not booting up, then the problem may be software related. In most cases the cause is either virus related or due to a corrupted system file. Then you can fix the hard drive crash by reinstalling the operating system and use third party data recovery software to recover lost files.
Find reasons for hard drive crash
Hard drive crash occurs for many reasons. One of the main causes for a full blown hard drive crash is generally attributed to a hardware issues. The hard drive is a magnetic disc which spins and has an extended arm that collected data from any area of the hard drive. If the arm fails to function or the motor overheats or stops spinning, then there is a chance your hard drive will crash rendering data seemingly inaccessible from all hard drive areas.
Besides, hard drive crash can be also caused by registry files or system files corruption. Usually viruses, Spyware, adware, and Trojan horses can cause system file corruption and then result in hard drive crash.
Recover hard drive data in different data loss cases
EaseUS Data Recovery Wizard can fully retrieve all your important files or folders from hard drive in the easiest way. Being efficient, easy-to-use and safe, it can be said one of the best data recovery software which can fix diverse complex data troubles such as restore deleted files from hard drive, recover data from lost partition,recover formatted data, etc.
Next we will offer you the detailed guide to get back your data lost due to accidental deletion, hard drive formatting and partition loss or corruption respectively.
Step 1. Connect disk hard drive with PC. Launch EaseUS Data Recovery Wizard and choose the data loss location.
Step 2. A quick scan will start first. After it completed, a deep scan will automatically launch in order to find more files.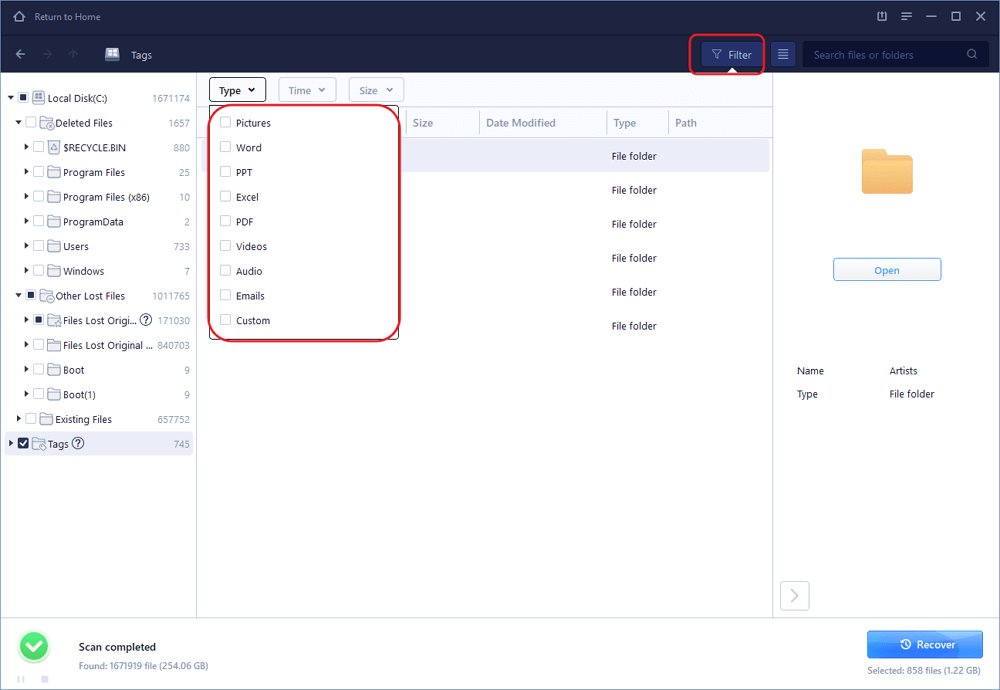 Step 3. Preview and choose found data to recover in a safe spot in your PC.