Deleted operating system
"I recently downloaded a virus onto my computer. While I was restoring it to the factory settings, it shut down. When I turn it back on, the screen was black and it read MISSING OPERATING SYSTEM. Is there any way of putting the operating system back on without purchasing it? I cannot access anything on the laptop."
It's really horrible to see your Windows operating system deleted by disgusting viruses. However, such a deleted OS issue happened frequently among Windows users, most of whom can hardly survive from the accident. A computer without OS is useless, dead and bricked. What's worse, all data within is completely inaccessible!
How to Recover Data After Operating System Deleted?
Have you ever expected a possibility to access hard drive without OS? It's not a joke at all. EaseUS WinPE bootable data recovery software is developed to recover data when Windows computer or hard drive won't boot. So, it perfectly solved your problem when OS was accidentally deleted or wiped by mistake, virus, malware, etc. Start immediately to recover data even without OS installed on PC.
Step 1. Download and install EaseUS Data Recovery Wizard WinPE Edition on a normal computer.
Step 2. EaseUS bootable media software will recognize your CD/DVD device or USB drive automatically. You can also export ISO file. Select CD/DVD or USB drive and click "Proceed" to create a bootable disk.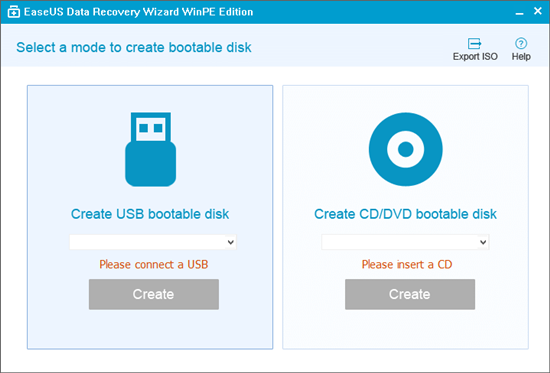 Step 3. Boot your dead computer from the created bootable disc or USB drive and run EaseUS Data Recovery Wizard from WinPE bootable disk.
Step 4. Select the hard drive you're trying to copy files off from it and click Scan.
Step 5. After the scan, choose the files or folders and click Recover. Simply recover all the necessary computer data files and keep them in another storage location.
How to Recover Deleted Operating System?
To recover deleted operating system or reinstall a Windows operating system, if you prefer a do-it-yourself way instead of spending money hiring a professional, here's a detailed guide that helps you reinstall Windows after OS deletion. Take Windows 10 for example.
Step 1. On another PC, visit Microsoft's page to create Windows 10 installation media.
Step 2. Boot your computer of which the OS was deleted from the created bootable USB stick.
Step 3. Follow the prompts to set up Windows. As long as the previous version of Windows operating system that was accidentally deleted is licensed, you'll be presented with the License terms. Accept it and click Next.
Step 4. Go on with Custom Install, after which you'll be asked to select a partition where you want to install Windows 10. Just select the partition and click Next.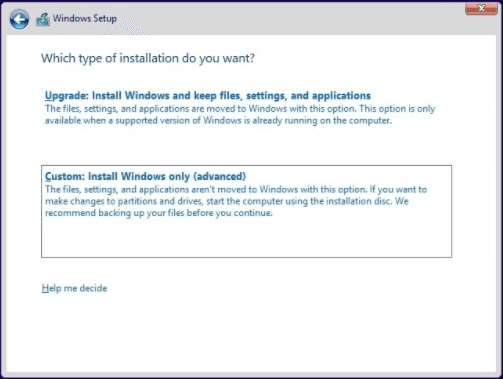 Step 5. The installation process now starts. After it finished, the computer will restart. You should now recover deleted operating system successfully.