Overview of Smart Notebook Recovery
"I'm using the latest version of SMART Notebook on a Windows 10 PC. When I tried to open a Notebook file earlier this day, my pages were loading but I never actually saw the pages. So I tried restarting the computer and reinstalling Notebook but unfortunately deleted about 5 Notebook files. Anyone know how can I recover the lost SMART Notebook files?"
SMART Notebook is an application developed to help users create interactive presentations. It is widely used in classrooms to present interactive lessons. Thus, it's safe to say that most of the SMART Notebook files are days of arduous work that you don't want to lose. That's why so many users are requesting a Smart Notebook recovery tool in order to recover deleted or unsaved Smart Notebook files which they had spent days and nights on. Luckily, there are still chances to recover lost SMART Notebook files.
2 Ways to Recover SMART Notebook Files
Generally, there are two ways for you to recover SMART Notebooks files. Depending on how your files are lost, you will need different ways to retrieve them.
Method 1. Recover Deleted/Formatted/Lost SMART Notebook Files with Free Data Recovery Software
If your Notebook files are deleted, formatted, or lost due to OS crash, virus attack, file system becoming RAW..., you can use the free data recovery software - EaseUS Data Recovery Wizard. It will help you recover SMART Notebook files from your computer, external hard drive, USB flash drive, memory card, etc.
Step 1: Choose the location
Download and open the EaseUS Data Recovery Wizard. When you open it, you can see all of the disks and partitions on your computer, select the disk partition or storage location where you deleted your files.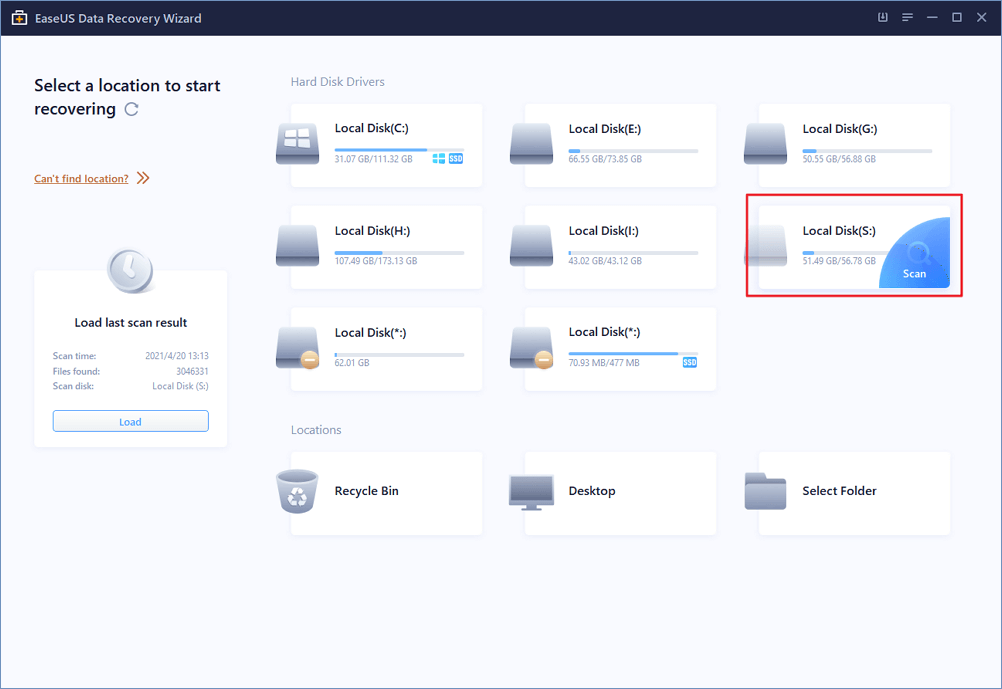 Step 2: Click Scan
Step 3: Click Recover
Aside from Notebook data recovery, EaseUS Data Recovery Wizard also works great in Microsoft Office file recovery, for example, it can recover PowerPoint file, undelete excel, recover Word document...
Method 2. Recover Unsaved Smart Notebook Files from Temporary Folder
According to Smarttech Notebook support: "SMART Notebook collaborative learning software uses a temporary folder to save the contents of the file while SMART Notebook software is open. The temporary folder is used for crash recovery and to save content that is too large for the working memory. The temporary folder is located at $TMPDIR/SMART Technologies/."
So, just locate the specified path where Notebook files were temporarily preserved, you can easily get back the documents unsaved due to software crash or closed without saving the files.
The Bottom Line
In conclusion, there are two Smart Notebook file recovery solutions available, which is either to recover from its temporary folder or find a piece of powerful Smart Notebook data recovery tool. If the two methods above fail to recover your lost SMART Notebook files, you can go to community.smarttech.com and search for solutions. In the Notebook area, you can find many Notebook related problems and answers, including the discussions about how to recover a Notebook image or file after a software crash, deletion, formatting, virus attack, etc.