Overview of Smart Notebook Recovery
Lost Smart Notebook files? Many users are requesting a Smart Notebook recovery tool in order to recover deleted or unsaved Smart Notebook files which they had spent days and nights on. But here is the question, does Smarttech, the education software's producer, really provide a recovery solution for your disappeared Notebook files?
Browsing community.smarttech.com, in the Notebook area, you can read many Notebook (10, 11, 14, 15, 16, 17) related problems and given answers, including the discussions about how to recover a Notebook image or file after software crash, deletion, formatting, virus attack, etc. Here's an example.
"I'm using the latest version of Notebook on a Windows 10 operating system. Encountered something unusual today. When I try to open any Notebook file, my pages are loading but I never actually see the pages. Later I get a message asking if I want to see crash recovery data. Tried restarting the computer, reinstalling Notebook and unfortunately deleting about 5 Notebook files. Problem not solved, however, lost so important files. Will you help with deleted Notebook file recovery?"
2 Suggested Ways to Recover Deleted or Unsaved Smart Notebook Files
In conclusion, there are 2 Smart Notebook file recovery solutions available, which is either to recover lost, crashed, unsaved, deleted or missing Smart Notebook documents from its temporary folder or find a piece of powerful Smart Notebook data recovery tool.
Way 1 - Recover unsaved Smart Notebook files from the temporary folder
According to Smarttech Notebook support: "SMART Notebook collaborative learning software uses a temporary folder to save the contents of the file while SMART Notebook software is open. The temporary folder is used for crash recovery and to save content that is too large for the working memory. The temporary folder is located at $TMPDIR/SMART Technologies/."
So, just locate the specified path where Notebook files were temporarily preserved, you can easily get back the documents you've never saved.
Way 2 - Recover deleted Smart Notebook files with Smart Notebook recovery tool
Except the unsaved items produced by Smart Notebook software, you can use EaseUS Data Recovery Wizard, the recommended Smart Notebook recovery tool, to easily retrieve files that were accidentally deleted or formatted on hard disk, USB flash drive or memory card. Aside from Notebook data recovery support, this amazing free piece of file recovery software works great in Microsoft Office file recovery, for example, it can recover PowerPoint file, undelete excel, recover Word document...
By default, Smart Notebook saves files in .notebook format, and usually, the file extension is hidden in Windows OS. After making it clear, you should start immediately to download the software and have a try with its free version.
Step 1: Choose the location
Download and open the EaseUS Data Recovery Wizard. When you open it, you can see all of the disks and partitions on your computer, select the disk partition or storage location where you deleted your files.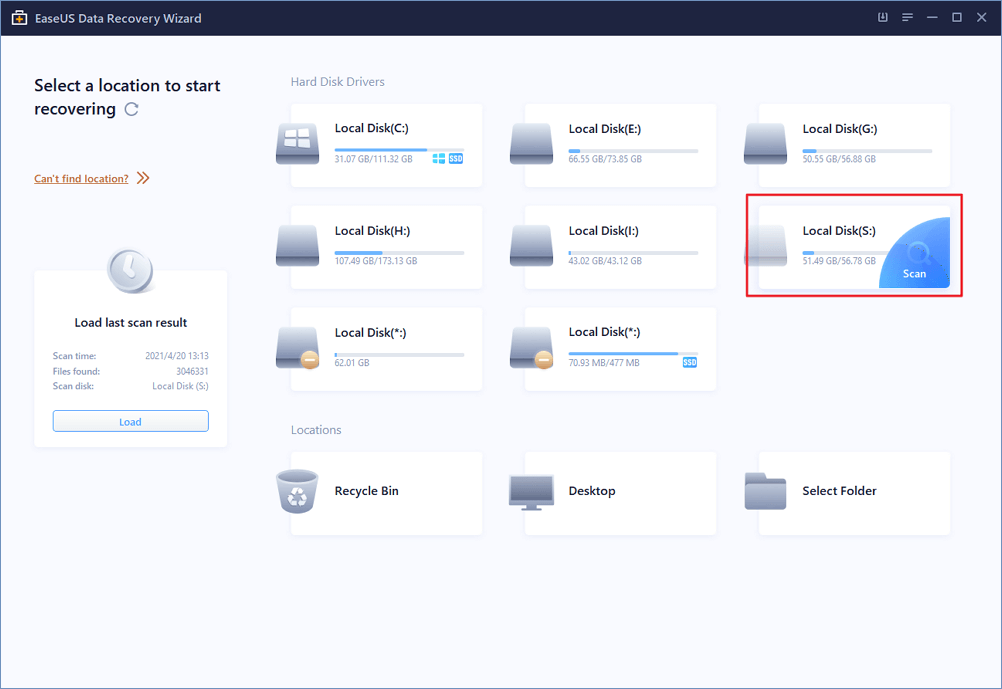 Step 2: Click Scan
Step 3: Click Recover
EaseUS Data Recovery Wizard Free is designed to recover documents, pictures, music, videos, and emails within 2GB size. In order to recover an unlimited amount of data files, please purchase a license code to upgrade to its full version.