What Is Ontrack EasyRecovery
No wonder we all lost our essential files and data several times! Are you one of them who is worried about your recent data loss or file deletion? If yes, then no need to worry; we have the solution! The reasons for a data loss can be different; it may be a hard drive crash, malware attack, or unwanted deletion. All these causes are not intentional, and we have no control over them. But yes, you can recover those files or crucial data via a recovery tool.
We will talk about the most reliable and trusted third-party tool Ontrack EasyRecovery. It is one of the best fast data recovery software in the current market. High efficiency, advanced technology, and 24x7 hours technicians support this tool widespread. 
Kroll Inc. is the owner of this tool which maintains a good reputation for its fantastic data recovery service via this tool. Here in this post, we will guide you on how you can recover data with the help of Ontrack and provide in-depth information about this tool and its function, so follow the post till the end.  
The Key Features of Ontrack EasyRecovery
We will highly recommend the Ontrack EasyRecovery tool for data recovery only because this is a reliable tool that comes with several key features. Here we will discuss some of the key features of this fantastic tool.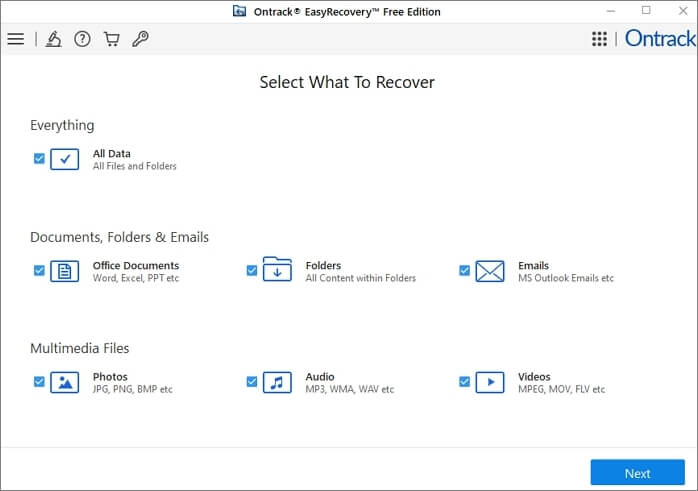 Functions: This is a reputed tool that comes with several functions. You will get the feature of saving scan results in this tool which will save a lot of time while scanning your drive and recovering data. Ontrack EasyRecovery tool can recover data from broken RAID0/5/6 setups. 
The deep scan feature of this tool is ultimate; it can easily find out some of the hidden files which are usually un discover during the regular scans. Using this tool's inbuilt photo and video repair function, you can quickly repair corrupt JPG, CR2, MP4, and MKV files.  
You can create the image of your disk to perform a safe recovery process without the risk of data loss or overwritten. This tool supports both Windows and Mac; that's the reason most professional wants to use this tool.
Efficiency: No doubt, Ontrack EasyRecovery is one of the fastest data recovery tools. The deep scanning feature of this tool takes a few seconds to scan traditional spinning had driven. The best part of this tool is after scanning, you will get all the lost files in separate folders according to their file types. Overall, this is a highly efficient, user-friendly tool that makes your data recovery process easier and faster.   
Support: You will get email and phone support channels from Ontrack. Their emergency technical service is available 24x7 hours for users facing any issue during data recovery. Expert technicians and engineers are always there to help you recover your important data.     
Performance: The performance of a tool always depends on how fast and precise that tool works. In the case of Ontrack can do a deep scan of a 500 GB partition in less than 5 minutes and can recover data more quickly than your expectation without any data loss. The preview option is always there to verify files before the recovery process.   
Pros:
Simple and user-friendly interface 
It comes with several useful features 
24x7 hours of support from expert technicians for data recovery 
High-speed processing 
It comes with the secure-delete feature 
Cons: 
Lacks in-built previewer 
You can't create a disk image from a failing disk 
Expensive comparatively other recovery tools 
Trail needs your full details like email, name, address, and phone number to download the tool
Ontrack EasyRecovery: Pricing and Plans 
This section will give you details regarding the different versions and prices of the Ontrack EasyRerovery tool.
Ontrack EasyRerovery tool comes with one free version along with five paid versions. Let's discuss more in detail those plans and pricing.
Free Plan: In the accessible version of the Ontrack EasyRerovery tool, anyone can recover up to 1 GB of data; file sizes should be less than 25 MB.
Home Plan: The Home version of the Ontrack EasyRerovery tool comes with $72.03/year for Mac and $66.95/year for Windows. With the help of this version, users can quickly recover deleted photos and videos from computer storage devices.
Professional Plan: The Professional version of the Ontrack EasyRerovery tool is perfect for medium businesses because it can recover manifold data loss from the server, hard drive, and accidental deletion. When it comes to price for Windows, it will cost $92.37/year, and for Mac $109.32/year.
Premium Plan: The Premium plan of Ontrack helps users to recover important files quickly and also repair corrupt photos and video files. This tool costs $126.27/year for Windows and $134.75/year for Mac. 
Technician Plan: Ontrack's technical plan helps users perform data recoveries on all computer storage and devices. When it comes to price, both Windows and Mac version costs $253.39.   
Toolkit Plan: The Toolkit Plan is the ultimate recovery plan for the Ontrack tool. This tool can perform all kinds of recovery, whether it corrupts Windows, Mac, or Linux file systems and computer storage devices. It costs $422.88 for Windows.  
A Step-by-Step Ontrack EasyRecovery Tutorial 
If you are looking for a trusted and most reliable recovery tool, Ontrack EasyRecovery is always the best option. Now the question is how to use this tool and recover lost files? Follow the exact steps given below to understand the functionality of this fantastic tool. 
Step 1. Visit the official page of Ontrack and fill up the essential information to receive the download file in an email. Download that file and install it on your system.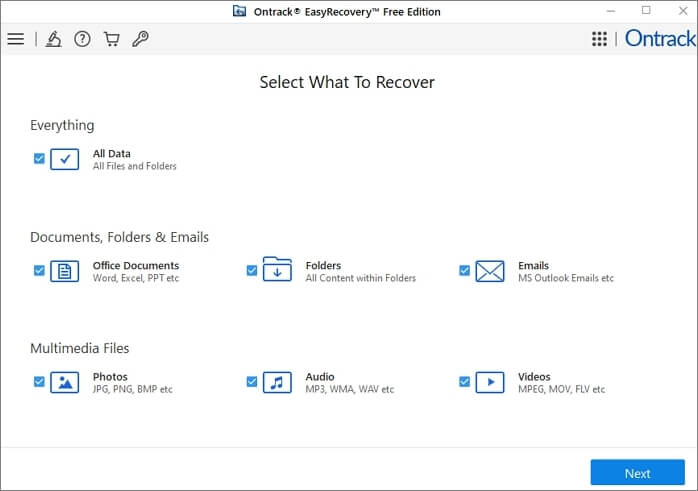 Step 2. Now open the install file and follow the prompts to install Ontrack EasyRecovery. Now you will see the main interface of this tool, where you have to choose what type of files you want to scan for; tick on those sections and Click on Next.
Step 3. Now select where you want to recover data from. Choose that drive and scan it. You can go for Deep Scan in the bottom-left corner of the interface and click on Scan. After the completion of the scan process, click on the OK button.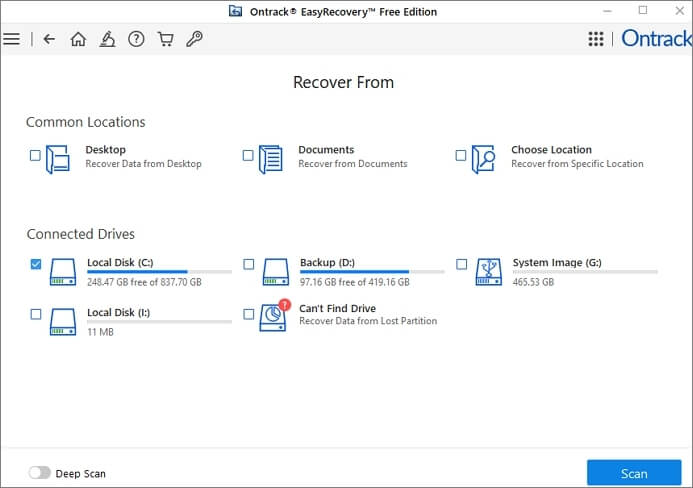 Step 4.  Now, you will see three sections on the left side of the window, which are File Type, Tree View, and Deleted List. Here you can find and mark the files which you want to recover. You can turn on the preview button if you're going to cross-verify your file before recovery. Mark your needy files and click on the Recover button.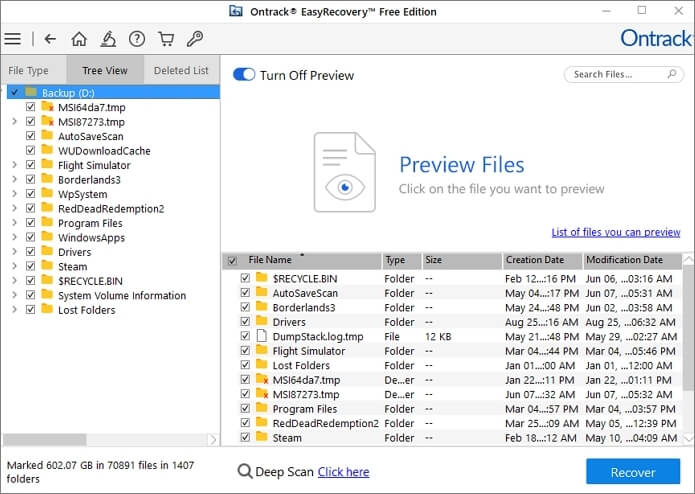 Step 5. Click Browse and select a location where you want to save your recovered files, and Click Start Saving. Now click OK to complete the whole recovery process.    
Ontrack Data Recovery Services
Here in this part, we will introduce one of the best feature services of Ontrack, which is none other than the Manual recovery service. Ontrack has been pioneering in data recovery service for the last 30 years. The expert engineers of Ontrack can quickly recover data from laptops, desktops, mobile devices, NAS, servers, and much more. People usually lose data because of hardware failures, human errors, malware, and cyber-attacks. If you have recently faced such an issue, then no need to worry the Manual Recovery Service of Ontrack can help you get back your data securely.      
Ontrack EasyRecovery: The Competitions
When it comes to data recovery, you will undoubtedly get several options in the market. No doubt, Ontrack is one of the leading data recovery service providers. Still, you will get several competitors from it, and here we will recommend you five top-rated and most reliable data recovery service providers. When it comes to choosing the best one, it depends on you! All these service providers are good and have some pros and cons. They also come with different premium plans, so choose the best suits you the most.    
Now let's know more about those five tools:
1. Recuva: Recuva is a trusted and straightforward data recovery software that can quickly recover deleted files. The best part of this tool is it can recover an unlimited amount of data for free. Simple interface, preview files before recovery, and securely deleting sensitive data are some of the important features of this fantastic tool.  
2. EaseUS Data Recovery Wizard: When it comes to data recovery solutions, one name always comes into our mind: none other than the EaseUS Data recovery tool. It is one of the most reliable data recovery tools, which comes with several unique features like a fast deep-scan algorithm, supports more than 1000 file formats, and much more.  
3. DiskDrill: DiskDrill is another popular name in data recovery solutions. This tool is now available for both Mac and Windows. This tool is available in both free and premium versions. DiskDrill is specially prepared to recover data from SSD, USB flash drives, hard disk drives, digital cameras, and smartphones.  
4. Stellar Data recovery software: Stellar Data Recovery tool is another big name for data recovery solutions. Many professionals love to use this tool for data recovery. It is an advanced tool that comes with premium plans and features. The quick scan feature of this tool is quite helpful if you are in a hurry to recover your essential data.  
Conclusion
Data loss is expected, and the reason can be several, but people face difficulties recovering their data. In such cases, the data recovery tool works like a charm. Suppose you want to recover your essential data quickly. In that case, you have to go with a reliable tool like Ontrack EasyRecovery, which can recover your data without any damage, along with the preview option.

Cedric Grantham is one of the senior editors of EaseUS who lives and works in Chengdu, China. He mainly writes articles about data recovery tutorials on PC and Mac and how-to tips for partition management. He always keeps an eye on new releases and likes various electronic products.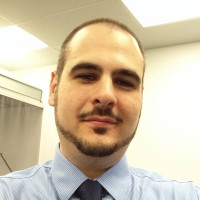 Approved by Evan Galasso 
Evan Galasso is a digital forensics and data recovery engineer with over 10 years of experience in the field. He presents opinions on the current state of storage media, reverse engineering of storage systems and firmware, and electro-mechanical systems of SSDs and HDDs.