
Table of Contents

About the Author

Reviews and Awards

Best Data Recovery Software for 2021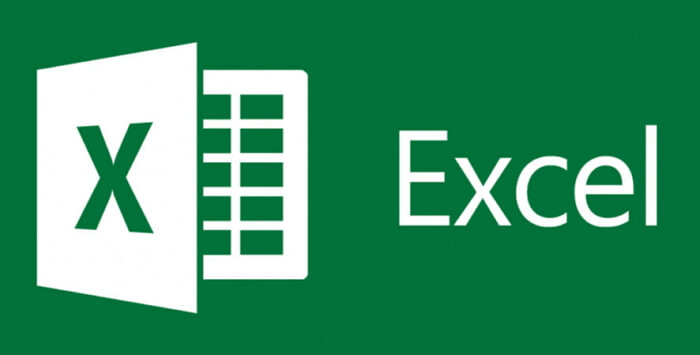 The Microsoft Excel application is as popular, in fact imperative, as the Word. It has become one of the essential skills for college students and company workers. Since Excel has many powerful and intelligent data analysis functions like fomulas and charts, it's good at dealing with massive data that needs arranging, filtering, calculating, etc.
Thus, an Excel workbook is regularly created with lots of time and effort! You must take good care of your Excel files on your computer, always turning on the autosave setting, making a backup and monitoring computer health on a daily basis. Nodody wants to create a workbook that contains large amounts of processed data for a second time, only because the initial one gets corrupted! Will you be curious about how does an Excel file get corrupted? What can you do to repair a corrupted Excel file?
| Workable Solutions | Step-by-step Troubleshooting |
| --- | --- |
| Fix 1. Use Open and Repair | On the File tab, click Open > In Excel 2013 or Excel...Full steps |
| Fix 2. Change File Extension | Open Microsoft Excel and click File > Click Export...Full steps |
| Fix 3. Restore Previous Version | Right-click on the Excel file and select Properties...Full steps |
| Fix 4. Use External References | Click File and go to Open > Right-click on the folder...Full steps |
| Fix 5. Use Excel Repair Tool | consider using some Excel repair programs...Full steps |
How Do You Tell If An Excel File Is Corrupted?
Every day, hundreds to thousands users deal with corruption issues in Microsoft Office Suite, including Excel, Word and PowerPoint, but how do you determine the Excel file is truly corrupted? Usually, we can infer the corruption from the symptoms of opening a file and some specific error messages.
Symptoms representing a corrupted file in Excel:
The file format has been changed from .xls or .xlsx to some strange ones you cannot open
Data stored in Excel has changed to different character or werid character
The file content suddenly turns blank
Error messages reporting a corrupted file in Excel:
Excel was able to open the file by repairing or removing the unreadable content
Excel file cannot complete this task with available resources
Excel cannot open the file ('file name').xlsx because...
We found a problem with some content in Excel
Unable to read file error
Common Reasons for Excel File Corruption
Why do Excel files get corrupted? There are plenty of reasons behind the Excel file corruption, and knowing some of the common reasons can help us trace the problem and find corresponing solutions to repair a corrupted Excel file.
The Excel application gets stuck, freezing, crashing from time to time upon launch
An unexpected system shutdown while working on Excel
Virus or malware infection on OS and hard drive
Bad sectors were found on a hard drive
A sudden power off
How to Hopefully Repair A Corrupted Excel File 100%
A corrupt Excel file can result in a lot of wasted time and severe data loss. Nobody can keep calm after seeing their hardwork going haywire. In spite of this, try your best to take a deep breath to minimize the damage the corruption did for you. Follow the below guide one by one to repair a corrupted Excel file on your Windows computer.
*The workarounds are applicable to all Excel versions from Excel 2003 to Excel 2019
QUICK TIP: As discussed, it is very likely that your Excel workbook could be malfunctioning due to a virus attack. So, it's important to run a deep system scan using antivirus software on your computer. Removing viruses or malware does not help you restore the corrupted file to normal, but it's necessary to avoid future corruption of all other files. In addtion, try to check and repair hard drive bad sectors after all attempts of the following methods.
Method 1. Use the Microsoft Open and Repair Tool
On the File tab, click Open.
In Excel 2013 or Excel 2016, click on the location where the spreadsheet is located, and click Browse.
In the Open dialog box, select the corrupted workbook that you want to open.
Click the arrow next to the Open button, and then click Open and Repair.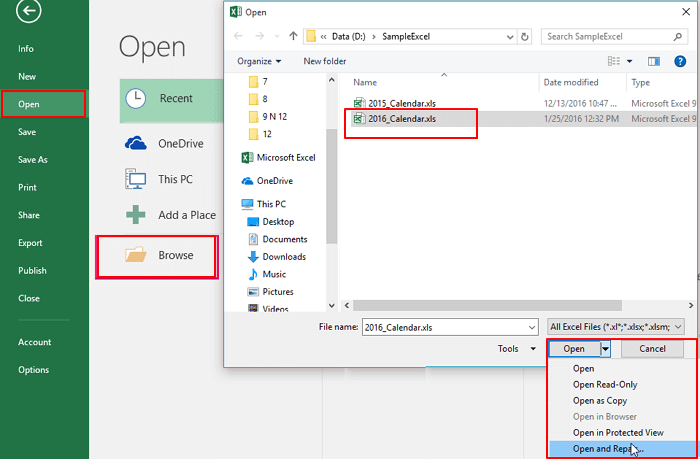 Next, do one of the following:
To recover as much of the workbook data as possible, click Repair.
To extract values and formulas from the workbook when an attempt to repair the workbook is not successful, click Extract Data.
Method 2. Change File Extension to Open the Corrupted File
Chances are that the file extension of your seemingly corrupted Excel file is not compatible with the installed Excel edition/version on your computer. When the issue starts within the incompatibility, the file will not show content as normal. The common file extensions used are .xls and .xlsx, which earlier Excel 2003 saves the file with .xls by default while the later version after 2007 uses the .xlsx format. Try to change the file format of the corrupted file to see if the problem persisits.
Open Microsoft Excel and click File.
Click Export and choose Change File Type.
Change the file extension to any other file format that MS Excel supports and click Save As.
Open the Excel file again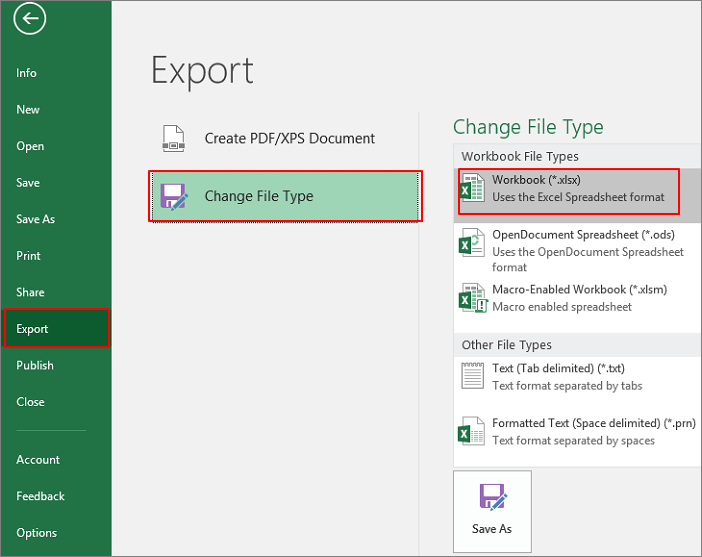 Method 3. Restore Corrupted Excel File from The Previous Version
How many copies did you save on that file getting corrupted then? The workbook may have a regular copy in the Windows previous versions. Try to find a previous version which may not be identical with the corrupted one, but at least preserve most of the same data.
Right-click on the Excel file and select Properties.
Go to Previous Versions, find and select the latest version or the right version before corruption occurs, click Restore

Method 4. Use External References to Link to The Corrupted Excel File
Click File and go to Open.
Right-click on the folder that contains the corrupted workbook.
Click Copy, and then click Cancel.
Click File and go to New, then open a Blank workbook.
In cell A1 of the new workbook, type =File Name!A1, where FileName is the name of the corrupted workbook that you copied in step 3 (without the name extension), and then press Enter.
Select corrupted Excel if the Update Values box appears and click OK.
Choose the appropriate sheet if the Select Sheet dialog box appears and click OK.
Select cell A1 and click Home and then Copy.
Select an area, starting in cell A1 that is approximately the same size as the range of cells that contain data in the corrupted workbook.
Click Home and Paste.
Repeat to copy all selected cells again by clicking Home and then Copy.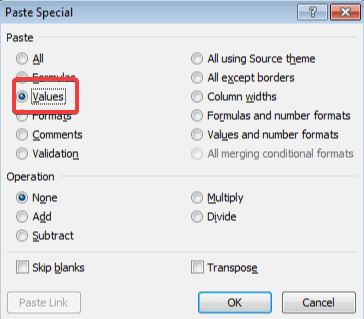 Do I Need Excel Recovery Tool for Corrupted Excel File Recovery?
Sometimes a file getting corrupted is more serious than a file getting deleted on a computer. Though there are several workarounds can help fix the corruption and restore the file content, it's not fool-proof all the time, especially for some severely damaged files in Excel. 
There are specialized file repair programs online, with regard to the difficulty in restoring files that are broken or showing special character, the service cost is relateively high enough. In case your files are wholely corrupted and cannot open by every way, you can consider the following Excel repair programs that enjoy high reputation on the market.
Systools Excel Recovery Tool
Stellar Repair for Excel
Kernel Excel File Repair
By contrast, the data recovery program is usually cheaper than the repair one. Can Excel file recovery software work on corrupted file recovery? Not really. The data recovery software is for retrieving files that are lost, which can be deleted, emptied from recycle bin, or performing a quick format on a storage drive. The premise of using the data recovery software is that the file is lost and intact.
But there is a chance that many people use data recovery software to find lost Excel files, however, files won't open after recovery. It also suggests that the Excel file has corrupted. In this case, among numerous data recovery tools on the web, EaseUS Data Recovery Wizard is the unique software that can repair a corrupted Excel file upon recovery.
When you lost a workbook in Excel, feel free to download the EaseUS file recovery software on your PC, and run a deep scan on the drive to find the files. Since the software can repair the corruption automatically while you check for the scan results, it will fully recover a corrupted Excel file.
Step 1. Select a location to start finding corrupted Excel files
Launch EaseUS Data Recovery Wizard, and then scan the corrupted or damaged Excel files.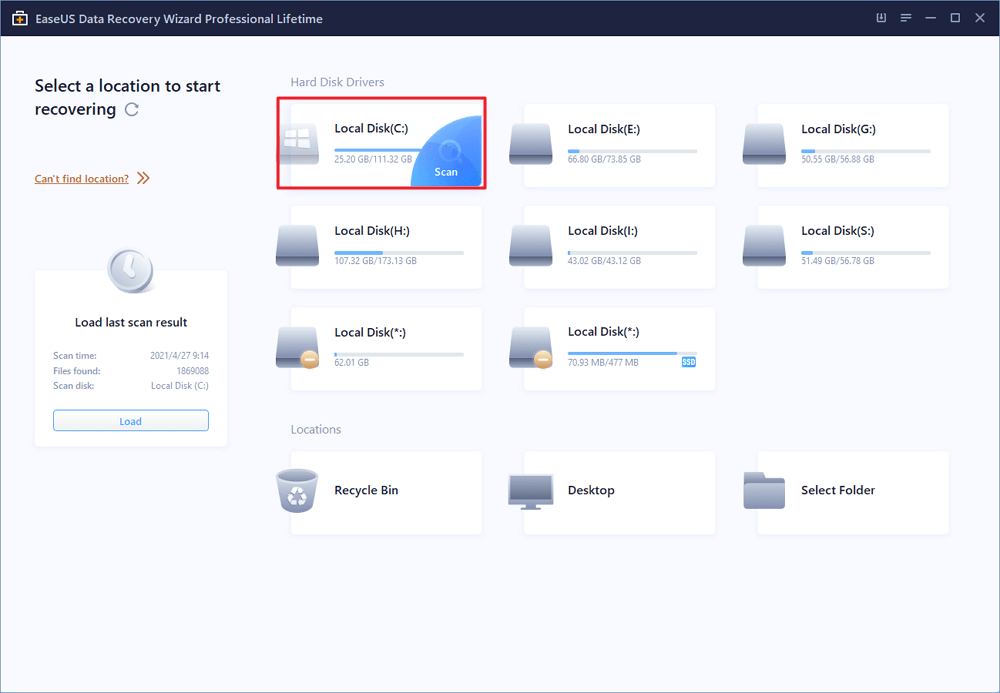 Step 2.  Scan for the corrupted Excel document
Find the damaged files through the filter, file path, search, etc.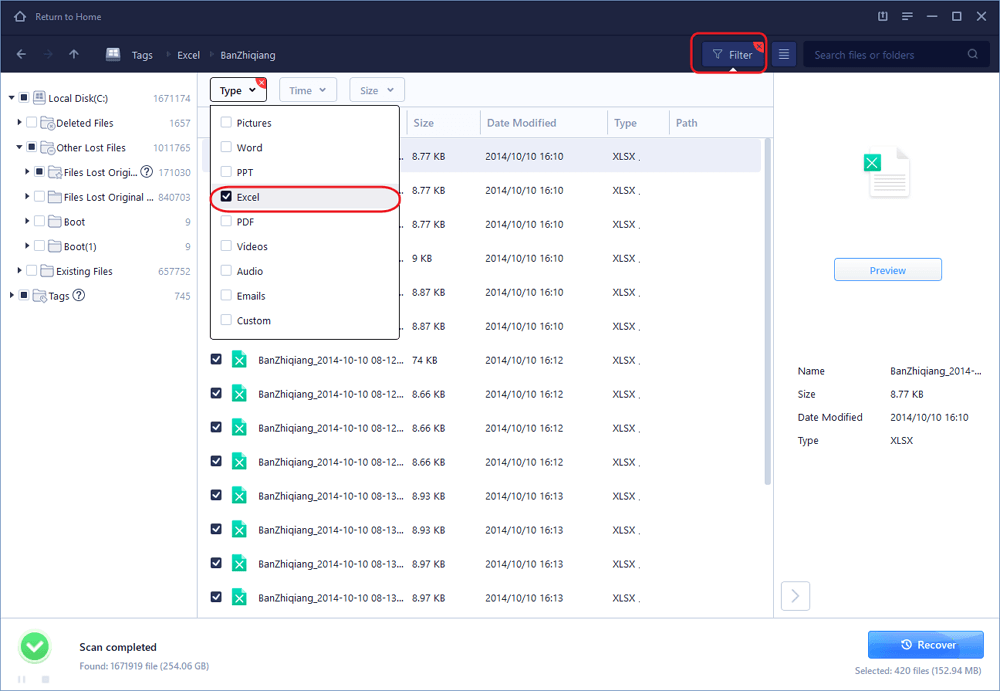 Step 3.  Repair and save the Excel file to a secure location
Double-click the corrupt excel file, and this program will automatically repair corrupted and damaged Excel files. Click "Recover" to save the repaired Excel files to a safe location.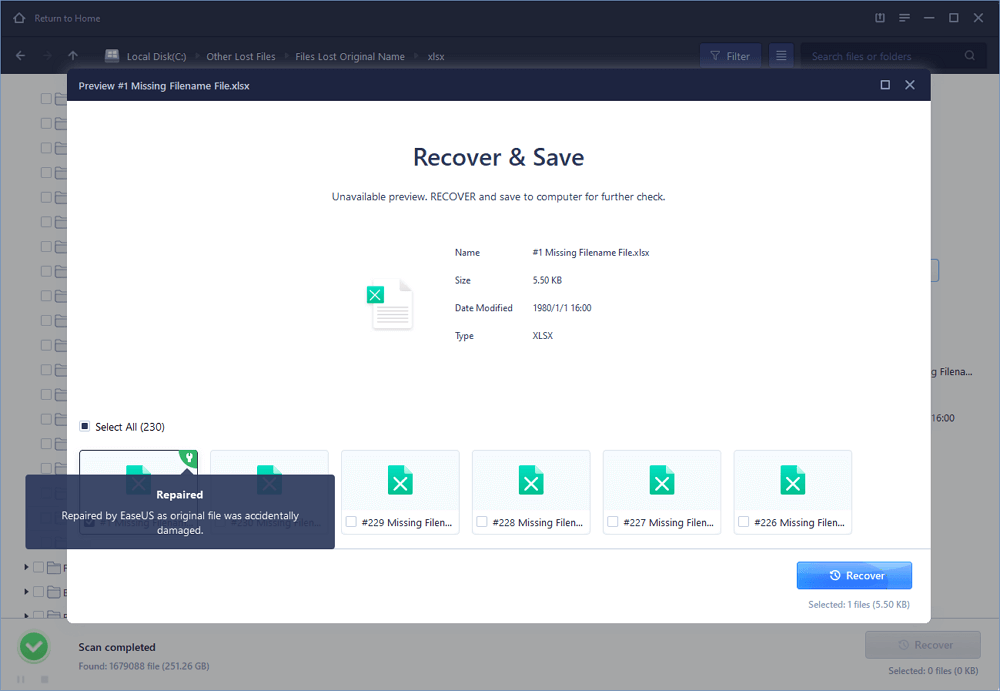 Author Jean has been writing tech articles since she was graduated from university. She has been part of the EaseUS team for over 5 years. Her special focuses are data recovery, disk partitioning, data space optimization, data backup and Mac OS. By the way, she's an aviation fan!
EaseUS Data Recovery Wizard is a powerful system recovery software, designed to enable you to recover files you've deleted accidentally, potentially lost to malware or an entire hard drive partition.

 Read More

EaseUS Data Recovery Wizard is the best we have seen. It's far from perfect, partly because today's advanced disk technology makes data-recovery more difficult than it was with the simpler technology of the past.

 Read More

EaseUS Data Recovery Wizard Pro has a reputation as one of the best data recovery software programs on the market. It comes with a selection of advanced features, including partition recovery, formatted drive restoration, and corrupted file repair.

 Read More