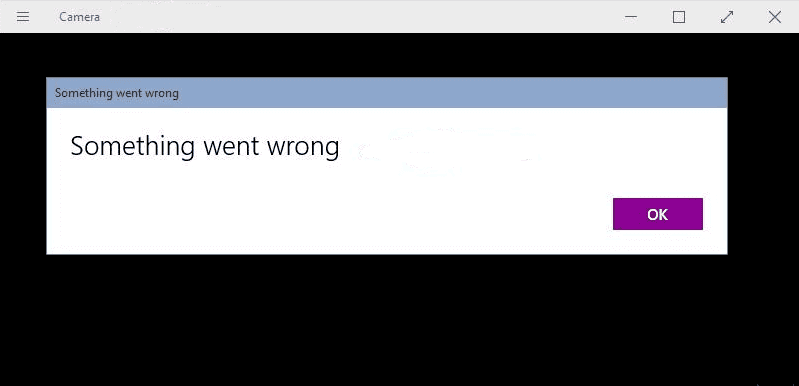 "Something went wrong" in Windows 10 camera, how to fix it?
"This is an awkward situation that the video meeting with one our partner suddenly stopped yesterday in the meeting room. After checking out what's going on, we'd found the problem. It was the Camera app which stopped working suddenly in Windows 10. Is it possible to fix the died camera app? And get the previously shot videos out? How?"
"Hi, do you have any ideas to fix the not working camera in my Windows 10? I must repair it and use the camera to talk with my girlfriend everyday. And I want to get all those lovely photos back, help please."
When "Something went wrong" message pops up in your computer, it usually means that your camera app stops working in Windows 10 due to some reasons. This may cause serious problems for business owners and personal home users. And sometimes, important personal photos or meeting videos may not be able for users to access when this problem occur on Windows 10. So how to fix such a problem and get all lost videos, photos back? Below effective methods are available for you to restore lost photos and videos and fix/repair not working camera in Windows 10 now.
Tip: Restore all lost photos and videos firstly when camera not working in Windows 10
It's highly recommended for you to restore all lost photos and videos firstly when you find out that the camera app stops working in Windows 10 and you can neither access to the camera roll to get all photos and videos out. If you need a free method, you may try to use EaseUS Data Recovery Wizard Free Edition to free restore 2GB photos and videos for free from your Windows 10 computer.
But if your photos and videos lost in Windows 10 due to camera not working are more than 2GB, you'll need professional photo recovery software - EaseUS Data Recovery Wizard for help. The Deep Scan mode in this software will thoroughly scan your computer to help you find as many photos and data as you need within 3 simple clicks. Free download this software, activate it and restore all lost photos and videos right now:
Step 1. Select the disk or location where you lost your camera photos and videos and click "Scan" button.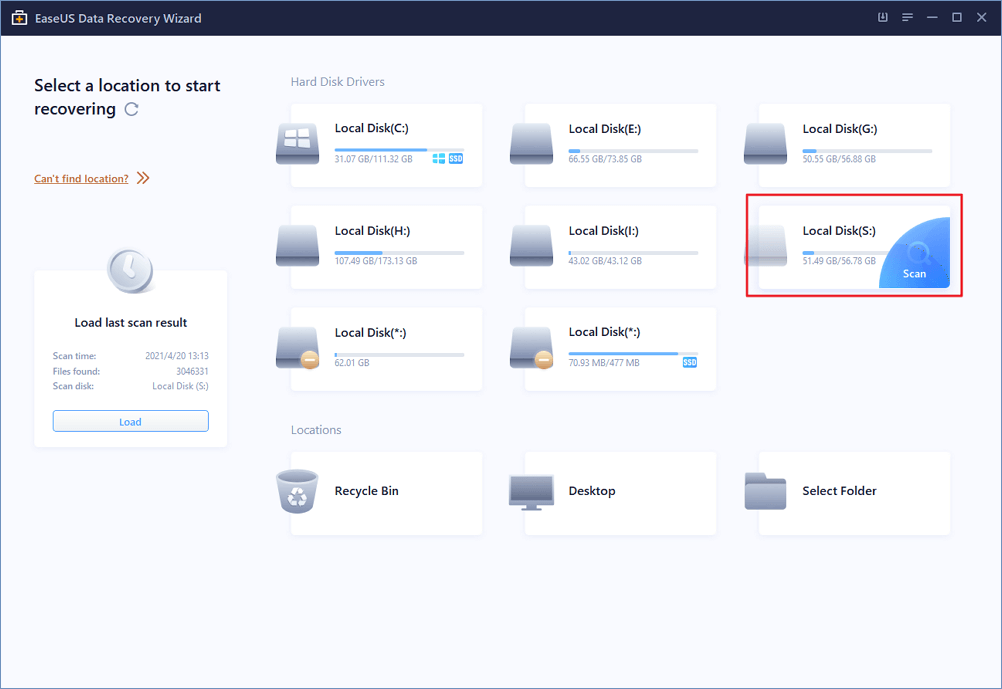 Step 2. EaseUS Data Recovery Wizard will start a quick scan first. After the quick scan completes, a deep scan will automatically launch in order to find more files.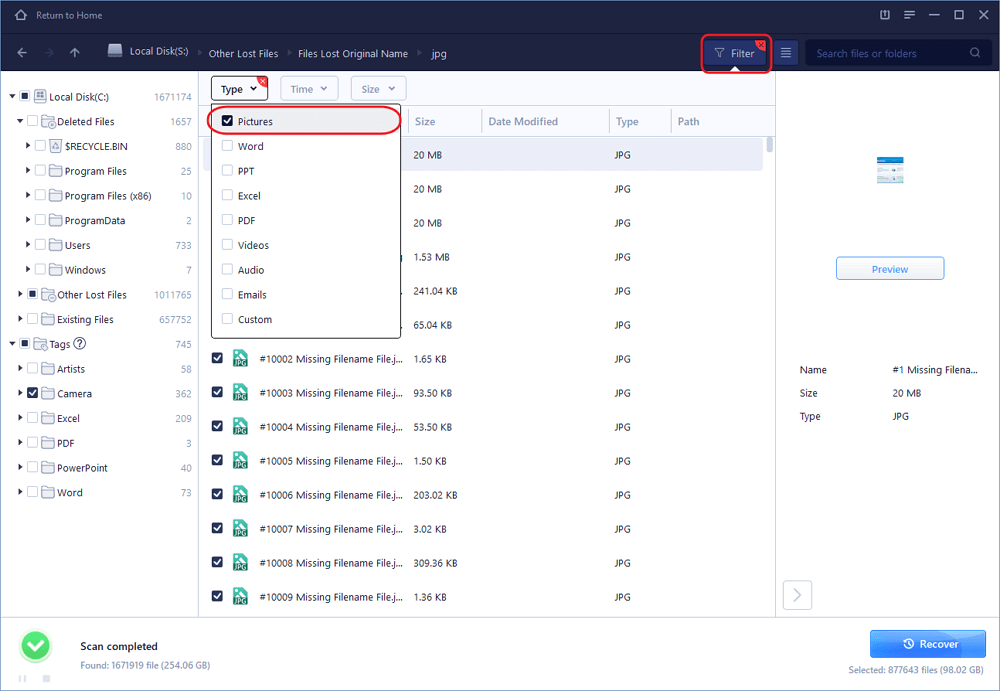 Step 3. Preview all the listed recoverable image files one by one and select the wanted photos and videos, click "Recover" button.
Here you should save all the recovered files on a different drive or memory card in case of recovery failure.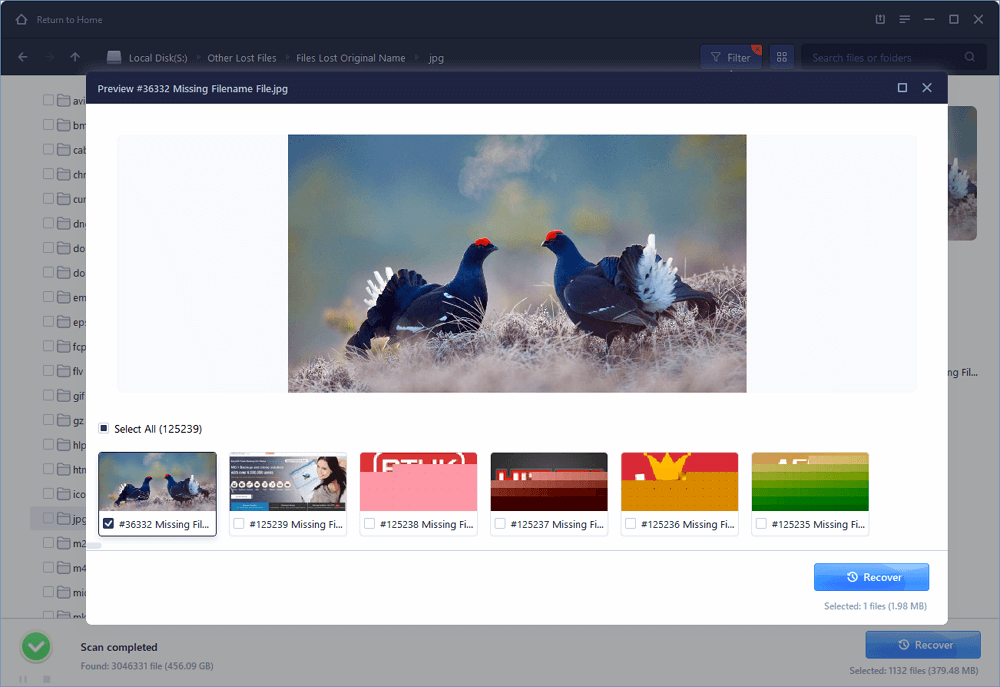 Method 1. Unlock/Turn on Camera when camera not working in Windows 10
When the camera cannot work or unable to work in your computer, please try to check whether the camera is locked or turned off. Here below, you may try to unlock or turn on camera app in Windows 10:
Go to Settings > Privacy > Camera > Turn on Camera
After doing so, you can retry to open the camera again to check out whether you can use the camera again. If not, please follow method 2 to update camera driver and thoroughly solve camera not working issue in Windows 10.
Method 2. Update camera driver in Windows 10 to solve Camera not working issue
When the camera stops working in Windows 10, it might be the reason that the camera driver is outdated. Therefore, it's highly important to update the camera driver to solve the camera not working issue in Windows 10.
1. Open Computer Management and choose Device Manager;
2. Click Imaging Devices and select Camera Driver;
3. Go to Action, click Add legacy hardware and choose Next;
4. Tick: search for and install hardware automatically and click Next;
5. Choose Imaging Devices and click Next, then find the camera driver that you want to install;
6. Click Next and let the system to install the camera driver, then click Finish.
After this, you'll be able to use the Windows 10 camera to shoot videos, take photos online again.