Summary
If you're using GRUB Stage 1.5 or Stage 2.0, you'll probably encounter the GRUB loading error 15, 17, 21 or 22, which generally occurs when GRUB is trying to load the operating systems on a computer. Specify your GRUB loading error and try the solution below to fix it. If there is data loss on the computer caused by the error, use EaseUS Data Recovery Wizard to recover it as soon as possible.
What Is GRUB
GRUB or GNU GRUB is short for GRand Unified Bootloader. It is a boot loader used on multi-OS computers that provides users the choice to choose which operating system to boot from on the computer. Different operating systems may need varying boot loaders. For example, NTLDR is the boot loader for Windows NT operating systems, and LILO is the boot loader for Linux. As for GRUB, it is the boot loader for Windows and Linux and is generally used on computers that are with both Windows and Linux installations.
Common GRUB Loading Errors
However, it's not without a problem while using GRUB. Many users have the experience of encountering the GRUB loading error during the computer startup. There are two versions of GRUB, and if you're using Stage 1.5 or Stage 2.0, you'll probably encounter grub loading error 15, 17, 21, or 22.
GRUB loading error 15
File not found. This error is displayed when the specified file name cannot be found.
GRUB loading error 17
Cannot mount selected partition. This error is displayed when the partition requested exists, but the file system type is not be recognized by GRUB.
GRUB loading error 21
The selected disk does not exist. This error is displayed if the disk is not recognized by the BIOS in the system.
GRUB loading error 22
No such partition. This error is displayed if a requested partition isn't on the selected disk.
What Causes GRUB Loading Error 15, 17, 21, 22
When you install Windows and Linux on a computer, you need to configure GRUB correctly to boot from one of the operating systems successfully. Or you may encounter GRUB loading errors, like error 15, 17, 21, and 22. The common GRUB loading errors might be caused by:
Improper configuration of GRUB
The wrong installation location of GRUB
Accidental deletion of GRUB
The corruption of MBR
How to Fix GRUB Loading Error 15, 17, 21, 22
The solutions differ based on the error you are faced with. Specify the error message you encounter and carry out the corresponding solution.
Fix GRUB Loading Error 15
Make sure the kernel exists. To find out what the exact kernel name is, boot from the Live CD, and mount /boot depending on your partition and then do the following: cd /boot | ls
Fix GRUB Loading Error 17
Make sure your root(x,y) settings are right in your Grub.conf. You could use a distribution CD or Live CD to set up Grub as shown below. (h0,0) means the first hard drive and the first partition on that drive.
sudo grub
root (hd0,0)
setup (hd0) exit
Fix GRUB Loading Error 21
Step 1. Boot the computer from the Ubuntu installation disc.
Step 2. Run Command Prompt as an administrator.
Step 3. Enter the following command:
Fix GRUB Loading Error 22
Step 1. Restart the computer and press "F8" until you see the options.
Step 2. Go back to the menu where you can choose the operating system.
Step 3. Choose "Microsoft Windows Recovery Console". (You may need your Windows installation disc to access the recovery console.)
Step 4. If you are asked to choose the system drive, enter the number in front of the system drive listed.
Step 5. Enter the account password as required. Run the command fixmbr and enter "y" to confirm the operation.
Step 6. Enter "exit" and restart the computer.
How to Recover Data Lost due to GRUB Loading Error
Applying the fix for a specific grub loading error in the Windows environment may data loss. Some operations would format the disk partition or delete hard drive contents, so it's necessary to learn more about the data recovery solution after successfully getting rid of the grub loading error.
The hard drive recovery software - EaseUS Data Recovery Wizard specializes in file recovery on the desktop, laptop, internal hard drive, external hard drive, removable USB flash disk, pen drive, memory card, and many more storage devices. The accidentally deleted or formatted hard disk data can be effectively restored in simple steps. To recover data lost due to the GRUB loading error:
Step 1. Select a location to scan.
Launch EaseUS Data Recovery Wizard, hover on the partition, external hard drive, USB, or memory card from which you want to perform data recovery, and then click "Scan".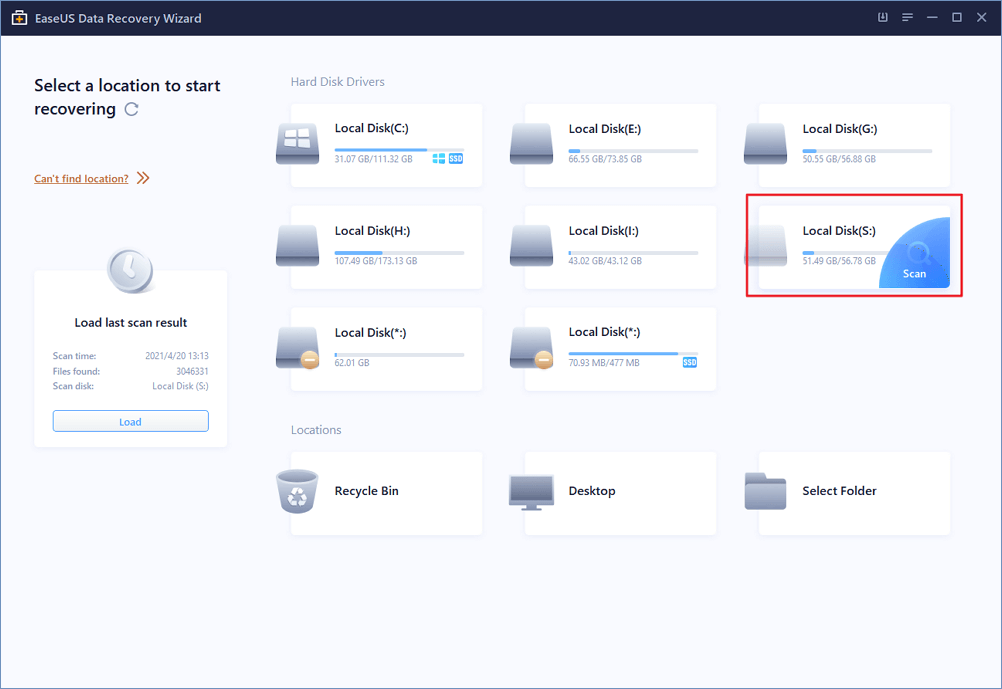 Step 2. Select the files you want to recover.
Wait until the scanning completes. Afterward, select the lost files you want to recover. If you need, double-click the file to preview its content.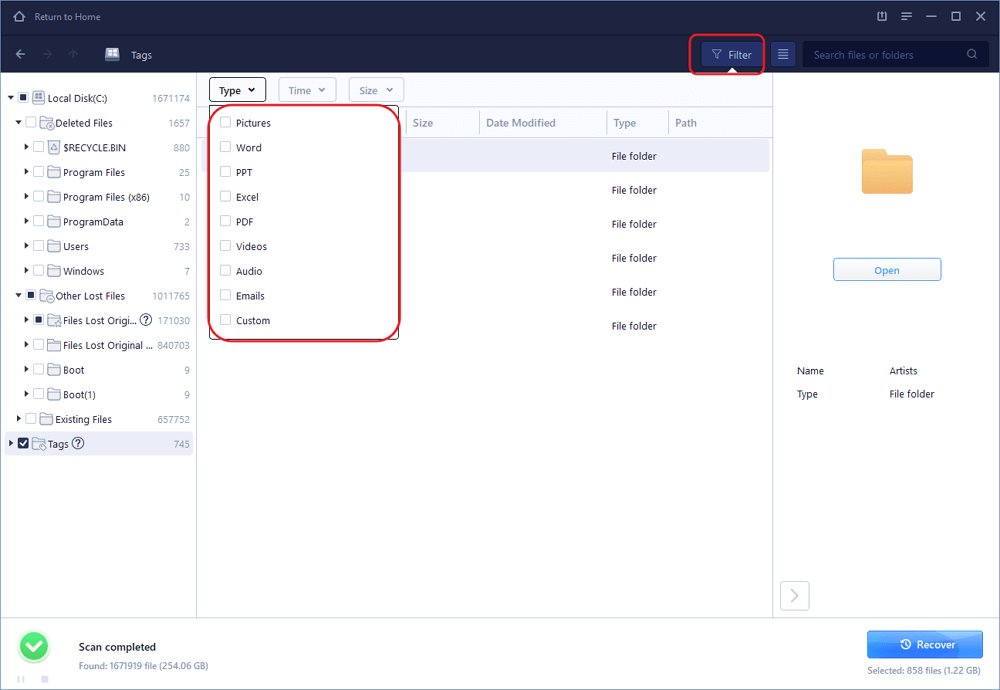 Step 3. Recover lost data.
After choosing the files, click "Recover" and choose a location on another drive to save the recovered files.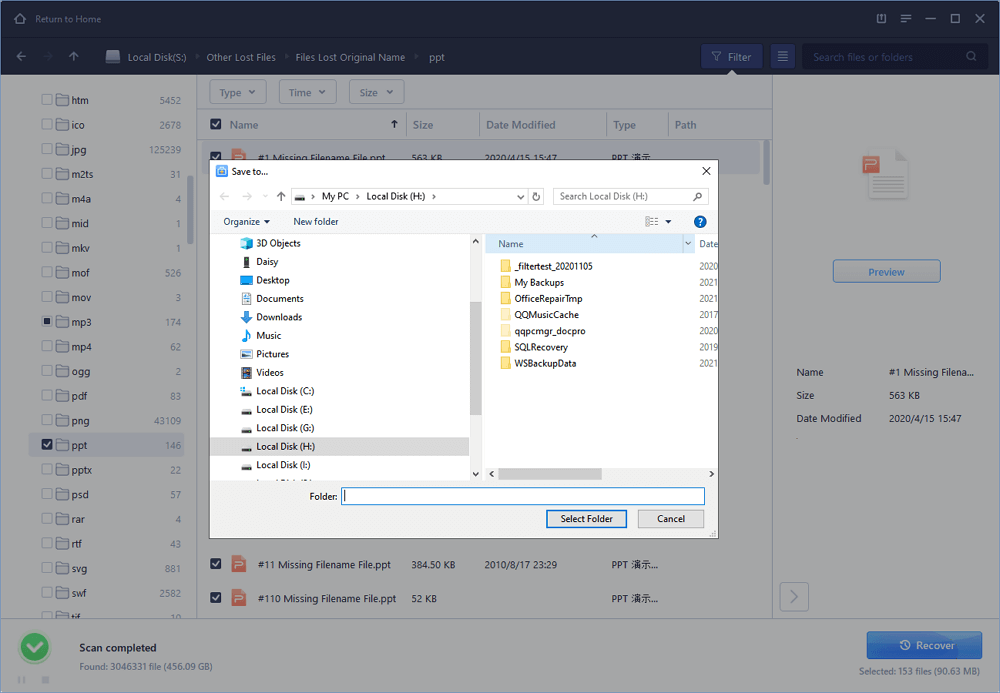 The Bottom Line
GRUB loading errors always occur on computers with dual OS, and each error code is informative since it indicates what the possible cause is. Apply the solutions provided to cope with the issue and use EaseUS Data Recovery Wizard to retrieve the data when data loss happens.
100% of people found this article helpful.
Frequently Asked Questions
1. Why choose EaseUS Data Recovery Wizard?

"EaseUS Data Recovery Wizard is the best we've seen. It's far from perfect, partly because today's advanced disk technology makes data-recovery more difficult than it was with the simpler technology of the past, but it's fast and efficient..." —PCMag

"The first thing you'll notice about EaseUS Data Recovery Wizard Pro is that its interface is very clear and uncluttered, with only a small collection of self-explanatory controls. You won't find lots of extra options hidden in a system of hidden menus, either; what you see really is what you get." —techradar

"Recover lost files, even after deleting a partition or formatting your drive." —Macworld
2. Why cannot I recover 2GB data for free?

It is recommended to check the version installed is Free or Trial because they are different versions.

Trial has data preview function but cannot save any files, while the Free version enables to recover 2 GB files. The default free space is 500 MB and you may share the product on social media to get another 1.5 GB.
3. Why cannot the recovered files be opened?

A file is saved as 2 parts on the storage device: directory info (which is comprised by file name, time stamp and size info, etc.) and data content.

If the files with original file names and folder structures cannot be opened, one possible reason is the corrupted directory info. There is still a chance to recover the data content with the RAW Recovery method in our software.
4. Why isn't it suggested to recover the files back to the original drive?

The storage structure of the lost files would be altered or damaged by any changes on the drive. If you save the recovered files back to the same drive, the original data structures and data content would be corrupted or overwritten, which causes permanent data loss. So you should prepare another disk to save the files.
5. How can I check whether my data is recoverable or not before purchase?

The Free version helps you save 2GB files to better verify the recovery quality of our product before purchase.
6. How long does it take to scan the drive?

It strongly depends on the capacity of your hard drive and the performance of your computer. As reference,most drive recoveries can be completed in around 10 to 12 hours for a 1-TB healthy hard drive in general conditions.
About Data Recovery Wizard
It's super easy to recover 250+ types of files after deletion, disk formatting and virus infection. Click the links and compare the difference of each version.