
Table of Contents

About the Author

Reviews and Awards

Best Data Recovery Software for 2021
Most Windows users have been told that when finish using the USB flash drive or external hard drive, you should eject the storage device under safe remove mode so that you can minimize the probability of losing data. However, one weird situation is when you click "Eject Mass Storage", a popping-up Windows is saying that "The device is currently in use. Close any programs or windows that might be using the device, and then try again."
This situation happens from time to time, sometimes you can fix it, sometimes you can't. In this article, we will focus on how to fix this problem. Keep reading and check more details.
Why Won't My External Hard Drive Eject
Two reasons prevent you from safely ejecting your external hard drive.
Contents of the device are being used. If a background process or application is using files stored on the external hard drive, it may cause this problem.
Windows USB drivers. Sometimes, a USB driver malfunctioning on the system can cause eject failure.
In the first situation, you can eject the external hard drive by closing all the open files and programs. But on the other situation, even though you've closed all the files and programs as the error message told, you still cannot safely remove your storage device. In the following parts, we will tell you how to fix the external hard drive that won't eject.
Method 1. Restart the Computer
A reboot can be a panacea. Since the external hard drive cannot be removed safely because of a computer USB driver failure. A simple restart could refresh your computer operating system and fix your problem.
Method 2. Run Windows Hardware and Device Troubleshooter
Another method you could try is to run the Windows built-in troubleshooter - Windows Hardware and Device Troubleshooter. This tool is designed for Windows users, allowing them to repair simple hardware and device failures by themselves. Here's the detailed guide.
Step 1. Right-click the Windows key, choose Settings.
Step 2. Find Update and Security.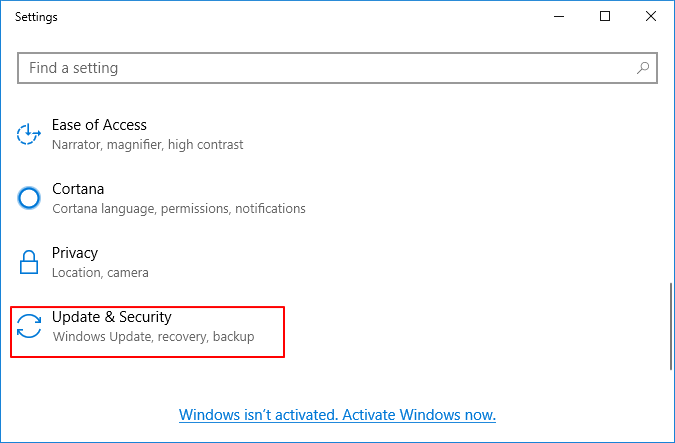 Step 3. Click Troubleshoot to enter the Windows troubleshoot panel.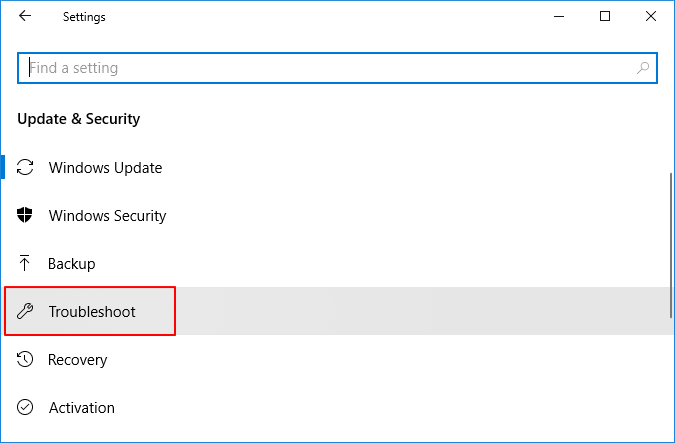 Step 4. Find and choose Hardware and Devices, then click "Run the troubleshooter".
Step 5. Your computer will start to scan your computer and install drivers and updates. After the process is finished, click "Apply this fix" to restart your computer.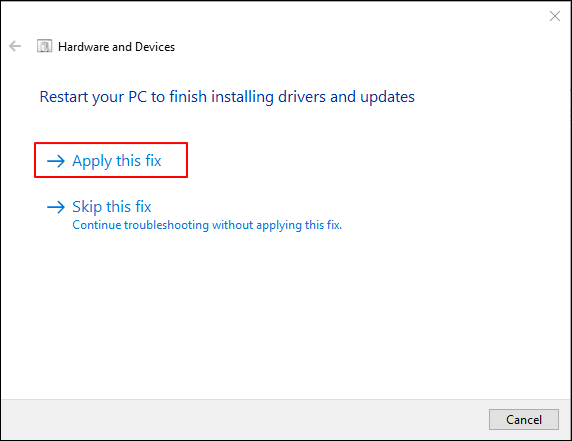 Method 3. Eject with Device Manager
When we want to eject our mass storage device, usually will find the USB icon in the taskbar, right-click it and choose "Eject Mass Storage". If you have trouble with this process, you can go to the Device Manager, and eject your external hard drive with it.
Step 1. Right-click the Windows key, choose Device Manager.
Step 2. Click Disk drives and check the configuration of each device under disk drives.
Step 3. Under one of the options, we found that we could select between "quick removal" and "better performance".
Step 4. Choose better performance. You need to shut down and power back up for the selection to take effect. Now you can eject your external hard drive.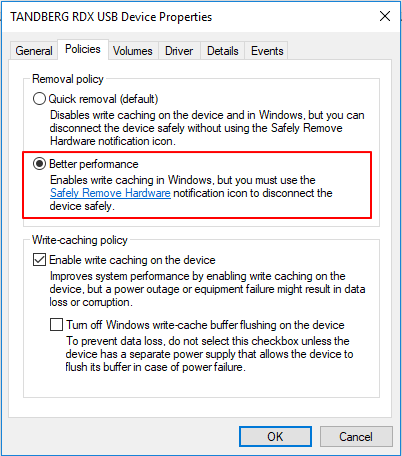 Method 4. Use Task Manager to End Tasks
The next method we want to introduce is to use the Task Manager to remove the external hard drive. Here's how to do it.
Step 1. Right-click the Windows key, choose Task Manager.
Step 2. Right-click any process or program which seems to interfere with the safe removal of external hard drive, and chooses End task to terminate it.
Method 5. Update USB Drivers
As mentioned before, the possible reason why you can't eject your external hard drive is USB driver malfunctioning. So updating the USB driver can solve the problem. Please follow the steps below to update USB drivers.
Step 1. Right-click the Windows key, choose Device Manager. 
Step 2. Under Device Manager, find and expand the Universal Serial Bus controllers category.
Step 3. Right-click the USB device, choose Update driver. Select the "Search automatically for updated driver software" option, and Windows will start looking for the newer version of the USB driver to install.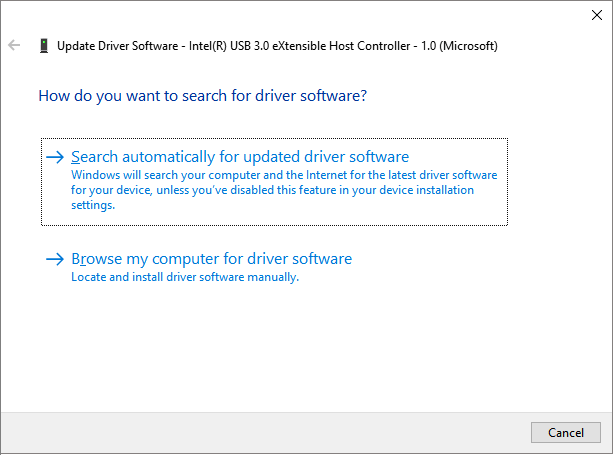 Do You Really Need to Safely Remove Storage Devices?
After introducing all the methods that can help you fix the external hard drive that won't eject problem, let's discuss something different. You've probably heard that you always need to click Safely Remove Hardware before unplugging a USB device, otherwise you might lose your device data. Well, do you really need to do this?
Microsoft has confirmed that it's no longer a thing you need to worry about in Windows 10. Windows 10 has a feature called "quick removal" that lets you unplug a drive anytime (as long as you're not actively writing files to it), and it's now the default setting for each new drive you plugin as of Windows 10 version 1809, according to Microsoft's support guidance.
So it means next time you want to unplug an external hard drive or a USB flash drive, you don't need to execute the process of safely ejecting a storage device.
Bonus Tip: How to Recover External Hard Drive Lost Data
One of the most concerning issues for users is that if the storage device is not ejected safely, will the data on the external disk be lost? As Microsoft has confirmed that the "quick removal" will protect your data, you don't need to worry about this. Even if you lost your external hard drive data, you could apply dedicated data recovery software to recover the lost data.
EaseUS Data Recovery Wizard is a good choice, it is designed to recover lost data under various data loss scenarios. The operation is very simple, too. Both beginners and experts can recover data by themselves in three simple steps.
Step 1. Connect the external drive to PC for a scan
Connect the external hard disk to your PC and let Windows recognize the disk and assign it a drive letter. Now launch EaseUS Data Recovery Wizard for Windows. Find your drive you want to recover and click Scan.
Step 2. Check the scan results
The scan process takes place in two stages, including a quick scan and deep scan. Deep scan is for searching lost data files that even lost file names, so it's worth waiting longer for the whole scan process to finish and find all desired data. You can try to preview the found files one by one by following their original paths from the leftside tree-view pane, or simply use the Filter function to specify the file type of one kind, like pictures, videos, documents, emails, etc.
Step 3. Select files and recover
Finally, when you are satisfied with the preview results, you can start to select the target files and use the Recover button to get them all back. We suggest you save the recovered files to a location other than the original external hard drive where you lost data.
Conclusion
If your external hard drive won't eject, don't worry, this article has prepared many efficient methods for you. Moreover, Microsoft has confirmed that you don't need to safely remove storage devices on Windows 10 anymore. So you might not encounter the same problem next time.
Gemma is member of EaseUS team and has been committed to creating valuable content in fields about file recovery, partition management, and data backup etc for many years. She loves to help users solve various types of computer related issues.
EaseUS Data Recovery Wizard is a powerful system recovery software, designed to enable you to recover files you've deleted accidentally, potentially lost to malware or an entire hard drive partition.

 Read More

EaseUS Data Recovery Wizard is the best we have seen. It's far from perfect, partly because today's advanced disk technology makes data-recovery more difficult than it was with the simpler technology of the past.

 Read More

EaseUS Data Recovery Wizard Pro has a reputation as one of the best data recovery software programs on the market. It comes with a selection of advanced features, including partition recovery, formatted drive restoration, and corrupted file repair.

 Read More