
Table of Contents

About the Author

Reviews and Awards

Recover Deleted Files in Windows 10/11
#1. Instant troubleshooting steps that worth a try in advance:
If your are able to make changes but not save changes in Excel due to a read only error, use the "Save As" option.
If a spreadsheet on a network drive does not allow you to make changes at the moment, prompting a read only error, just copy the spreadsheet to a local drive for editing, or wait for another user to finish using this file
Try restarting the computer if you feel bored to try every manual fix behand
#2. Manual Troubleshooting for Excel keeps opening in the read only mode
Workable Solutions
Step-by-step Troubleshooting
5 Official Tips from Microsoft
Fix 1. Check Antivirus Program Settings...Full steps
Fix 2. Remove Excel File Read Only in Properties...Full steps
Fix 3. Disable Protected View in Excel...Full steps
Fix 4. Upgrade OneDrive Storage...Full steps
Fix 5. Activate Office...Full steps
5 Working Tips from Third-party
Fix 6. Repair Microsoft Office...Full steps
Fix 7. Check Permissions and Get the Privilege...Full steps
Fix 8. Check and Update Office and Windows...Full steps
Fix 9. Remove Read only from A Storage Device...Full steps
Fix 10. Repair Corrupted Excel File...Full steps
Why Does My Excel Worksheet Open in Read Only?
There are several reasons for Excel suddenly open in the read only mode, which prevents you from editing the workbook in Excel online and desktop application. The major causes are usually connected to locations, users, spreadsheet settings and file corruption.
- Locations: [1] If the spreadsheet is on a network folder and you do have appropriate network permissions to make changes in the folder, the spreadsheet is read only; [2] The excel workbook is located on a locked USB drive or SD card that is read only; [3] The Excel workbook is from an email attachment and you preview the file within the email program, and it's likely to open in read only.
* Related Solutions - Go and ask for full permissions
- Another user: If the Excel file is reporting that the spreadsheet is in use by other user and providing options for viewing the spreadsheet, it's because the file can only be edited by one user at a time. Once the other user closes the worksheet, the read only mode will be automatically cleared.
* Related solutions - Wait for other user finishing editing the workbook
- Spreadsheet settings: This can be partially or completely a problem of read only. Microsoft Excel has the option to set a password to lock the current worksheet to avoiding others modifying or making changes to the file.
* Related solutions - Ask for the password, or remove the password protection
- File corruption: Excluding the above three causes, the read only in this case is more likely to be a corruption issue in the file.
* Related solutions - repair file corruption with proper file repair utilities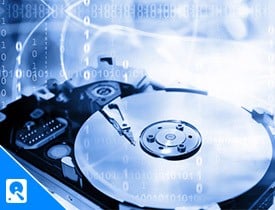 Microsoft has officially outlined five workarounds for users to fix the Excel read only error in Windows 10, 8.1, 8 and 7. Check the given solutions one by one and apply to your own case. You can apply the solutions to Office 2019, Office 2016, Office 2010, and Office 2013.
Fix 1. Check Antivirus Program Settings and Remove Read Only
Particularly for those who installed third-party antivirus programs on PCs, it's necessary to check with your antivirus provider to idendify if it's the protection mechanism within the software settings. Some antivirus programs may protect you from potentially unsafe files by opening them in the read only mode.
Fix 2. Remove Excel File Read Only in Properties
Windows File Explorer offers the option of read only in Properties. Any file or folder can be set as read only there. You should check the Excel file status in Properties to see if the option is checked. If yes, uncheck "Read only", and this will help you remove the read only attribute from the file and access the file for editing as normal.
Right-click onthe file and choose Properties. Under the General tab, if the Read-only attribute is checked, uncheck it and click OK.
Fix 3. Disable Portected View in Excel to Remove Read Only
Protected View is a read-only mode you can apply in MS Office where most editing functions are disabled. It protects you from opening files from unsafe locations which may contain viruses, worms and malware. If the Excel file is a suspecious one and you want to edit it anyway, you must exit the Protected View in Excel workbook.
Open Excel, click File > Options > Trust Center > Trust Center Settings...> Protected View.
Uncheck the options associated with the protected items.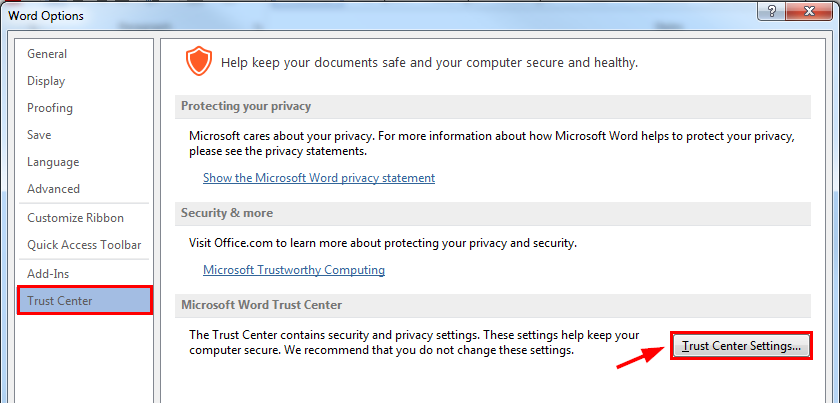 Fix 4. Upgrade OneDrive Storage to Clear Read Only
Is OneDrive full? You must check the OneDrive free storage if the read only file happens to store on OneDrive. Once the storage is full, you will not be able to save any file until get sufficient storage space.
Fix 5. Activate Office to Remove Read Only
If Office is not activated, or if your subscription has expired, you could be in read-only Reduced Functionality Mode. 
This is where you can activate Office, or troubleshoot unlicensed product and activation errors in Office: https://support.microsoft.com/en-us/office/unlicensed-product-and-activation-errors-in-office-0d23d3c0-c19c-4b2f-9845-5344fedc4380
Besides, according to the analysis of behind reasons that cause the Excel keeps opening in read only, the troubleshooting methods are not limited to the Microsoft's suggestions. In addition, we gathered another five fixing methods from third-party sources and experienced users who tested effective.
Fix 6. Repair Microsoft Office
If you receive the error that clearly says "Excel cannot open read-only documents", and you try to open Word or PowerPoint still get the same error referring to 'read only', the problem may come from your MS Office installation. You can try to repair the Office program to remove the error.
Press Windows +R keys and type appwiz.cpl and click OK to open Programs and Features in Control Panel.
Locate Microsoft Office among the available programs, right-click on it and choose Change.
Select Quick Repair and click the Repair button.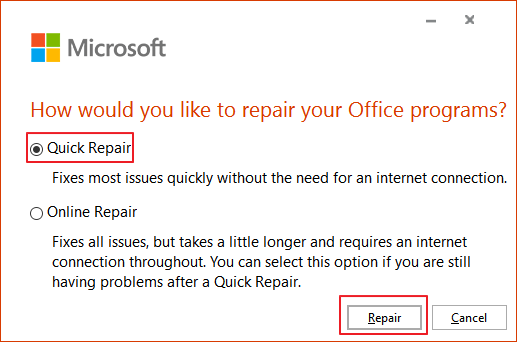 Fix 7. Check Permissions and Get the Privilege
This is the location issue that causes a read only error, especially when the Excel file is on a network drive that asks for a write permission. In this case, you should get the particular network read and write permission from the administrator. Or else, you can only copy the file from the network location to a local drive to edit and save changes, and then copy it back to the network location.
Fix 8. Check and Update Office and Windows
Read only is one of the major issues in an outdated Office version as well as Windows operating system. Some critical Office update and OS upate may solve the incompatibility issue that disable the write ability in a document. If it's trouble-free for you to install an update, go and get the latest one.
Fix 9. Remove Read only from A Storage Device
Sometimes the read only is from the storage device not the file itself. When your storage drive is locked, especially a USB flash drive or memory card that has a lock switch on it, the files in the drive will be protected with a read only attribute, too. Hence, unlocking the device can help remove the file error.
If you don't consider yourself a pro-computer user and you're not familiar with command-lines, don't worry. There are graphical-based solutions to help you remove write-protection from your hard drives, USB drives, and even SD cards.
EaseUS CleanGenius is one of these tools that helps you fix aforementioned issues on your drives without knowing a thing about command-line.
Here's an easy-to-follow guide on how to use this tool to get your issues sorted:
Step 1:  DOWNLOAD and install EaseUS CleanGenius (free) on your computer.
Step 2: Run EaseUS CleanGenius on your PC, select Optimization and choose the Write Protection mode.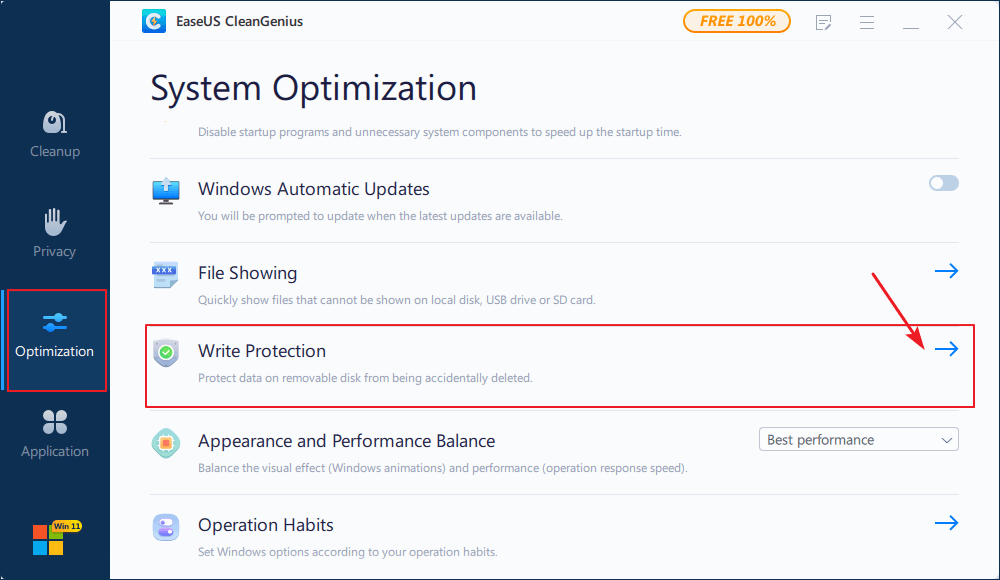 Step 3: Select the device that is write-protected and click Disable to remove the protection.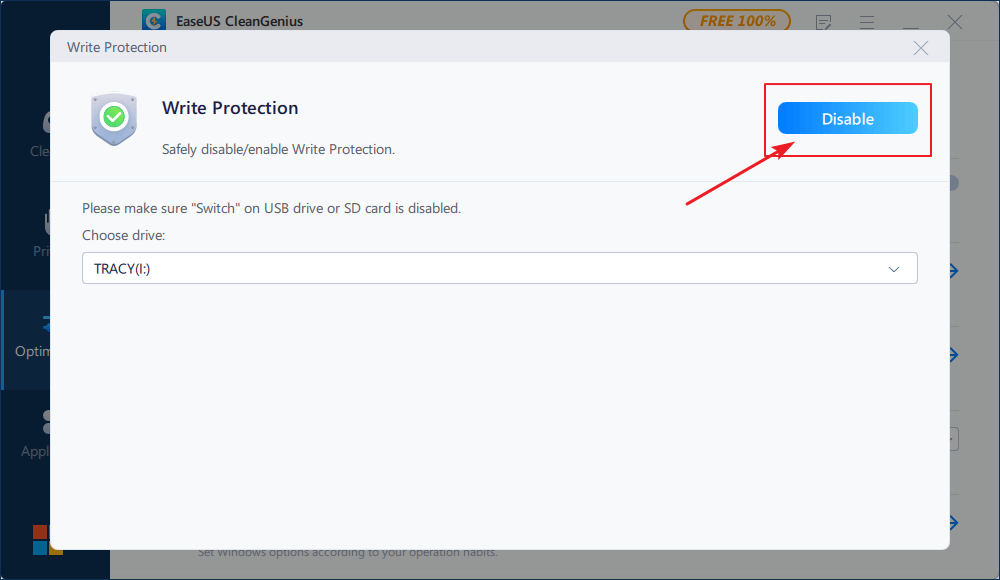 Fix 10. Repair Corrupted Excel File
In some cases file corruption can make a spreadsheet read only. If all the 9 fixes above have failed to solve your case, you need to consider the last possible reason. 
To repair a corrupted Excel workbook that keeps opening in read only, use the Open and Repair tool in Office.
On the File tab, click Open.
In Excel 2013 or Excel 2016, click on the location where the spreadsheet is located, and click Browse.
In the Open dialog box, select the corrupted workbook that you want to open.
Click the arrow next to the Open button, and then click Open and Repair.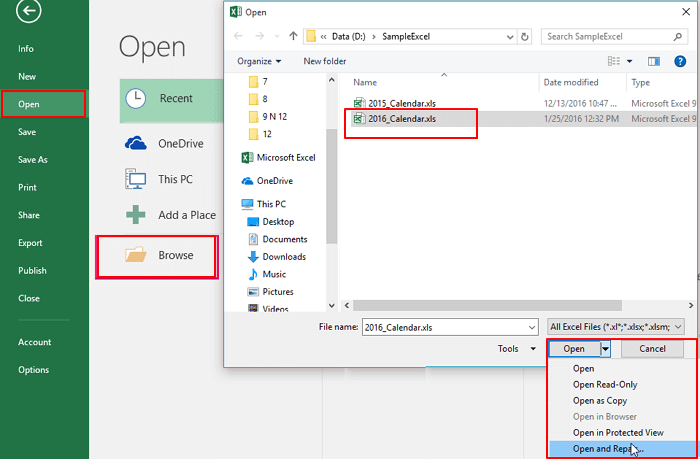 To recover as much of the workbook data as possible, click Repair.
To extract values and formulas from the workbook when an attempt to repair the workbook is not successful, click Extract Data.
To Be Continued: Are You Interested in Excel File Recovery Software?
The EasesUS Data Recovery Wizard recommendation here is not for fixing a read only error or repairing a corrupted Excel workbook. We feel it necessary to introduce an intelligent data recovery program for you because careless deletion happens every day in every place. Additionally, we can hardly avoid natural disasters that cause heavy data loss, such as a hard drive corruption, RAW file system, virus infection, disk formatting and more.
Luckily, a capable data recovery tool like EaseUS Data Recovery Software can handle a serious data loss case well. It's good at retrieving all types of lost data from various data loss scenarios. What's more, if the recovered file won't open and corrupted, it will automatically repair the corruption for you and return you an intact file with content.
EaseUS Data Recovery Wizard
Recover lost or deleted files, documents, photos, audio, music, emails effectively
Recover files from formatted hard drive, emptied recycle bin, memory card, flash drive, digital camera, and camcorders
Support data recovery for sudden deletion, formatting, hard drive corruption, virus attack, system crash under different situations

Author Jean has been writing tech articles since she was graduated from university. She has been part of the EaseUS team for over 5 years. Her special focuses are data recovery, disk partitioning, data space optimization, data backup and Mac OS. By the way, she's an aviation fan!
EaseUS Data Recovery Wizard is a powerful system recovery software, designed to enable you to recover files you've deleted accidentally, potentially lost to malware or an entire hard drive partition.

 Read More

EaseUS Data Recovery Wizard is the best we have seen. It's far from perfect, partly because today's advanced disk technology makes data-recovery more difficult than it was with the simpler technology of the past.

 Read More

EaseUS Data Recovery Wizard Pro has a reputation as one of the best data recovery software programs on the market. It comes with a selection of advanced features, including partition recovery, formatted drive restoration, and corrupted file repair.

 Read More