Basic Understanding of SD Card
SD card, being short for Secure Digital card, is a highly-sophisticated and non-volatile memory card format. Most SD card are developed by Matsushita, SanDisk, and Toshiba for using in portable devices. It is available in standard and high-capacity formats along with a variety of speed classes.
Today it is widely used in digital cameras, handheld computers, PDAs, mobile phones, GPS receivers, and video game consoles. Standard SD card capacities range from 4 MB to 4 GB, and for high capacity SDHC cards from 4 GB to 32 GB as of 2008. Announced at the 2009 CES a new specification (SDXC) (eXtended Capacity) will allow for 2TB capacity cards.
For example, A camera that stores images digitally rather than recording them on film. Once a picture has been taken, it can be downloaded to a computer system, and then manipulated with a graphics program and printed. And SD card in camera is used for image storage.
Besides, Using decoder software, an SD compatible device can play music, video clips and more without a drive mechanism like those in CD and DVD players. This allows the equipment to be more compact and gives product designers new creative freedom. Reliability is also improved through the elimination of skipping on music and video files.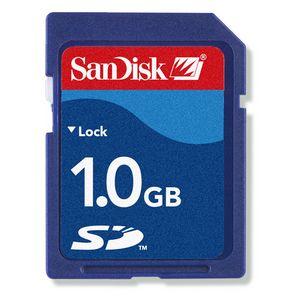 Since this card is so amazing, what else we should be aware of? Is there any problems that ordinary users may come across? Here the following, we'll introduce three different software for helping you solve different troubles that may happen to your SD card.
SD Card Data Recovery Software
Though SD card works great in offering space for users with their different demands, sometimes losing data on SD card is unavoidable. And serious result or loss may get caused due to different reasons like careless operation, virus attacking and even unknown reasons.
Facing with such a problem, a free data recovery software like EaseUS Data Recovery Wizard Free Edition can help. It is compatible with all Windows OS. And you can recover lost files due to deletion, format, raw partition, virus attack, system crash etc. from SD card, external hard drive, hardware RAID, hard drive, USB drive, memory card, etc.
Free SD card Backup Software
If your data on the SD card has been overwritten by new content, then the chance to recover tem will be little. For better data security of the SD card, EaseUS offer you free backup software - EaseUS Todo Backup. It provides system backup & restore, hard disk or partition backup & restore, disk clone to protect your system and disk. It can back up whole PC, including the operating system plus your data, applications, settings and everything!
Free SD card Partition Management Software
If the partitions on your SD card cannot satisfy the needs, say, the system partition runs out of place due to system updates or any other reasons, your system will run slow and the performance of the computer will be degraded. EaseUS Partition Master is a good choice to solve this problem. EaseUS Partition Master Home Edition is a FREE IDE disk partitioning utility for extending system partition, better disk space management, settling low disk space problem under Windows. Free Download Now!