An SD card can become corrupted due to different causes. Most common include physical damage, logical corruption, or a file system error. Physical damage can occur if the card is dropped or otherwise physically damaged. And the logical error appears when the SD card is improperly removed from a device or becomes infected with a virus. The file system issue will arise when the SD card is formatted incorrectly or becomes RAW.
Have a corrupt SD card? Do not fret. There are some things you can do to try and repair it. First, you should check whether the card is physically damaged. If so, there is likely nothing you can do to fix it, and you will need to replace the card. However, several workarounds are practical if the card is not physically damaged or has a file system issue.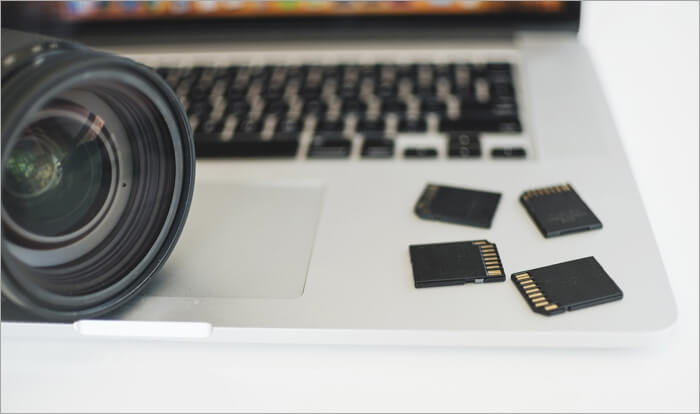 This article will explain every SD card damage problem and fix it. You can efficiently finish SD card repair on Windows 10 and Android. Working slowly and carefully when trying to repair a corrupt SD card is essential. Rushing the process often makes things worse and even permanently damages the card. If you are not confident in your ability to repair SD cards, it is best to seek professional help. EaseUS data recovery services have the proper tools and expertise to fix your SD card safely.
SD Card Repair on Windows 10
You may have a problem with a functioning SD card malfunctioning without warning. But most SD cards show some symptoms of damage before they stop working. So let's find out together.
You insert the SD card into a digital camera or computer, but why can't it be detected? The SD card not showing up may be because the SD card interface is dirty, the card slot is rusted or twisted, the SD card is infected with a virus, or the SD card is broken. In these cases, you can use an eraser to wipe the metal part of the SD card, or be sure to insert and remove the SD card when the device is turned off and perform a comprehensive scan and antivirus on the SD card regularly. 
If you have done all these, but the SD card still has the problem of not being detected, you can continue to try our advanced solutions below.
"My SD card not showing full capacity. How can I format the memory card back to the correct capacity?"
The main reason SD cards show the wrong size is that some card readers or host devices do not support large-capacity SDHC or SDXC memory cards. If the card reader or device does not support large capacities, the memory card will be partitioned to the capacity supported by the card reader or host device. For example, suppose the card reader supports SDHC memory cards with a maximum capacity of 32GB. In that case, formatting a 64GB SDXC memory card with this card reader will cause the card to be repartitioned to 32GB, which is far less than the actual capacity of the SD card. 
Other possible indications of SD card damage include read/write problems, connection matters, formatting troubles, etc. If you find the issue beforehand, you can back up your data in time and use the following methods to repair the SD card on Windows 10.
Fix 1. Fix Corrupted SD Card Without Formatting 
When the SD card not reading or the SD card is not recognized on your Windows computer, you can fix the problem without formatting, which will lead to data loss. First, if you have access to another computer, try connecting the SD card to it and see if it can be read. If not, try using a different SD card reader or a USB adapter.
If this method fails, you can repair the corrupt SD card with the CHKDSK command or the disk error checking tool embedded in Windows 10. Other feasible ways are using Windows Troubleshooter, reinstalling the SD card driver, updating outdated SD card driver, changing the drive letter, or turning to the manufacturer for SD card repair.
Fix 2. Format SD Card Without Data Loss
After trying the basic solutions but finding the SD card is still not working? Don't be anxious. Let's move on. You can try using data recovery software to retrieve files from the SD card and then format the SD card to fix it with your computer's built-in utility or a third-party software program. 
EaseUS Data Recovery Wizard helps you quickly restore files from corrupted, damaged, inaccessible, or RAW SD cards. It can recover deleted and formatted from all devices like SD cards, USB flash drives, pen drives, external hard drives, HDD, SSD, laptops, and so on. 
After data recovery, you can reformat the SD card to repair it without worrying about data loss. Here are the steps for formatting SD cards using File Explorer. For the complete SD card formatting tips, navigate to the topic page.
Step 1. Press Windows + E to open File Explorer.
Step 2. Right-click on the corrupted SD card and choose "Format".
Step 3. Select a file system as you need and click "Start" to begin the process.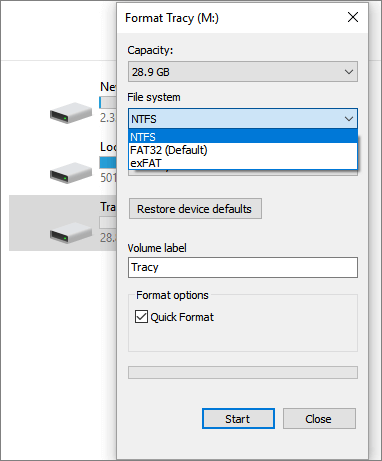 Fix 3. Repair RAW SD Card
Sometimes, removable storage devices such as USB drives or SD cards cannot be detected or accessed suddenly. When we double-click the disk in File Explorer, it will prompt that it is not formatted, and the system will ask whether to format it. If you open Disk Management, you will see that the file system type of this disk is no longer the usual NTFS or FAT32 but RAW format instead.
There are many reasons why an SD card becomes RAW, including when we removed the SD card. Instead of clicking "Safely Remove Hardware and Eject Media", we pulled the disk out. Or directly shut down or restart the system when the SD card reads and writes data usually. Or the power supply of the computer's USB port is unstable, resulting in disk I/O errors.
The correct process for fixing the RAW SD card is to recover the data first with EaseUS Data Recovery Wizard, then format the device. Of course, if there is no critical data on your SD card or the data has been backed up, you can perform the SD card RAW format fix directly.
Fix 4. SanDisk SD Card Repair Tool
For photography enthusiasts, digital cameras and memory card configuration requirements are very high. But when it comes to professional camera memory cards, SanDisk is arguably the best in the industry. In addition, SanDisk SD cards are also widely used in mobile devices, home monitoring, and driving records.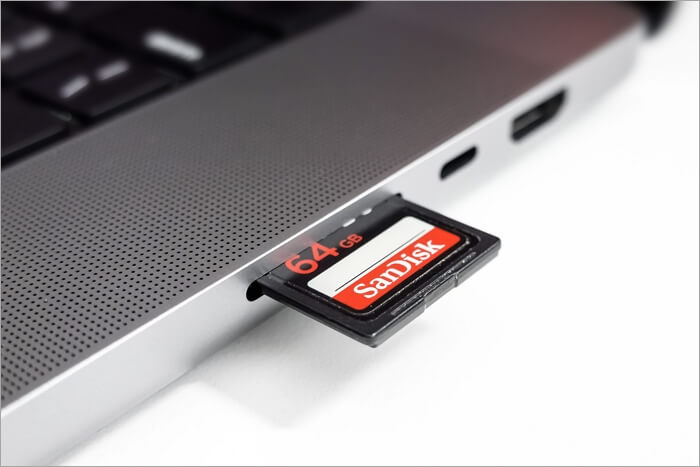 When your SanDisk SD card becomes corrupt, it can cause many problems. For example, your data may be lost or inaccessible, and you may not be able to use the card again. So this is why it's crucial to have a good SanDisk SD card repair tool on hand.
A SanDisk SD card repair tool can recover lost data from corrupted or formatted SD cards and make the card accessible again. It's a great way to get your data back and ensure that your card works correctly.
SD Card Repair on Android
How to recover photos from a formatted SD card on an Android phone? How to repair a corrupted SD card on Android? These are issues we often encounter in our daily life. Sometimes the SD card in your Android phone may be damaged and display the following issues: 
file///SDcard/gallery is a file path used by the Android operating system to store images taken with the camera and images downloaded from the Internet on an SD card. This file path is typically used by devices that do not have internal storage, such as tablets and smartphones. When using this file path, it is important to remember that it is case-sensitive.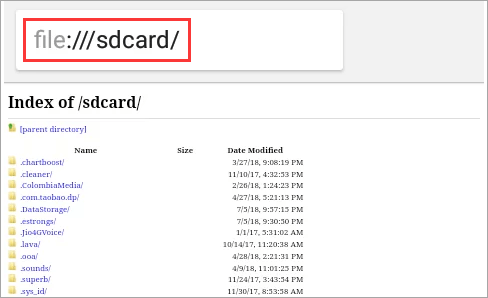 However, many users reported that their SD card photos and videos don't appear in the file///SDcard/gallery. The potential causes might be incompatible file formats, file corruption, or SD card damage. 
If the SD card is damaged, your PC or Android may not recognize your SD card or accidentally format it. There are several reasons why an SD card can become corrupt on Android. One common cause of Android SD card corruption is logical errors. It happens if the card file system becomes corrupted or there are bad blocks on the card. Logical errors can also occur if the card is not properly ejected from the device before power off. 
Malicious attacks can also cause Android SD card corruption and data loss, so it's essential to be vigilant about keeping your device clean. 
How to Fix Corrupted SD Card on Android 
It can be frustrating if you're trying to view a specific photo or group of pictures in the file///SDcard/gallery, but they don't always show up, or the SD card is undetectable on Android. 
If you suspect your SD card has become corrupt, do a few things. First, make sure that your SD card is inserted correctly into your device. If it's not inserted all the way, your device may not be able to read the contents of the card. Once you've inserted the SD card, try restarting your device. It will often refresh the file system and allow your device to see the new content on the card.
While if restarting your device doesn't work, you may need to format the SD card, which will erase all of the data on the card, so be sure to back up any important files before you proceed. To format an SD card: 
Step 1. Open the "Settings" app and go to the "Storage" section. 
Step 2. Tap on the SD card, then tap the "Format" button.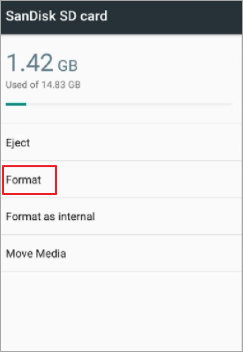 Step 3. Confirm that you want to format the card and wait for the process to complete.
Once your fix the problem, try adding some new photos to it and see if they show up in the file///SDcard/gallery or if the SD card can be detected. If not, you'll need to perform a factory reset. Again, be sure to back up your data before you proceed.
SD Card Repair FAQs
Check the following questions and answers for more information on SD card repair.
1. How to fix corrupted SD card Windows 10?
Have problems with a corrupt SD card on your Windows 10? Fix it in the way below:
Step 1. Right-click the SD card in File Explorer and select "Properties".
Step 2. Then go to the Tools tab and click Check under "Error checking". If there are any bad sectors on the card, Windows will attempt to fix them. 
If that doesn't work, use Diskpart. You can use this command-line tool to fix corrupted storage devices. To use it:
Step 1. Open the Command Prompt as an administrator and type diskpart. 
Step 2. Then type list disk to find your SD card. Then, input select disk X (replacing X with the number for your SD card), and clean. 
This will erase all the data on the card, so make sure you have a backup first. 
2. How to fix a corrupted SD card on Android?
If your SD card is corrupted on Android, one thing that you can do is format the SD card. Unfortunately, this will erase all of the data on the SD card, so make sure that you have backups of any critical files before you proceed. 
To format the SD card, go to "Settings > Storage > SD card > Format SD card".
3. How to fix a corrupted SD card on Android without a PC?
If you don't have a PC available, there are still a few methods to repair a corrupted SD card on Android. You can format the SD card on your Android device. Go to "Settings > Storage > SD card > Format SD card". Remember to back up your crucial data in advance.
4. How to fix a corrupted SD card using CMD?
Steps to repair corrupted SD card using CMD:
Step 1. type cmd into the search bar, right-click on the Command Prompt icon, and select "Run as administrator". 
Step 2. Once the Command Prompt window opens, type in chkdsk /f /r drive letter:, replacing "drive letter" with the actual letter of your SD card. 
Step 3. Press Enter and then allow the process to complete.
5. How to fix a corrupted memory card without formatting?
You can first recover data from your memory card to fix the corrupted memory card without formatting. Next, use File Explorer or Disk Management to format the memory card to work properly.
6. What's the best SanDisk SD card repair tool for Android?
Listed below are the top five free SD card repair tools for Android:
SanDisk Repair Tool
File Explorer
EaseUS Partition Master
Disk Management
Windows Command Prompt
Conclusion
SD cards are widely used, but they are also prone to damage. When an SD card is damaged, many repair methods are available, such as using the SD card data recovery and repair tool, running the Windows disk error checking function, or using the file manager for formatting. We hope this article can be helpful to you.
Finally, we suggest you back up important files in the SD card regularly so that you can recover files through backup quickly when encountering device corruption, without worrying about the problem of data loss. 
Daisy is the Senior editor of the writing team for EaseUS. She has been working in EaseUS for over ten years, starting from a technical writer to a team leader of the content group. As a professional author for over 10 years, she writes a lot to help people overcome their tech troubles.

Cedric Grantham is one of the senior editors of EaseUS who lives and works in Chengdu, China. He mainly writes articles about data recovery tutorials on PC and Mac and how-to tips for partition management. He always keeps an eye on new releases and loves various electronic products.