Now I am using my Vista(32-bit) computer with 4 years, and plan to buy a new computer with Windows7(64-bit), for Windows 7 looks great. But if I have to transfer files, programs manually from Vista to the new windows7, I just refuse to change OS. It is possible to move files, programs from 32-bit Vista to 64-bit Windows7?
Over these years of selling Windows OS, Microsoft doesn't come out one way to manage installed applications between PCs. That's so disappointing. Although it released Windows Easy Transfer, it just supports the file migration from the old OS version to a new OS version(Windows Vista to Windows Vista/7/8/8.1 ). In the 3-party software market, there come out many excellent PC transfer tools like Todo PCTrans, PCmover, Zinstall etc. Among these tools, Todo PCTrans is a nice choice with high-performance and reasonable price.
Todo PCTrans Pro can move the files, installed programs from 32-bit to 64-bit, it supports videos, music, pictures, emails, compatible software transfer. But like other PC migration tools, it couldn't support to transfer back from 64-bit to 32-bit.
Migrate Files, Programs from Vista to Windows 7/8 With Todo PCTrans Pro.
Please make sure your operating system on a new PC is equal to or newer than the old PC. Save your program keys like Windows office/MS, we need to reactivate on the new computer. If the applications have existed on the new PC, Todo PCTrans Pro will refuse to transfer them.
Step 1: Download and launch EaseUS Todo PCTrans on both of your computers.
Step 2: Select the transfer mode
PC to PC - This mode helps to transfer files, applications between PCs with different operating systems via network LAN
Image Transfer - This mode helps to create the image of files, applications, and transfer between PCs with different OS without internet/LAN
App Migration - This mode helps to transfer installed programs and software from C drive to other drive or external storage device without reinstallation.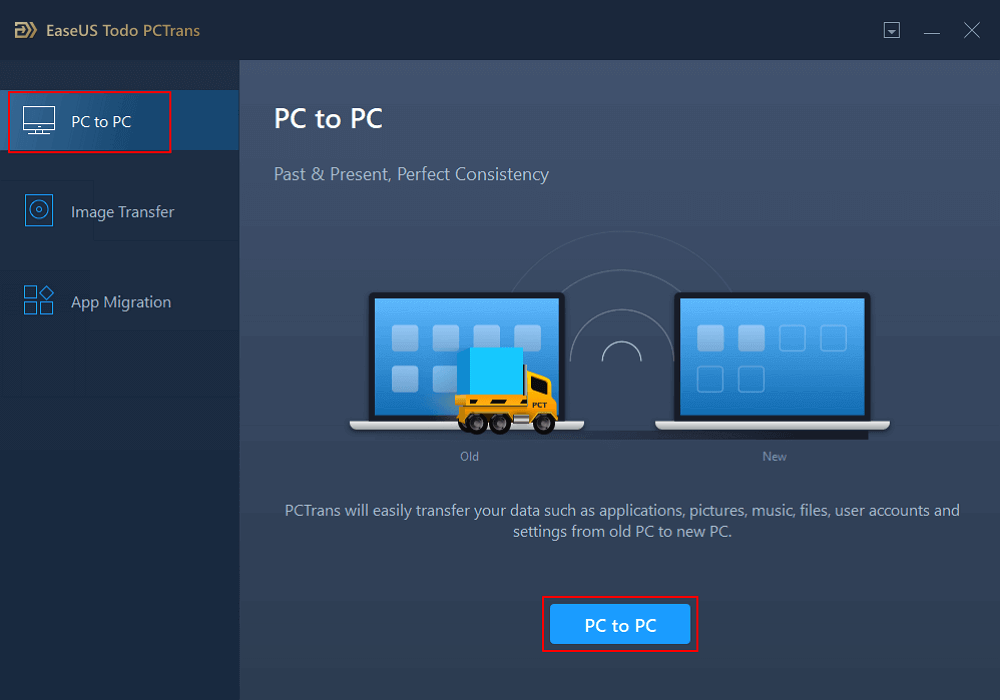 Step 3: Transfer files between two different operation systems
To transfer files from PC to PC (via Internet)
Tip: This is the most recommended way to transfer data from one operating system to another on two computers. Also, make sure that the computers reside on the same LAN.
1. Click the "PC to PC" button to move on and click "Continue". Connect two computers on the same LAN via the IP address.
2. Select the files or data that you want to transfer. Click the edit icon to browse a new location on the target PC to save transferred files.
3. Click "Transfer" to transfer files between two different operating systems.
Transfer files from PC to PC without network (via Image Transfer)
Tip: For computers not on the same LAN, or, for a dual-boot system, you can only pick up this method.
1. Select "Image Transfer" and click "Start".
2. Click "Create", select the destination to store the image. Usually, USB or external hard drive is more preferable.
3. Choose the folders, programs to create the image.
4. Connect the device with created image to the target computer and run EaseUS Todo PCTrans on it, choose "Recover" and select the files to transfer.
Windows Easy Transfer Move Files from Vista to Windows 7/8
What does the Windows Easy Transfer tool could transfer? User accounts, documents, music, videos, email, pictures, browser favorites. Both Windows Easy Transfer and Todo PCTrans Free could free migrate all files from Vista to Windows7/8. We have introduced how to use Todo PCTrans Pro to transfer data and software to another computer, now we will guide you how to use Window Easy Transfers.
1. Run Windows Easy Transfer on your Vista, and choose "Using an HDD or Pen drive", the easiest way.
2. Then choose the "This is my Old Computer" and customize what you want to move, then back up the files to your USB.
3. Open Windows Easy Transfer on your Windows7 or Windows8, choose "Using an HDD or Pen drive", "This is my new computer".
4. It will guide you to transfer the files from USB drive.