How to transfer data, files and folders from PC to PC
"I just get a new laptop and before giving up the old PC, I need to transfer all the files to the new computer. I know I can do it by copy and paste using an external USB drive or hard disk. But the problem is that there are so many large files and folders that I must have to take a long time to manually complete the data transfer job. So, is there any easier way to transfer files from one PC to another? Please help! I'm using Windows 10."
Here is a quick guide:
Transfer files from PC to PC using wifi or over the internet with EaseUS data transfer software
Transfer files from PC to PC using wifi or over the internet with Nearby Sharing
Other two ways for PC to PC transfer
Transfer files from PC to PC using wifi or over the internet with EaseUS data transfer software
When facing such a situation, you may want to find the best way to transfer files to new computer. So, are there any straightforward programs that would help in the data transfer between two PCs? Yes, EaseUS PC transfer can do you a favor. It allows you to transfer folders, files (including music, documents, videos, photos, etc) and programs along with their settings from one PC to another PC in Windows 10/8/7 using wifi, over the internet, or by creating an image file in simple clicks.
Step 1. Open EaseUS Todo PCTrans on both of your computers. Choose "PC to PC" to go to the next step.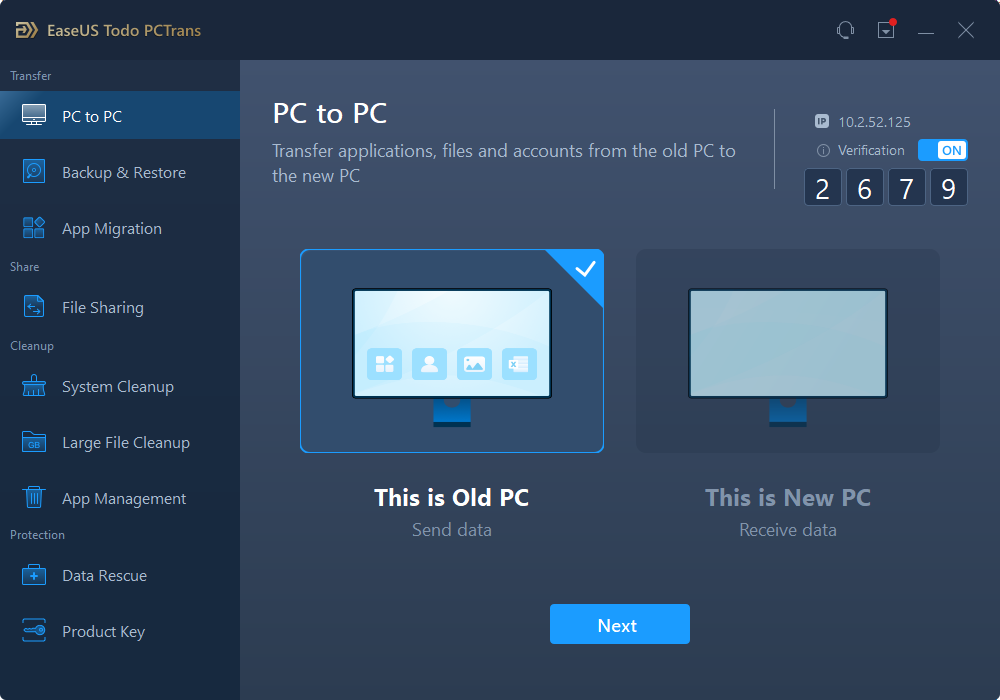 Step 2. Connect two PCs via the network by entering the password or verification code of the target PC. Besides, make sure you have chosen the right transfer direction and click "Connect" to continue.
The verification code is on the right top of the "PC to PC" main screen on the target computer.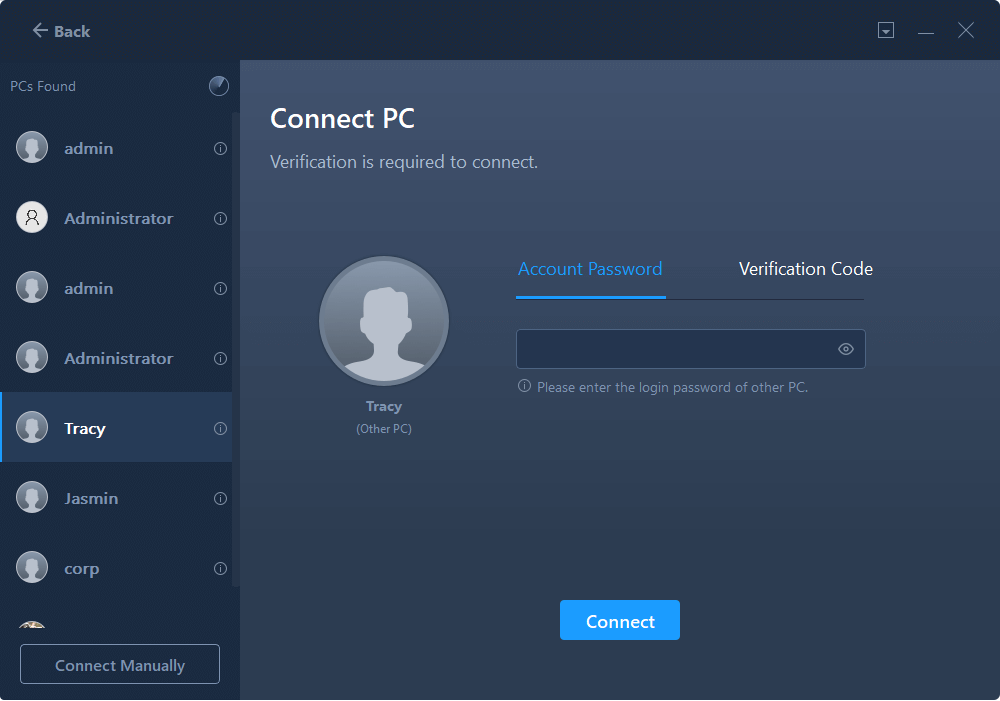 Step 3. Then, choose "Files" and click "Edit" to select files to transfer.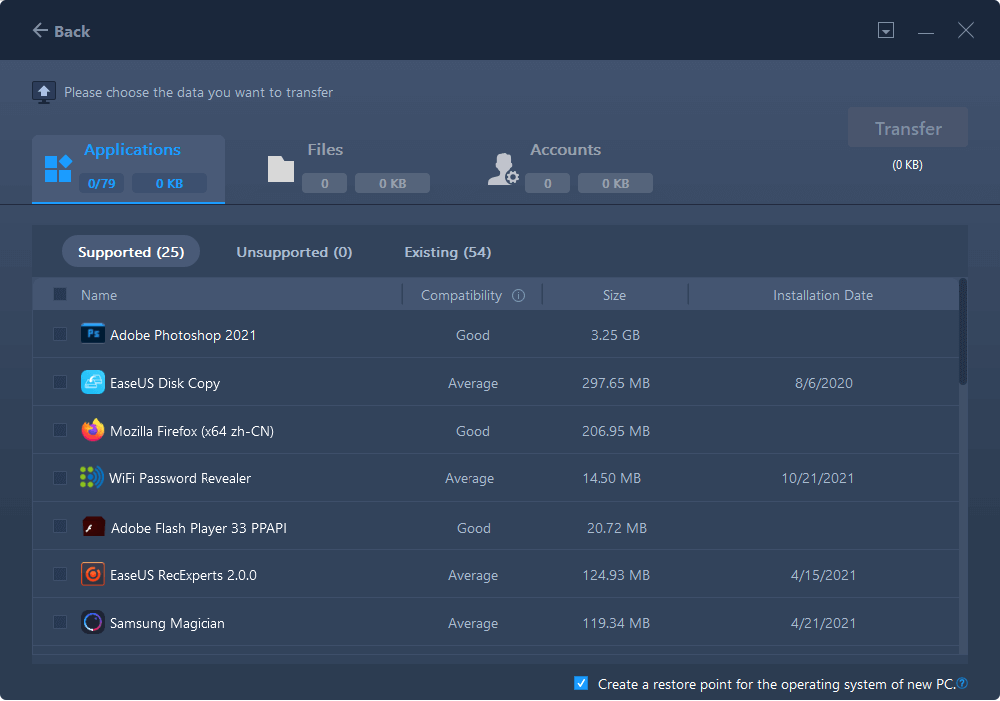 Step 4. Select the specific files as you want. What's more, you can click the Edit icon to customize the storage path for transferred data.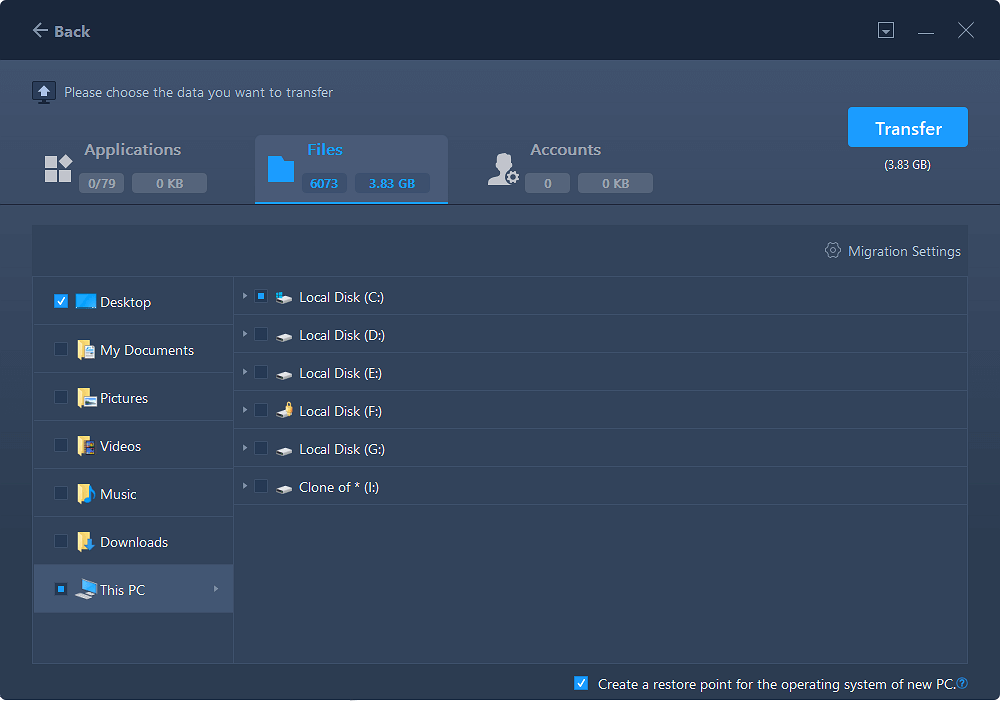 Step 5. Now, click "Finish" and "Transfer" to begin to transfer files from PC to PC. The size of the file determines the transfer time. Wait patiently.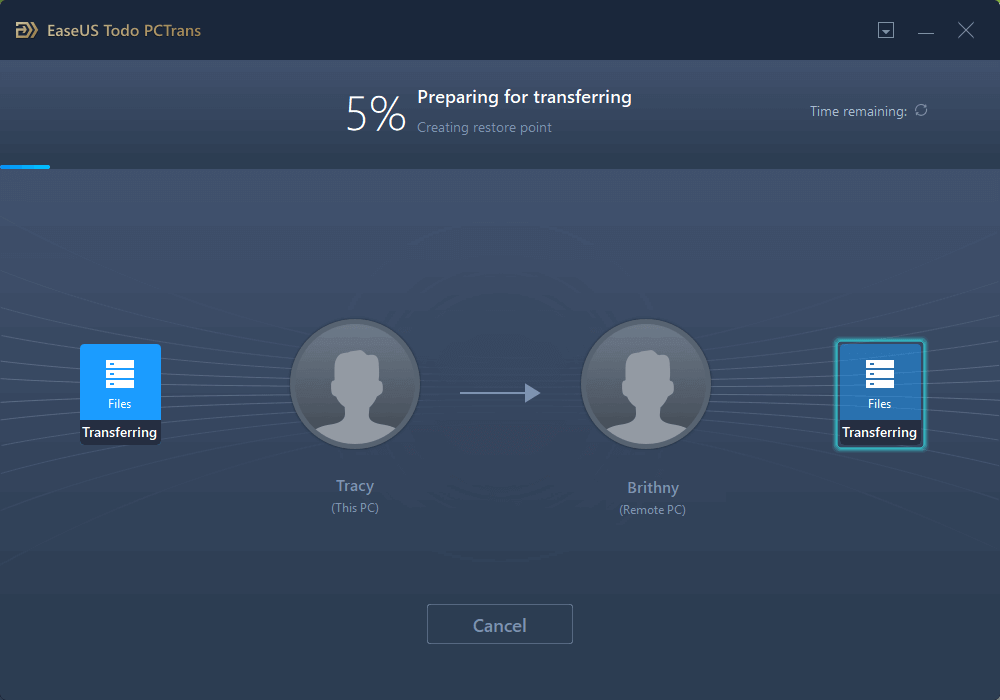 Transfer files from PC to PC using wifi or over the internet with Nearby Sharing
You may hear the bad news that HomeGroup has been removed from Windows 10. However, the Nearby Sharing still works in Windows 10(version 1803). You can transfer data from one computer to another using Nearby Sharing.
 Notice:

 Make sure your Windows 10 is version 1803 or later. And the Nearby Sharing is not available on OneDrive files. 
A detailed guide about how to transfer files from PC to PC using wifi:
Step 1. Head on over "Settings > System > Shared experiences > Nearby sharing"
Step 2.  Under the Nearby sharing, choose "Everybody nearby". Then you can share or receive files from all PC nearby.
Step 3. Enable "File Explorer" > Right-click the file you want to transfer > Choose "Share"> Select the device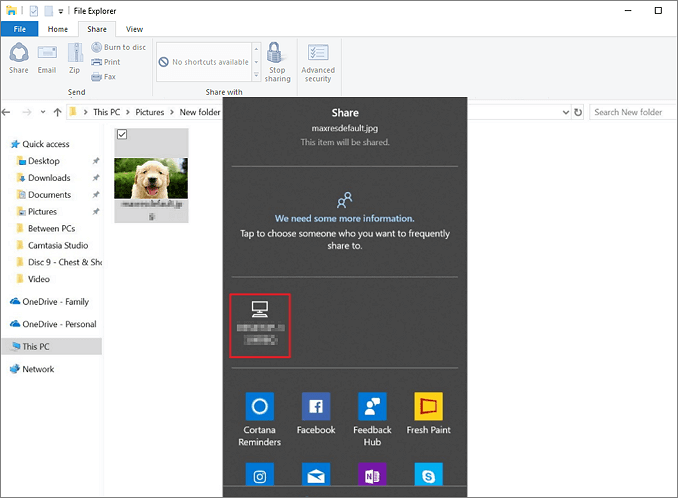 Other two ways for PC to PC transfer
You can copy and paste files to a USB or external hard drive. Besides, you can also transfer files from one PC to another PC quickly using cloud storage devices like OneDrive or Dropbox.
1. Transfer data files from one PC to another using USB by copy and paste
As we all know, copy and paste is the most common way to transfer files between two PCs. Without using any data transfer software, you just need to connect a sufficiently large USB drive or external hard drive to your old computer, drag-and-drop (or copy-and-paste) all the files you need from your old computer onto the drive, and then disconnect the drive from the old computer, connect it to the new computer, and move the files onto the new computer. It is quite popular among users for free.
However, taking much time and energy, it is not so helpful as you have expected when you are trying to transfer a large number of files. 
2. Transfer files from PC to PC with OneDrive, Dropbox, or other cloud storage systems
Transferring files from PC to PC with a Cloud storage system is another common way. The Cloud drive has no limitation on the device version so that you can check your files on any device. But transferring large files to OneDrive or Dropbox may run out of cloud space.
Step 1. Upload the wanted files to OneDrive.
Open the OneDrive and choose "Add". The file will be saved on the OneDrive account.
Step 2. Download files on another PC.
On another PC, you can enable the OneDrive, right-click the file, and choose "Download".

Roxanne is one of the main contributors to EaseUS and has created multiple posts on digital devices like PCs, Mobile phones, tablets, Mac, etc. She loves to share ideas with people of the same interest.
Daisy is the Senior editor of the writing team for EaseUS. She has been working in EaseUS for over ten years, starting from a technical writer to a team leader of the content group. As a professional author for over 10 years, she writes a lot to help people overcome their tech troubles.
EaseUS Todo PCTrans Free is a useful and and reliable software solution created to serve in computer migration operations, be it from one machine to another or from an earlier version of your OS to a newer one.

 Read More

EaseUS Todo PCTrans is by the folks at EaseUS who make incredible tools that let you manage your backups and recover your dead hard disks. While it is not an official tool, EaseUS has a reputation for being very good with their software and code.

Read More

It offers the ability to move your entire user account from your old computer, meaning everything is quickly migrated. You still get to keep your Windows installation (and the relevant drivers for your new PC), but you also get all your apps, settings, preferences, images, documents and other important data.

 Read More
About EaseUS Todo PCTrans
EaseUS Todo PCTrans can transfer settings, applications and data between PCs and HDDs. Your all-round PC transfer and migrate software to upgrade devices without re-installation.