Can I migrate old computer data into new Windows 10 PC?
Hi guys, do you have any idea about how to migrate old computer data into new Windows 10 PC? Why do I need to do so? I want to update my old computer. Why don't I update into Windows 10 directly? My old data was installed with pirated Windows 7 and I did not receive the updating notice. And I searched a lot, finally, I found it can be realized to update OS into Windows 10 with a clean install. This means I need install a total new Windows 10 OS into my old computer. But what about my old data, applications and important files?
I need keep all those data, applications and files. This is why I want to find a simple way to move them into my new Windows 10 computer. I know that I can move them one by one into my new computer. It's a waste of time. And I do not want to sit beside my computer all day long. Any other simpler solutions? If you have good suggestions or know PC transfer software, please let me know. Thanks!
How to Migrate Old Computer Data into New Windows 10 PC?
Solution 1: Use Built-in Windows easy transfer migrate old computer data into new Windows 10
Windows Easy Transfer is provided by Windows as a built-in tool which enables users to migrate old computer data into other computers. But if you are not familiar with this tool and have no idea about how to accomplish the whole operation, it's not suggested for you to try this method. It's not secure for protecting important data and applications. You may easily lose vital data. Any other methods? Sure!
Solution 2: Professional PC Transfer Software - EaseUS Todo PCTrans helps migrate old computer data into new Windows 10 PC
EaseUS Todo PCTrans is produced by EaseUS software, aiming to assist helpless Windows users move and transfer their important data from an old computer into a new PC. It supports to transfer data among different OS such as to transfer XP to Windows 10, transfer 8 to 10 and even transfer 7 to 10. It's 100% free to download and no risks will be met. All users can apply this software to make it possible on their own of migrating old computer data into new Windows 10 PC. All you need is to keep both of your computers connected with LAN, then this software will do everything for you automatically after making settings. Detail operating step is available at PCTrans user guide.


Other solution: Try backup software - EaseUS System GoBack
If you do not feel like to use such big space to store the old computer data and apps, you can choose other ways to keep the old computer data rather than storing them into new Windows 10 PC. A professional free system goback software named EaseUS System GoBack supports you to backup important system data with compressed formats and you can store them in old computers or external storage device. When you need them or want to restore the previous system, this software will help. Keep everything for you in your old computer.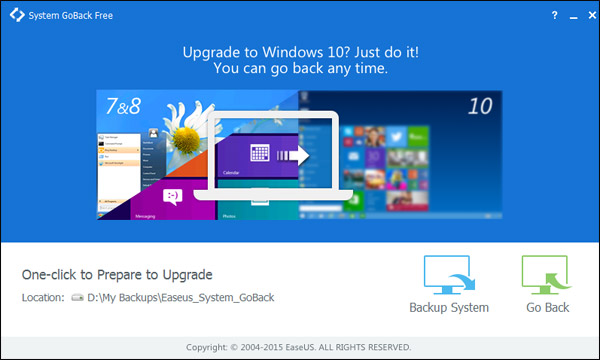 To effortlessly migrate old computer data into Windows 10 with easy way, EaseUS Todo PCTrans is always your best choice. Do not waste time waiting, let this software help you right now!