I have a 3 years old Laptop running Windows XP Professional 32 bit. I bought a new laptop running Windows 7 64 bit Ultimate. I want to migrate the files and as many programs as possible from the XP machine to the Windows 7 machine. Is there any program can do it?
The answer is Yes. This article is to demonstrate a way to migrate data or programs from a Windows XP computer to a Windows 7 computer using EaseUS Todo PCTrans Pro.
As a free application and data migration software, EaseUS Todo PCTrans Pro can easily migrate data (Including music, documents, videos, photos, etc.) and applications along with their settings from Windows XP to Windows 7/8/10 or from 32-bit Windows XP to 64-bit Windows 7/8/10.
Transfer data and programs from Windows XP to Windows 7 with Todo PCTrans Pro
The video tutorial of migrating data and programs from Windows XP to Windows 7
Step 1: Download and launch EaseUS Todo PCTrans on both of your computers.
Step 2: Select the transfer mode
PC to PC - This mode helps to transfer files, applications between PCs with different operating systems via network LAN
Image Transfer - This mode helps to create the image of files, applications, and transfer between PCs with different OS without internet/LAN
App Migration - This mode helps to transfer installed programs and software from C drive to other drive or external storage device without reinstallation.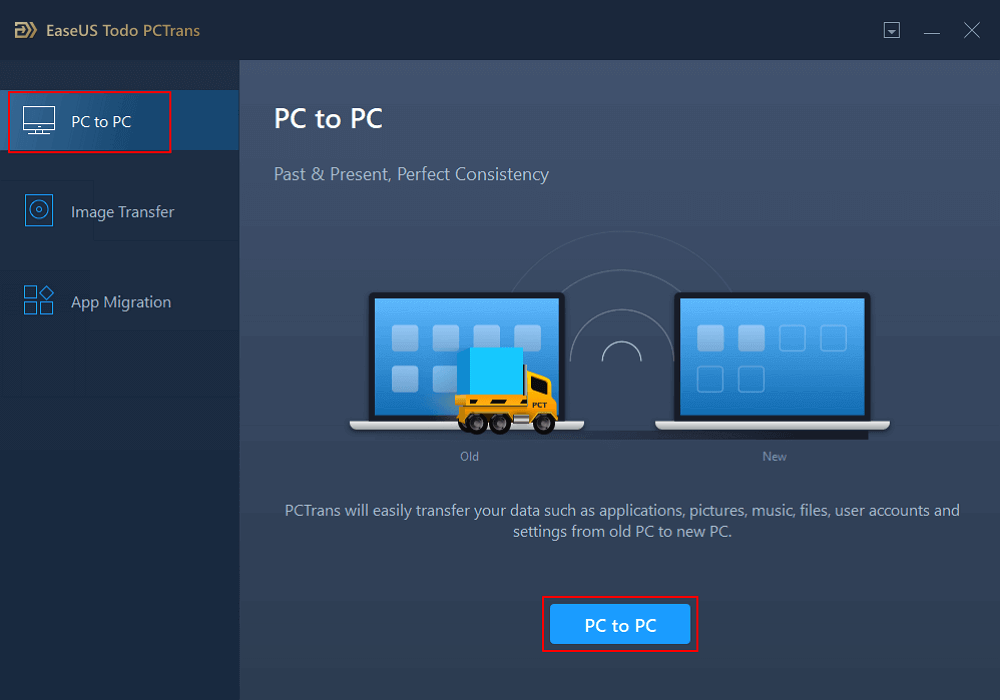 Step 3: Transfer files between two different operation systems
To transfer files from PC to PC (via Internet)
Tip: This is the most recommended way to transfer data from one operating system to another on two computers. Also, make sure that the computers reside on the same LAN.
1. Click the "PC to PC" button to move on and click "Continue". Connect two computers on the same LAN via the IP address.
2. Select the files or data that you want to transfer. Click the edit icon to browse a new location on the target PC to save transferred files.
3. Click "Transfer" to transfer files between two different operating systems.
Transfer files from PC to PC without network (via Image Transfer)
Tip: For computers not on the same LAN, or, for a dual-boot system, you can only pick up this method.
1. Select "Image Transfer" and click "Start".
2. Click "Create", select the destination to store the image. Usually, USB or external hard drive is more preferable.
3. Choose the folders, programs to create the image.
4. Connect the device with created image to the target computer and run EaseUS Todo PCTrans on it, choose "Recover" and select the files to transfer.
Besides data and programs migration from Windows XP to Windows 7, EaseUS Todo PCTrans Pro also supports migrating data and programs from Windows XP to Windows 8/8.1, from Windows XP to Vista, from Windows 7 to Windows 7/8/8.1, from Windows 8 to Windows 8/8.1.
Back up your files and system state in case of data loss and system crash
EaseUS also provides free backup software - EaseUS Todo Backup Free to back up your files, system state, hard disk, partitions, outlook emails with comprehensive full/incremental/differential/schedule backup types to protect your computer and data and enables you to easily restore data and system to the original state when disaster happens.