How to Transfer Quickbooks from Old PC to New PC/Laptop
Applies to: Quickbooks transfer from PC to PC, Quickbooks transfer from PC to laptop, copy Quickbooks from one computer to another
Expected Goals: Safe Quickbooks transfer with its license, personal data, and settings from the old computer to the new one
Assistive tool: EaseUS Todo PCTrans
When it comes to transferring Quickbooks from one computer to another, especially when you change an old computer to a new one, you need to consider many things!
Yes, you could install the same or newer version of Quickbooks on your new computer on the internet. That's a really easy move. But what about continuing to keep the record of all your business expenses and income? What's more, keep track of rent, schedule payments to vendors and get all the valuable financial data? This could be done more smartly actually.
How to Transfer Quickbooks from PC to PC, from PC to Laptop
Concern yourself with your time. You don't want to spend much time to rebuild everything of the old Quickbooks on your new machine. On this regard, EaseUS Todo PCTrans is a specialized Quickbooks migration tool you must have. 
You will love this Quickbooks transfer tool for Windows PCs after learning its core features and the easy user guide.
Features:
Easy Quickbooks transfer over the network/via an image/between drives
All financial data is kept safe and intact during the transfer
Guaranteed with 100% safe transfer without personal information leaking
How to start:
Locate both the old and new computers or laptops on the same LAN and connect to the network. The most advised way to transfer Quickbooks from the old computer to the new one is over the network. 
It's worth noting that if the machines are beyond the fixed area. Don't give it up and you should pick up the "via an image file" plan. And you can refer to the detailed guide on its product tutorial page, how to transfer files, apps, and data from one computer to another?
Steps to transfer Quickbooks from PC to PC/Laptop over the network:
Step 1. Select the transfer mode.
Download and install EaseUS Todo PCTrans on both PCs.
Launch EaseUS Todo PCTrans on the computers and click "PC to PC" on one of them.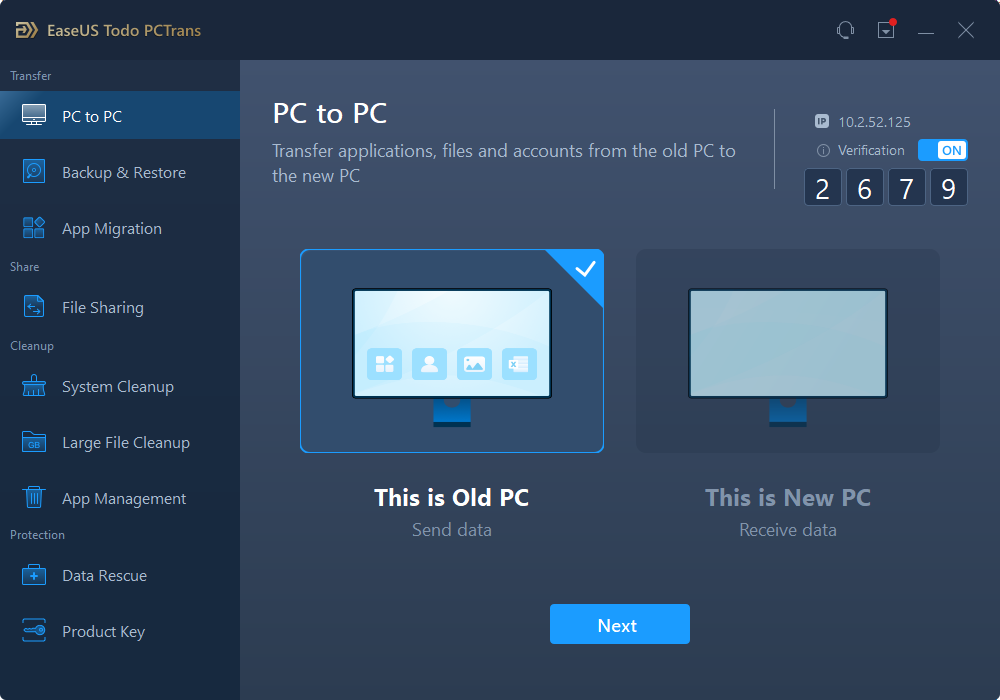 Step 2. Connect the PCs.
Choose the other PC by its name or IP address and then input the account password or verification code of the target PC.
Check the verification code on the right top of the "PC to PC" main screen on the target PC.
Specify the transfer direction and click "Connect".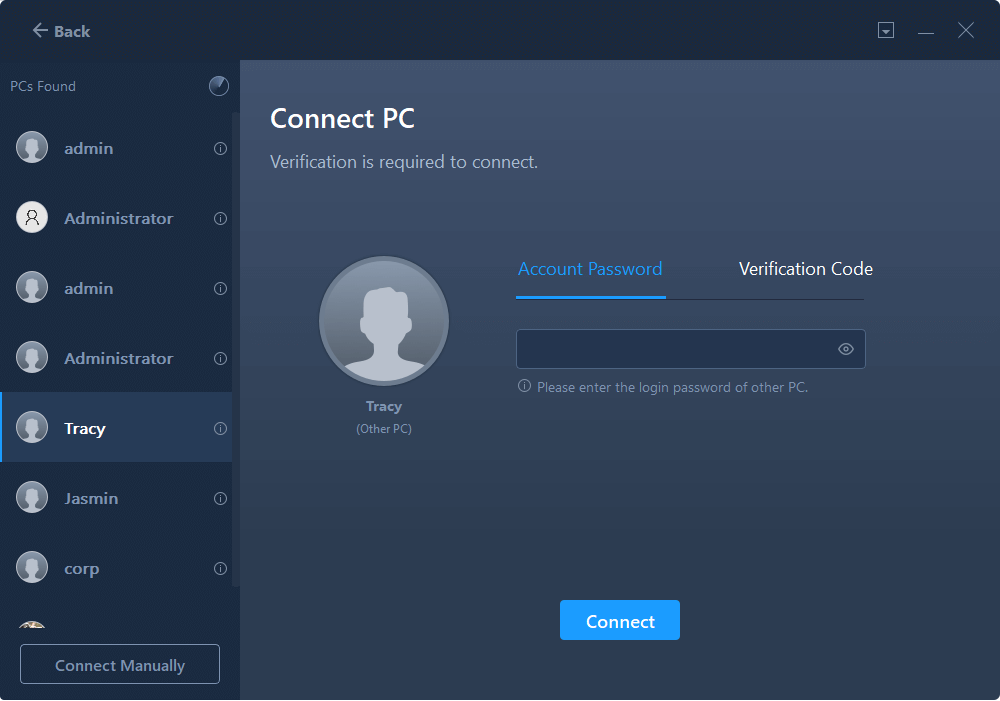 Step 3. Choose QuickBooks to transfer.
Hover on "Applications" and choose "Edit".
In the list of applications, choose "QuickBooks" and click "Finish".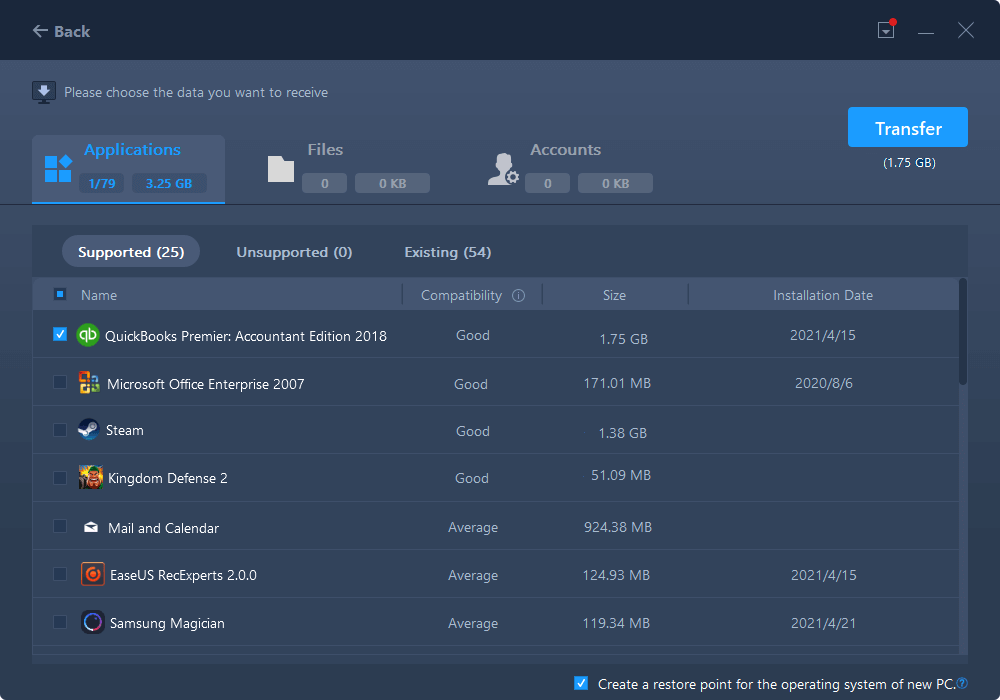 Step 4. Transfer QuickBooks from PC to PC.
After selecting the application, click "Transfer" to start transferring QuickBooks from one PC to another.
When it has done, click "OK".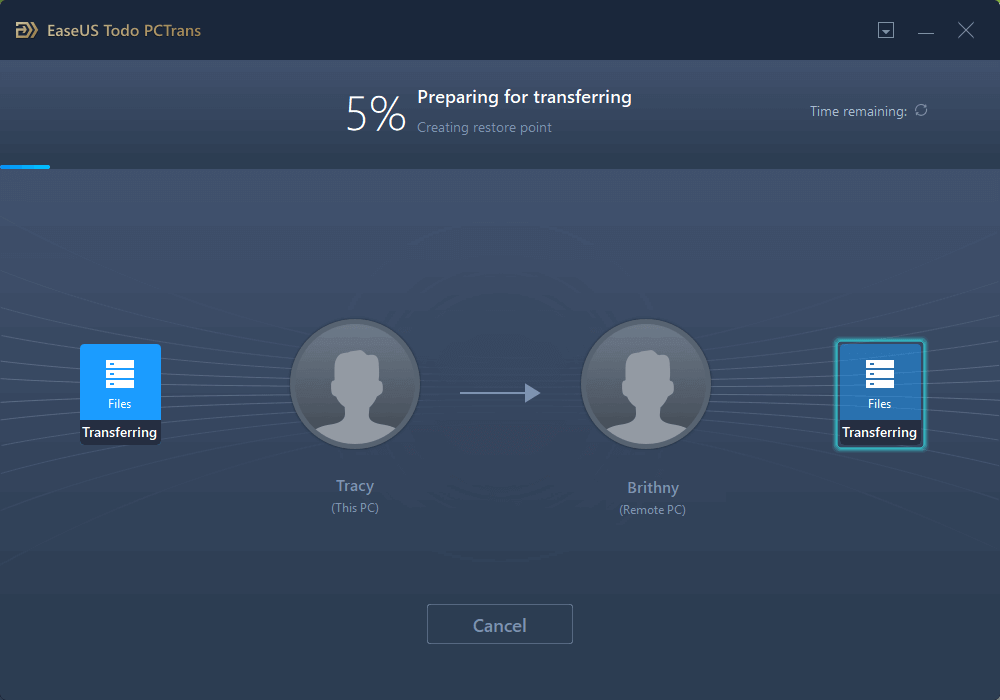 After the transfer is done, you should have an exact Quickbooks app which contains the app settings and personal data on your new computer.

Author Jean has been writing tech articles since she was graduated from university. She has been part of the EaseUS team for over 5 years. Her special focuses are data recovery, disk partitioning, data space optimization, data backup and Mac OS. By the way, she's an aviation fan!
EaseUS Todo PCTrans Free is a useful and and reliable software solution created to serve in computer migration operations, be it from one machine to another or from an earlier version of your OS to a newer one.

 Read More

EaseUS Todo PCTrans is by the folks at EaseUS who make incredible tools that let you manage your backups and recover your dead hard disks. While it is not an official tool, EaseUS has a reputation for being very good with their software and code.

Read More

It offers the ability to move your entire user account from your old computer, meaning everything is quickly migrated. You still get to keep your Windows installation (and the relevant drivers for your new PC), but you also get all your apps, settings, preferences, images, documents and other important data.

 Read More
About EaseUS Todo PCTrans
EaseUS Todo PCTrans can transfer settings, applications and data between PCs and HDDs. Your all-round PC transfer and migrate software to upgrade devices without re-installation.