Applies to: Quickbooks transfer from PC to PC, Quickbooks transfer from PC to laptop, copy Quickbooks from one computer to another
Expected Goals: Safe Quickbooks transfer with its license, personal data, and settings from the old computer to the new one
Assistive tool: EaseUS Todo PCTrans
When it comes to transferring Quickbooks from one computer to another, especially when you change an old computer to a new one, you need to consider many things!
Yes, you could install the same or newer version of Quickbooks on your new computer on the internet. That's a really easy move. But what about continuing to keep the record of all your business expenses and income? What's more, keep track of rent, schedule payments to vendors and get all the valuable financial data? This could be done more smartly actually.
How to Transfer Quickbooks from PC to PC, from PC to Laptop
Concern yourself with your time. You don't want to spend much time to rebuild everything of the old Quickbooks on your new machine. On this regard, EaseUS Todo PCTrans is a specialized Quickbooks migration tool you must have.
You will love this Quickbooks transfer tool for Windows PCs after learning its core features and the easy user guide.
Features:
Easy Quickbooks transfer over the network/via an image/between drives
All financial data is kept safe and intact during the transfer
Guaranteed with 100% safe transfer without personal information leaking
How to start:
Locate both the old and new computers or laptops on the same LAN and connect to the network. The most advised way to transfer Quickbooks from the old computer to the new one is over the network.
It's worth noting that if the machines are beyond the fixed area. Don't give it up and you should pick up the "via an image file" plan. And you can refer to the detailed guide on its product tutorial page, how to transfer files, apps, and data from one computer to another?
Steps to transfer Quickbooks from PC to PC/Laptop over the network:
Step 1: Connect both PCs via the network connection with EaseUS Todo PCTrans
1. Install and run EaseUS Todo PCTrans on both PCs.
Select the "PC to PC" transfer mode on the source computer.
Note: If the new computer has installed QuickBooks, the transferring won't succeed.
2. Connect both PCs to the same LAN, and run PCTrans on these two computers. Click "Continue" to confirm.
3. Choose the target PC and click "Connect" to continue. You can specify the target PC through its IP address.
If the target computer doesn't show up, click "Add a PC" and enter the IP address to connect it to the source computer.
4. Link both PCs by entering the login account and password of the selected PC. And click "OK" to confirm.
5. Select the transfer direction and click "OK" to confirm.
Step 2: Select QuickBooks to transfer
1. On the Applications column click "Edit" to select QuickBooks to transfer.
Tick "Create a restore point" option in case a system error occurs on the target PC.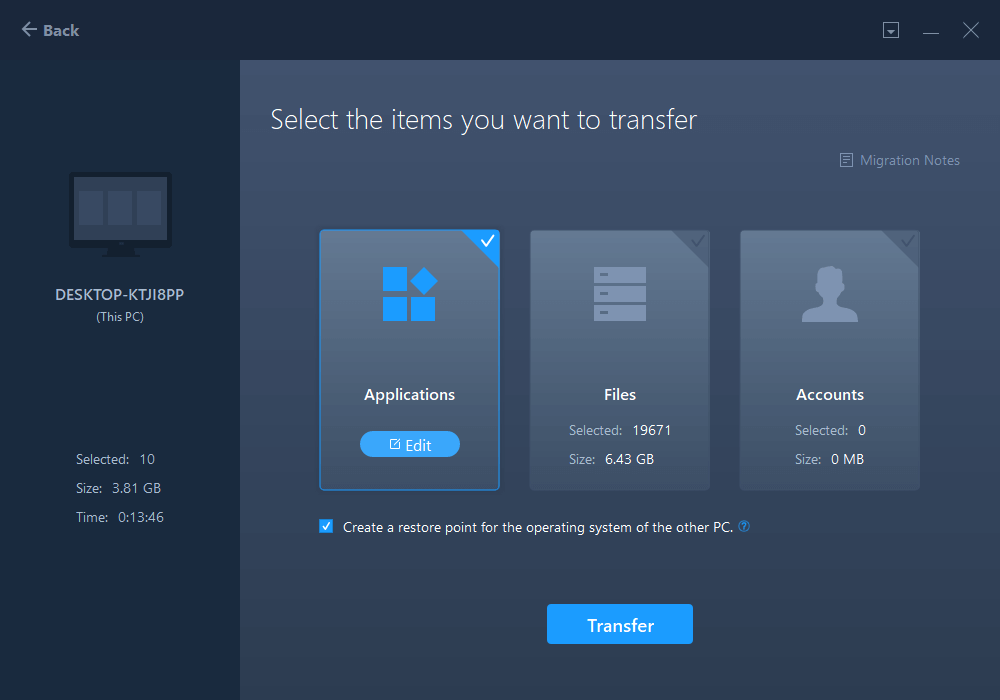 2. Click "Finish" to confirm.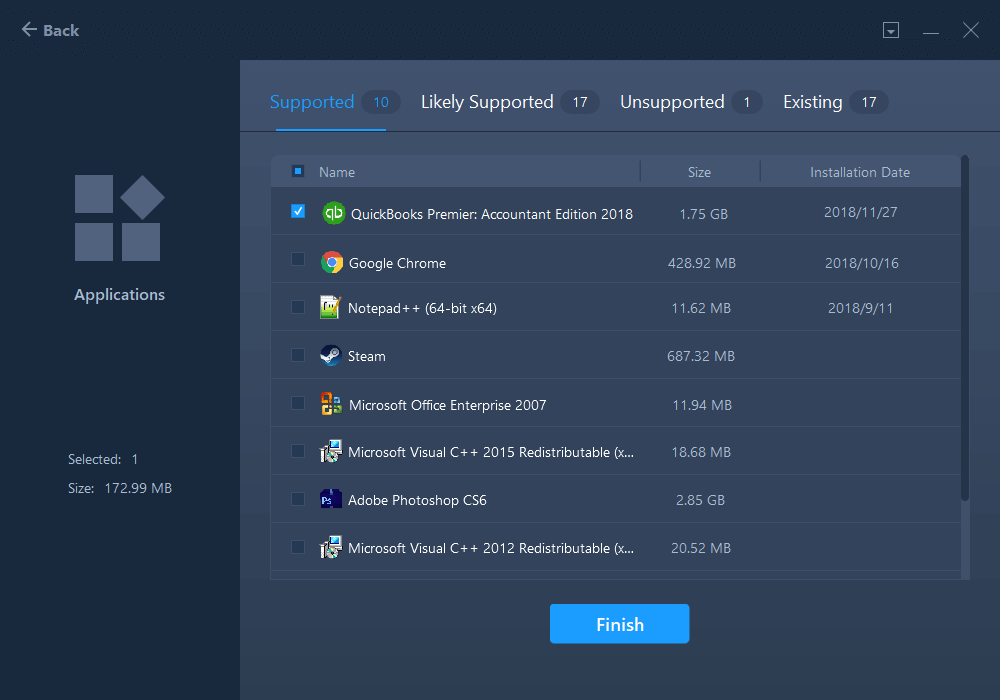 Step 3: Transfer QuickBooks to a new PC
After the transfer is done, you should have an exact Quickbooks app which contains the app settings and personal data on your new computer.