How can you transfer files between different users
No Bluetooth, no wifi, how did you transfer files from/to the people nearby? PC to PC transfer is no longer a difficult task to many people. However, most of the office workers need a more efficient way to make the transfer go fast. So, here on this page, you'll be happy to learn an innovative way to transfer files between users on different computers.
EaseUS Todo PCTrans is the best way to share files from one user to another as long as they're seating in the workstation on the same LAN. It's all Windows operating system supported, so no matter it's about file transfer from a lower version of Windows to that of a higher version, such as file transfer from Windows 7 to Windows 10, or from Windows 10 to Windows 10, it's not a problem at all. Users running different computers with a different operating system can all be satisfied with this free PC to PC transfer software.
Go to the other post if you're searching for the method to transfer files from one user account to another.
Guide: how to transfer files from one user to other users
EaseUS easy file transfer software comes with three transfer modes, including:
Via network connection
Via an image file
Transfer local applications
Regarding the demand for sharing files between computers of different users, the first file transfer mode is the most applicable. So, let's start to learn immediately how to make the transfer go.
Step 1: Open EaseUS Todo PCTrans on both of your computers.
Step 2: Connect two PCs via network
1. Connected the two PCs on the same LAN and click the "Continue" button to move on.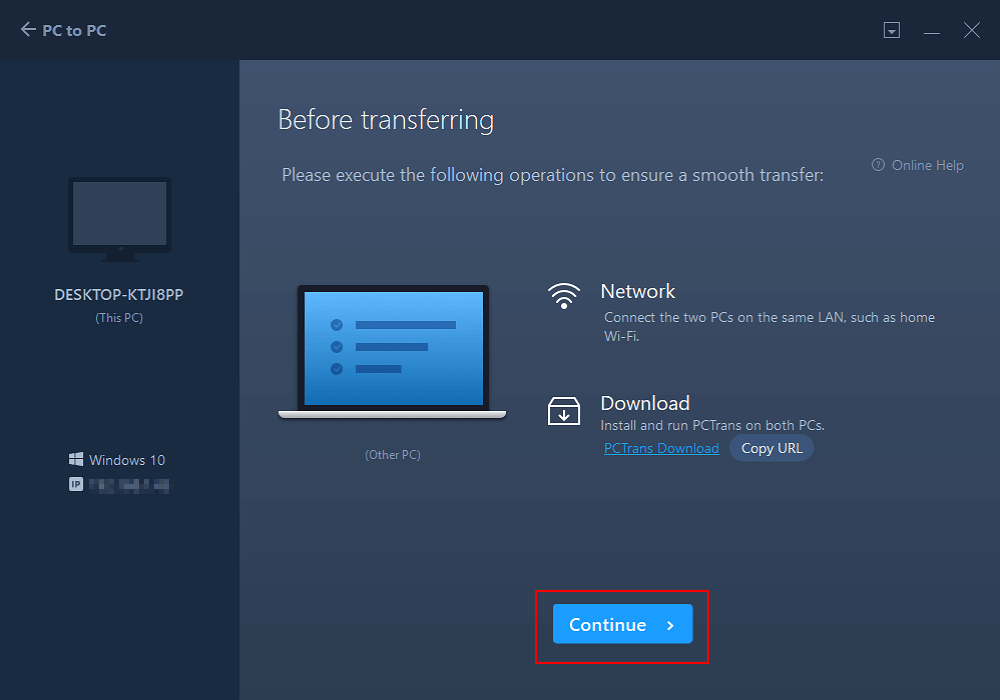 2. Find another PC by IP and click "Connect" to go on. You can also click the "Add a PC" button to find PC by entering its IP address manually.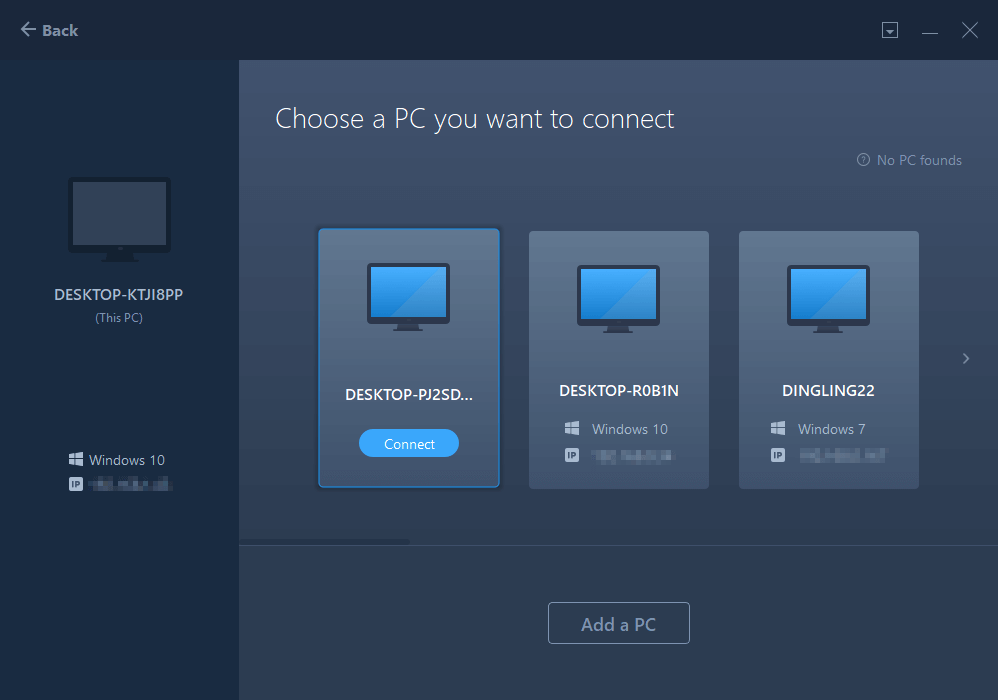 Enter the username and password. If there is no password, click "OK" directly.
3. Choose the transferring direction - "Transfer from this PC to other PC" or in the vice versa.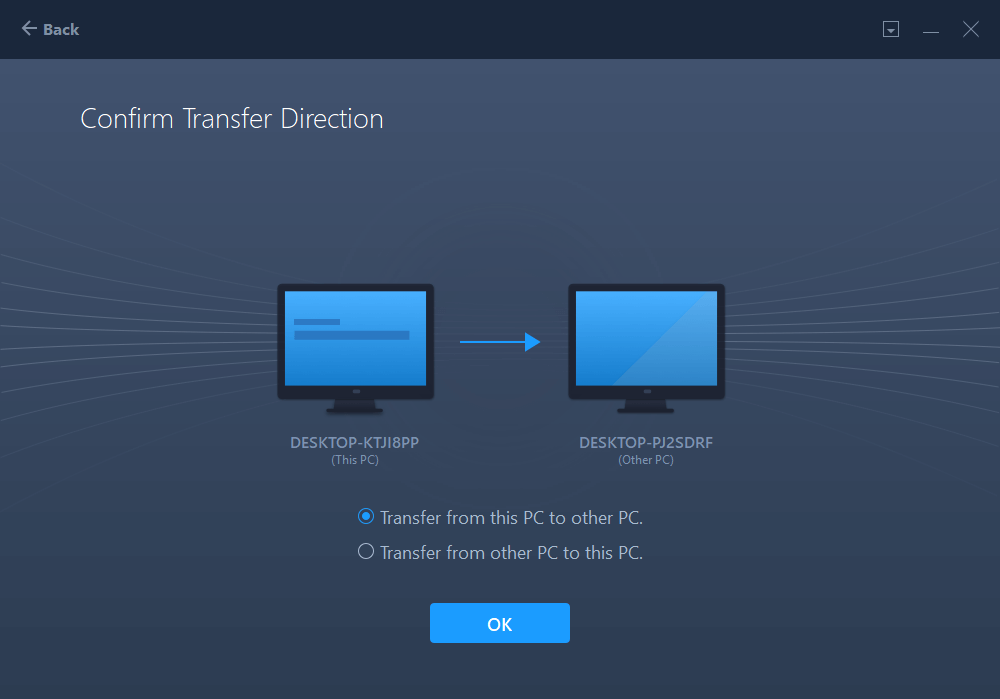 Step 3 Select files to transfer from PC to PC
1. Click "Edit" to select files at the Files column > "Finish" > "Transfer" to confirm transferring the specific files you have selected.
You can also click the "Edit" icon to renagivate a new location to save files.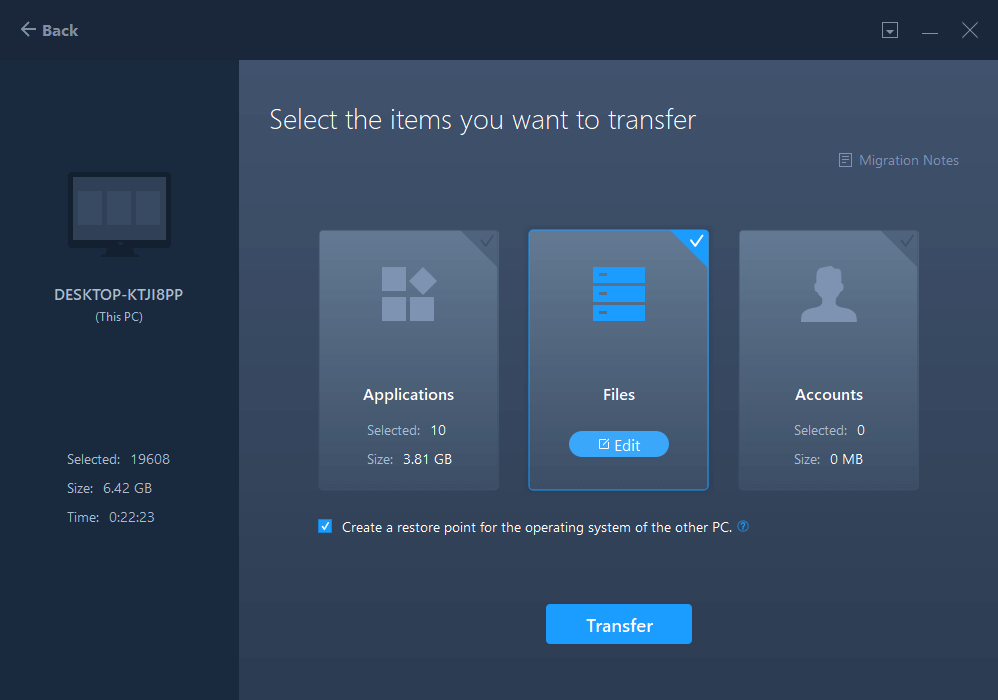 2. Wait for the process finishes. PCTrans will transfer files at a fast speed. It won't take too long.