(8 Fixes) How to Fix Computer Won't Turn On
"Why won't my computer turn on? I just built my first computer finally getting everything in place but it still will not start and I know the cords are in the right place's and I already had to trade in my power supply for another because it din't work."
Thinking about a busy day, when you sit down to start a work task. But the computer won't turn on. That's bad news for you! The reasons behind the frustrating issue may cause by the hardware issue, software problem, and human error. This article plans to collect 8 solutions for solving all problems. In case of data missing amid trying the below fixes, download EaseUS Todo PCTrans for data saving.
EaseUS Todo PCTrans - Rescue Data When computer Won't Turn On
One urgent thing is to rescue your data from the computer because you may take a long time to try each method and data loss may happen. Part of the methods for you are difficult. For protecting your data, downloading the data rescue tool is a wise choice. This data transfer software is a good helper to rescue programs, accounts, files from a broken computer.
As a professional data transfer software, EaseUS Todo PCTrans shows powerful features on PC to PC data transfer, backup important files, and move programs to another hard drive. That's a great way to transfer files from pc to pc.
Step 1. Take out the disk from the old PC.
Disconnect the power supply. Please take out the battery if it is a laptop.
Open the case to see the hard disk in the old PC.
Disassemble the shell by using a screwdriver to find the hard disk.
Disconnect the hard disk and cable, then take out the hard disk.
Step 2. Connect the hard disk to the new PC.
Multiple connection methods:
USB hard disk drive Enclosure:  Use this special device to connect the old disk and the Enclosure, and then connect to the new PC by USB.
USB hard disk drive Adapter: It is a device like a "Cable". One end is connected to the hard disk, and the other end is connected to the USB port on the new PC.
Desktop Computer: If the new PC is a desktop PC, the old disk can be connected as the second disk.
Step 3. Recover/Migrate the applications, files, accounts from the old disk.
1. Download and launch EaseUS Todo PCTrans. Choose "Data Rescue" mode, and click "Start".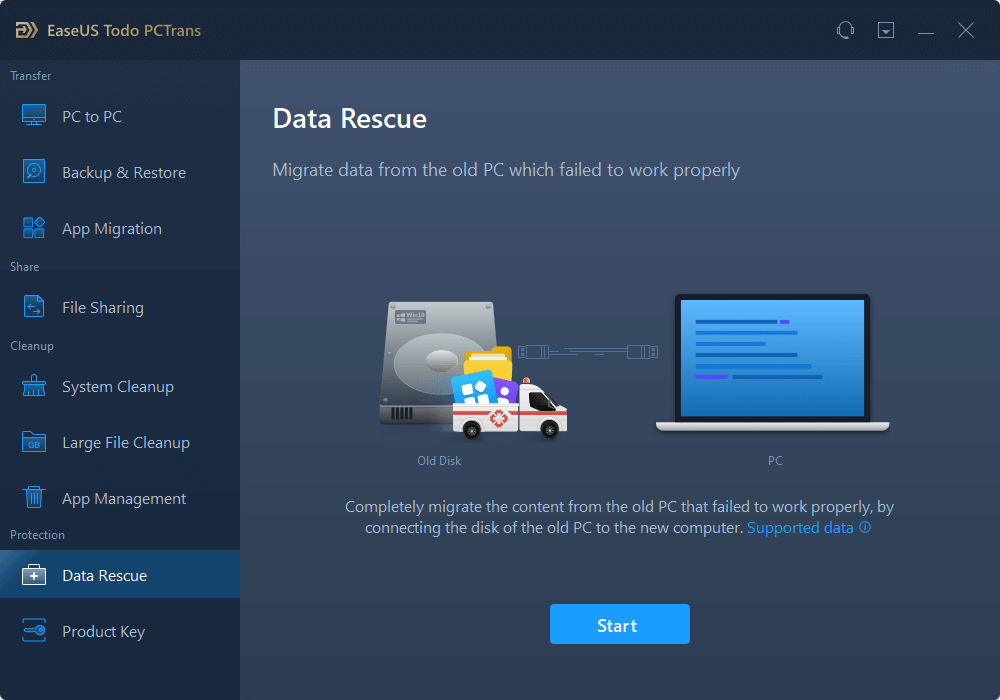 2. Browse the steps and click "Scan".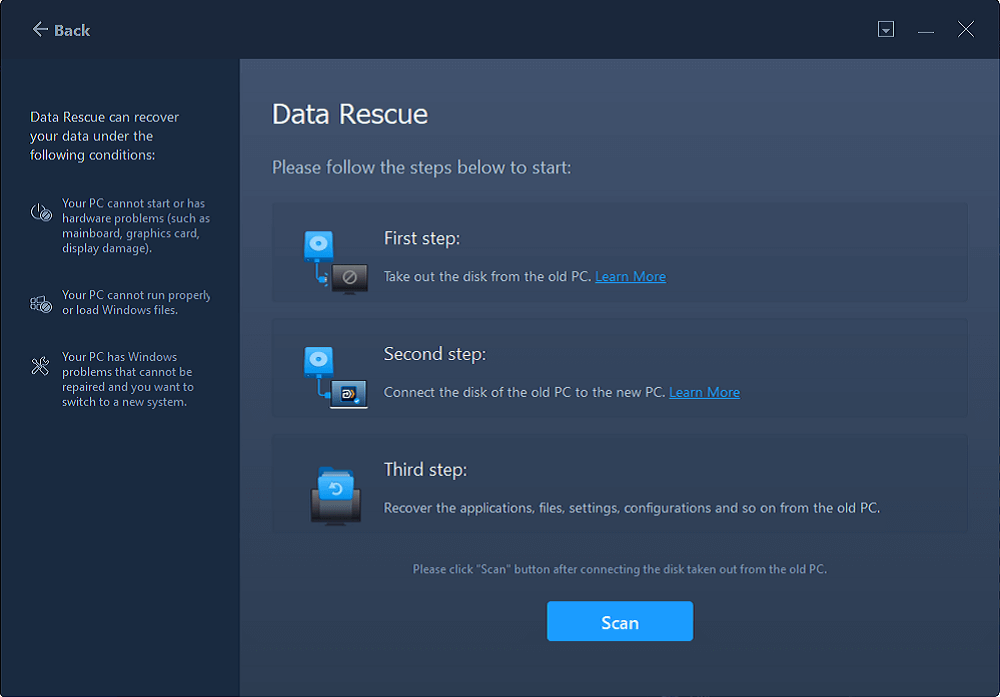 3. Check your disk is connected to the PC. Select the old disk to recover and click "Continue".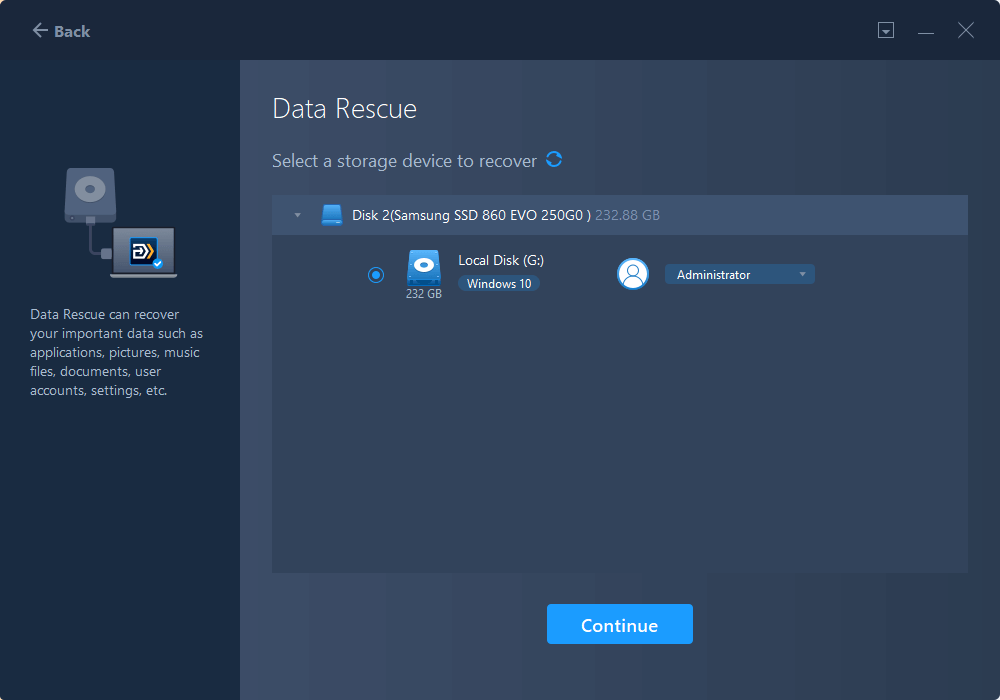 4. Select the desired applications, files, and accounts you want to rescue.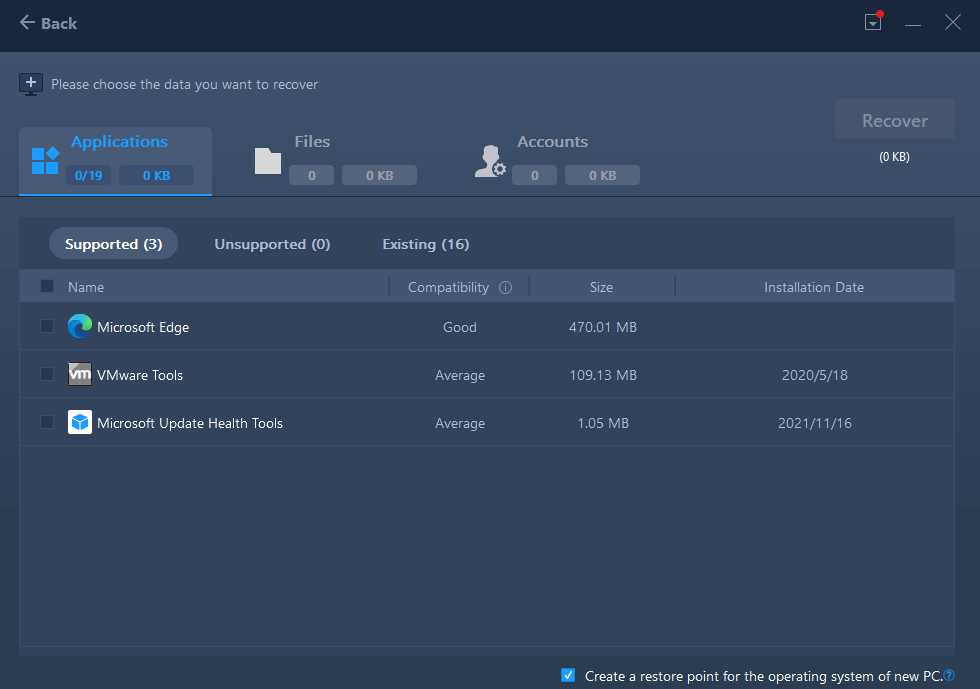 5. Wait for a few seconds to complete data transfer.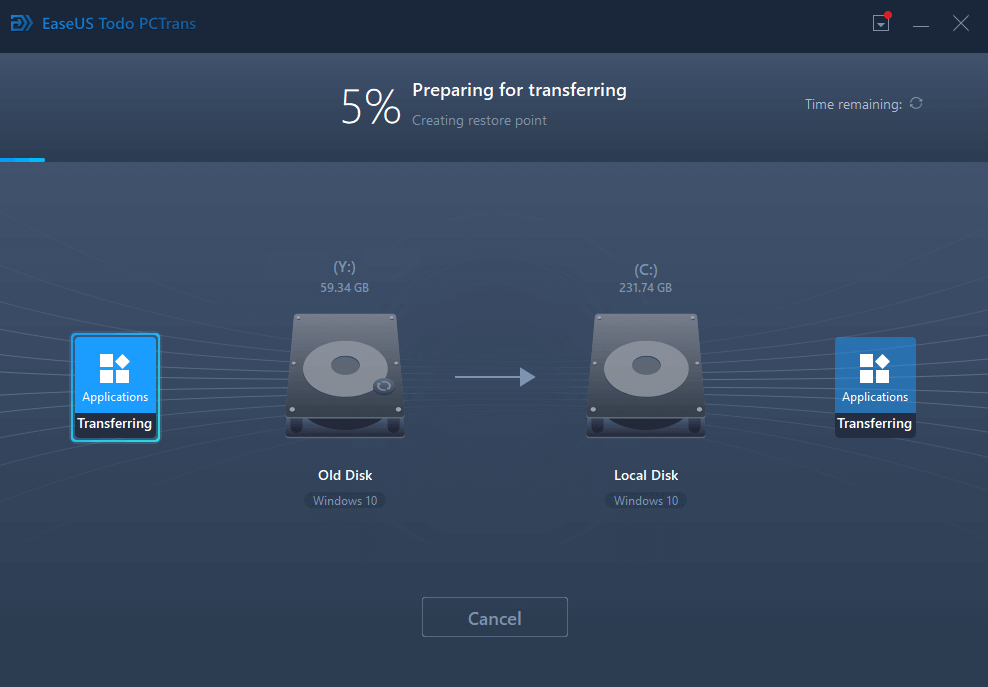 The operation needs you to open the computer case. If you encounter barriers,  please contact us via LiveChat on the left of the page. Now let's move to the fixing part.
8 Fixes about Computer Won't Turn On
After saving your data to another location, it's time to try the reliable solutions for the computer not turning on. 
You may encounter the scene like PC won't turn on but motherboard light is on, computer has power but won't turn on, computer won't turn on when press power button. We will talk about fixes in aspects of hardware, software, and human error.
1. Check your Power Supply
If your light is not flickering and the fan keeps silent, this is largely due to your PC is not totally turning on. Unplug your power cable and plug it into the wall outlet rather than the power strip. Sometimes the power strip may be failing. If you are using the laptop, please make sure your power cable is 100% match to the right USB port.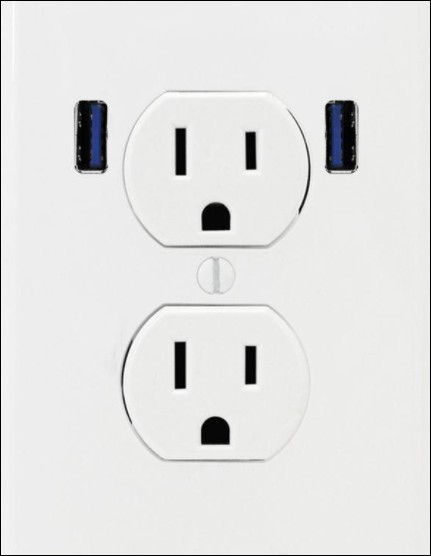 2. Replace CMOS Battery
The motherboard has a CMOS battery. The CMOS battery controls the system configuration and start programs. If the CMOS battery is out of power, it will affect the motherboard BIOS data. And your BIOS setting will go wrong. Then your pc doesn't turn on.
In general, CMOS can be used for a long time. You can spend a few dollars on the shopping website.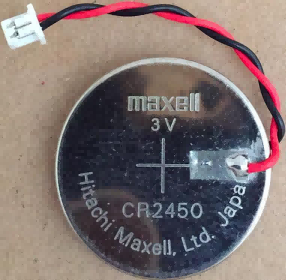 3. Overheating
If your PC only turns on for a second and soon go back to shut down. Maybe it is your CPU's SOS. Overheating! In terms of your PC age, the thermal paste, between the cooler and the integrated heat sink of the CPU, may dry.
Now you need to remove the old paste and use a brand new glue to cool down the heat. And you can restart the PC again. Or you can buy a compressed air tank to remove dust from the copper radiator and computer fan.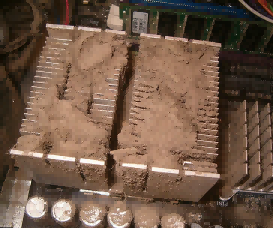 4. Check Monitor
If your mainboard is buzzing like normal but the monitor still does not turn on. You need to check whether your monitor is damaged, or it's disconnected from the power.
Try another monitor combined with your computer, if it works well, you can go to the computer accessories store and buy a new monitor. And your monitor is best connected to the wall outlet.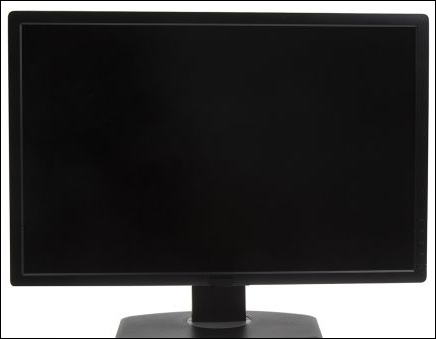 5. Scan Malware
Your computer could be attacked by malware when you randomly enter unknown web pages or downloading software. You can change BIOS settings and utilize the antivirus disk, such as Kaspersky Rescue Disk. Follow the steps to boot the computer from USB.
Step 1. Start the computer.
Step 2. Press F12 to enter the BIOS interface.
Step 3. Under the Boot option, choose the rescue disk as your boot device.
Step 4. Restart your PC and scan the malware.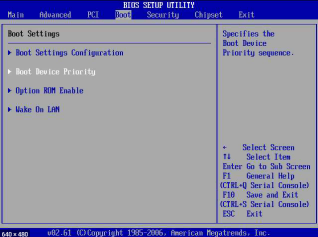 6. Set Safe mode
If the computer still can not turn on, please press F8 when the PC starts. We have mentioned safe mode to tackle the Dell Laptop black screen error. Safe mode drives PC without loading a third-party driver, so it's convenient to fix system error.
Press Shift + F8 to enter the Recovery mode > See advanced repair options > Troubleshoot > Advanced options > Windows Startup Settings > Restart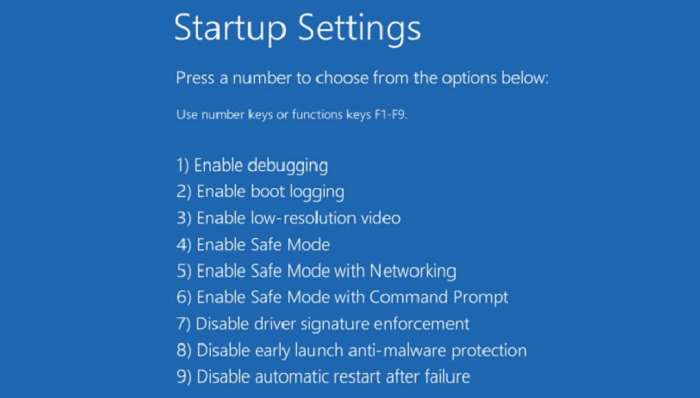 7. Unplug external devices
After removing the hardware problem virus infection, we can boldly suspect that your PC has a conflict with USB flash drive, external hard drive, camera, or other devices. and If an external device works normally, it must be able to communicate with the host machine. However, after the plug-in card is loaded into the computer, it may have a device conflict with the existing computer equipment and your PC falls into darkness. Unplug it and restart!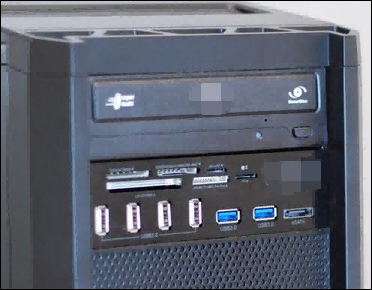 8. Check or Replace a new hard drive
Usually, a hard drive is damaged because of an abnormal shutdown and power outage. Well, hard disk slow in operation with age is a common factor. If you have no idea whether the existing hard disk is damaged or loose inside the case, you can use a screwdriver to open the case, tighten the power cable and sata cable. Nothing happens after restart again? Head to the shopping website to get a new one!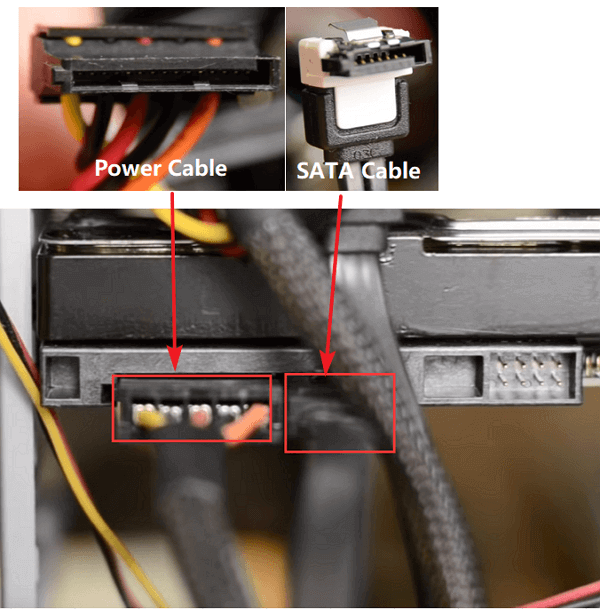 Conclusion
Have you found a suitable method for the computer won't turn on? In this article, we write about 8 fixes, which covers power supply, CMOS battery, overheating, monitor, malware, safe mode, external devices, and hard drive. You need to make sure to rescue your data from the hard drive with EaseUS Todo PCTrans before applying the solutions.

Roxanne is one of the main contributors to EaseUS and has created multiple posts on digital devices like PCs, Mobile phones, tablets, Mac, etc. She loves to share ideas with people of the same interest.
EaseUS Todo PCTrans Free is a useful and and reliable software solution created to serve in computer migration operations, be it from one machine to another or from an earlier version of your OS to a newer one.

 Read More

EaseUS Todo PCTrans is by the folks at EaseUS who make incredible tools that let you manage your backups and recover your dead hard disks. While it is not an official tool, EaseUS has a reputation for being very good with their software and code.

Read More

It offers the ability to move your entire user account from your old computer, meaning everything is quickly migrated. You still get to keep your Windows installation (and the relevant drivers for your new PC), but you also get all your apps, settings, preferences, images, documents and other important data.

 Read More
About EaseUS Todo PCTrans
EaseUS Todo PCTrans can transfer settings, applications and data between PCs and HDDs. Your all-round PC transfer and migrate software to upgrade devices without re-installation.