How to Find Windows 10 Product Key
"Before I install, I'd like to know how to find my product key for Windows 10. Can anyone help?"
Finding your Windows 10 product key may appear like a big issue while you clone Windows 10 to another computer or install your Windows 10 on a new computer. Here we prepare five methods, targeting to teach you how to find Windows 10 product key.
How to Find the Product Key for Windows 10 via EaseUS Todo PCTrans (Simplest)
The first method we recommend is to use the new feature of EaseUS Todo PCTrans - Product Key. The new function is designed to extract the Windows 10 product key. You can download the PC transfer software to save Windows, Adobe, and Office's product keys. 
Step 1. Launch and Run EaseUS Todo PCTrans on the PC, and choose "Product Key".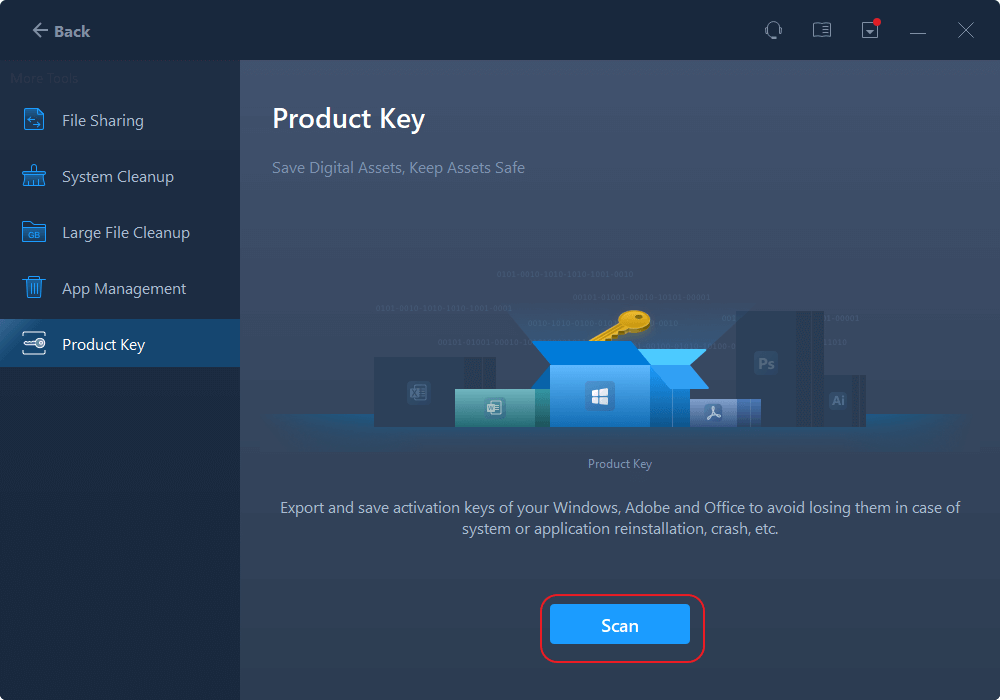 Step 2. Click "Scan", and you can see the product key of Windows, Adobe, and Office. Save the key to the selected location or choose "Copy" for direct use.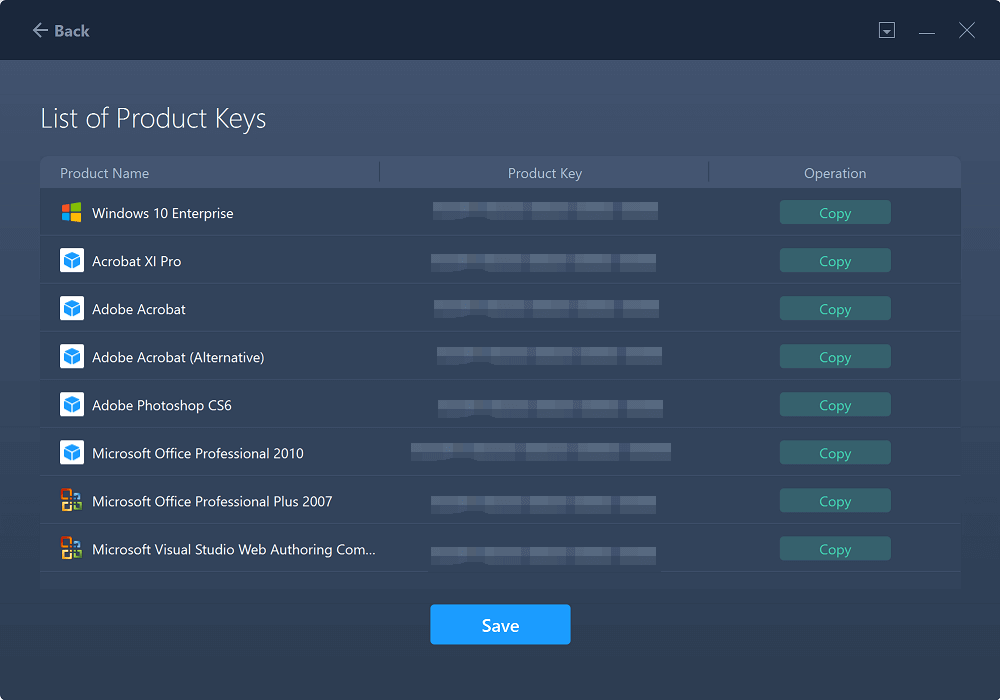 Sometimes, not only do you need to look at the Windows key, you may need to find the key of Office while you are transferring Microsoft Office to new computer.
Speaking of how to find product key for Windows 10, the CMD and Registry also valid. But CMD has a limit on the license type, and Registry has cumbersome steps. If you want to use the most straightforward way, EaseUS Todo PCTrans pro version is your first chance. 
How to Find your Product Key in Windows 10 via CMD
If you want to view the Windows 10 product key, CMD is a useful way to get Windows 10 product key. But the command line is only available for OEM license. You need to figure out what types of license use before moving to the CMD method.
Here is the tip about Windows license type:
 Tip

Retail Key: You will receive this key when you purchase a Windows 10 license from a Microsoft Store or retail Store.
OEM Key: OEM or computer manufacturer reached an agreement with Microsoft. There is an activated copy of Windows on the computer they sell.
Volume licensing (MAK/KMS): Enterprise purchases Windows license in bulk under the Volume Licensing Program. There are two types of keys under this scheme - MAK and KMS.
How to Identify the Windows License through CMD
Step 1. Search CMD on the start menu, and open it.
Step 2. Type "slmgr/dli" and press Enter. Then you can see the license type.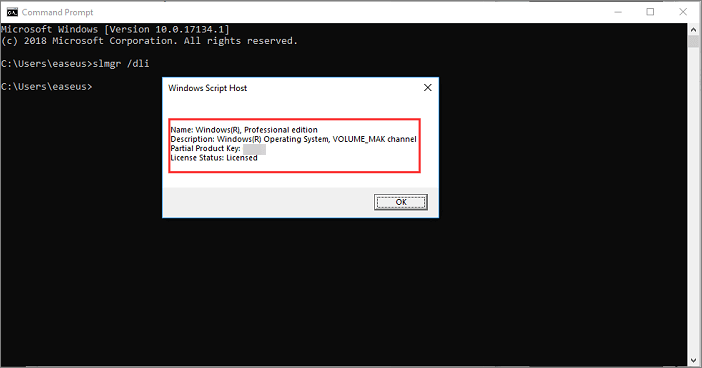 Now let's move to the detailed guide of finding Windows 10 product key:
Step 1. Open CMD and right-click it to run as administrator.
Step 2. Once open it, copy and paste the following command line and then press Enter. The product key will appear.
"wmic path softwarelicensingservice get OA3xOriginalProductKey"

Find Your Windows 10 Product Key Using the Windows Registry
Step 1. Right-click anywhere on the desktop, choose "New" and then select  "Text Document."
Step 2. Copy and paste the code below into Notepad.
Set WshShell = CreateObject("WScript.Shell")
MsgBox ConvertToKey(WshShell.RegRead("HKLM\SOFTWARE\Microsoft\Windows NT\CurrentVersion\DigitalProductId"))
Function ConvertToKey(Key)
Const KeyOffset = 52
i = 28
Chars = "BCDFGHJKMPQRTVWXY2346789"
Do
Cur = 0
x = 14
Do
Cur = Cur * 256
Cur = Key(x + KeyOffset) + Cur
Key(x + KeyOffset) = (Cur \ 24) And 255
Cur = Cur Mod 24
x = x -1
Loop While x >= 0
i = i -1
KeyOutput = Mid(Chars, Cur + 1, 1) & KeyOutput
If (((29 - i) Mod 6) = 0) And (i <> -1) Then
i = i -1
KeyOutput = "-" & KeyOutput
End If
Loop While i >= 0
ConvertToKey = KeyOutput
End Function
Step 3. Click "File" and choose "Save As". Set the file name as "productkey.vbs"

Click "Save", then you can see the icon on your desktop.

Open it, and you will get your Windows 10 product key.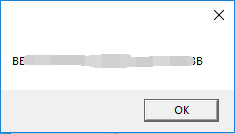 Other Two Methods to Find Windows 10 Product Key
Except for those three ones on the former part, here are some advice to view Windows 10 product key. 
Find Window Product Key on Microsoft Store
If you buy a Windows 10 license from Microsoft Store, your copy of key stores on the Microsoft account. Follow the steps:
Log in to the Microsoft Store > Downloads > Product Keys > Subscription > Digital Content
Microsoft also sends you the product key in the confirmation email. You can check your mailbox. If you already delete it, check your junk mail folder or try another way.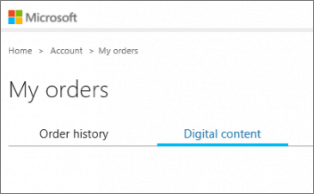 View Windows 10 Key on the Package (OEM)
If you bought a PC from the authorized retailer, your Windows 10 product key is usually affixed to the outside of the box. The sticker may worn out if you don't check it for a long time.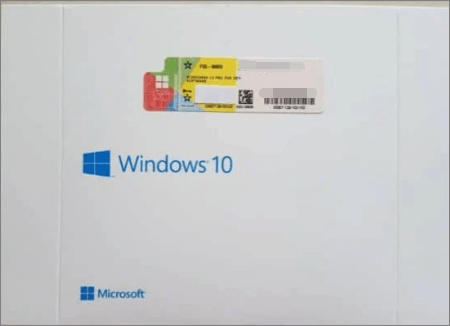 Daisy is the Senior editor of the writing team for EaseUS. She has been working in EaseUS for over ten years, starting from a technical writer to a team leader of the content group. As a professional author for over 10 years, she writes a lot to help people overcome their tech troubles.

Roxanne is one of the main contributors to EaseUS and has created multiple posts on digital devices like PCs, Mobile phones, tablets, Mac, etc. She loves to share ideas with people of the same interest.
EaseUS Todo PCTrans Free is a useful and and reliable software solution created to serve in computer migration operations, be it from one machine to another or from an earlier version of your OS to a newer one.

 Read More

EaseUS Todo PCTrans is by the folks at EaseUS who make incredible tools that let you manage your backups and recover your dead hard disks. While it is not an official tool, EaseUS has a reputation for being very good with their software and code.

Read More

It offers the ability to move your entire user account from your old computer, meaning everything is quickly migrated. You still get to keep your Windows installation (and the relevant drivers for your new PC), but you also get all your apps, settings, preferences, images, documents and other important data.

 Read More
About EaseUS Todo PCTrans
EaseUS Todo PCTrans can transfer settings, applications and data between PCs and HDDs. Your all-round PC transfer and migrate software to upgrade devices without re-installation.