How to Find Office 365 Product Key in Windows? Try The 5 Ways Out
Do you know how to find Office 365 product key on your computer? Don't worry if you lost the product key of Office 365/2019/2016/2013, etc. Follow this page, we'll be showing you 5 practical solutions to check and view your Office product key on Windows 11/10/8/7 with ease.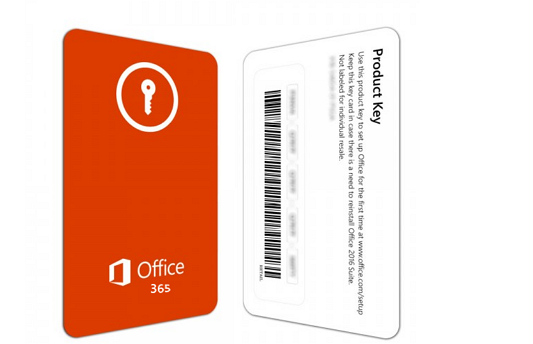 Does Microsoft 365 Give You a Product Key
Before we start figuring out the solutions to find Microsoft Office 365 product key, let's figure out the answer to this question first:
Does Microsoft give you a product key for Office? It depends. 
Case 1 - You purchase an Office online, you'll be provided with a product key.
Case 2 - Your PC is shipped with the Office app, it normally offers a 1-month trial without a key.
In Case 1, you can view and find the product key of Office. In Case 2, you won't get a key unless you purchase the product.
So how to find the Office product key? In the following, we'll take Microsoft Office 365 as an example to show you the complete process of finding the Office 365 product key with 5 reliable methods on your own.
How Can I Find My Office 365 Product Key? 5 Ways Ar Available Here to Help
Like other commercial software, Microsoft Office 365 requires a license code for users to apply for activating and unlocking Word, Excel, PowerPoint in Windows computers. 
5 Ways to Find Office 365 Product Key
So how do you and where to find the product key of Office 365? Check the list here that you can apply any method for help:
Quick Guide:
For the easiest way, EaseUS Todo PCTrans with its product key finder features is the best.
For a free way to find Office 365 license, Method 2, 3, 4, 5 are all good for you to try. They are official solutions provided by Microsoft. 
Here, we'll go through all 5 methods and show you the complete procedure of finding a hidden, missing or lost Office 365 product key successfully. Let's go.
#1. Find Office 365 Product Key with EaseUS Todo PCTrans 
1-click to Find Office Key for Installed Office 365
EaseUS Todo PCTrans was designed for helping Windows users to migrate and transfer precious files, installed applications, and essential settings to a new computer, or a local drive. Its Product Key feature makes it a perfect product key finder. 
Supported Office: Office 365/2019/2016/2013/2007.
Supported OS: Windows 11/10/8.1/8/7/Vista/XP, and Windows Server editions.
Guide: 1-Click to Find Product Key for Office 365
Step 1. Launch and run EaseUS Todo PCTrans on the PC, and choose "Product Key" on the left panel.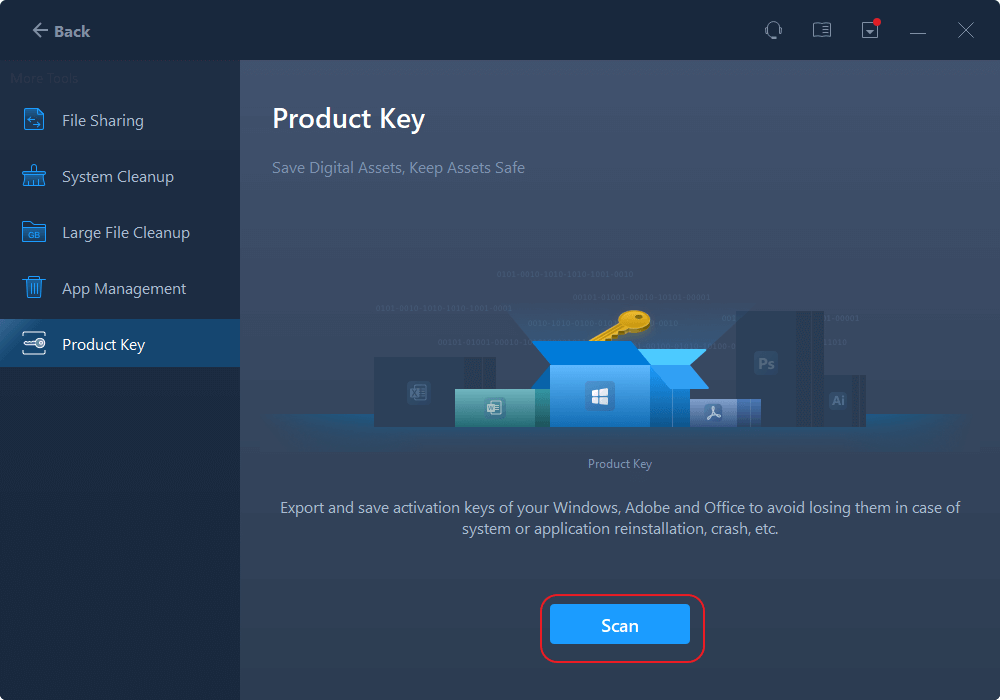 Step 2. Click "Scan", and you can see the product key of Windows, Adobe, and Office. Save the key to the selected location or choose "Copy" for direct use.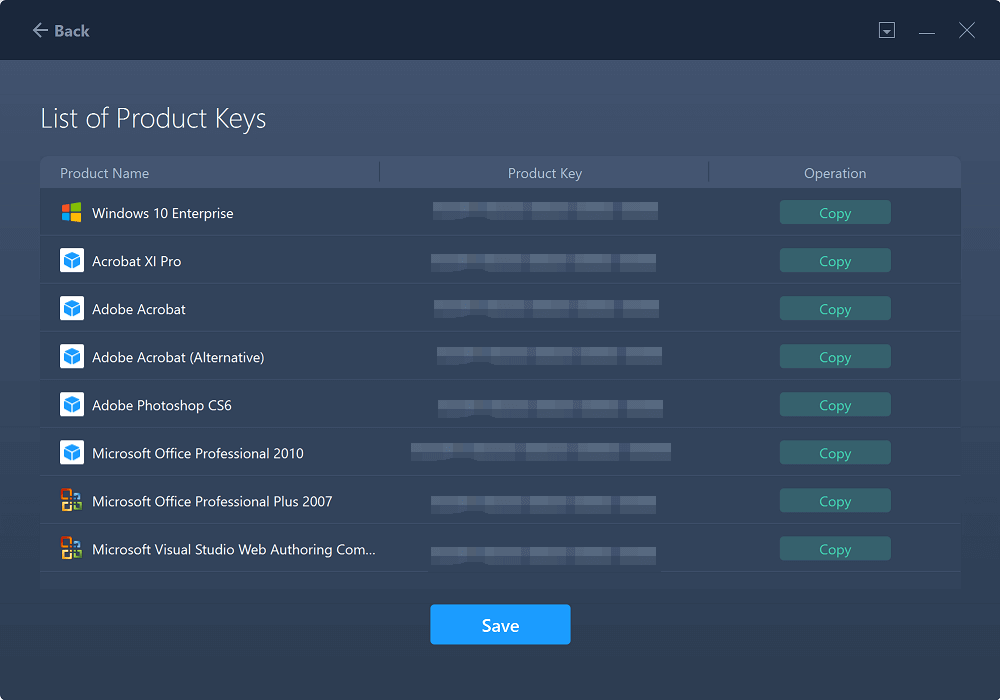 Note that, besides finding the code for Office, you can also apply EaseUS Todo PCTrans to execute the following operations:
#2. Find Product Key on Office 365 Product Key Card
The Solution to Find Newly Bought Office 365 Product Key
Office 365, Office 2019, and even Office 2016, allowing its users to view the Microsoft Office activation key on its product key card. If you bought a boxed Office 365 from Microsoft, you'll find a product key card like this: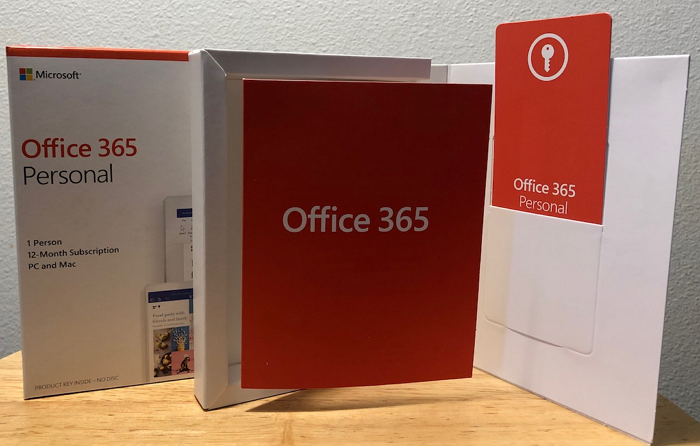 Supported Office: Office 365/2019/2016/2013/2007.
Supported OS: Windows 10/8.1, and Windows Server 2019/2016.
Guide: Find New Office 365 Product Key
Step 1. Take the product key card out of the Office 365 box. 
Step 2. Scratch off the silver foil coating on the back of the product key card.
Step 3. After this, you'll be able to view the Office 365 license code on the card.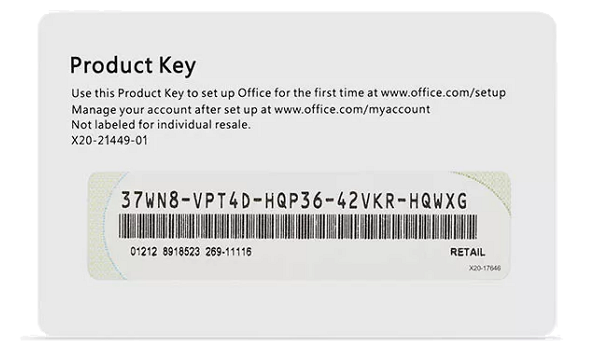 #3. Find Office 365 Product Key from Microsoft Service Page
View Office 365 License on Microsoft Service Page with Microsoft Account
If you purchase Office 365 via a Microsoft account, you can view your product key on the Microsoft account, Services and subscription page.
How to View Office 365 Product Key on Microsoft Service Page:
Step 1. Go to Microsoft account, Services & subscription page, sign in with your account: https://account.microsoft.com/services/
Step 2. Click "View product key" and you'll be presented with the license on the screen.
#4. Find Office 365 Code in Microsoft Store
Find Newly Bought Office 365 Product Code
If you bought Office 365 from the Microsoft store and you haven't installed it on your PC yet, you can view and find the key from the store.
How to Find Office 365 Code from Microsoft Store:
Step 1. Go to Microsoft store:  www.microsoftstore.com.
Step 2. Sign in with your user ID and password that you used to purchase Office 365.
Step 3. Click your name > "Order History".
Step 4. Locate the Office that you purchased and select "Install Office" to view your product key.
#5. Contact Microsoft Support Team
The Last But Efficient Solution
Mostly, when you tried the above 4 solutions, you should be able to find the product key of your Office 365 or older versions on the computer. Here is the last but effective way that you can try. It is to contact the Microsoft support team for help. 
As long as you purchase the product from the official site, it should work for finding the key.
Step 1. Visit the Microsoft support page: https://support.microsoft.com/contactus/
Step 2. Click "Open Get Help app" or click "Get support" to request looking for your Office 365 product key.
Finding Office 365 Product Key Is Easy, Go and Get Your Key Now
On this page, we collected 5 practical ways with a detailed tutorial guide to help you find Office 365 product key on a Windows computer. Among the 5 ways, the easiest solution is turning to EaseUS Todo PCTrans.
It allows you simply find the Office key, Windows product key, and other software license code in only 1 click.
When you lost the product key of your installed Office, stay calm. Simply follow this page to find your Office code on your own.

Roxanne is one of the main contributors to EaseUS and has created multiple posts on digital devices like PCs, Mobile phones, tablets, Mac, etc. She loves to share ideas with people of the same interest.
Written by Tracy King 
Tracy joined in EaseUS in 2013 and has been working with EaseUS content team for over 7 years. Being enthusiastic in computing and technology, she writes tech how-to articles and share technical solutions about Windows & Mac data recovery, file/system backup and recovery, partition management and iOS/Android data recovery.
EaseUS Todo PCTrans Free is a useful and and reliable software solution created to serve in computer migration operations, be it from one machine to another or from an earlier version of your OS to a newer one.

 Read More

EaseUS Todo PCTrans is by the folks at EaseUS who make incredible tools that let you manage your backups and recover your dead hard disks. While it is not an official tool, EaseUS has a reputation for being very good with their software and code.

Read More

It offers the ability to move your entire user account from your old computer, meaning everything is quickly migrated. You still get to keep your Windows installation (and the relevant drivers for your new PC), but you also get all your apps, settings, preferences, images, documents and other important data.

 Read More
About EaseUS Todo PCTrans
EaseUS Todo PCTrans can transfer settings, applications and data between PCs and HDDs. Your all-round PC transfer and migrate software to upgrade devices without re-installation.